As we've established, overseas holidays in
Spain
, or
dinner in Hanoi
are out of the question when you are a mere mortal raising a brood of four. Not that I would trade them for the world. Anyway, as necessity in the mother of invention, or innovation, we are always on the look out for CHEAP affordable and value for money holidays. Hence, thank God for AirAsia, or we'd not have stepped out of the country in the last 6 years.
School holidays are always an exciting time. The thought of having breakfast with the kids at our regular kopitiams, the incessant noise, the fighting for computer time, etc. This year, for the long holidays, we decided to explore some Cuti cuti Malaysia destinations, and remembered reading about the Sg Klah Felda Hotsprings in the NST some time ago. But like all MALAYSIA BOLEH things, there was NO phone number, no contact, nothing at all, to show us where this veritable Garden of Eden lay. So, thank goodness for the internet.
Actually, surprisingly, the Felda Hotsprings have an
impressive website
, and really, you gotta hand it to these people, they are genuinely friendly. "Oh, book sahaja, tak payah kredit kad, bila datang aje bayar la". (oh, just go ahead and book. No need for credit card details. Pay when you get hear) Now, no commercial chinkie operation will let you get away with that. On airasia, you change your flight because you have a flatulence attack oso they will whack you with a surcharge.
Anyway, being the perenial skeptic, I lowered my expectations to the lowest possible bar on the rung, although instinctively, I knew it was probably good. RM180 nett per night, for room and breakfast! Bonus! When we reached, wife found flyer that said, weekday special, RM150 net per night, for room, breakfast AND DINNER! WOW!
The torrential monsoons were upon us when we arrived, but that didnt stop me from being impressed already! The rooms were very nice. Large, spacious, clean, decent bathrooms, AND, free extra mattress thrown in for our fellow rakyat who have an average of 8 kids per family. Mind you, my brood of 4 already reaped the benefit from the extra mattress. Nooo, we did not take just one room.
The sprawling grounds, nestled in what must have been an oil palm estate, boasts 64 rooms, several villas (self contained, with kitchen and 3 bedrooms, which were fully booked, despite the RM800 per day price tag), a gorgeous spa village, with private hotspring pools, for those who do not wish to mingle with the rabble, family spa pools, RM75 for 8 people, therapeutic pools, reflexology paths with rivulets of hot spring water, one HUMONGOUS olympic sized hot spring pool, and one HUMONGOUS cold water pool with mountain spring water. Think of bathing in a large pool of Evian....except spoilt by the thronging masses of fully clothed people. Again, there is a choice, you can opt for exclusive family spas. Me, I am a rakyat and proud of it, so had no qualms basking in the public pools. (also a cheapskate la. Not gonna pay RM25 per person for a private hot pool when its free elsewhere).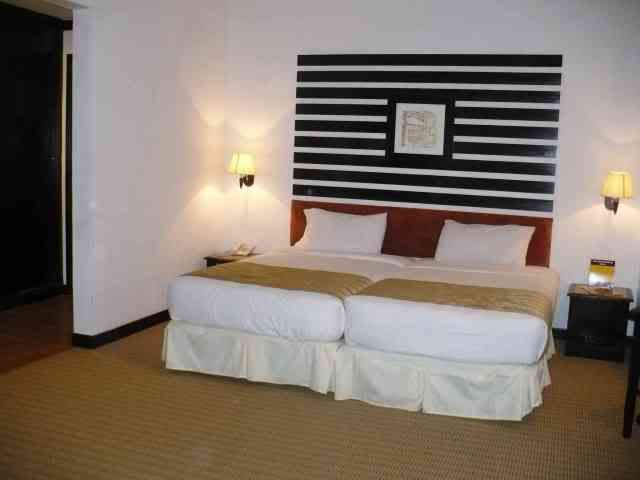 The rooms. Clean and large.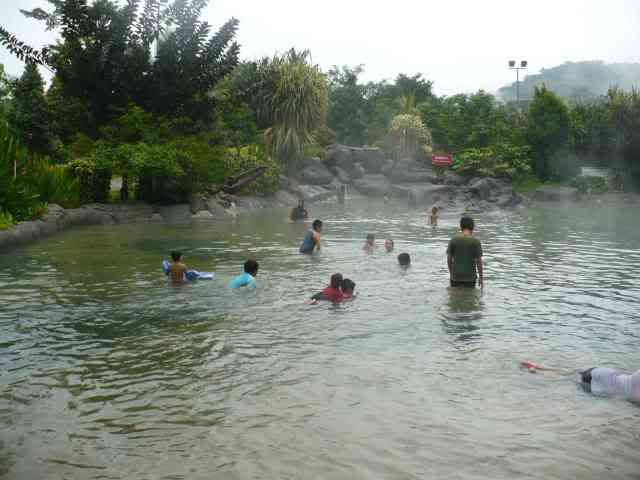 The Large Hot Springs Pool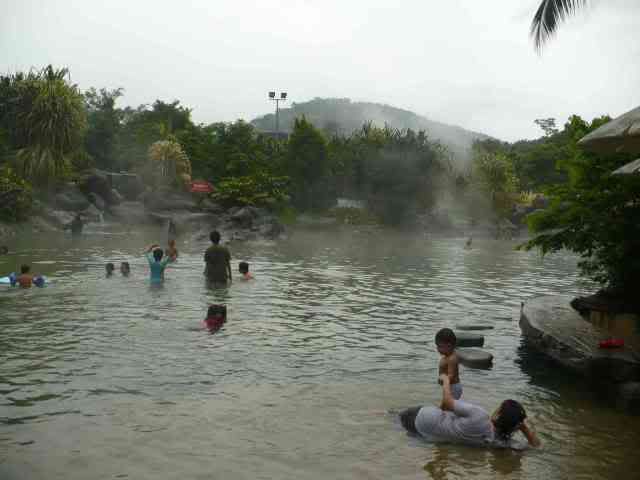 Can see the steam rising in the background. Water from the hotsprings are channelled here.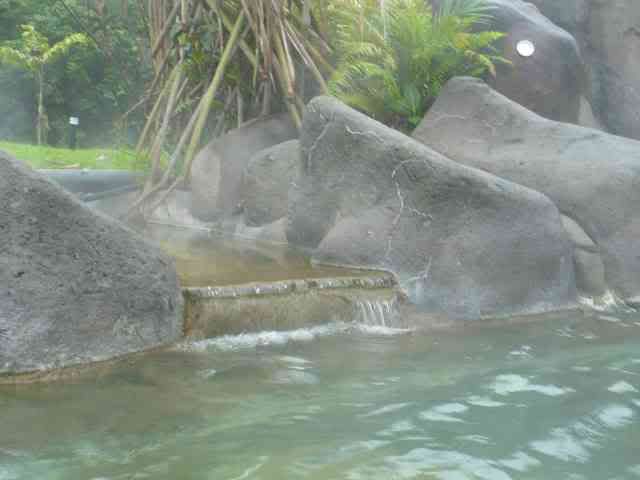 The water source.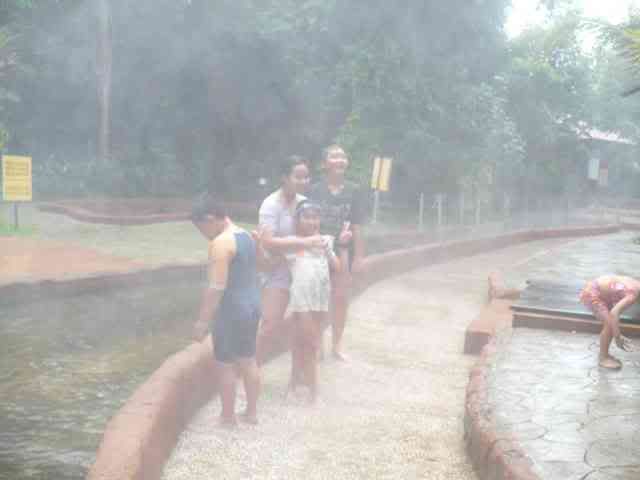 This picture is not doctored. The steam around the area is that misty! Those kids are walking along the reflexology path.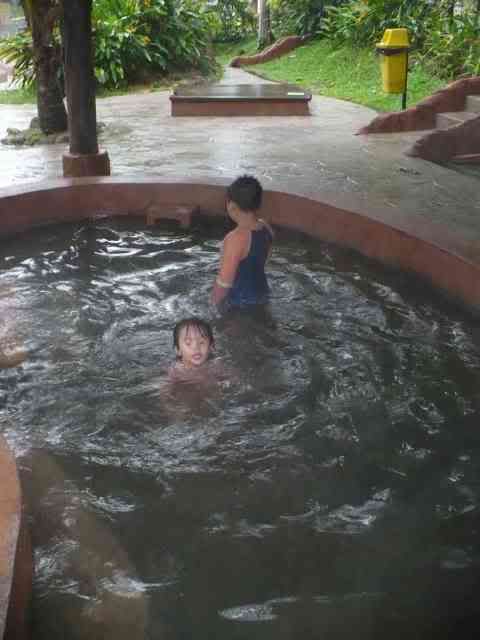 Smaller therapy pools, ranging from 35-40C.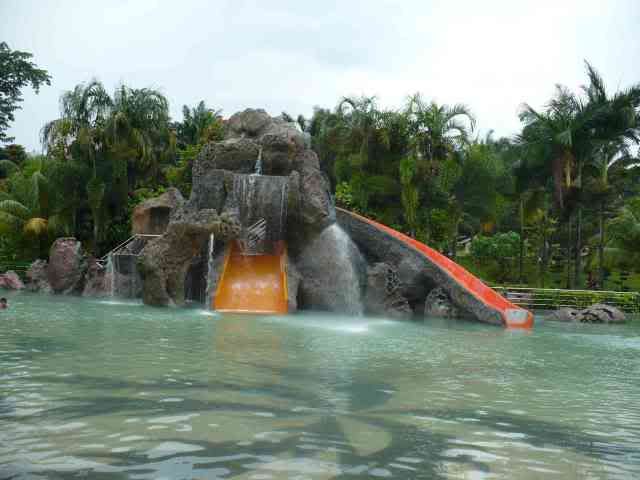 The cold water mountain springs pool with slides and fountains.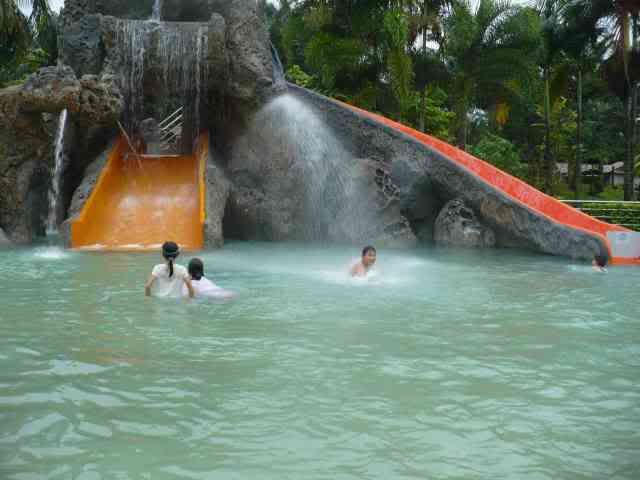 The modern chalet style rooms.



The SPA village.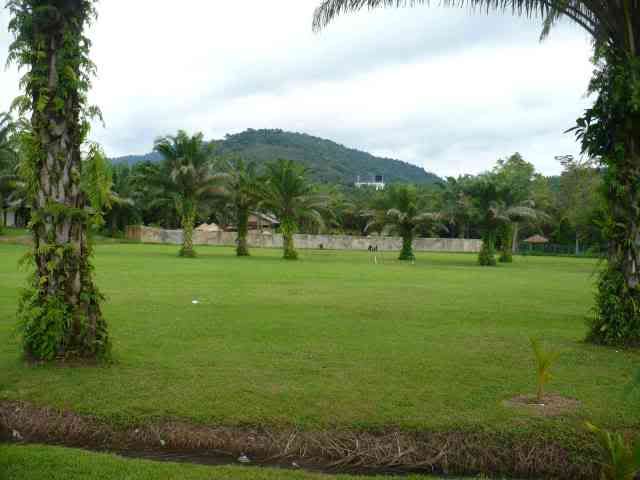 If this was a vineyard in Tuscany, the price would be how much in Euro? All we need now is for palm wine that can be sold at a premium.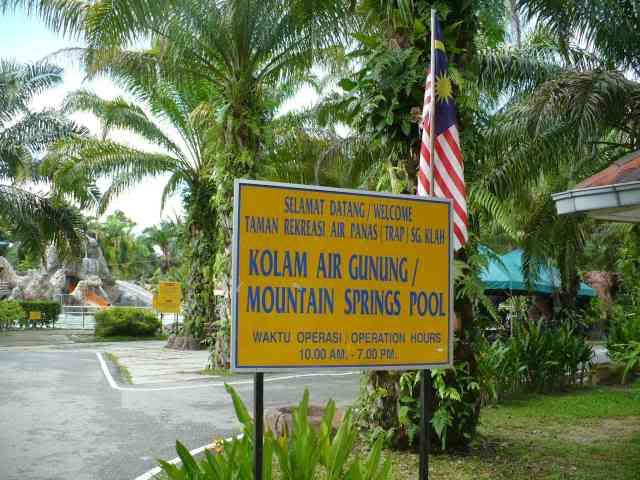 The fully clothed masses in the pools.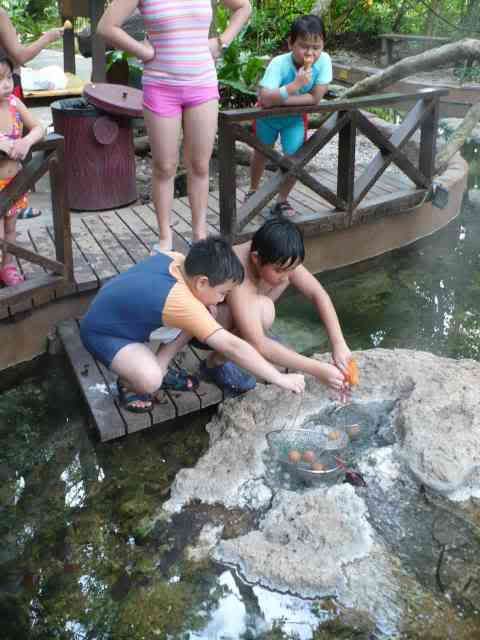 There are some springs that are so hot, 100C you can boil an egg.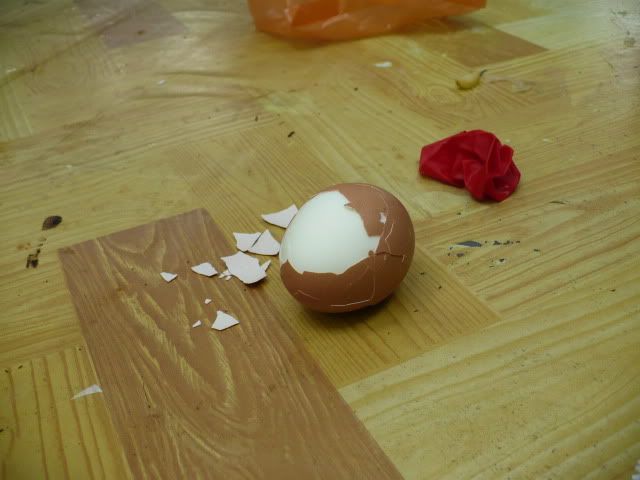 The boiled egg. Very tasty. Just a tip. Next time bring your own eggs, and soya sauce, and disposable bowls. Nothing like gorgeous half boiled eggs cooked by Mother Nature's Hot Spring Water.



After the Hotsprings, we proceeded to Ipoh, but not before stopping for lunch at Bidor.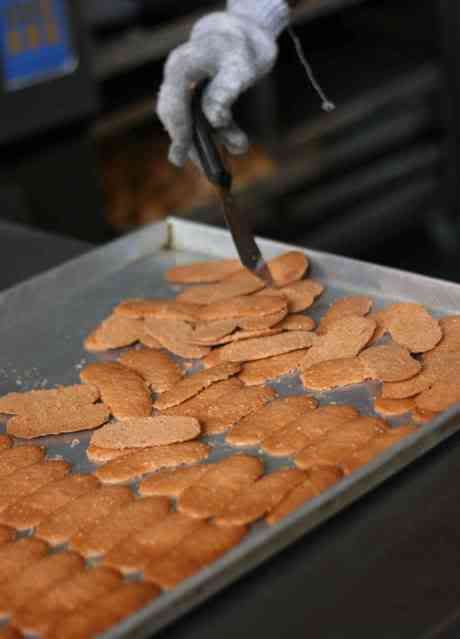 Freshly baked chicken biscuits are absolutely gorgeous and addictive. Not cheap. RM3 for a bag of 8 or 10. But it can be whacked in one go, easily. The aroma is really fantastic, despite the absence of lard.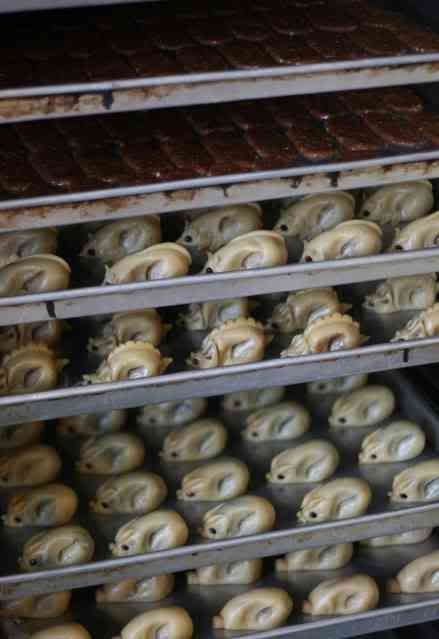 Trust the Chinese to animalise everything.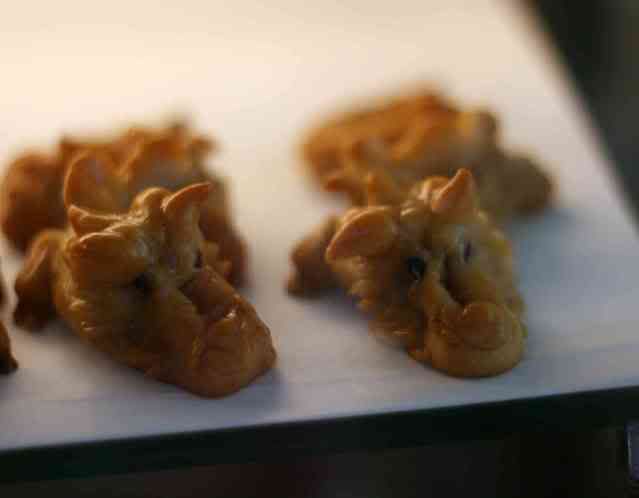 Mushu? Wushu anyone?



I celebrated my 43rd (ARGH!!!!!!) birthday in Pusing Public, Ipoh, with a fabulous dinner, courtesy of my dear brother in law.
I didn't know this the first time round, but this time, we found out that this was actually an EUNUCK, ie, castrated chicken. Eunuch Cluck. No wonder it was sooo tasty.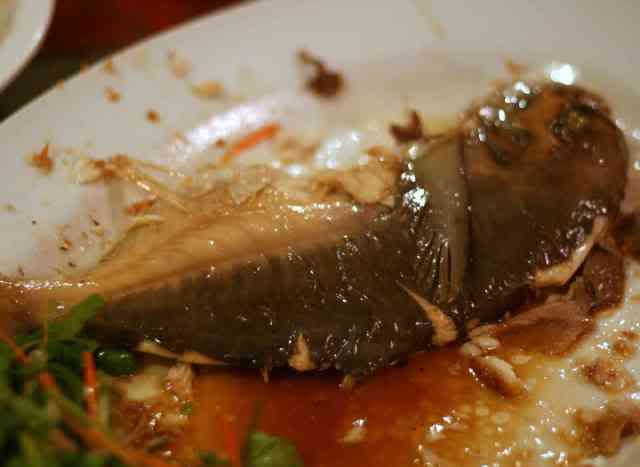 This amazing pomfret is cooked two ways. Fried on one side, and steamed on the other. I've seen those filleted fish, where the flesh is steamed, but the bones deep fried. But this is somethign else. Fried on one side, and steamed on the other! HOW? !!!!



The lovely sang meen. Very nice, crispy, doused in gravy which makes it chewy all again.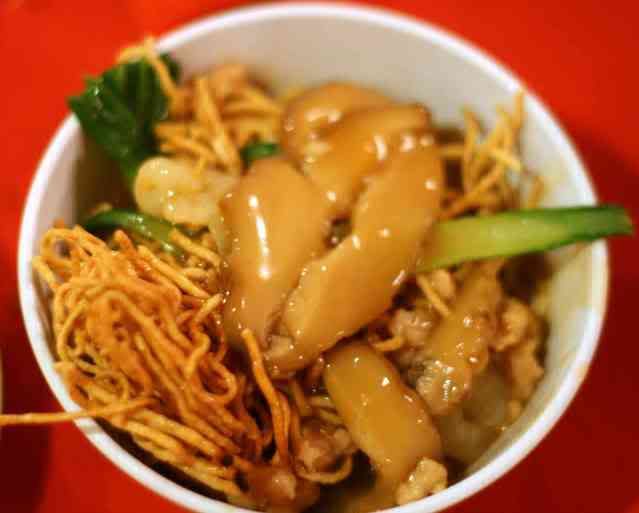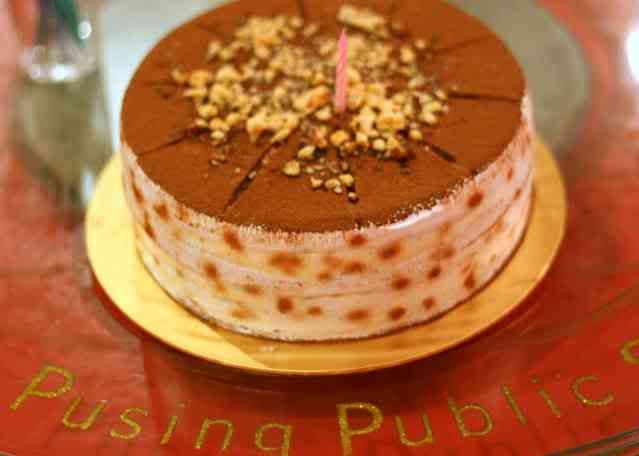 Amongst the many greeting I got, a few asked, "Who is baking your birthday cake, FBB?". Her name apparently is Josephine, or Jo's workers did it. The tiramisu, which wife bought from a trendy cafe in Ipoh, costs RM110. Isnt that like the GDP of Ipoh? Exorbitant, even by KL standards. Circumferenced with non dairy cream for that pure white effect. Son remarked on the absence of booze.




Thanks everyone for the birthday greetings!!!

How to get to the hotsprings: Up the north south highway, turn off at Sungkai toll before Bidor. However, if need to eat at Bidor, its only 13km away. After the Sungkai toll, turn left, follow the signs. 1km from the turn, turn left again. It is SURPRISINGLY WELL SIGN POSTED, and anyone with half an eye couldnt miss it.