When You Wish Upon A Star, ...makes no difference who you are, anything your heart desires will comeeee to you..... from Walt Disney's Pinocchio.
No, I was not wishing to be a real boy, nor that any of my puppets became a real boy, or girl. I was merely dreaming of Spain. Unlike some of my well heeled friends,
I cant go traipsing around Spain
, sampling all the culinary (apparently pronounced KIEW LINARY, not CULL inary, as in Culling Pigs with the Nipah Virus) treasures the country has to offer.
Alas, the stars in Kuala Lumpur's polluted skies aren't very bright either, and I wasnt sure if I was wishing upon the Measat Satellite, or a blinking aeroplane, but hey, whaddaya know, I get an invite from my good pal, Peter Yew of the Cava Opus Leonardo Moxie Chain, for a SPANISH WINE PAIRING DINNER WITH GUEST CHEF FERNANDO MARTINEZ TABERNO. I was allowed to call 3 others, and drum roll, the lucky guests for the night were .....the inimitable Alison Joan Victor, of Red FM Fame, and equally as hot as Red, the perpetual comedian, Frat Mustard, and the ever reliable Nipple Joe.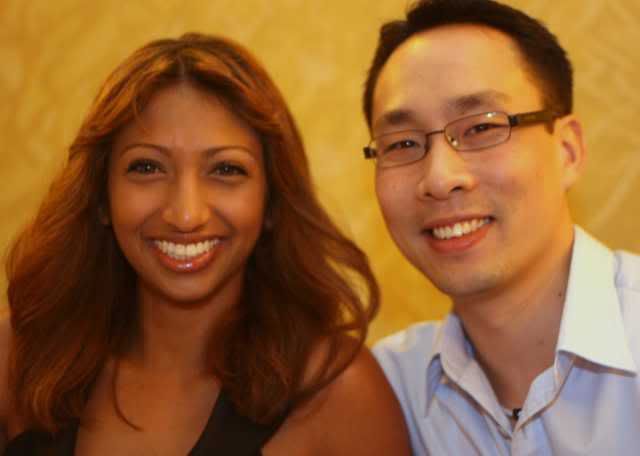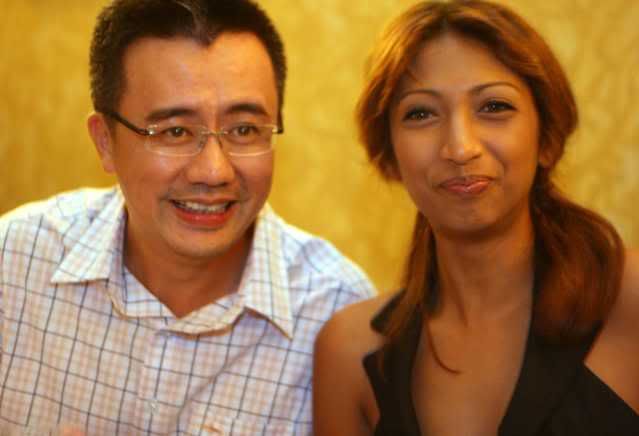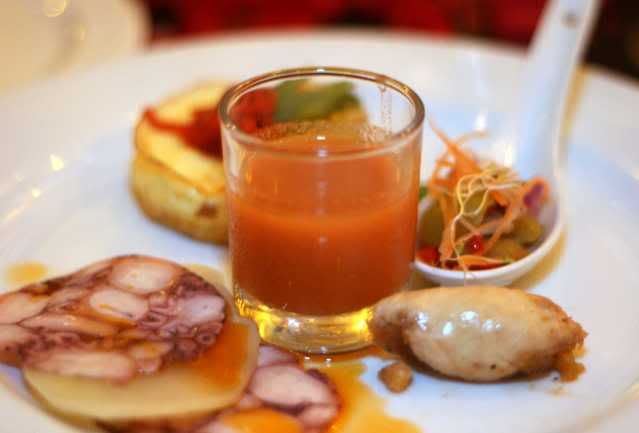 We started with the octopus carpaccio potato confit and Pimento Oil....the bummer about posting these things a few weeks after the event is these alcohol infused brain cells cant recall the exact flavours. But this I do remember, the Spanish omelette with Bacalao and Piquillo Peppers was sublime. The glass contained Gazpcho with Baqquerones, Piquillo Peppers. It must have slipped my brain to ask what Piquillo Peppers are, coz I now have NO idea what they are. Chicken rolls stuffed with dry fruit formed the missing link in the platter. These were paired with the Pag del Vicario Talva 2005, Chardonnay Savignon Blanc. We had earlier been apperitiffing on Castellblanch Cristal Brut Cava, the very VERY drinkable Spanish version of the bubbly.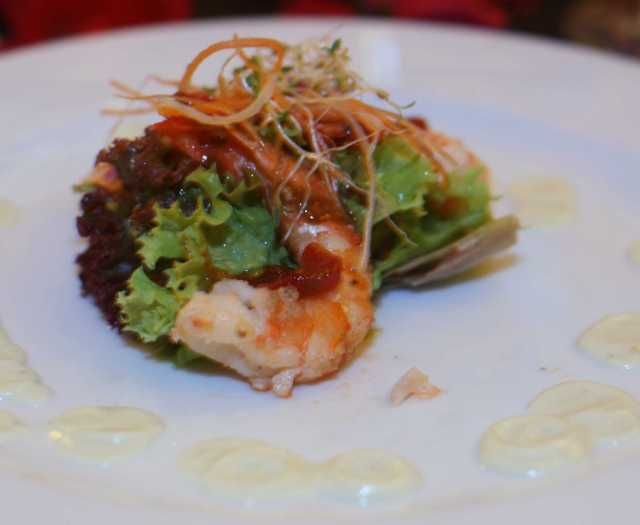 Lighting here sucked big time by the way, hence the lousy pics. A bad workman blames his tools, and a lousy photographer blames the light. The Prawn Salad with Tomato Marmalade and Cauliflower Sauce was good for me. My fellow comrades had some mushy prawns, but mine were all ay okay, and the prawns sweet and succulent. Frat discovered his cream was missing, and asked the waiter to cream his plate.



Life is a bed of roses for some people. Chicks gawk at him, and he gets to live life in a designer coffee tin.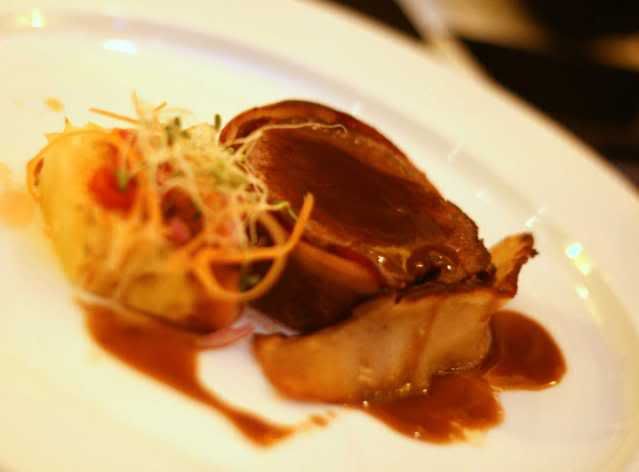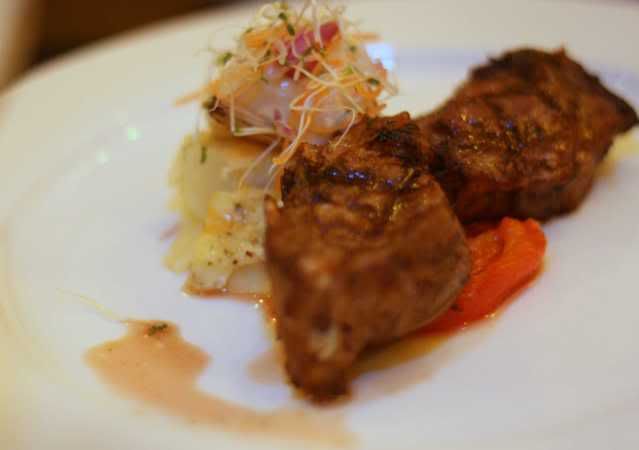 Mains were a choice of Tenderloin Beef encroute with poultry musseline (not related to the more famous Moussolini, the Italian fler), Lubina stuffed with seafood and vegetable confit and calamari crisp, or Lamb Chops with Membrillo Aioli, red Pepper confit and gratinated potatoes. Of the three, I'd say the tenderloin was probably the best. To be honest, the Lubina, which is a fish, I think, stuffed with all the stuff was so so.

The mains were paired with a Pago del Vicario Penta 2005, Tempranillo Merlot Cabernet Syrah Petit Verdot. (finger cramp after typing all that)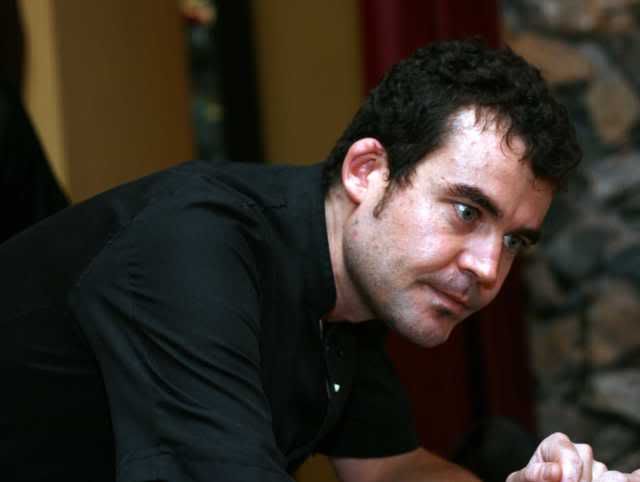 Can You Hear the drums Fernando? I dunno why, but when I sang this line, Frat burst out laughing. Yeah, the handsome chappie is the spanish guest chef. Very friendly, and took time to explain to us this and that. Alas, some of us were rather sloshed by this time.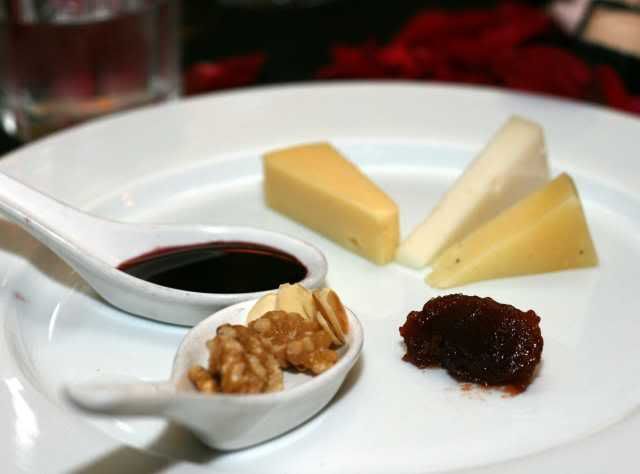 The Spanish cheese platter with the lovely quince paste was a perfect end to the dinner. Paired with Pago del vicario 50-50 2005, Tempranillo Cabernet. Some of the other dinner guest on the long table didnt care for cheese. Less men more share I say!

Check out my cheese, says Frat.




Caramelized Torrijas With Nougat Soup. Frankly, it looked like oatmeal or some healthy gunky breakfast, but it tasted superb, a lot better than it looked!!!
This was paired with a Segura Viudas Brut Reserva Cava.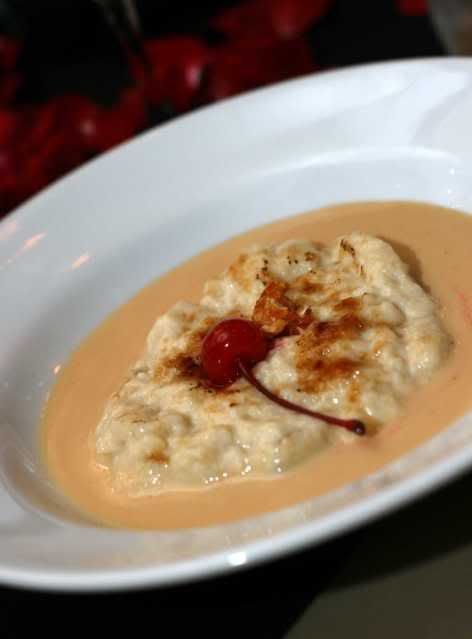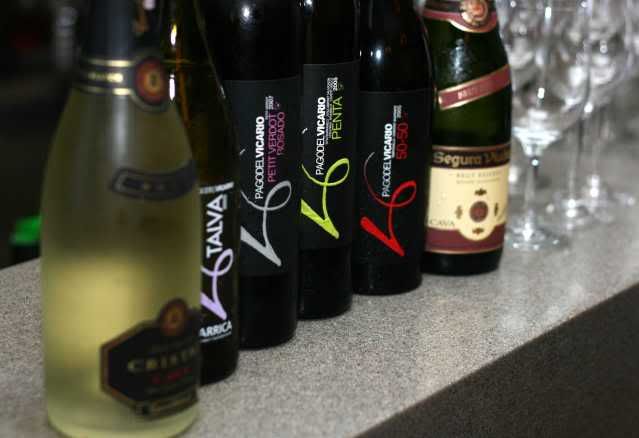 We drank the night away, yarning and chatting, amidst great company, great ambience.

I always thought Cava meant Cave, like the Bata lives in the Cava.

We learn something new everyday. Ooh, and I just checked my trusty dictionary. Culinary can be pronounced both with the Cull or the Kiul...so pbbbbbbbbbth to whoever told me that misleading bit of info. My life is vindicated!