It is the dawn of the festival of lights.... I eagerly grab my phone to see if there are any invitations to any open house, but nah leh.... how oh how was I going to spend this lonely public holiday. Oh, wait, it's a Saturday, and every Saturday IS a public holiday. For most of us anyway. The ever efficient Agent Cikay has managed to muster the troops. YAY. And guest starring Hairy Berry, all the way from Singapore. Whenst once upon a time, his trips back here used to be a weekly affair, they are now reduced to rare appearances, because (official version) he is doing his masters and has classes
(unofficial version) we think he has a girlfriend there in the republic...who wont let him come back
. Dang you girl, we want our Hairy Berry!!!
The Five Fine Outers, ie, Cikay, Kenny Mah, DevilWearsPrada, Hairy Berry and Me, bundle into the hot red Honda Civic, and head to Sentul. The entire landscape of Jln Ipoh has changed so drastically over the years, I no longer recognise it. It's more botoxed than the First Lady, and almost as beyond recognition.
Time travels at the speed of light when you are busy yarning with friends, and before we know it, we're there, in a route that I am not sure I can replicate, as I wasn't paying attention. I only remember Hairy Berry mumbling something about his old school being in the neighbourhood. La Salle Sentul la, must be.
Nothing like beer before 12 noon to make one feel one is REALLY on holiday.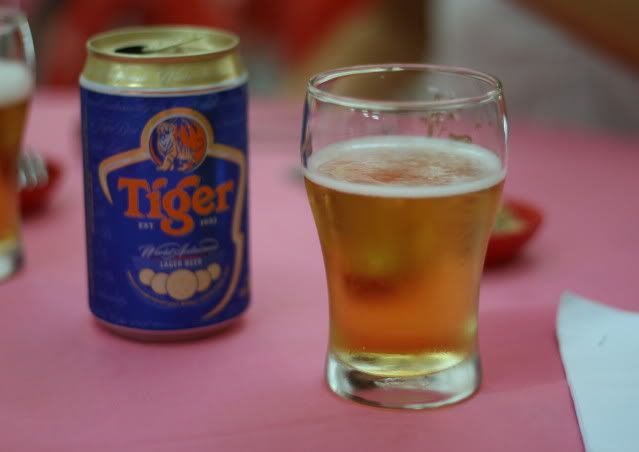 Hairy Berry, the expert of this place, orders the dishes with the familiarity of an obese kid ordering at Macdonald's. Before we know it, its Bon Apetit.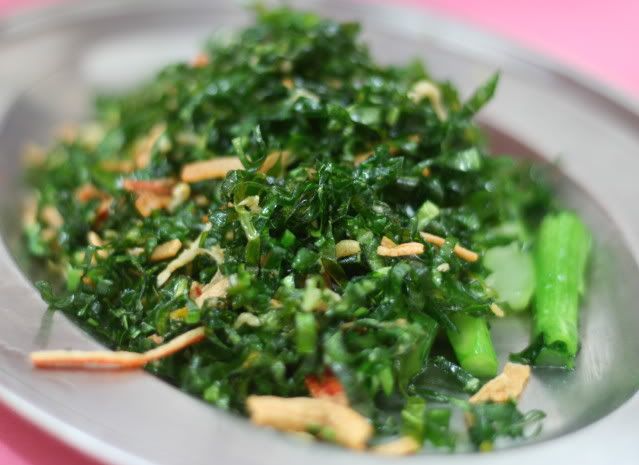 The duet of kailan, leaves deep fried and stems sauteed. I wonder which innovative chef first thought of this. If imitation is the sincerest form of flattery, the pioneer of this dish must be flattered to death by now.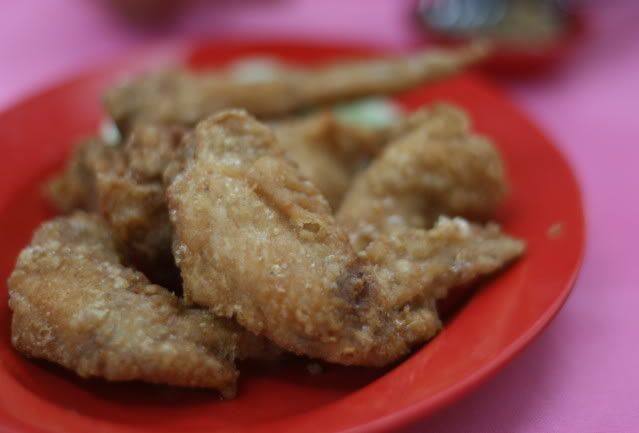 Beer with lovely chicken wings. They go together like
rama lama lama
ke ding a de dinga a dong
remembered for ever like
shoo bop shoo wadda wadda yipitty boom de boom.

It's the kind of food you could eat all afternoon while downing several pints of beer, over good conversation.



Ooooh, look at the pig.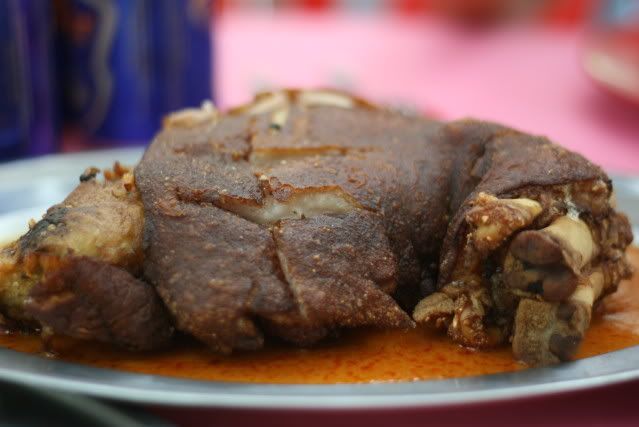 Pork Knuckles. Is it a misnomer? Is it really the knuckles? I thought the knuckles are the joints between the fingers and fist. That reminds me....
Man walks to a farm, and sees a pig with three legs. Asks farmer what happened. Farmer says, oh, I was in a fire once, and Wilbur there saved me. Man says, oh, he lost a leg in the fire? Farmer says, Nooo. In fact, later on, I almost drowned, and Wilbur saved me. So he lost the leg in the river? Noooo, farmer says. And again, Wilbur saved me once from barbaric burglars. So he lost the leg to the burglars? Noooo, says farmer. SO HOW DID WILBUR LOSE HIS LEG??? Farmer says, hey, a pig as good as this, you can only afford to eat him one leg at a time.
[running away from the pelted vegetables and tomatoes]

Now, I reckon no one does Pork Knuckles, or Trotter or whatever they're called, like the Chinese. I find the German ones usually a bit too dry. This one is not only moist and succulent, but swimming in a delicious gravy.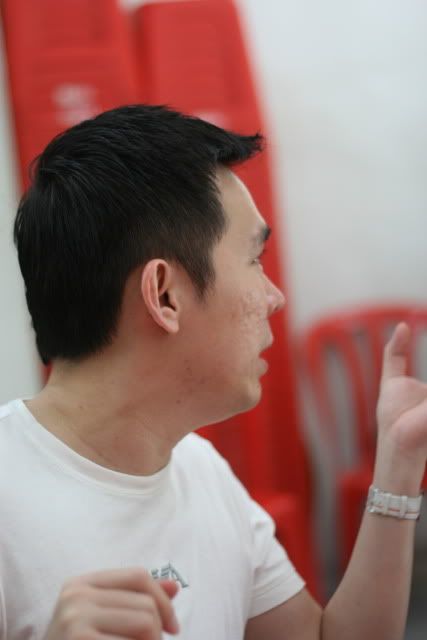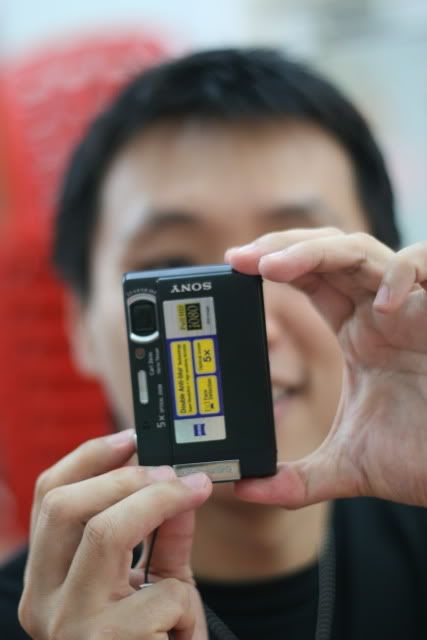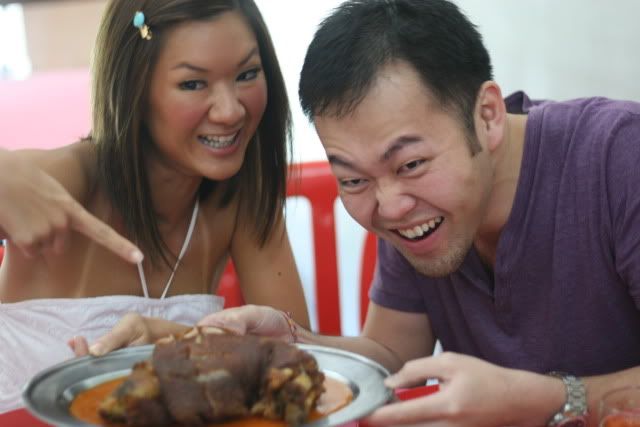 Four of the Five Fine Outers in Action.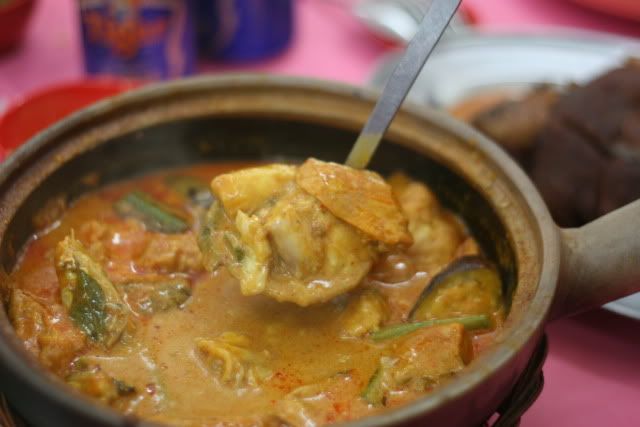 Fish head curry. All these dishes scream out for rice don't they. Lovely rich curry sauce. I didn't really try the fish though, but judging by the fact that there was none left, it must have been good.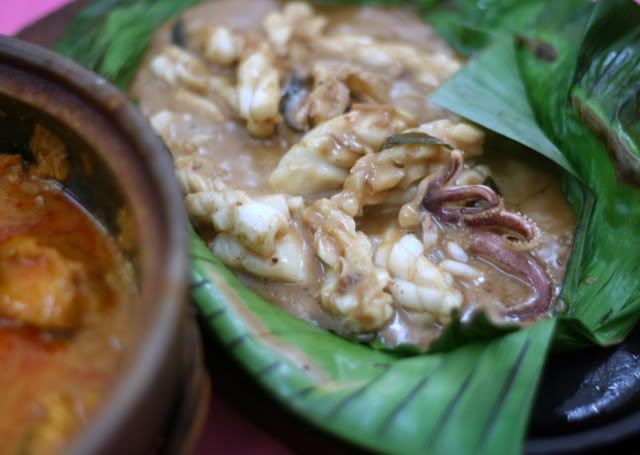 I LOVE this squid dish, presented on banana leaf. Not sure what its called, but its damn good, and apparently has the option of prawns as well. The squid was not fishy.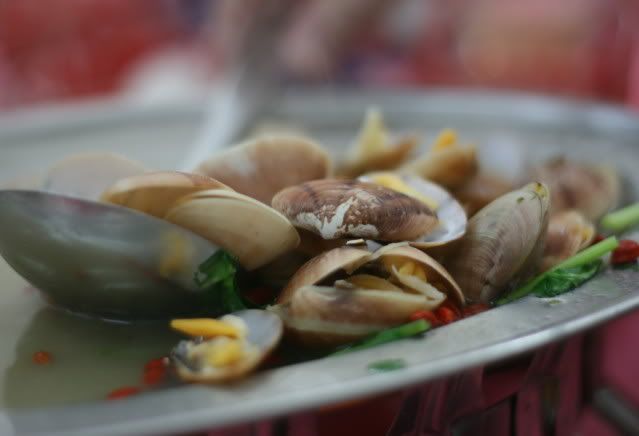 We weren't full after all that, so decided to add another dish of Oooh Lala. Gorgeous fresh clams steamed in a rice wine sauce, with wolfenberries. Loved the soup.

What can I say? Deepavali or not, it was good fun. Good food, good company, and beer with ice. How not to be happy?

Oh, the restaurant is called Zhen Liew Shiang, No. 30, Jalan 14/48A, Sentul Raya, Off Jalan Sentul, 51000 Kuala Lumpur.
Tel: 603 4041 3781