Although I think I have been told before, I always forget that this establishment IS named after Leonardo Di Caprio, who is famous for his drawing of the Vitruvian Man, shown below.
Okayyyy, let's start again. It's named after Leonardo Da Vinci, who is famous for the Vitruvian Man and the golden ratio, and apparently their pizzas (their's as in Leonardo's the Restaurant) are created in that ratio too. Don't ask me how. Walking Wikipedia, Nigel, was the one who remembered the name of this drawing, (afterall, who else uses the word Vitruvian in everyday conversation), and also remarked on the small size of the p***s. (I can tell you its not pizzas)
Moving on, we were invited by Fadlin Johan, the Marketing Manager of that restaurant chain (Cava, Opus, Leonardo's and Moxie's) to sample the new and some old offerings of Leonardo. Of the four restaurants, this is the only one that is a porcine paradise. Oink oinks served in all shapes, cuts, and sizes, from the micromillimeter thin proscuittos, to thick slab of ibericos, the wagyu of pork.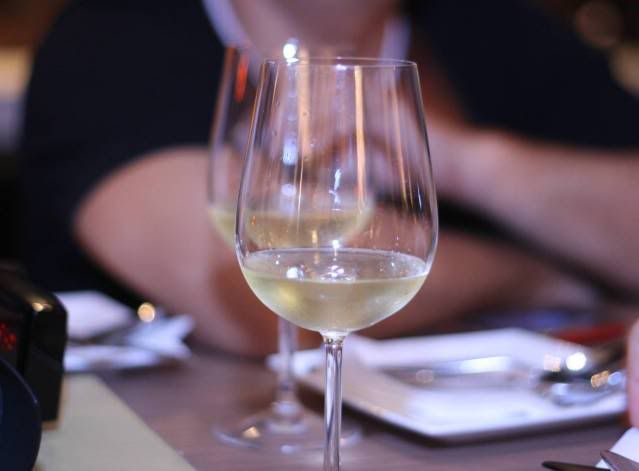 The sight of this always makes for a happy person.



Bucket of Belgian Styled Black Mussels. Fresh, not frozen, the mussels are cooked in a divine broth. Nigel heard Belgian Black Mussels as Virginal Black Muscles.
Yeah, the mussels were fresh and delicious. But as I said, that broth...oooh!!!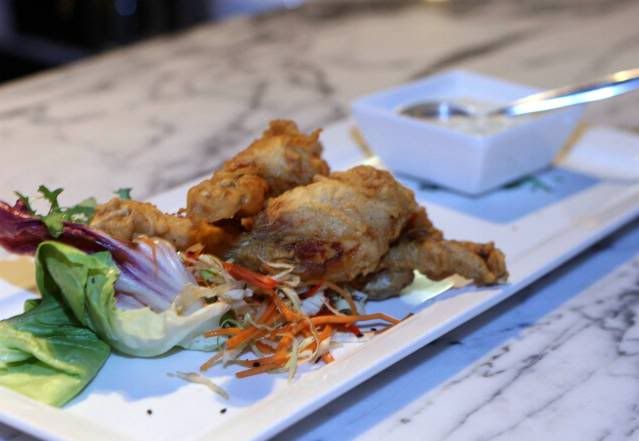 Kentucky Fried Frog. A little unknown fact, that before Col Sanders launched his Fried Chicken, there was a plague in the land, whereby the state of kentucky was inundated by Frogs. Unfortunately, after he had finished with the frogs, there were none left, so he decided to continue with chicken.
The fried frog is really quite yummy. Crispy skin, and very tender sweet flesh. Perfect snack with alcohol. Toady, perhaps?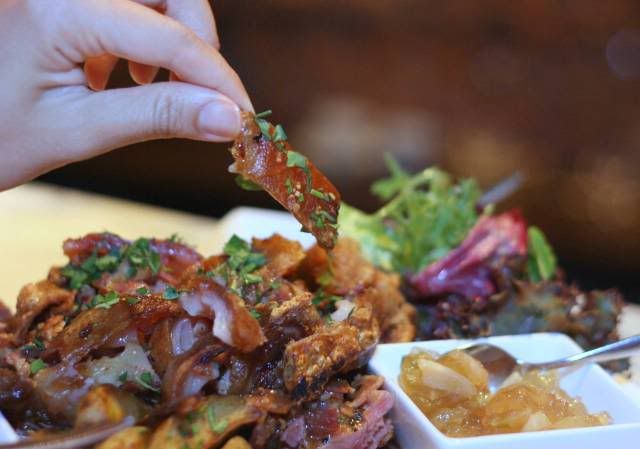 Their specialty, Leo's Pork Knuckle Platter, with a LOVELY apple sauce and sauerkraut. If you like pork, and crackling, this is THE dish. Now, usually I am not a big fan of the german style pork knuckle, as I find the meat too dry. But this one had the perfect balance, crispy skin, and moist flesh. Fantastic.



The demure waitress serving a platter of something.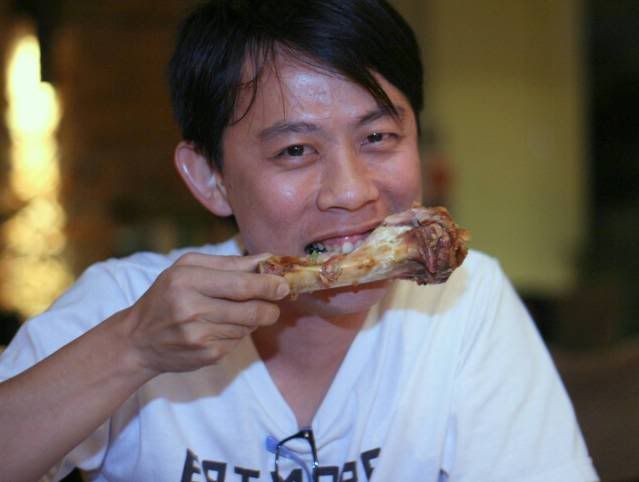 Check out KY Speaks Boner.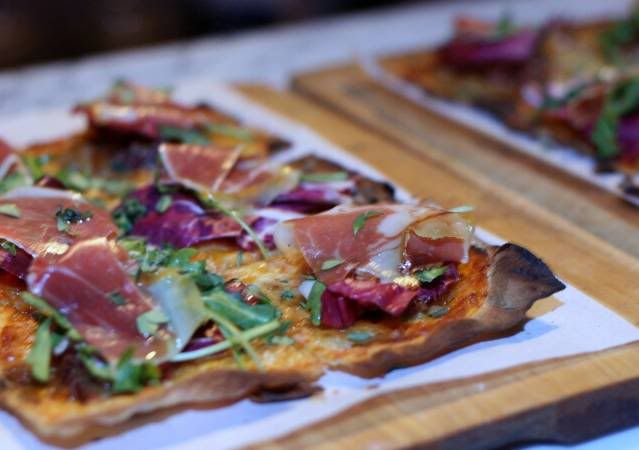 Mamamia pizza, with serrano ham, which is like parma ham.



Spanish Black Pig Shoulder Loin Steak, with a blue cheese risotto. Fabulous. Despite the meat not being fatty, as is the prerequisite for good pork, in my opinion, it was tender, moist and flavoursome. Very good. Definitely a redux required.



Bacon , Potato & Apple Rosti with Chorizo Sausages, with chunky tomato relish.



Italian Cioppino, with Focacia Bread. A kind of a seafood in tomato paste stew. The seafood was fresh. I was too full to try the focacia by this time.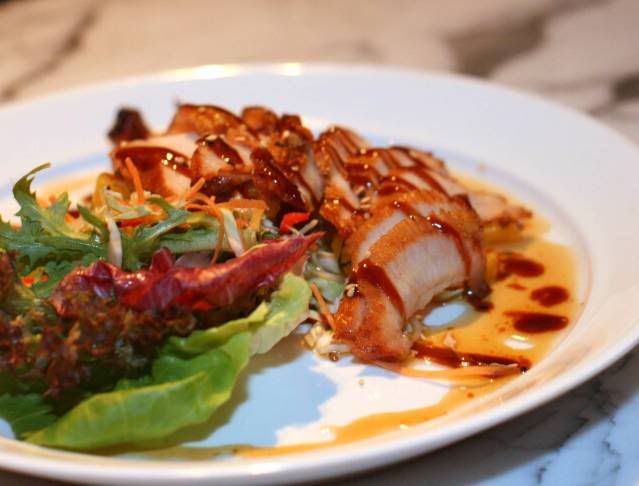 MMMMM, one of my favourites. Grilled Pork Neck with spicy mango salsa.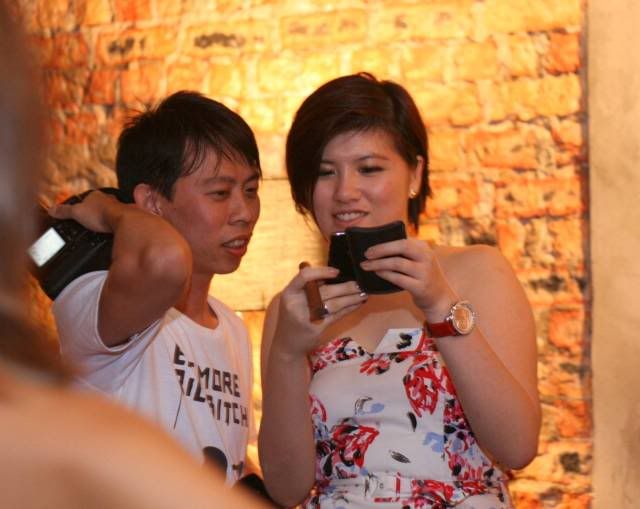 The glitterati food bloggers, KY Speaks and Eiling, who apparently would only date a Tan Sri and above.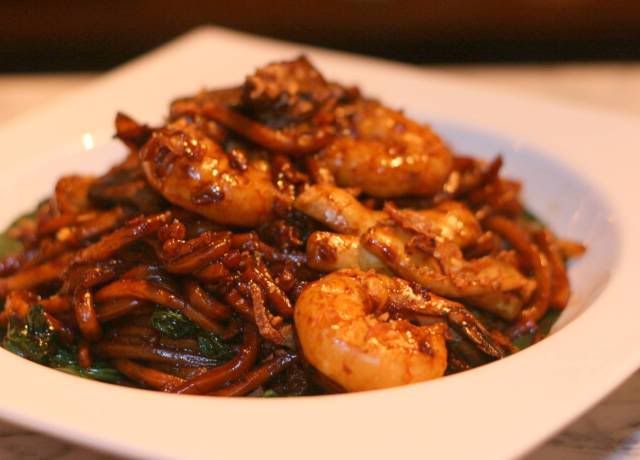 Ah, a lovely surprise at the end.....HOKKIEN MEE. And a damn fine version of it too. Delicious chunks of fresh, crispy lard, fried with enough wok heat! Leonardos has a range of interest suppertime like dishes, such as this, and Bak Kut Teh. Nothing like some greasy hokkien mee after a night of extreme alcohol.



KY Bond and his gals.



Celebrity Velvetescape in town, with the Master bakers themselves, and Cumi & Ciki.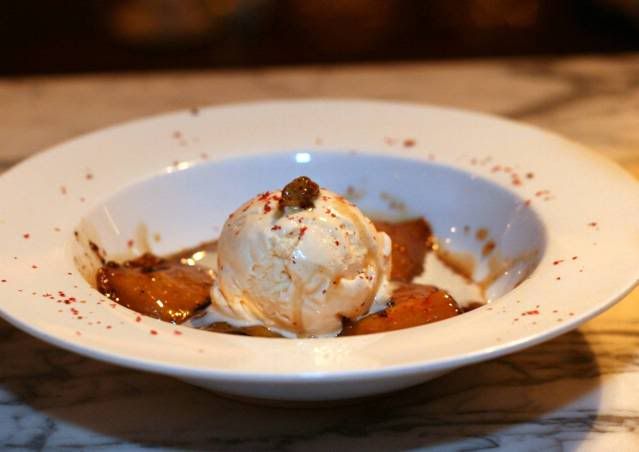 Grilled Mango cheeks (from the butt of the mango, presumably) with pink peppercorn, and cardamom, (which I bit into!! bleagh), and vanilla ice cream. Lovely combo, the spices really added a zing to an otherwise pedestrian offering.


Banana Bread and Butter Pudding, with real vanilla bean sauce. Yummy. I loved the crispy bits of the bread. Very good.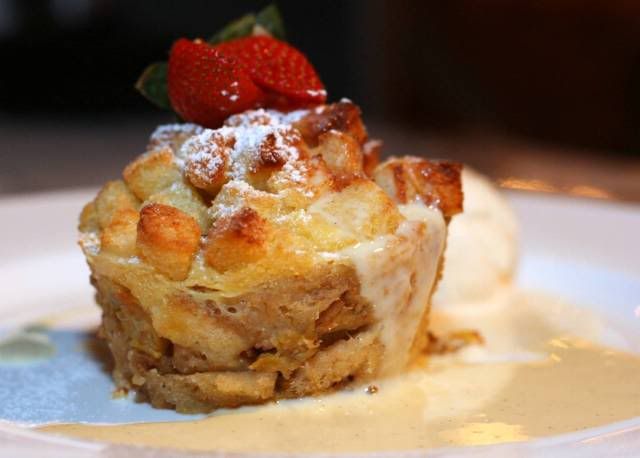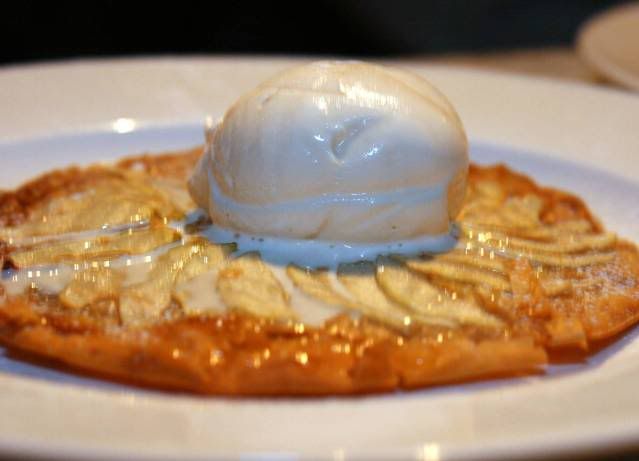 Baked apple with filo pastry and cinnamon creme. I love apple desserts, and this is no exception.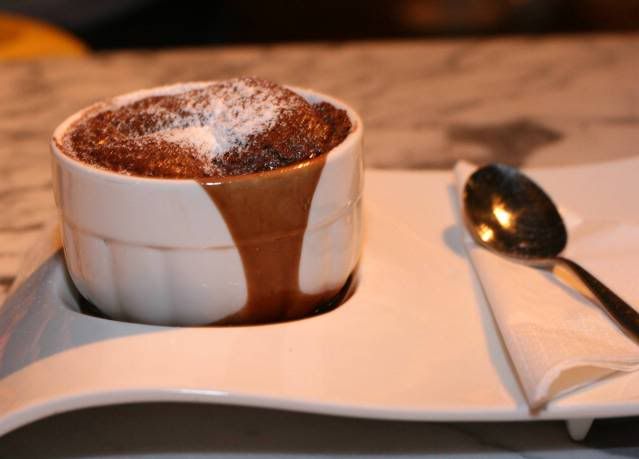 Chocolate Seduction...somewhere in between a pudding and a souffle, says Edward, the owner. A pouffle I would call it. Well, alas, I didnt really get to sample the pouffle. (poo flay)

With free flowing wines, and great company and great food, can life actually GET any better???

Leonardo's is located on Jln Bangkung, on the 1st & 2nd floor, above Suanson bakery, which is a few doors away from Opus. The upper most floor is perfect for private parties, and drink fests.

Thanks Fadlin, Peter and Ed for having us.