As mystical and elusive as the gods that reside on Mt Olympus, a trip to Pan Heong somehow always failed to materialize, until one day, the Goddess herself, Boolicious of Masak Masak, decided to intervene and snapped her fingers, and lo and behold, and outing was organised in less than 5 minutes.
The way we rendezvous-ed to form a convoy heading to Pan Heong makes you think it's located in an orang asli settlement in the foothills of the Titiwangsa range.... actually, its VERY easy to find. Turn off to the Batu Caves/Kuantan road from Jln Kuching, take the first left after the huge elevated roundabout, and left again. The chinese school is the landmark.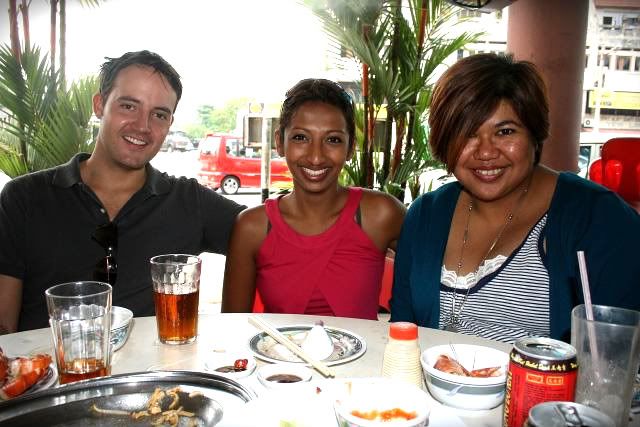 We are amongst celebrities..... Lil Chef, from Senses, KL Hilton (Frat's and my idol and hero), Aly, his other half, from Red FM, fasting growing English language station in Malaysia, and of course, no need for introductions, the Queen of the DSLR....who incidentally has her own blog post pasted up on the walls of Pan Heong. That's like having your painting in the sistine chapel.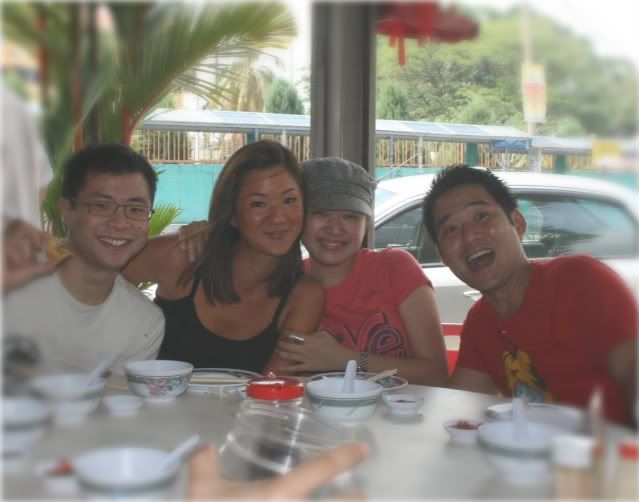 The Youth of Today.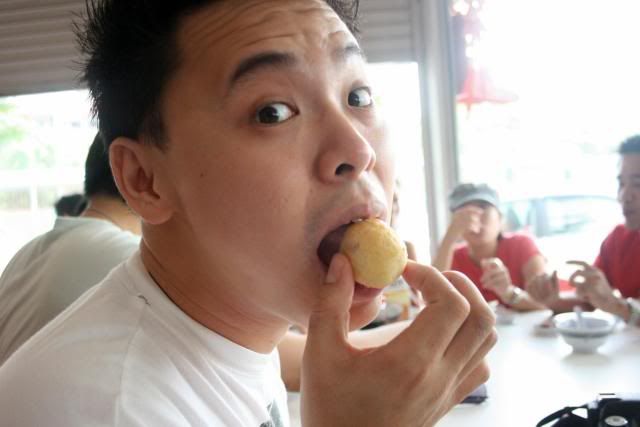 Monkey indulges in a supersized Jam Tart which Boolicious brought back from Singapore. They were delightfully buttery, with pastry that crumbles in the mouth.



This is some potato leaf vegetable dish. Aisehman, how to be food blogger like this? Can't even describe the vegetables correctly. I think its called Fan Shue Yip....literally, potato leaves. It has a lovely slim texture, and enough chlorophyll to make you want to go into the sun and photosynthesize.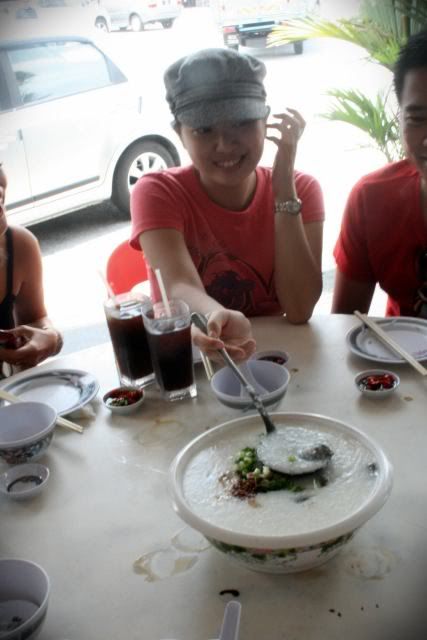 Aren't we lucky to have such lovely ladies (or girls) to serve us? Lovely century egg and fish congee, which is one of their signatures. Smooth texture like a baby's bottom.



Actually, the century egg was surprisingly good quality. Our local century eggs somehow usually lack that rich, gooey yolks that the Hong Kong ones have. Maybe Hong Kong/China ducks lay golden eggs. Our local yolks are usually hard and tasteless. The one in the congee was well, not as good as the Hong Kong ones, but better than most local ones.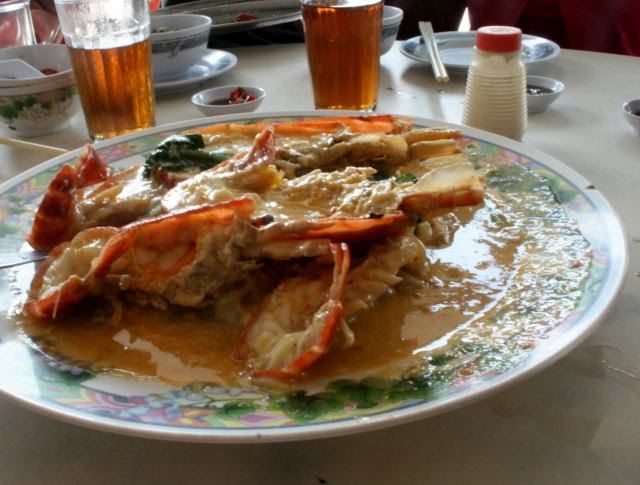 The MUCH famed and hyped about Sang Har noodle. (Freshwater Noodle). The twist is they use kueh teow instead of sang mee. I myself am an ardent Sang Mee fan, but this kueh teow option was very palatable indeed. Lovely silky smooth rice noodles slithering down the throat coupled with that rich prawny roe gravy. Divine!



Kau Yoke Meehoon. It's like that Mui Choi Kau Yoke dish, except with mee hoon, without the mui choi. (its a fatty pork with preserved vegetables dish). Very good, and we were bemoaning the fact that there was only one plate. That was duly rectified.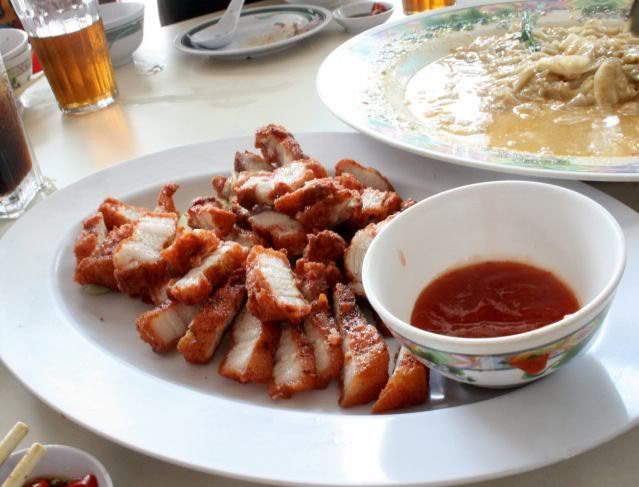 Nam Yue Pork. Deep fried filleted pork in a preserved bean coating. Lovely and crisp, the kind of food that goes well with booze. Which we thankfully had. A couple of bottles of Savignon Blanc made for a lovely nap after lunch.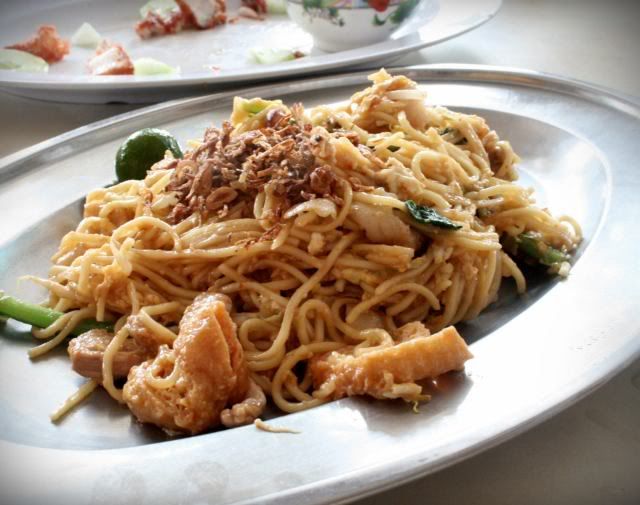 Mee Mamak, in a chinese tai chow. 1 Malaysia!!!! However, they should leave the mee mamaks to the mamaks... it was okay in itself, if you do not compare, but as far as Mee Mamak goes, I think the resemblance was about as much as me and Jet Li. The similarity stopped at the Yellow.



Encore plate of the Kau Yuk meehoon.



Two satisfied children.



So, is it worth the hype? Well, the food is good, no doubt about it. I would definitely go back again at the soonest opportunity. Go early, coz it was packed, and without our Goddess's influence, I wonder if we would've gotten a seat at all.