The youth of today and their single malts. In my day, the trickle of Hennessy X.O. into a glass of crackling ice, was the sign of ultimate luxury. It was a rare treat, given only during Chinese New Year and special occasions. Speaking of special occasions.....
..my dear buddy, AWHIFFOFLEMONGRASS (AWOL), very kindly included me in her exclusive list of invitees for Hennessy's XO Appreciation Grows, a lah dih dah event, organised by Hennessy, Moet Hennessy Diageo Malaysia Sdn Bhd (formerly known as Riche Monde Malaysia), and Milk PR Sdn Bhd, (who was the one who invited us thru AWOL, thank you very much).

At RM800 per person, we were full of heightened expectation, wondering what wonders lay in store in a specially constructed dome on the grounds of the Bukit Kiara Equesterian club, actually built on the site where horses did their daily trots around the corral. We were ushered into the outer sanctum of the large marquee, in the comforts of airconditioning, while waiting for the laggard guests to trickle in. When an invite says 6.30, black tie, one would expect a bit of punctuality.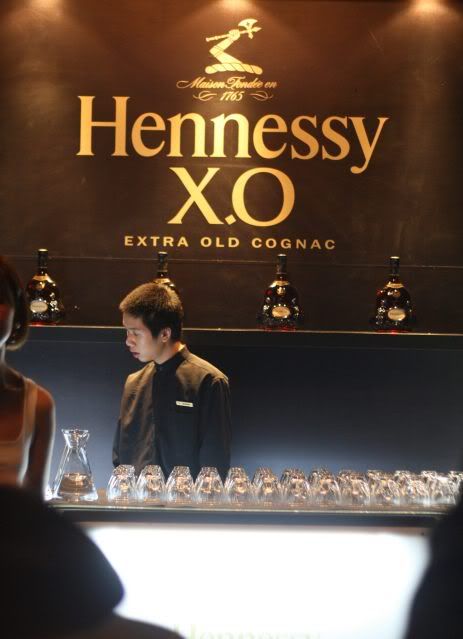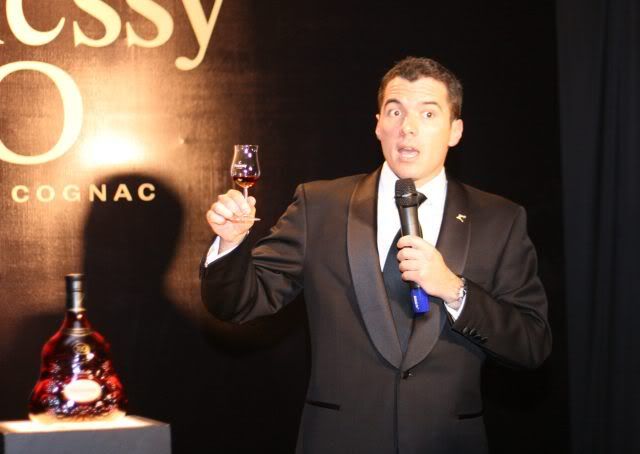 We were then ushered yet another step closer into the holy of holies, into another sanctum, where we donned on state of the art wireless headsets that didn't work, but were regaled with the story of Hennessy XO, by the dashing Regional brand ambassador, Arnaud Mirey.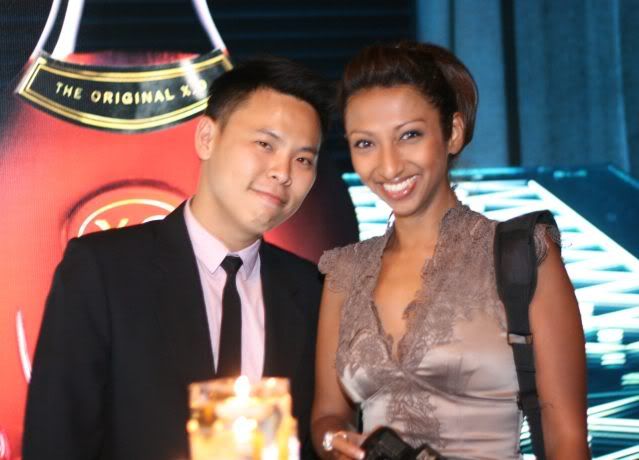 The Kuala Lumpur glitterati....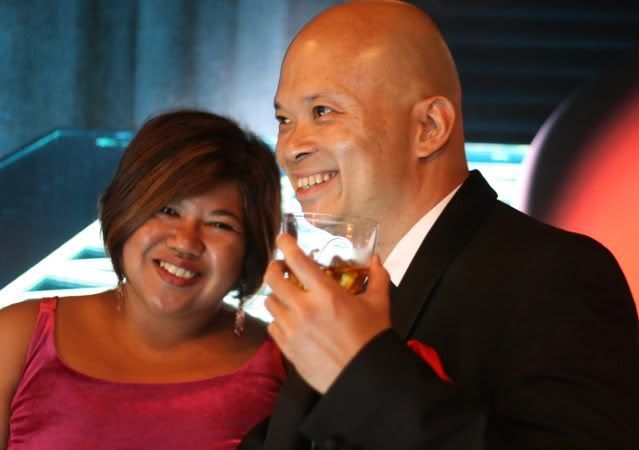 Speaking of Kuala Lumpur glitterati, if you know these two, you probably know the whole of KL. The inimitable Nigel Skelchy, who takes half an hour to move 20 metres because he has to stop and say hallo to everyone.



Happiness, apart from family, good health, friendship, love and all that, is seeing bottles and bottles of expensive liqour waiting to flow down our throats.



The Man of the Hour, Michelin Star Chef Alvin Leung, sharing a light moment with Frederic Noyere, MD Of Riche Monde Malaysia, in a "press conference" like setting. The floor was open to a very shy press, to ask questions. Of the 4 or 5 questions asked, I think 3 came from OUR group, namely Nigel, of course, and our very own celebrity, Aly of Red FM.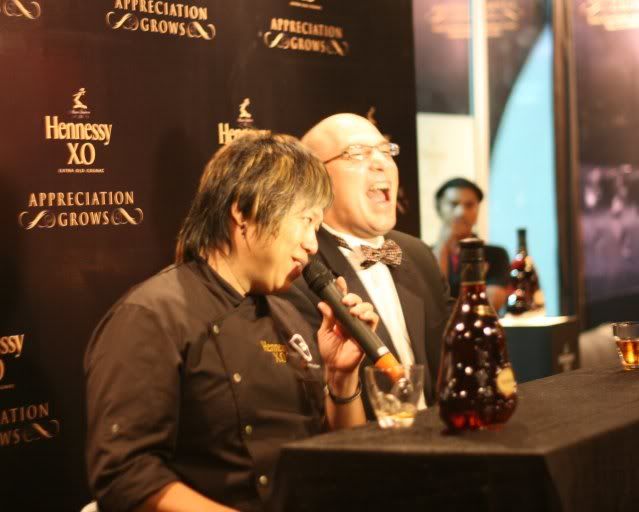 Alil naughty monkey, with BabeKL in the background!



She looks like she's crooning, That's What Friends Are For.



Our Menus, wrapped in a black napkin, like a tuxedo laidat. So classy hor!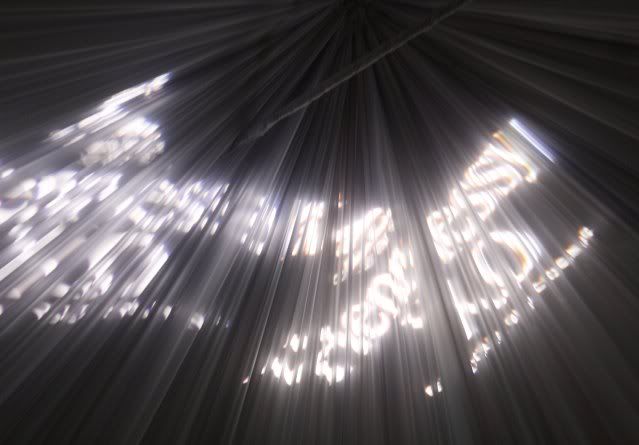 The circus has come to town...the main dining area is one big domed tent, a bit like Hogwarts..the ceiling changes pictures and theme according to food that is served. Rather interesting concept.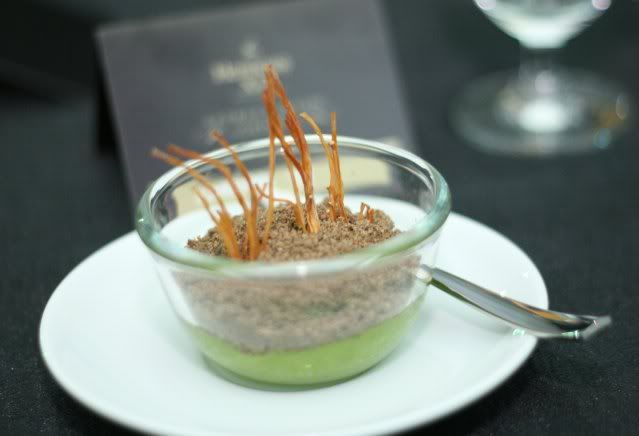 The first dish was Glass Garden, an avant garde Hong Kong interpretation of a garden dish, made from baked morel soil, dehydrated enoki, braised caterpillar fungus, and green onion puree. It's supposed to resemble a vineyard in winter? Dried vine plants on the brown soil. I thought this dish was quite amazing. The green onion puree was something very unique, and the flavours were intriguing. Familiar, yet completely new. The texture, ethereal, and light.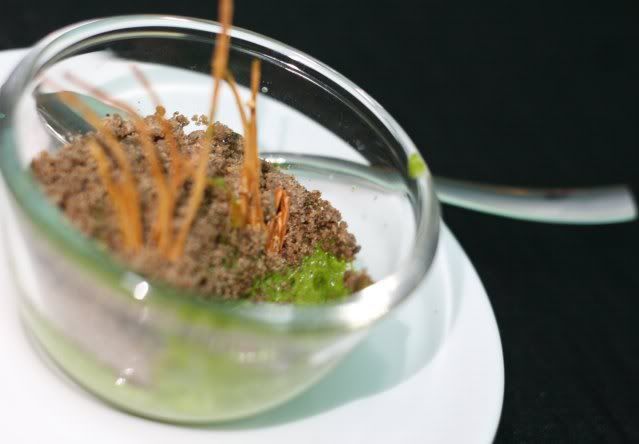 The combination of the dried morel soil, which was delicious, with the green mousse was also inspirationally clever.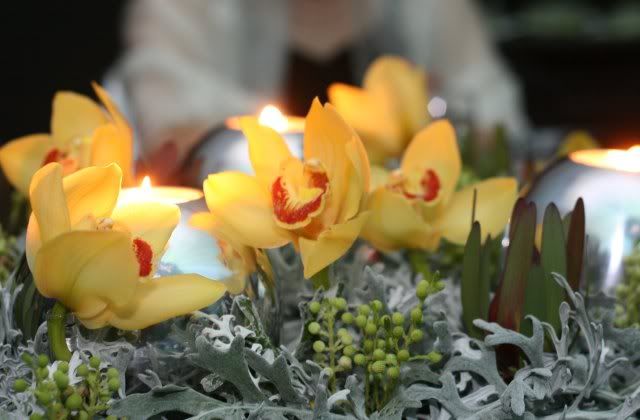 Orchids seem to be the FOTD. (flower of the day) [cheers to you, Fratmustard]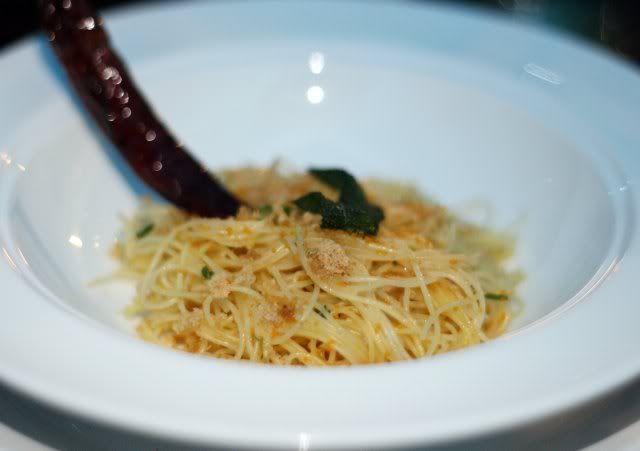 Har Mi...or Har Mai, a perfectly executed crouton of carebinero, sauteed capellini, roasted cherry tomatoes and deep fried sage. In English, its basically dried shrimp that has been cooked for 48 hours (much like serunding), tossed together with angel hair pasta. A lot of people declared this their favourite dish. Again, it was the familiarity and comfort food element of this dish that probably appealed to the palate, but yet, with that added culinary twist that we could never quite replicate.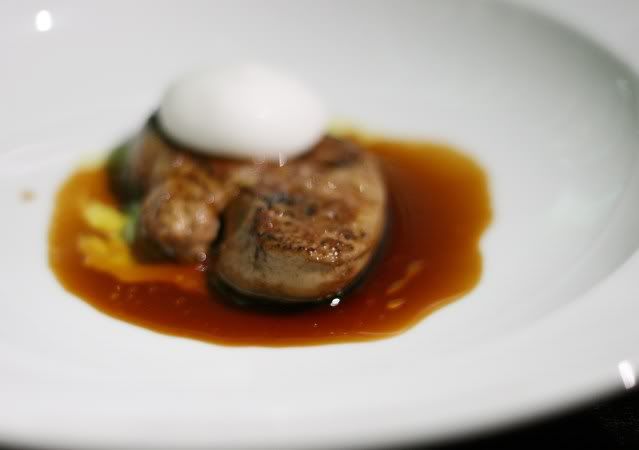 Of course, Foie Gras is always MY favourite. So I was delighted when the health conscious like Nigel decided only to have a morsel of his, and passed the crumbs to the waiting rakyat. Palate Fantastique, pan fried foie gras meticellulose and xantana. I like it, when I don't know the meanings of more than half the words in the description.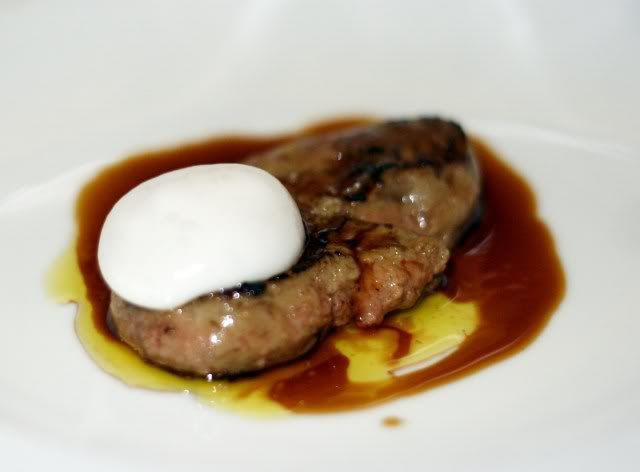 Melt in the mouth, and that blob of foam on the foie gras, (molecular gastronomy ma!), awesome. Incidentally, all these dishes are paired with the XO, which our in house culinary guru, Nigel, pointed out, completed the flavours. Apparently there was always a missing element that was made complete only with a sip of the XO. My unsophisticated palate could of course make no such distinction, and I thought the food tasted remarkable, with or without the XO. But there is no doubting that the XO was remarkable as well.


A rare treat, when we were given the opportunity to savour the smooth delicate moments of the ULTRA LIMITED EDITION HENNESSY X.O. MATHUSALEM, a 6 litre bottle of ultra limited goodness, created by master blender and secret keeper, Yann Filloux. Arnaud here is demonstrating how to use his rod to extract the precious fluids.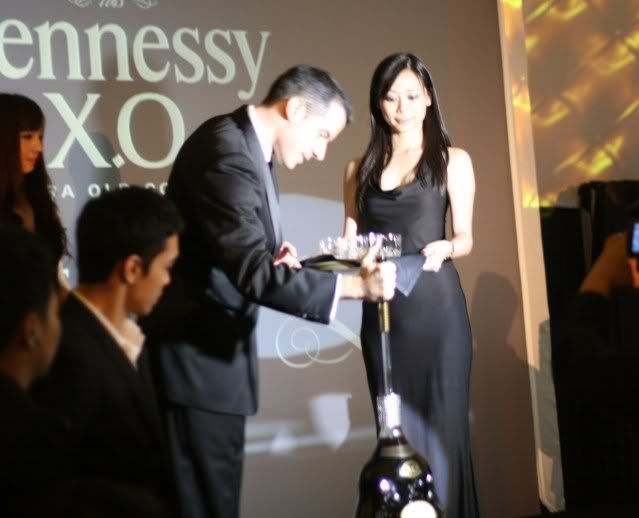 Kukomi Intrigue, an umami dish, created from boiled chicken soup, sous vide egg white, foie gras and julienne truffle. I thought the soup itself was a bit on the salty side, but you see, it had to be drunk with the accompanying egg white at the base, completing the flavours. Gold leaf floating on the surface added a nice touch to the already glittering event.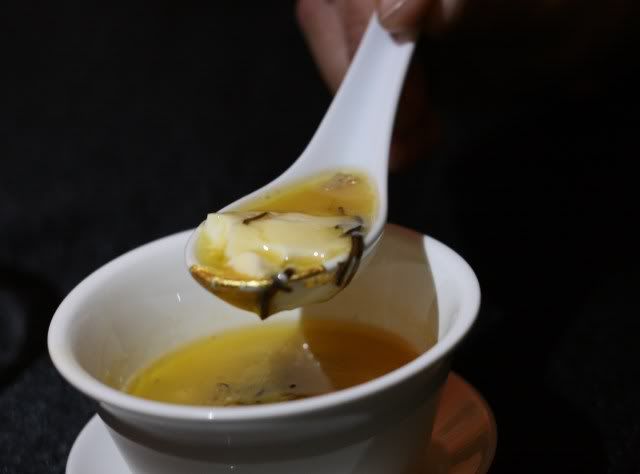 Nigel wastes no time in trying HIS hand at using the rod and poking it into the precious fluid.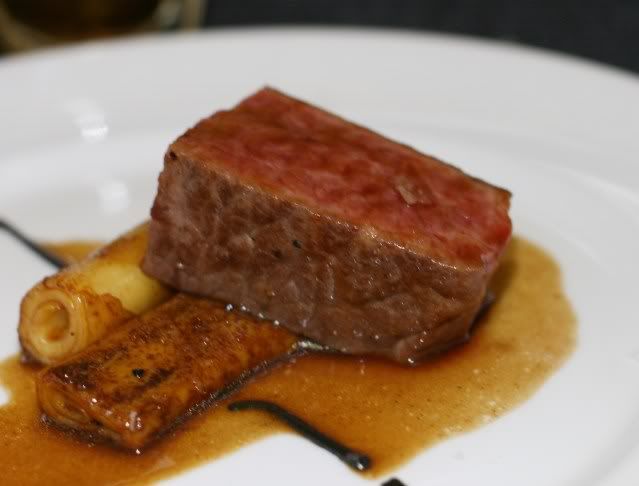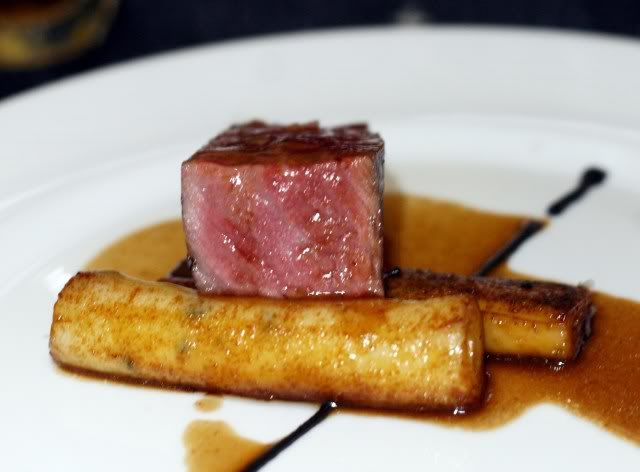 Wagyu Wonders, Alvin Leung's specialty of sous vide wagyu striploin, cheung fun and black truffle. The texture of the cheung fun was amazing, springy yet not overly so, and the wagyu was simply sublime. Tender, melt in the mouth but yet with that texture of beef, that doesnt make you feel like you're swallowing pure fat. Lovely.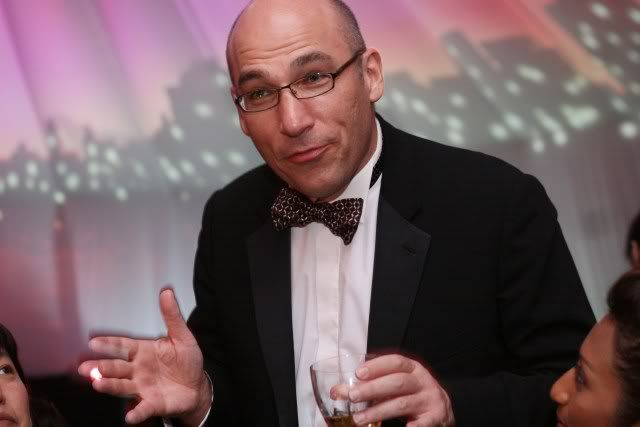 The very affable Frederic Noyere, playing the perfect host, going from table to table.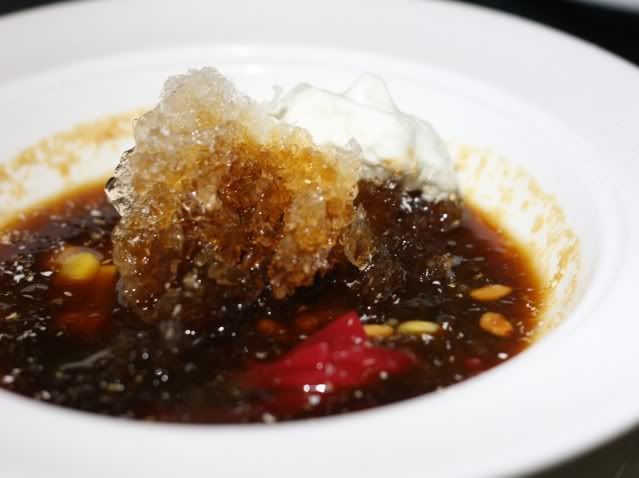 Dessert..probably the most daring dish of the night. Named Eastern Ascent, an unforgettable dessert of kikorangi (NZ) blue cheese, milk, cream and dried longan granita. A glamorized leen chee kang, some said. Yeah, this was definitely the most interesting dish, in the sense that it was daring step of faith, intermarrying the intense odor of blue cheese, with a basically pedesterian tong shui. I enjoyed it, but it wasn't my favourite for the night.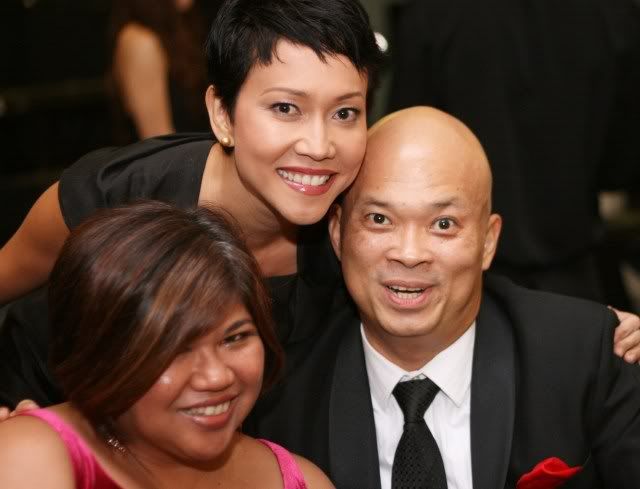 Stars of a feather flock together.



An encore dessert, basically a tiramisu with liberal doses of X.O., that wasn't on the menu. I would have preferred it served cold. Ours was at room temperature.



Our Michelin Chef, and rising comic star, Alilfatmonkey.



To read more about Chef Alvin, check out the Hennessy XO website

HERE

.




This event is on till the 25th of September, but I hear it's been sold out. However, if you feel compelled to attend, perhaps you can contact Adeline Ong of Milk PR at 603-20948915 to see if they still have tickets available.

A special thanks to Milk PR (and the CEO, Wei, for being such a gracious host), and

A Whiff of Lemongrass

for the invite. It was truly an honor.