Who amongst you remember going to the Merlin Hotel, in the days of yesteryear, when P Ramlee movies were the toast of the town, and our local leading ladies in the silver screen wore sarungs just enough to cover their bosoms, in bathing scenes, when life was much simpler, Malaysians more friendly to each other, when racial divide did not feature as a daily thing in the Malaysian papers. You may say I'm a whinger, but I'm not the only one... Imagine all the people, living life in peace.... woo hoooah.
Merlin, the definitive hotel, one of probably a handful, a treat to a innocent child whose eyes pop open in amazement at the ornate tortoise ponds, the dainty dim sum treats served by waitresses with cheong sam slits to their waist. Ok, perhaps it was all Imagine, but oh well, one can dream.
Today, all that remain of that era are two ornate dragon pillars, in what is known as Xin Cuisine, in Concorde hotel.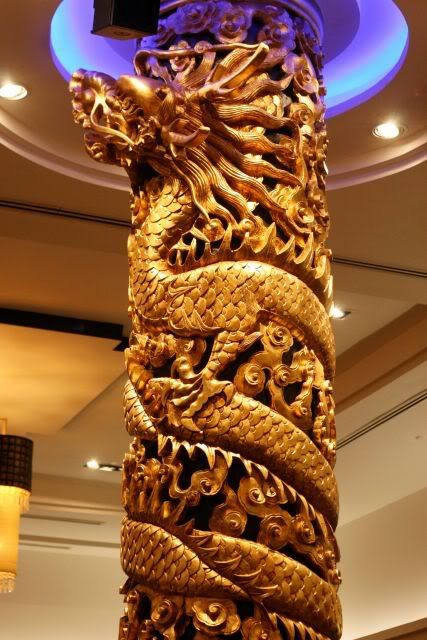 And actually, till today, I reckon dim sum in Xin is still one of the better ones in town. Xin, despite the fact that most Chinese restaurants in other hotels are halal, still serves pork, preserving its lure as a Chinese restaurant for the flers who need their porcine fix.
Again, thanks to Aly of Red FM, who has posted her review
HERE
, I was invited to sample the Mid Autumn Festival Menu, which is priced at RM888++, for a table of ten. We were warmly hosted by Mr KT Lee, Janet Leong and Julini Mohd Yusof, who made us feel very much at home. Alvin & his lovely wife, YY, both Aly's photographers were also there. Check out their lovely shots at Aly's post.
This was taken after dinner, actually, when the restaurant had quietened down. Xin is also used to host smaller wedding crowds, and I think can seat up to 30 tables.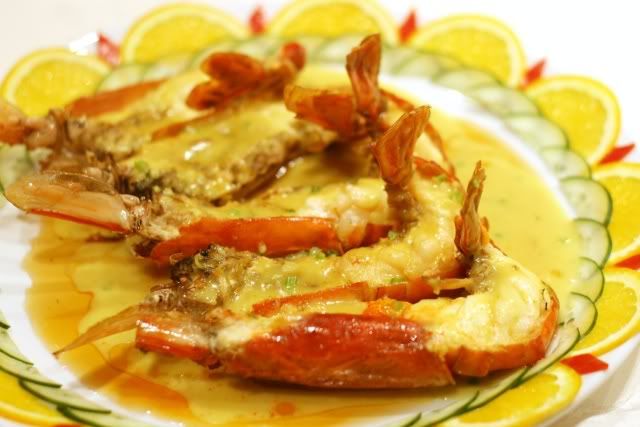 Pan Fried King Prawn with Chef's specialty sauce. It was a rich creamy sauce, almost buttery, fortified with prawn roe, always a good thing, of course. The prawns themselves were fresh and firm. Actually this dish is crying out for noodles to make it into a Sang Har Mee kinda dish. Apparently the Chef does make a fabulous Sang har hor fun dish.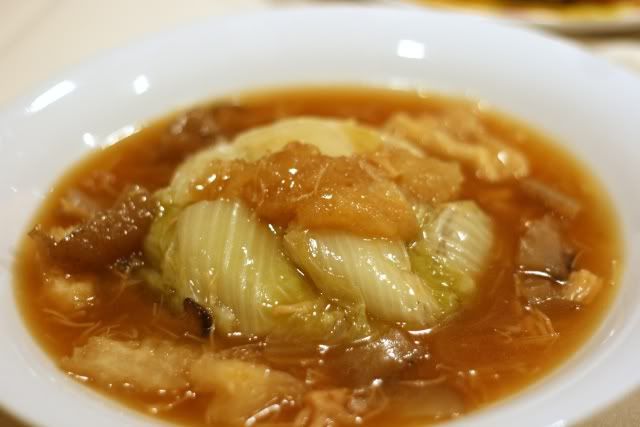 Braised Chinese Cabbage with Dried Seafood, mainly scallops. Very traditional, and comforting. I could eat this dish alone with a bowl of rice, and be happy.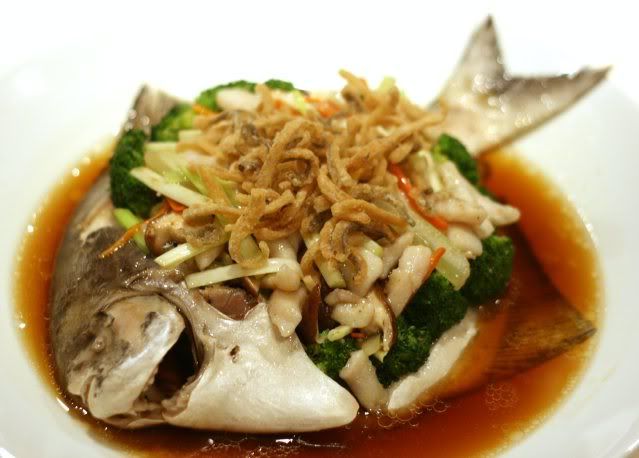 Pomfret (Tai Tou Chong) cooked 3 ways. I thought 2 ways was impressive enough, but THREE ways! One side was steamed, another side pan fried, and the skin deep fried. Considering this is one of my favourite fish, I have to say this dish would rank as my favourite. Loved the crispy deep fried bits of skin...a healthy version of chee yau char. (pork lard)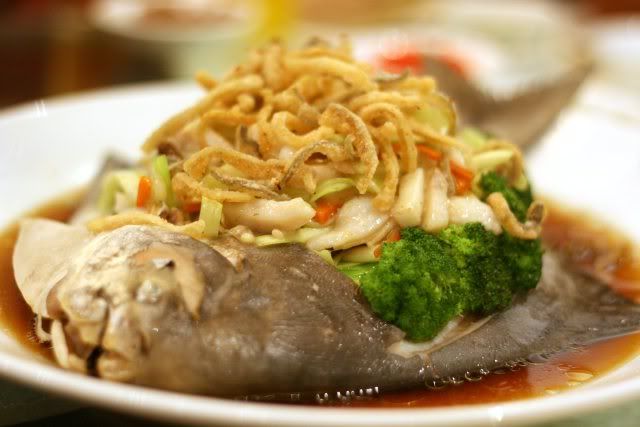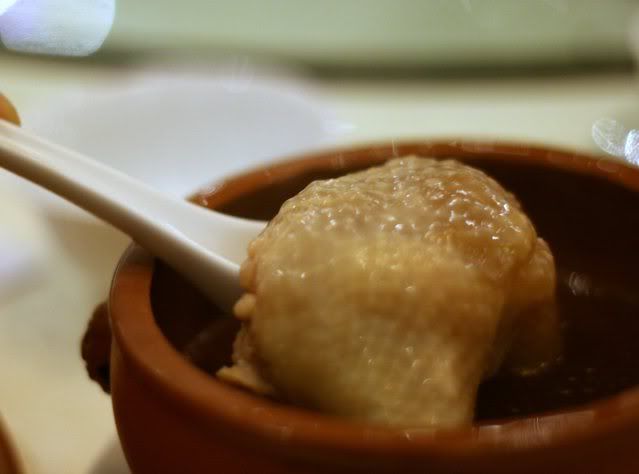 This is an awfully taken pic, but me and soups, and me and meats...we just don't go. The soup was a superb clear broth, and a piece of chicken drumstick filled with lots of good stuff!!! It was like a child breaking open a pinata and finding all the goodies within!!!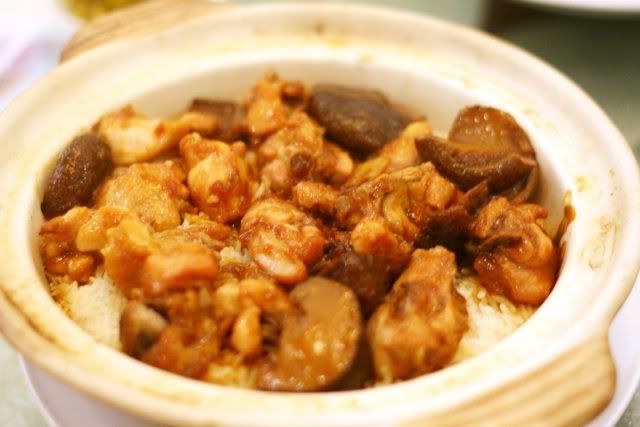 Claypot Chicken Rice. Got my carbo fix right here. Tender pieces of lovingly marinated chicken, slowly cooked in claypot, tossed with rice, the quintessential chinese meal, I'd say.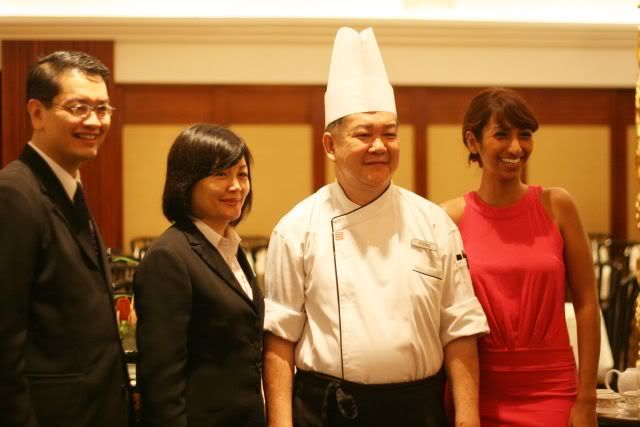 KT Lee, Janet, the Master Chef Foong Ah Wai, who has more than 30 years of experience under that apron, Red Hot Aly, posing for Alvin, actually, hence the "not looking at my camera" pose.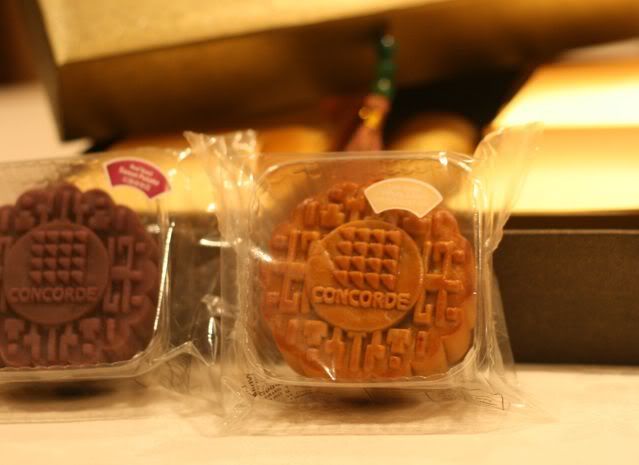 Concorde is also offering a variety of mooncake, and did I mention, they throw in a complimentary box with the Mid Autumn Set menu. (Not just the box, but filled with four mooncakes)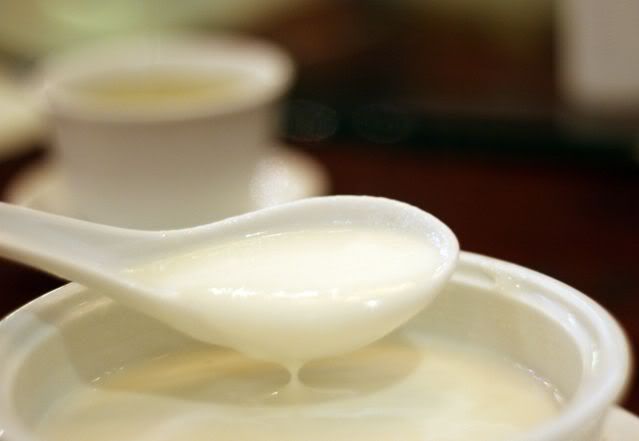 Ah, very rare, pure almond milk, as a dessert. Different from almond jelly that uses fake almond essence, and smells like cockroaches. This pure almond milk makes you feel that if you bathed in it, you'll have skin smooth as a baby's behind. Lovely.
Lotus and sweet potato mooncake. Okay, I'll be frank, give me a good old salted egg yolk any day. A sweet potato masquerading as an egg yolk...harumph. But if you are the healthy sort, then yeah, go for it.
Incidentally, the real mid autumn festival is on 22nd September, or the 15th day of the 8th month of the chinese lunar calendar. So if you want to catch this menu, better hurry.
Thank you, Mr Lee & Janet for being delightful dinner company, and to Aly, of course!
CONTACT
Xin Cuisine Chinese Restaurant
Concorde Hotel Kuala Lumpur
2 Jalan Sultan Ismail,
50250 Kuala Lumpur, Malaysia
Tel: 03 21448750/21442200 extn 2616