There seems to be a few "Il" whatevers popping up. Il Divo, Il Lido, Il Primo. Now, if the Ministry of Education were to set up a restaurant, it would be called Il Literate, and if MACC were to set up one, it'll be Il Legal. The President of MCA's restaurant is called Il Licit. Of course, if I were to set up one, it'll be called Il Lustrious. Ahem!
Il Lido has been touted as "
could be the best Italian restaurant in KL
" but food cognoscenti, Sean Yoong of Eat Drink KL. With such rare accolade, of course, I was thrilled therefore to have been able to dine there TWICE so far, once for Bald Eagle's Surprise Birthday Dinner (which I've yet to blog about), and once for an invited review, organised by our Makan- Fairy Godmother, as
A Lil Fat Monkey
calls her. I'm not sure if that term is endorsed by Marian or not.
We were greeted by the warm and bubbly Lyla, who is the PR Lady of the place. Il Lido hails from Singapore, (and therefore it must be good la right?).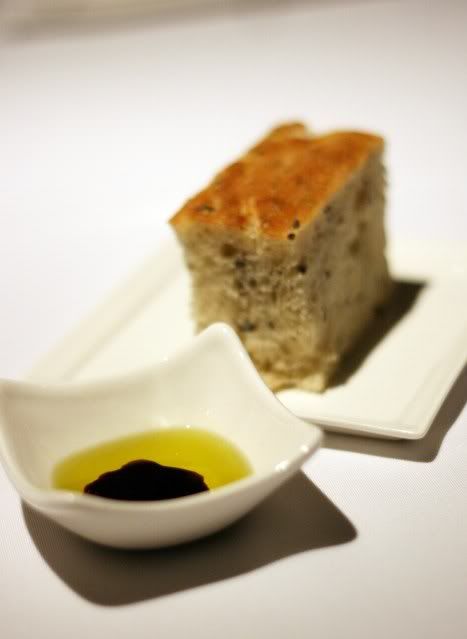 They serve a lovely herbed bread, with olive oil and balsamico, but I being the uncultured peasant that I am, prefer my bread with butter. You have to be careful not to overgorge yourself with this bread, as it's so delicious.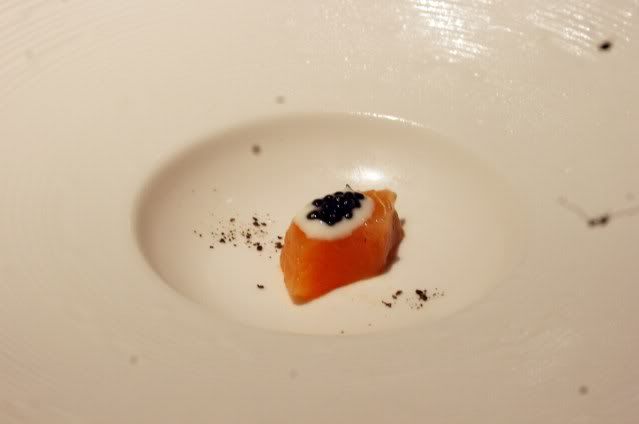 The amuse bouche. I love the way that microscopic piece of salmon is placed on that gigantic plate. It's like how Seri Perdana in Putrajaya is way too big for just the PM. However, the salmon was a lovely teaser to the feast that ensued.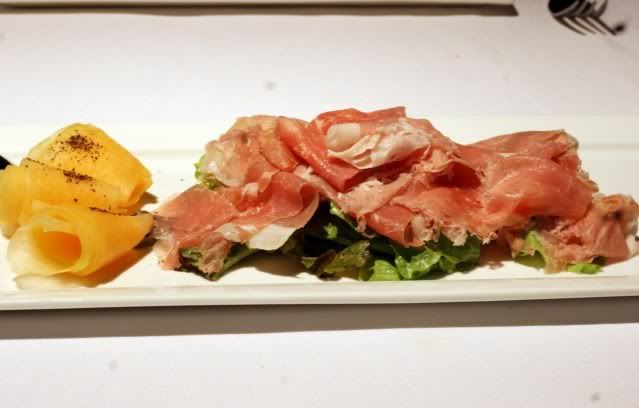 A platter of Parma Ham, Rock Melon and Balsamic. Lovely thin strips of parma. There's something magical about the combination of the sweet rockmelon, and parma. I know its quite a normal combo, but whoever thought of it first, must have been quite a genius.
Rucola Salad with Pecorino Cheese, Walnut and Pear. Walnuts also seem to be the natural marriage partner with pears. Its seemed written in the stars. I'm not sure what Rucola is, but it tasted like some baby spinach.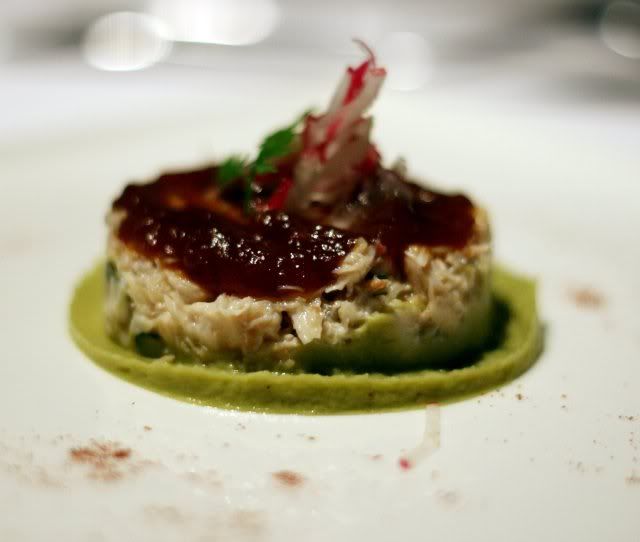 Crab Salad With Avocado and Bisque Jelly. I love crab, and anything with PEELED crab, provided it doesnt have that freezer after taste, is always welcome. Such a pretty looking starter as well.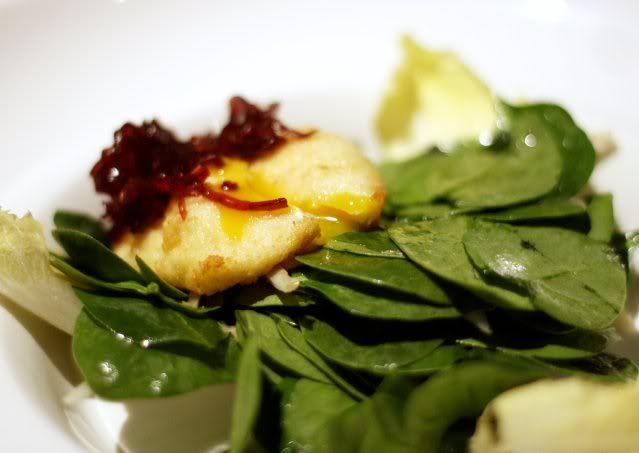 Spinach and Endive Salad With Golden Egg & Red Onion Compote. The highlight for me was the fried egg, runny yolk on the inside, while the albumen forms a natural sac protecting the liquid gold within.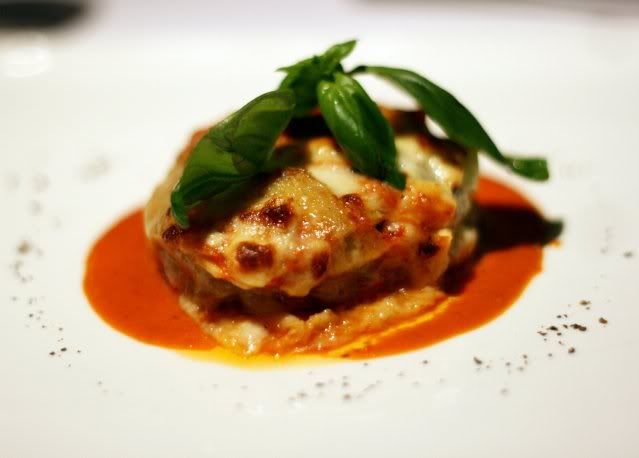 Baked Eggplant and Mozarella Cheese...a mini mousakka, almost.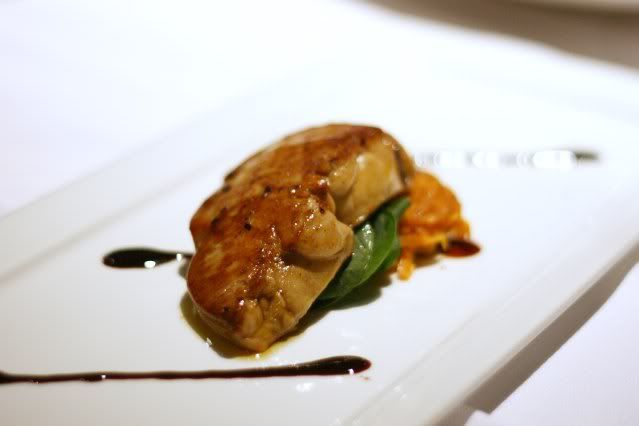 Pan Seared Foie Gras with Saba Wine Must and Sweet Potatoes. I have to say that for RM59, it is a generous slab of foie gras, and seared to perfection as well. Totally melt in the mouth, the subtle sweetness of the saba wine must and balsamic in union with the sinful diseased liver, ah, we are close to heaven.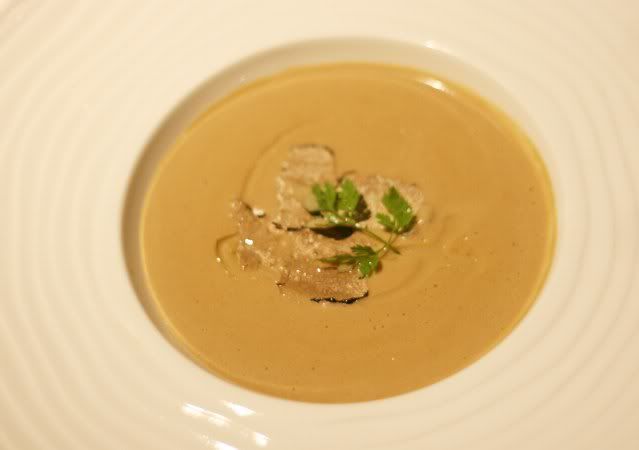 Porcini Mushroom Cream With Truffle. I've only ever heard about such things, I hear they serve a lovely version in Senses, but with no yardstick to compare, I thought this was divine. I think when I return, I shall just have this soup, the foie gras, and their BREAD!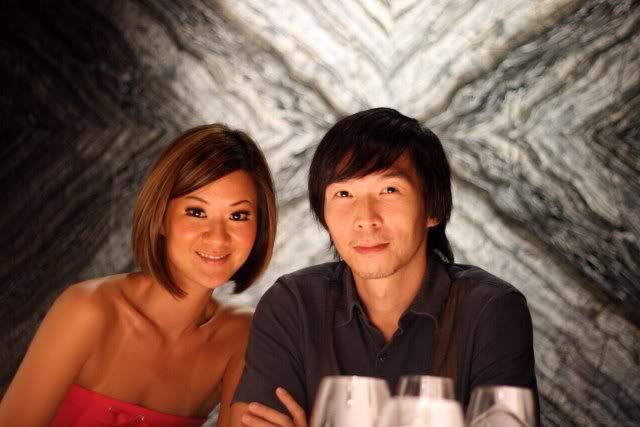 I didnt take many human pictures this time, as I was totally engrossed in the food, but this particular one, juxtaposed against that unique background, makes for a nice shot. Of course the subjects are also photogenic.
Rigatoni with Suckling Pig, Porcini Mushrooms and Truffle. Oh my gawd, if you like rich stuff, go for this dish. It's simply choking with goodness, but it is really too rich for me. Two pieces and I felt like I was about to do a Cheras Pomelo. Bits of luscious sucking pig, in a rich creamy based sauce fill the rigatoni, the way plaque would fill your artery.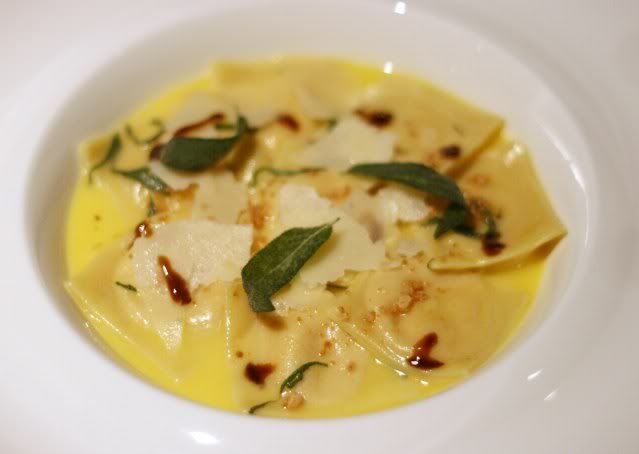 Pumpkin Tortellini with Sage. Lovely homemade pasta, so refined and yet comforting.
Linguine With Jumbo Sea Prawns. The prawns were succulent and fresh, and okay, I think THIS dish, I could eat myself. (But not if I've had the Foie and Truffle Cream).
Good old pasta, this one, though it is gourmet.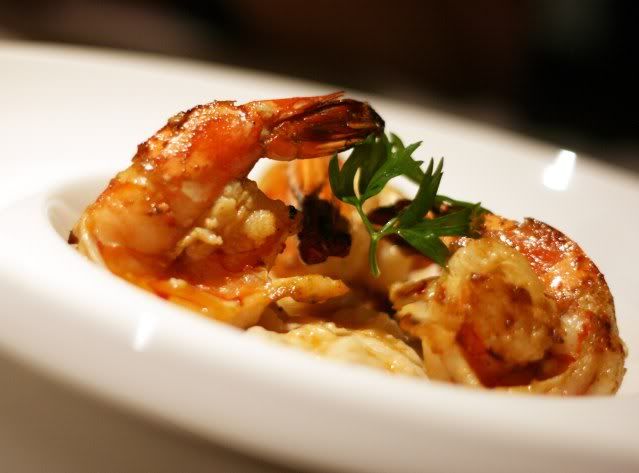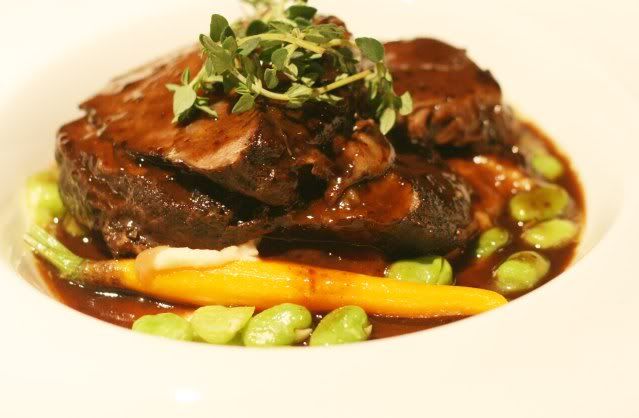 Wagyu Beef Cheek with Celeriac Puree and fava beans. The beef was worthy of its wagyu status, tender, but there was one element in the sauce that seemed to overpower the dish, which we couldn't quite place.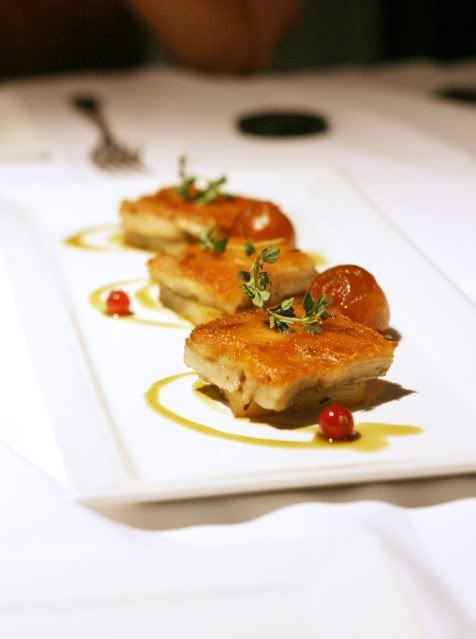 For the pork lover, this is a must have dish. Sardinian Suckling Pig with Plum Sauce. If Sardinia itself didn't sound exotic enough on its own, this dish conjures up images of Marco Polo returning from his travels in China, and introducing this palatial dish in his hometown. Crispy crackling, a lovely layer of fat, and the tenderest of meat.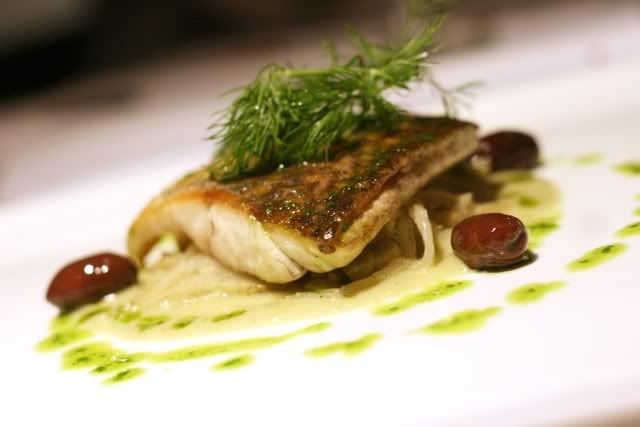 Red Snapper Fillet With Egg plant Caviar. Honestly, by this time, my palate had ceased to function, as the brain cried out to the tummy, ENOUGH ENOUGH. Looked healthy and tasty enough.
But there's always room for dessert. Some gelato...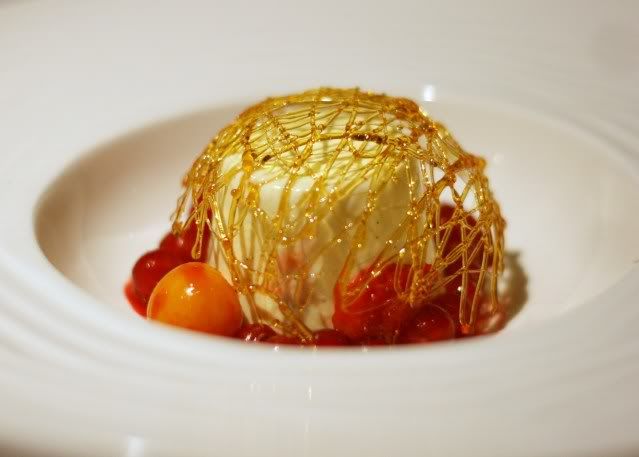 A gorgeous panna cotta, creamy, firm, not overly wobbly...encased in a picturesque sugar net. Such effort people take to decorate their desserts.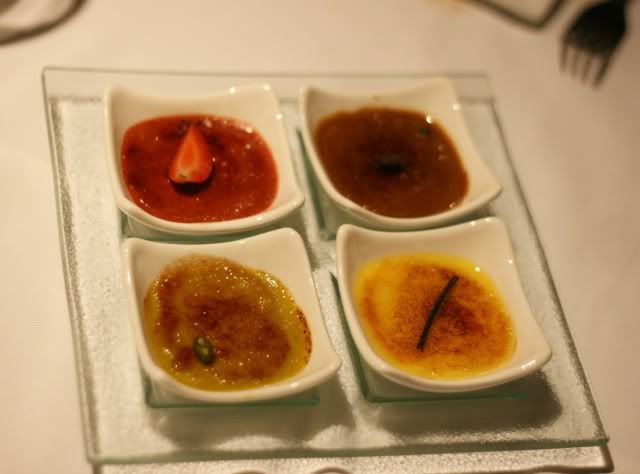 Four types of creme brulee, all good.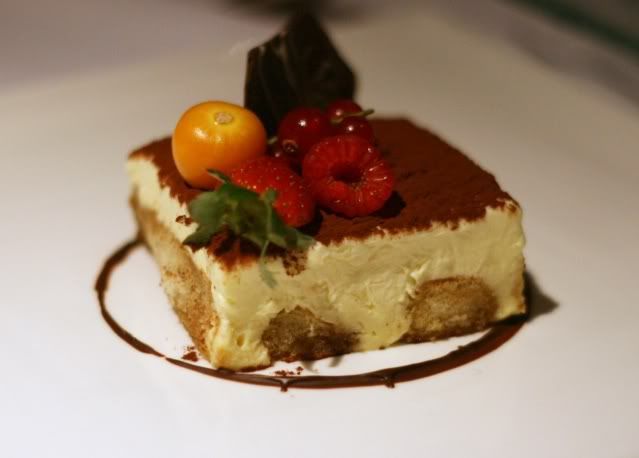 Classic Tiramisu.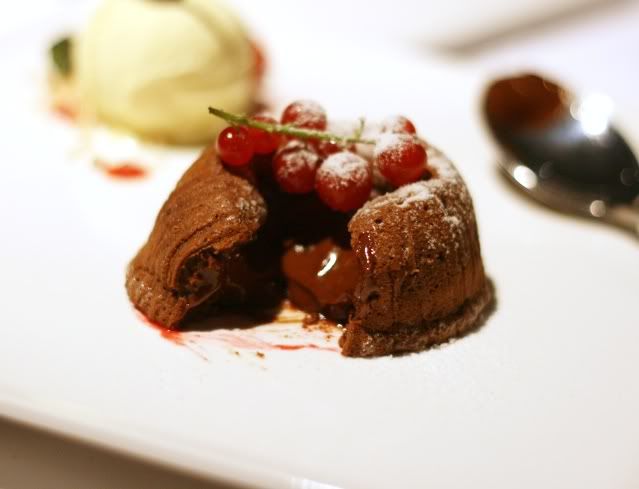 Molten Chocolate Cakes.
What can I say, but WOW, what a meal. I am inclined to agree with Sean's appraisal of the situation, and having dined here twice, (once as a paying guest...well, I didnt pay, but the hostess paid), and once for an invited review, both times have been beyond expectations.
Thanks Lyla for being a gracious host, and Marian for inviting.
Il Lido is situated right across the Aussie High Commission, on Jln Yap Kwan Seng. Tel: 21612291.