I remember walking past this place before it opened, in Bangsar Shopping Centre, and thought, ooh, great, a British pub. You know la, these British pubs, always got name like The Toad in the Hole, The Crown and the Parrot, The Pussy in the Well, The Hog in the Pound, The Snake and the Lizard....
For all you non literature reading people out there, George refers to Saint George (and NOT the Georgy Porgy pudding and pie, poked the girls and made them cry, that one), and the story is actually set in Libya, in a town called Silene. As usual la, the town is terrorised by a nasty dragon, who is probably just a misunderstood reptile looking for food, and the peasants have to feed two lambs a day to the fler. Until one day, when it was the silence of the lambs, and there were no more lambs, and chewdren pulak had to be sacrificed. Then of course, you go up the pecking order, when INEVITABLE, the town's Princess is next on the menu. King offers half his kingdom to whoever can slay the dragon, and George, who happens to be galloping by, probably looking for some Colonel's Fried Chicken, (Libya mah), makes the sign of the cross, and with one fell swoop, tames the dragon. Even juicier, the princess throws him her girdle, which he uses to tie around the dragon, and then, suddenly the dragon is all subservient. What a beautiful analogy of how easy it is to control people. George brings dragon to town, townsfolk all faint, so George slays the dragon. Something like that.
I digress. Now far away from the site of that actual event, in the suburb of Bangsar, nestled amidst the affluent shops where Tai Tais roam , is George and The Dragon, all part of the happy family of establishments including Single & Available, Decanter, etc. That should clue you in as to the ownership.
Dinesh of BRDB sent a very nice invite, asking if some of us would like to sample what GATD had to offer, so why not? We were greeted by the lovely gregarious Melissa Chong, the Group Marketing & PR Manager of GATD. Her enthusiasm and bubbliness was contagious. We started off with the variety of beers they had to offer. Aly (RED FM) stuck to Tiger, I tried the Speckled Hen, (No relation to the spotted cock), while the rest tried the other stuff they had to offer. My speckled hen, an ale, is a bit sweetish, and filling. I can almost imagine myself drinking this hearty ale in a british countryside pub.
I always thought it was George and THE Dragon, but my bad, it looks like its THE GEORGE AND DRAGON.
A platter of pigs in the blanket (their version, which is sausage wrapped with bacon) and deep fried belly pork, aptly called BLANKETS AND BELLY. Pork, pork and more pork. If we are what we eat, I'd be crying wee wee wee all the way home. Lovely snack food to complement the beers.
But the porky piece de resistance really comes in the form of this PORK KNUCKLE. priced at RM65, and truly is a steal, for its worth every sen. Moist, tender pork pieces, that really descended from Hog Heaven, crispy crackling, with a base of vegetables that make it almost healthy, (brocolli, carrots, etc), swimming in a delicious gravy. I am not a HUGE fan of pork knuckles, and sometimes find it a tad dry, even the Chinese ones, but this version is excellent.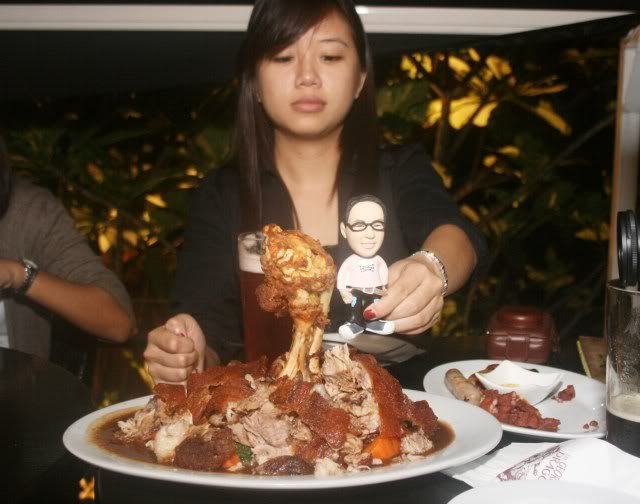 Frat and the Knuckle... another name of a pub you think?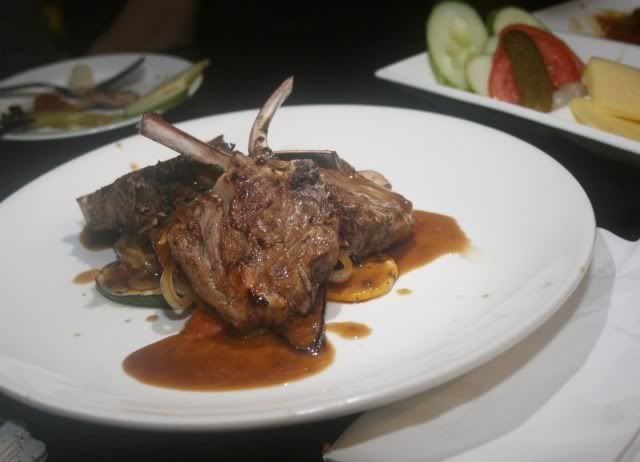 New Zealand Lamb Cutlets. Good but truly, overshadowed by the porcine paradise. There were those amongst us who did not eat pork, or I am sure we'd have pigged out all the way.
Salmon Steak with Angel Hair Pasta. Understandably, angel hair is delicate like erm...a fairy, and any overcooking will quickly render it non al dente, which I dont like. Gimme al dente any day. The salmon was well cooked though, and the skin nice and crispy.
Well, if lamb is used for a shepherd's pie, then this is definitely a fisherman's pie. Although the actual name is smoked fish pie. Chunks of fish in a creamy sauce, topped with mashed potatoes, much like shepherd's pie, except its marine instead of land.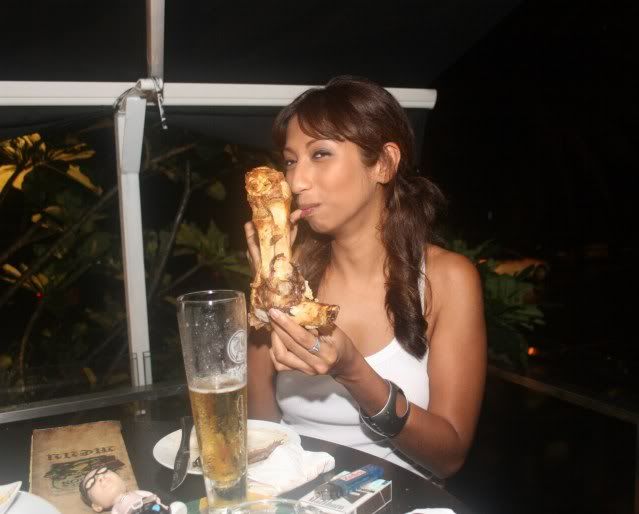 That's a big bone, er, Aly dear.
A liquid dessert, some Baileys concoction... and rather refreshing after all that meat.
Mah Cherry and Cherry Pom Pom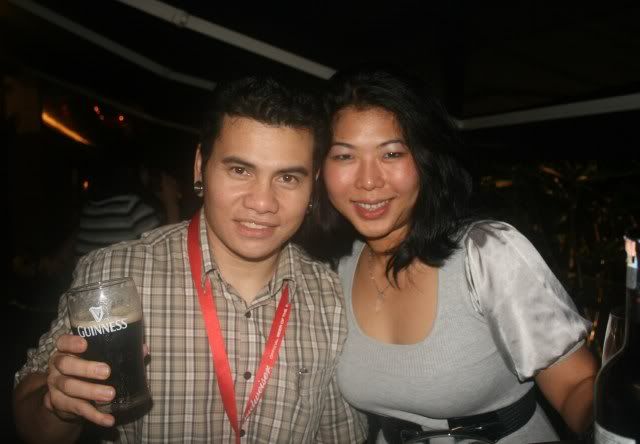 The body builder Mr Sarawak, Kabi, who is the Pub Manager, and Mel.
"When I was small, and Christmas trees were tall..."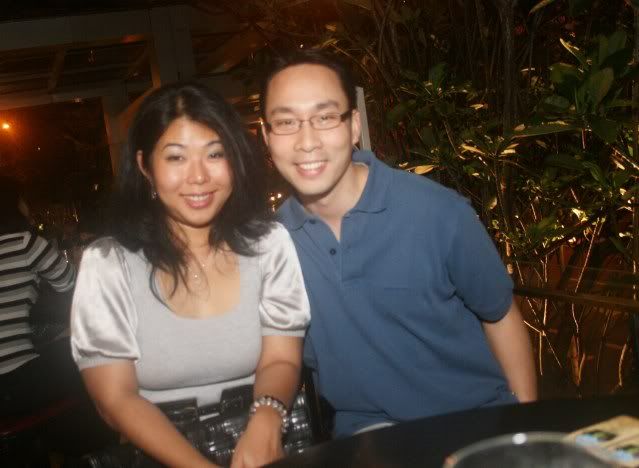 Jek With Melissa
I really have to say I am truly impressed with that pork knuckle. It seems like a great place to hangout for casual drinks, and snack on the pork knuckle and other porky stuff. They also have a decent Bak Kut Teh served at suppertime. Not to mention an impressive array of single malts.
Thanks Mel for hosting us, and to Dinesh, for inviting us.
Read Aly's review
HERE.
The George & Dragon
Lot G130, Ground Floor
Bangsar Shopping Centre
Tel: 22878316