The press release reads, COLE THOMAS, Chef, Innovator, Restaurateur, Communicator, ...he LEVITATES food above the dinner plate, he pairs cuisine samples of the new vintage at Hentley Farm. He founded and defined the modern Empirical Cuisine movement that is remodelling the food landscape in Adelaide.
Brought here as an ambassador of Tourism Australia, for the upcoming MATTA fair, Chef Cole Thomas was really an unexpected bonus for a humdrum Tuesday. I received an invite from the PR company for Tourism Australia, the day before the event. Usually, honestly, I'd have dismissed such a last minute invite, but the program intrigued me, coz first of all, it was to feature fresh seafood from South Australia, such as it was to be held in KL Hilton, and it also had a cooking class thrown in, whereby the results of the class would be judged by the Chef himself. Well, it intrigued me yet put me off at the same time...the last thing I need midweek is the duress and stress of having to cook under pressure.
The venue, KL Hilton. The reward, "you get to enjoy a spectacular menu of Yellowtail kingfish, Scallops, Frozen Choc Mousse,Black Olive cake", after the cooking class. No, that is not what WE had to cook for the "competition". Ours was less fancy.... a prawn salad, with asian style dressing, lamb cutlets with pumpkin risottto, and french lemon tart. All in an hour. Sounded daunting, and impossible.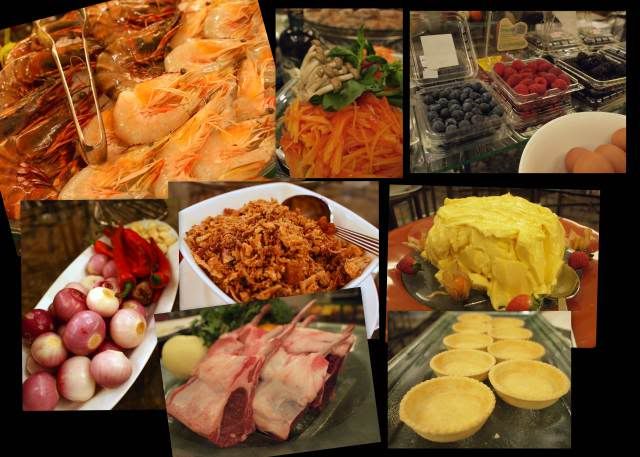 To borrow a phrase from GFAD, these cooking classes are like Cooking With GPS. Everything is laid out for you, and it's rather autopilot. Even the garlic and chillies had been chopped. After the usual preamble and pleasantries and introductions, we were split into three teams. Our team comprised Esther Choi of Traveller's Digest Of Malaysia, Azli Khairi, of SANTAI, the Malay version of the same magazine, and Stephanie also from Traveller's Digest and SANTAI.
Chef Cole briefs us on what is to be expected, and what is to be done. He is highly animated and entertaining. He explains that he is actually American born, but married an Aussie and has since settled Down Under.
First he demonstrates briefly how to shell, gut and pan sear the lovely Spencer Gulf prawns, .... which obviously looks easier than it seems. Esther very deftly slipped on her surgical gloves and proceeded to shell and gut the prawns like a pro. Azli, who claimed he didnt cook, seemed to be a natural as well....it's amazing how everything just jelled in our team, without much supervision.
He also shows us how to use his modern mortar and pestle, which he lugged all the way from Australia, I think. Its that contraption with the grey lid and white body in front of him....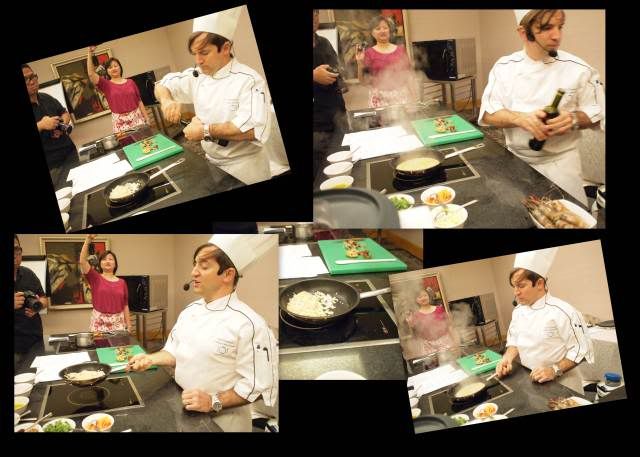 That's Chef demonstrating how to make a risotto. Honestly, I am not a risotto fan, and it looked impossible to make. Patience is required, and I am not listing that as one my strengths. That's when the cool and calm Azli took on the role of the quiet achiever. Actually, when Chef Cole was going around, he announced, RATHER loudly, gufffaww, that Team 3 (ours) looked like we were in trouble, as others had their pots boiling and ...well, very terror la.
It was rather exciting actually, as we all stepped up into 5th gear when the chef announced that remaining time was like 10 minutes.... quite the proverbial tortoise we were. Towards the end, the Chef actually said something to the effect, "Hmmm, I might have underestimated Team 3".... as I think we were the first to have two plated dishes ready.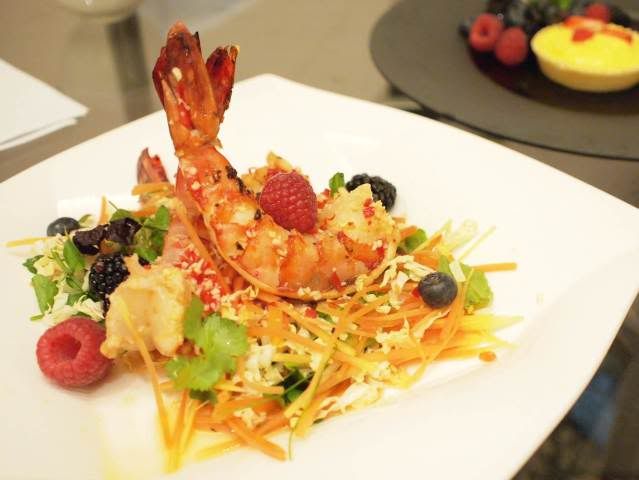 Our Spencer Gulf Prawns, green papaya, shallots, lime, peanuts, chilli and mint salad. Esther had tossed in a few extra berries, which added nicely to the colour. Our dish won overall best for creativity, taste and presentation, though for actual presentation, another team's won, as it was beautifully plated, and yet ANOTHER Team won for taste. So we were like, Jack of all trades, master of none for this one.
Lemon Curd Tart. Again, a tough fight between us and Team 1 (who had added lemon zest...Aiyo, I completely forgot the zest, as it wasn't ready zested on the table, and you had to ZEST IT YOURSELF!)...
Lamb Cutlet With Pumpkin Risotto. Now, this dish really required faith, because the risotto looked like "bubur tak jadi" (congee that didn't make it), and we were honestly wondering how the heck we were going to pull this off, without breaking the chef's teeth. Miraculously, it all fell into place at the last minute. Chef liked our pumpkin. I can't remember who's was the best for this dish, possibly team 1, coz their herbs had been chopped and marinated the lamb well.
Team THREE - ...which I am proud to say, was adjudged the overall WINNERRRRRRSSSS!!!!! Wooo HOOOO!!!!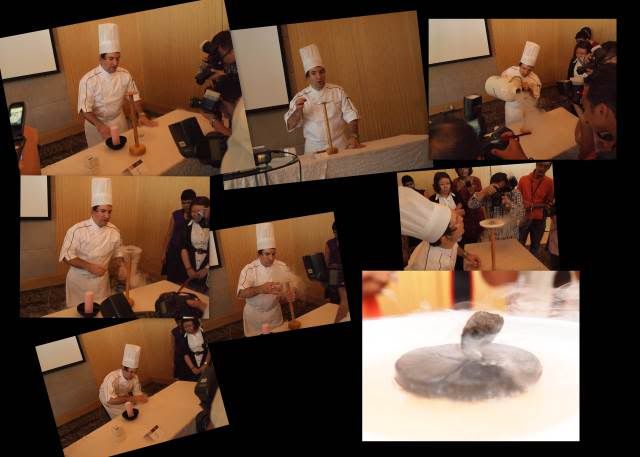 One of Chef's party tricks is to make food levitate...using a lot of liquid nitrogen. Don't ask me the science of it all. We all looked like Hogwarts students crowding around Severus Snape, ...erm, not that Chef Cole is sinister, but Snape, is, let's face it, the best wizard amongst that lot of teachers, ... unfortunately, the food was a bit stubborn and refused to fully levitate. To watch the full levitation, HEAD over to the MATTA FAIR from 11-13 March, PWTC, Hall 1, Booth 1223-1227, 1250-1259, 1282-1286, for food demos at 11-12 noon, 2-3pm, 4.30-5.30pm. Daily!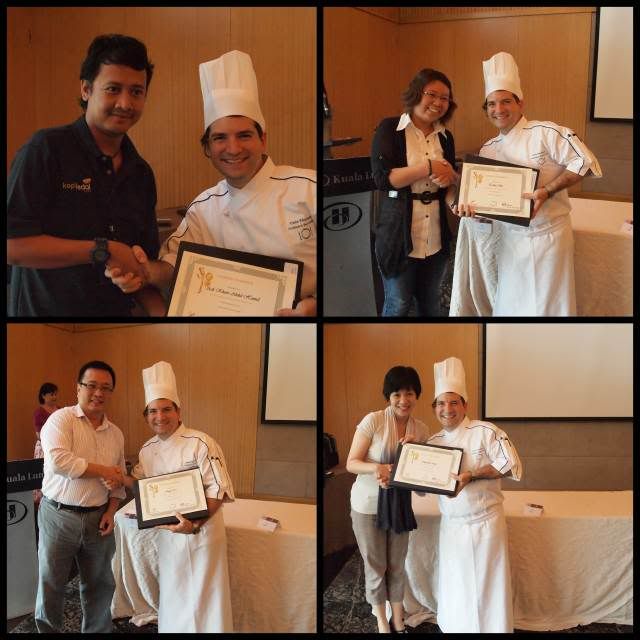 The Winning Team getting our certificates, and the prize, which was a pad, but sadly, not an "I" variety. It didnt require any batteries....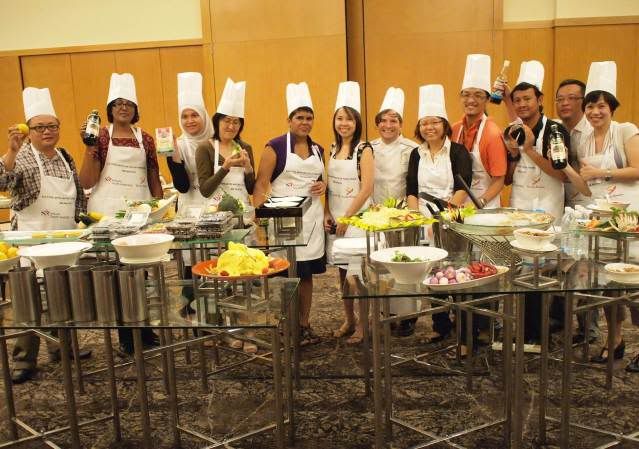 All the participants....
Lunch is served...Red Mullet with Saffron and Capers Sofrito, Peaches and Sweet Corn.... lovely fresh fish, gorgeous texture.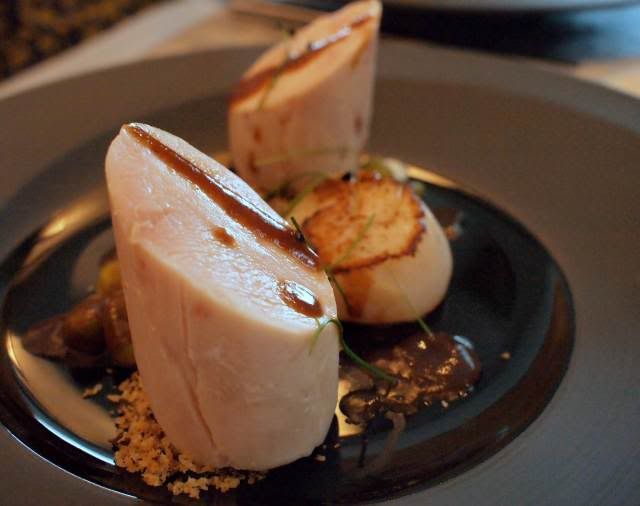 We had a choice of KLCC Twin Towers, (Chicken Breasts, Scallop, Miso Crumbs, Broadbeans, which I didnt take), OR
Yellowtail Kingfish With Trout Roe, and Black Squid Ink Crumbs. The fish was lovely, exceedingly fresh, but the squid ink crumbs, hmmm, is an acquired taste.
Frozen Chocolate Mousse, (a bit TOO frozen, by liquid nitrogen, because none of the assisting chefs knew how to handle liquid nitrogen), with Black Olive Cake and Salted Caramel, Goats Curd, (I nearly said Turd), and Smoked Chocolate. All very exotic, but frankly, a bit too complex for my plebian palate.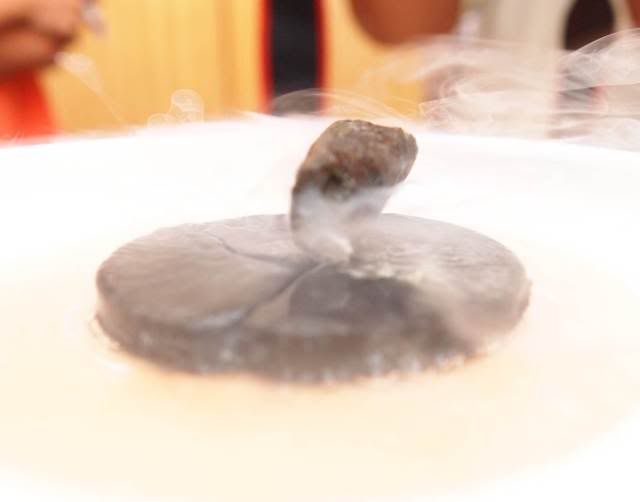 If you look hard, you can see the almost levitating piece of nori wrapped fish.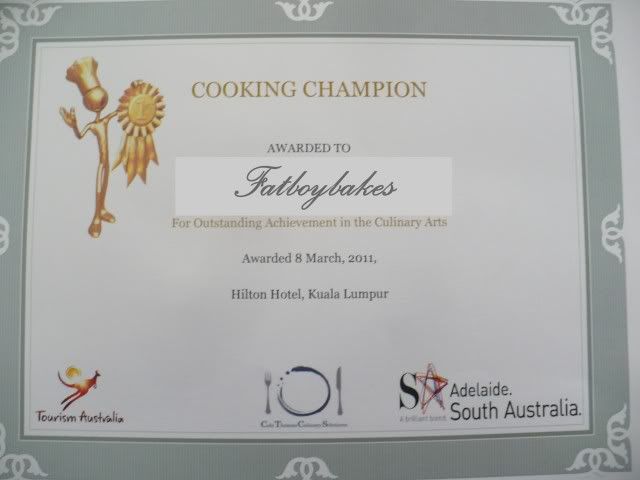 And what a pleasant way to spend a humdrum Tuesday afternoon.
So head over to the MATTA FAIR to catch Chef Cole in action, and thanks to Tourism Australia and team for the invite.