Thank goodness of AFC, who brings to us a whole host of celebrity chefs. If not for AFC, we might be still stuck in the culinary wilderness, eating rice and curry morning noon and night. Martin Yan, of YAN CAN COOK fame, not to be confused with another Yan, which is Wok with Yan. Nope, that's not him.
So, when Alice George PR company invited me to attend Martin Yan's show, it was like a kid being asked if he would like to meet Spongebob in person. The venue this time was at the swanky Ritz Carlton, and a slew of familiar faces were there, namely Pure Glutton, Alison aka Pawm Pawm, Eu Hooi Khaw, SuperWilson of Food and Places, The Nomad Gourmand, and of course, that dashing F&B Manager of the Ritz Carlton, Oliver Ellerton.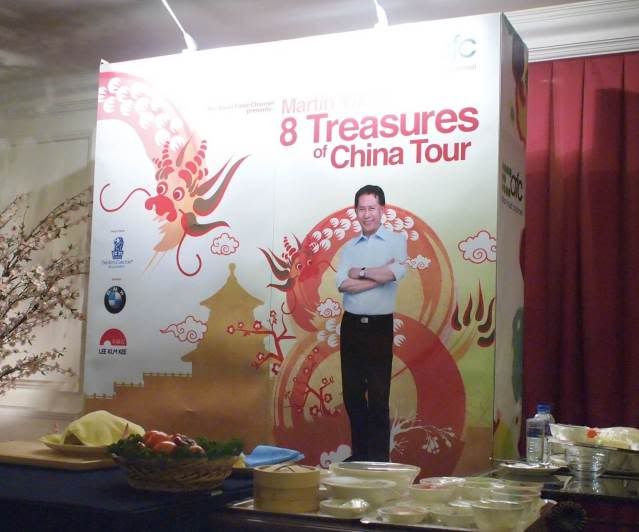 One of the first comments made by Martin was the fact that his face was NOT on the AFC poster. Gasp!
Martin's missing face.....However, I wouldn't mind, seeing as to how I have a whole full bodied poster occupying the backdrop.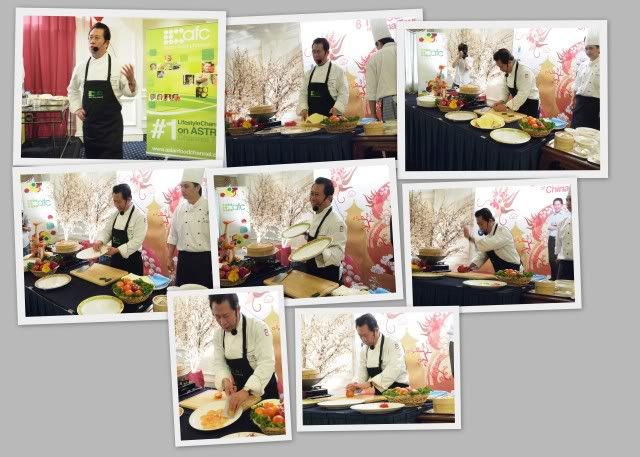 Chef Martin Yan proceeds to dazzle us with his cleavage. Oops, I mean cleaver. His cleaverage skills are astounding. Chopping at the speed of lights, slicing, julienning, chopping and dicing with one fell stroke of the knife. The fella is really a born entertainer as well. Amusing, engaging, one can't help but be quite entranced by the entertaining chef.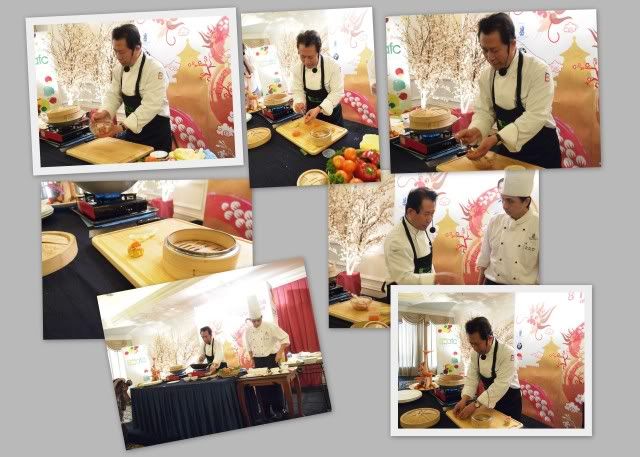 And really, that's what its all about, showmanship. Or a large part of it anyway. The recipes in themselves are simple, as Chef Martin himself acknowledged. We are not there to look at the recipes, but at the techniques. And this is true actually.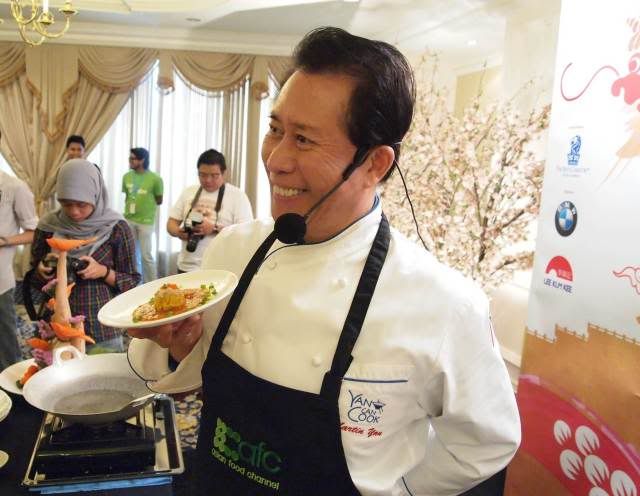 The first dish served was a lovely chicken siu mai, (obviously no pork is served at such events), in a delicious tangy chilli sauce.
We have one satisfied customer here, who had earlier on also received a rose from the Chef himself.
Next was a demo on panfried potstickers, (chinese gyozas I guess). Again, he made it look all so effortless. Actually the proper name are yin and yang dumplings. I can't recall now which are the yin or the yang.
Finally, a lovely deep fried spring roll on an amazing avocado relish. I think this was my favourite, mainly because of the avocado.
One of his many talents, with that super cleaver of his, is the ability to chop up a chicken and debone in 18 seconds. It really all happened so fast, the minute he finished the 10 minute preamble....on how to relax a chicken, (a dead one, not a live one), before chopping it up.
Check out Aly's Post
here
, Pure Glutton's Post
here
.
Oh, I bought his book too. RM100. And got the man's autograph.