I wasn't really aware that we celebrated the Four Seasons here, and if it wasn't for reminders like these, that Il Lido was launching their new spring menu, I'd probably say we were somewhere between Summer...and Hotter Summer, in our local season. Actually, someone should for the sake of variety, create four seasons for our equatorial weather, with interesting names. In Malaysia, we probably have The Moist (rainy season), The Oven (Chinese New Year Time), The Haze (once a year sure one!), and December. December seems to be a season all on its own, everyone winds down, there's a holiday feel...yeah, it's my favourite season.
I digress as usual. When the inimitable Lyla of Il Lido (she reminds me of an energizer bunny, so full of energy) asked us to pop over to taste the new Spring Menu, I was unabashedly delighted, coz I really do like Il Lido, and all my dining experiences there have been above par. For the uninitiated, its located across the Australian High Commission on Jalan Yap Kwan Seng, in a building that must have been someone's house before. The company was sterling as well, with the famous Boolicious, (Masak Masak), Alison Victor (Aly's Wonderland), Ciki of Cumi & Ciki, (that famous international travel and food blog), Famed Food Writer and Culinary Guru, Marian Eu Hooi Khaw... indeed, I was amongst the glitterati of the food literary world. And of course our charming hostess, Lyla Lin. From Singapore. But is very nice.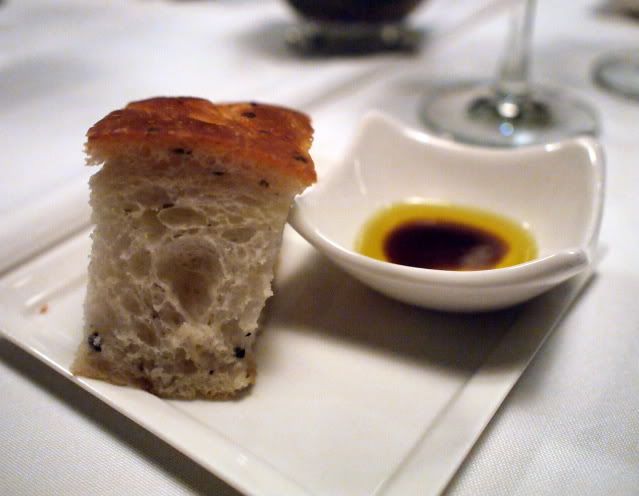 I made a conscious effort not to fill up on the bread, which is utterly delectable. Bits and bobs of herbacious goodness in a light, moist bread that suits our Asian palate to a T.
The Elegant amuse bouche. I always marvel at teeny weeny Amuse Bouches are served in huge plates...there's something fascinating about that concept. It's like a person occupying a large palace, alone. On the one hand, it shows the importance and grandeur of the person, but on the other hand, there is a sense of loneliness about the whole thing. Anyway, one should NOT overanalyze the emotions and mental health of an amuse bouche. Deep fried camembert, if I remember correctly. One pop in the mouth and its gone. Yummy.
The Family Set Menu comes with 5 Classic antipasti, (I am assuming antipasti is the plural of antipasto, and not a relative of Paranoid Android's whom he constantly refers to), starting with a
Vine Ripened Tomato Crab & Tuna Tartare
. I cannot say this was my favourite, as I am not really a fan of raw tuna, even sashimi. (I do like certain varieties though like hamachi and all the bellies).
Buffalo Mozarella Cheese
, absolutely yummy, and guess what? Made within our own shores. Some of you might remember that this fella started making cheeses in Langkawi.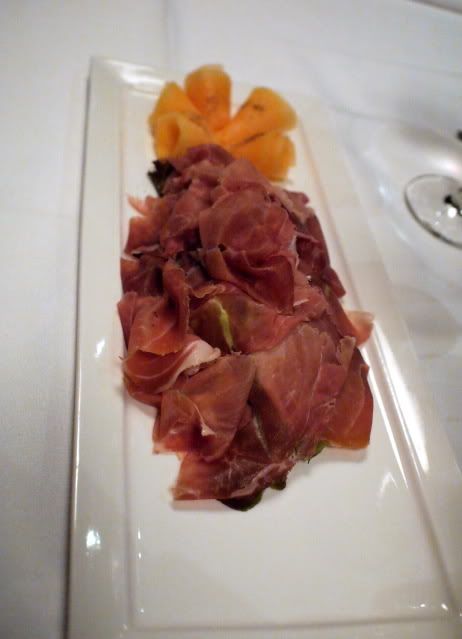 Parma Ham with Rockmelon
. Thinly sliced, and almost melt in the mouth slices complemented with sweet cantaloupe.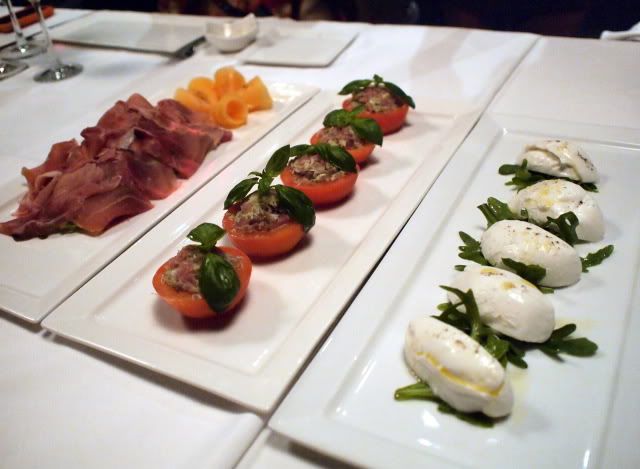 The elegant menage a trois.
I loved this dish of
Crispy Calamari
, which is also part of the antipasti platter. The batter is not heavy, and the squid is not tough. Makes for a lovely accompaniment with alcohol.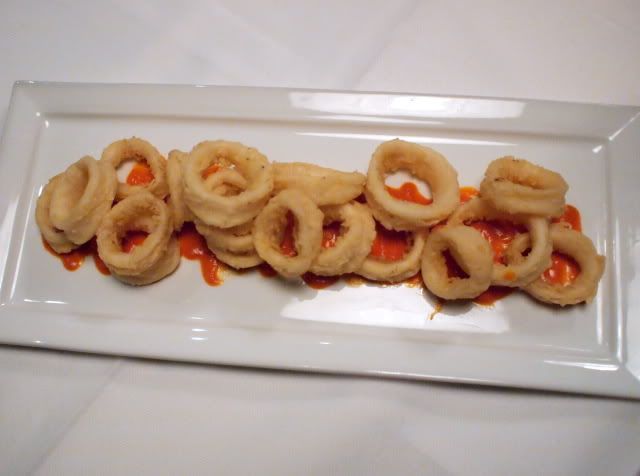 But this has to be the bomb.
Eggplant Parmigiana
. Something like a lasagna, and a mousakka, combining the best of both, yet not too rich, (I can never finish a whole serving of lasagna), and the egg plant is absolutely delicious and smooth.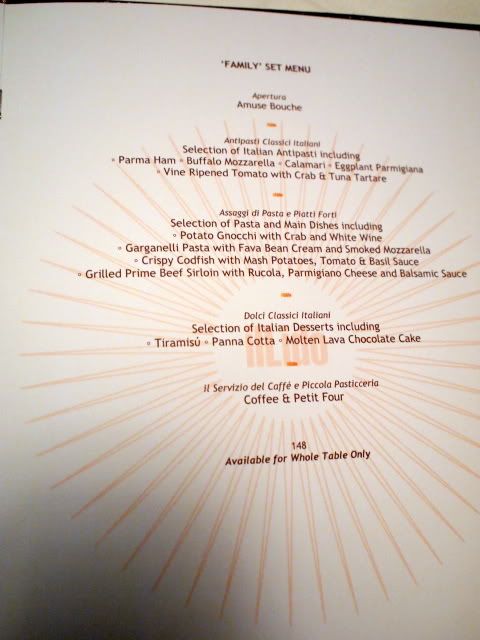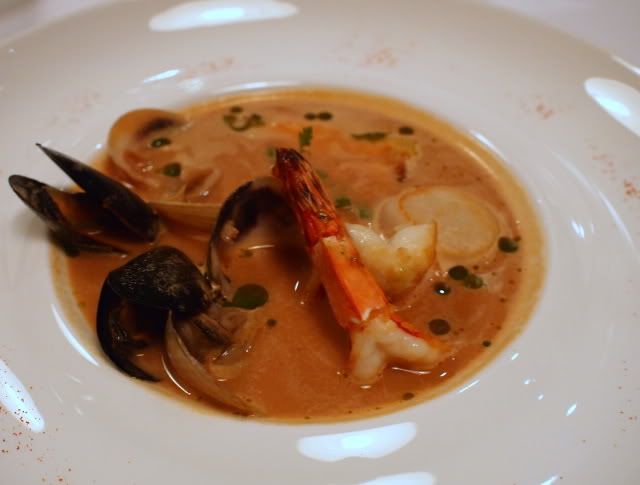 Seafood Casserole With lobster Broth
. Its like they took a section of the ocean with abundant marine life and made it into a reduction... fabulous prawny bisquey flavours, but not overly thick or creamy. This is an additional ala carte item, not part of the family menu.
Crispy Codfish & Mashed Potatoes
. Well, I am not sure what kind of "FAMILY" this FAMILY menu is targetting, but this is certainly NOT your ordinary fish and chips that you'd feed your screaming toddler. Flaky but firm pieces of codfish in a light crisp batter.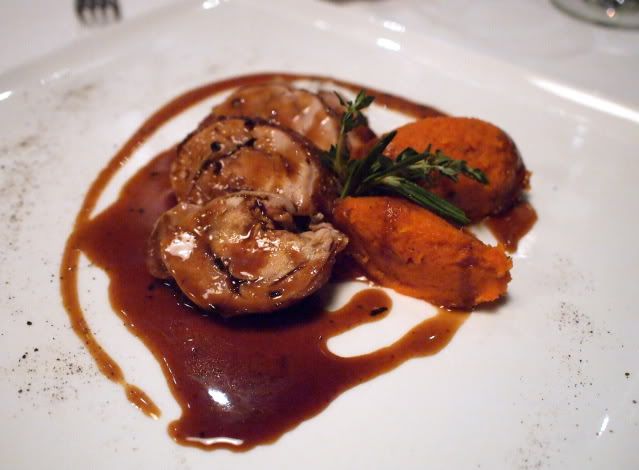 Stuffed Quail With Goose Liver and Roasted Carrot Puree.... my favourite of the night I think. I recently attended a friend's birthday dinner and found out the strangest fact about another friend. He absolutely cannot get himself to eat small birds if the head etc are served intact. As is often the case with quail. Well, no such problems here. The quail is deboned, rolled up into lovely bite sized pieces, and the gaminess of the quail and the richness of the goose liver, mmmm, heavenly. And who'd have thought that roasted carrot puree could be so palatable.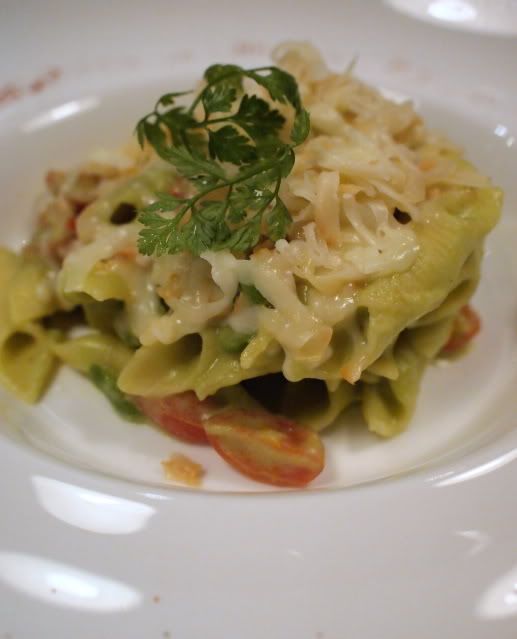 Garganelli Pasta With Fava Bean Cream. Now, Fava beans are only in my vocabulary because my kid has G6PD, an enzyme deficiency apparently very common amongst Asian boys, and Fava beans are one of the items they are not supposed to eat. However, that doesn't stop the father from indulging. Actually, its very creamy, I guess just like any kidney bean that you may mash up, but the pasta, superb.
Knock knock who's there? Potato Gnocchi and White Wine sauce. What's with the Silent consonants in front of all these knocking gnocchi sounds? If it were up to me, I'd spell it noki. Like a nokia without the A. Lovely texture, but really very filling. I would never be able to finish a whole plate of this by myself.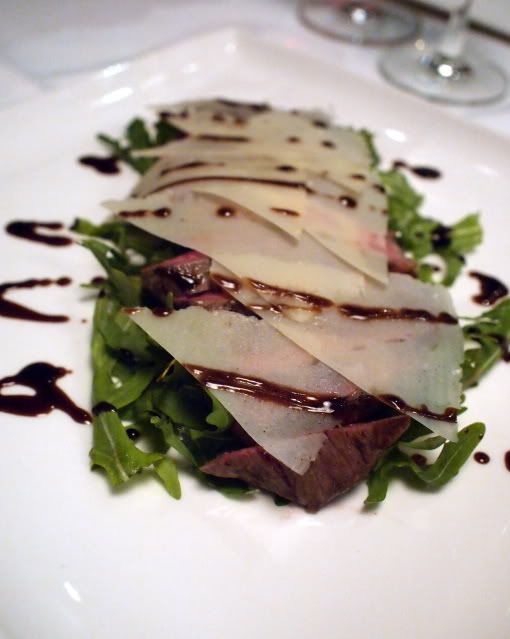 Grilled Prime Beef With Rucola, Parmigiano Cheese and Balsamic Vinegar. This was the least favourite of mine, mainly because the beef was not particularly flavourful. I don't like beef drenched in gravy, but this naked beef did not have the usual lovely juiciness that accompanies a good piece of steak.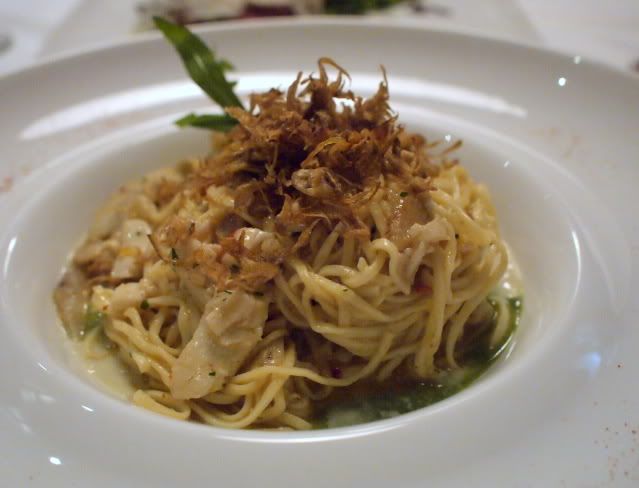 Homemade Spaghetti With Cod, Artichokes and Mint. Lovely flavour, though we commented the spaghetti was a bit on the soft side. Turns out its meant to be that way, as the spaghetti is homemade and cant be al dente per se.
By this time, of course we were like stuffed up to our noses. But the desserts are just too good to miss. Tiramisu, well, if an Italian restaurant like Il Lido doesnt get it right, then there's hardly hope for the rest of the world. Great stuff.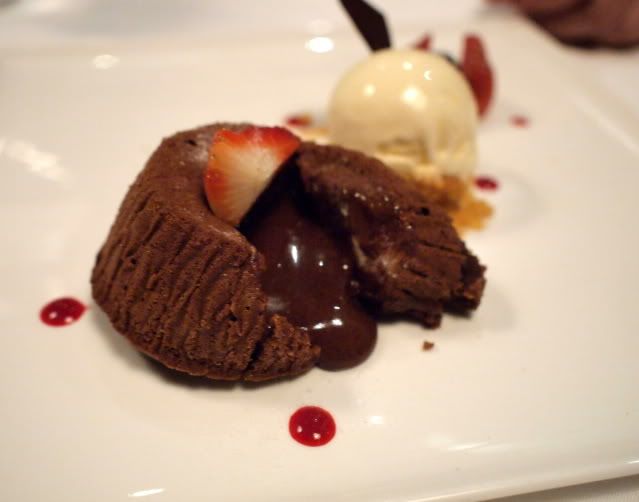 Molten Lava Chocolate Cake. Not really my favourite. But that's just me, its obviously a hit with the others.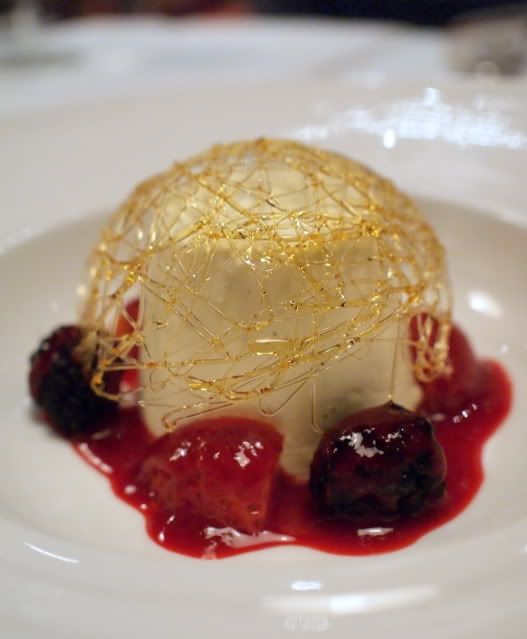 Now this, the Panna Cotta, THIS I LOVE!!!! YUMMMMY. I could finish the entire thing myself. Lovely wobbly texture without being gelatinous, creamy, melt in the mouth...mmmmmm, ah, naughty thoughts naughty thoughts!
And to end, lovely petit fours, elegant and tiny, like the amuse bouche. They must be related.
The family Sets are priced at RM148 per person, but I seriously reckon, for a family of 4, or even for 4 adults, two portions plus a couple of additional alacarte items would be MORE than sufficient.
I look forward to bringing the "FAMILY" (not my own...one that can pay their own way preferably) there for a night of indulgent cuisine and merriment.
Thanks muchly Lyla!