The invitation from dear Jesslynn, Communications Exec of the MO, read, Media Wine Lunch Preview Of Contemporary European Cuisine With Galvin Lim, Group Executive Chef of Legendary Les Amis Group of Restaurants, Singapore, at the Mandarin Grill. It is seldom I see so many words that I love, all encapsulated in one invitation. Wine, Lunch? European Cuisine? Legendary Group of Restaurants? Mandarin Grill? Wow, it was like I had struck the eater's bingo. So, even though the event was on a Thursday, I thought oh well, life is leasehold, so why not indulge.
The thought of driving into the city, especially to Mandarin Oriental, is daunting, but the idea of driving BACK AFTER a wine lunch, is even more so. So, I decided I would join the rakyat and hitched a ride on the LRT, the best way, really, to get from Bangsar to KLCC. The MO was as usual, bustling with activity, and I was delighted to see that charming Belle, a familiar face, who led me to our little cosy enclave....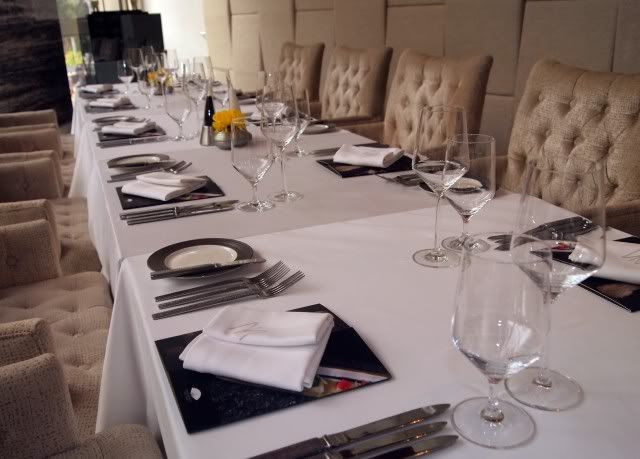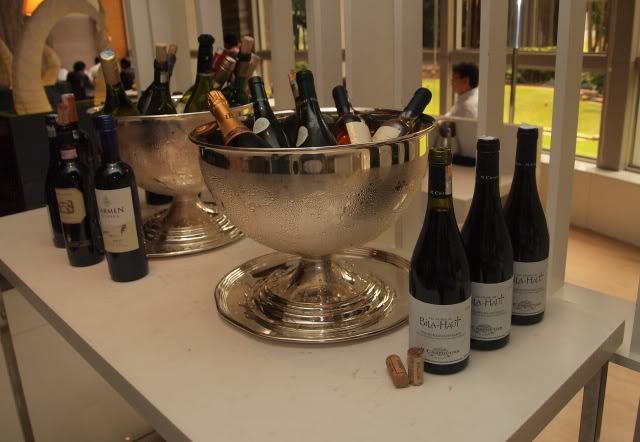 Wow, that is a LOT of alcohol for consumption at lunch time, I thought to myself. How absolutely lovely. And, a generous flow of Laurent Perrier champagne, which was absolutely sublime.
I had the good fortune to be seated next to Raymond Lim of the Les Amis group, (which encompasses a whole list of restaurants, like Les Amis, Cepage, HK, Au Jardin, Torisho Taka by Aoki, La Strada), who was great company for this luncheon. His vast knowledge of wine, and food made the hours fly by very quickly. Of course, the wonderful lunch, which ended at 4pm, is easily the best lunch I've had all of this year and last. Seriously.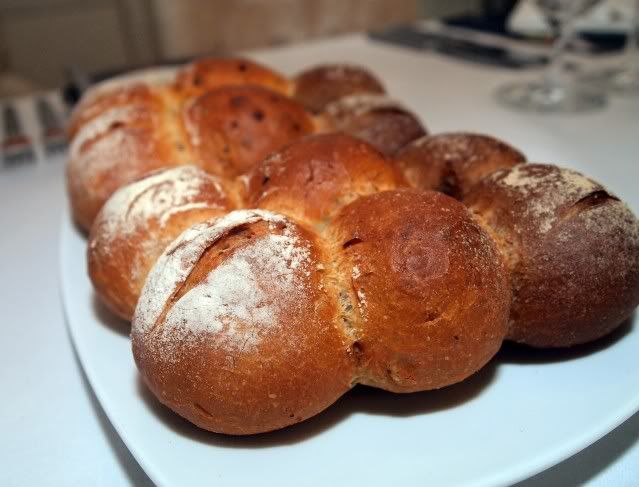 Freshly baked bread which is so good, but so fatally filling, and really, should be totally omitted when serving such a lunch, as it takes up valuable stomach space.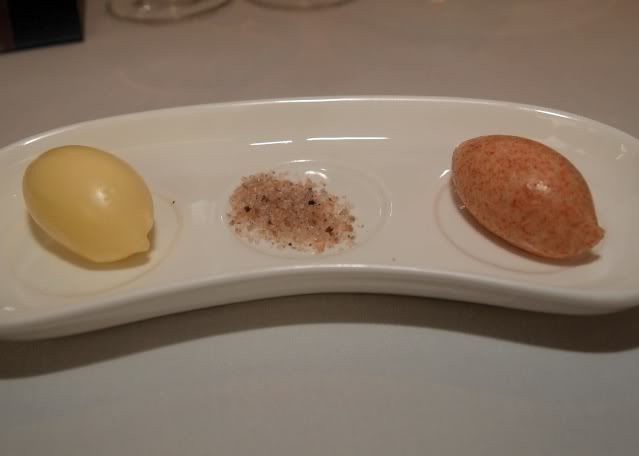 Two types of butter, and fancy sea salt.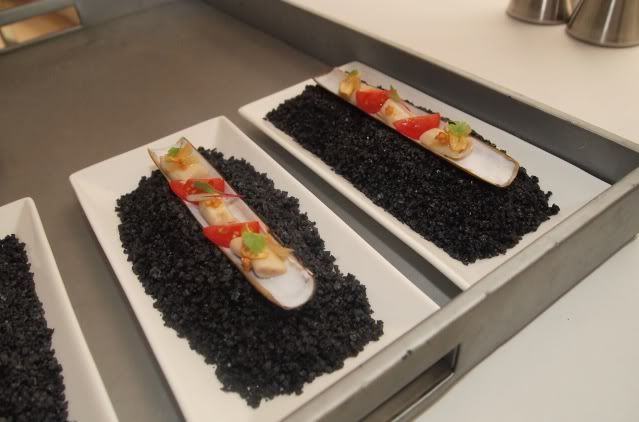 Scottish Clams Served on Black Sea Salt. No, not salt from the black sea, but Sea Salt which is black. I am not sure how this is achieved, or if it's from its natural state, but the glasses of Laurent Perrier, and subsequent other tipple, is like a "delete" function in my brain.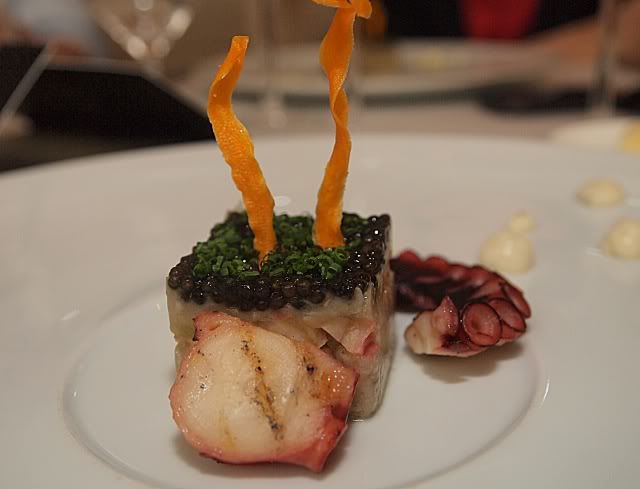 Eggplant Caviar. Gobules of goodness (and fish spawn) popping in the mouth, a staggering variety of textures, with the chewiness of the octopus, and the soft creamy texture of eggplant, and the salty marine goodness of the caviar.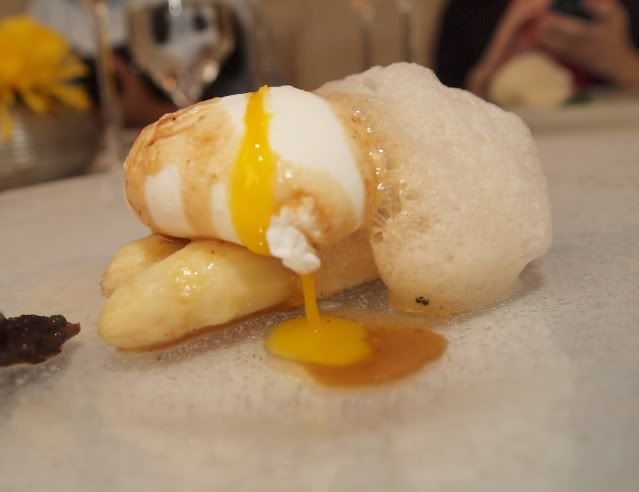 I love eggs. If there is one thing I can eat everyday, (and heck, actually I almost do), it's egg, WITH a runny yolk. Pair this with my favourite white asparagus, this Ciabatta wrapped in white asparagus is really to die for. And that runny yolk. Something so simple, yet so incredibly good.
And these were just the WHITES to go with the first two starters. Not to mention the champagne before that.
Slow Cooked Danish Halibut "Sous Vide" Style - Black Winter Truffles, Potato Gnocchi and Sakura Ebi. Served with Perrin Reserve, Cote Du Rhone Blanc, 2009. Classy hor, old world white some more. Need I say more? Just look at the ingredients, and WEEP! Okay, perhaps the truffles were winter truffles, therefore could not have come from Europe, but they were still good. (From Australia)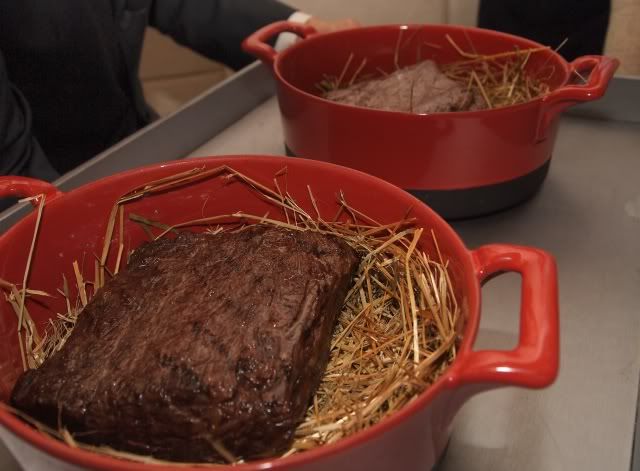 Char Grilled Wagyu Rib Eye Cooked in hay.
Actually, there are two cuts here. One is the rib eye, the other is...err, I can't remember, but it is leaner than the Rib Eye, which is marbled. But both cuts simply melt in the mouth. I am not sure what the effect of cooking with hay is, maybe its an euphemism for cooking with grass, ...and begs the question, where does one buy HAY to cook with? Raymond, who has to eat the same thing again that night, gave me his chunk of meat, which I gladly accepted.
These glorious bovine beauties were served with M Chapoutier Bila Haut, Cotes Du Roussillon 2009. Live vicariously through me, and imagine a very red faced, chirpy diner at 3pm (which would be around the time we had the beef). On a weekday. It's nice to indulge in such decadence once in awhile.
For dessert, "sunny side up", pineapple with chilli. An interesting creation, consisting pineapple, some espuma like substance, and a hint of chilli. It's almost like eating air....very light.
Deconstructed lemon tart. Well, the menu says "Fancy Lemon Tart", but I love using the word "deconstructed" these days. Whilst of course, there is nothing random or messy about this particular creation, the use of deconstructed will hide a pot of sins
(thanks Awhiffoflemongrass for you help with the collective noun)
for messy bakers like me. Served with Chateau Tireculs Les Pin la Graviere, Monbazillac 1997, (NINETEEN NINETY SEVEN! I just got married that year). A perfect end to a perfect meal.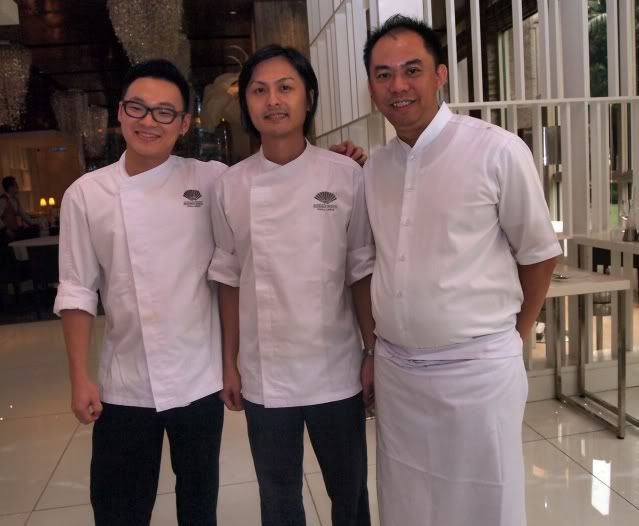 We have here Chef Galvin Lim of the Les Amis Group.
Now, as all fabulous shows should, this ended with an encore. From Raymond's personal stash.
Hibiki, single malt from Japan. The Japanese seem to not follow the usual Scottish in terms of aging, ie, not the usual 12,15,18,21....
This 17 yr old Hibiki, really made the day end on "high" note.
I must have reeked like a distillery as I waded amongst the rakyat in the LRT on the way back to reality.
Anyway, a truly fabulous and memorable lunch. Raymond, if you are reading this, do let us bring you around for Street Food the next time you are in town!