A new array of very interesting dim sums have been created at the Celestial Court. (the one here on earth, or to be precise, in Sheraton Imperial). Actually, I have often said that this is one of my favourite, if not favourite, pork free Chinese restaurants. With all due respect, I find it a challenge to substitute that porcine meat with other more politically correct meat, especially for Dim Sum. I don't even usually like har kows (prawn dumplings) and that's a traditional dim sum dish.
However, you can teach an old tongue new tricks, and certainly, when the Chef is creative as Chef Ken Liew it certainly eases the passage into that whole new culinary world of pork free Dim Sum. It was a lovely afternoon, smooth traffic into that maze that is the Golden Triangle, where DBKL was surreptitiously waiting for errant motorist who made illegal U Turns at the Kg Baru - Sultan Ismail junction, ie, if you were heading towards the City on Sultan Ismail, and made an illegal U turn to turn to Sheraton, you'd have been flagged down. I didnt know DBKL had such powers.
It was with great distress that I found out the lovely Evelyn Koh will be leaving the hotel, AND our sunny shores, with the prospect of matrimony, and to finally settle down in France. How ladida. If you're reading this, Evelyn, I wish you all the best and congratulations. The new chappie, Peter, was friendly enough....
Chicken Satay Spring Roll with pineapple served in spicy peanut sauce. That's one of Malaysia's real selling points, the total amalgamation of our various cuisines, and the effortless blending of one into another. Perfect hors d'ouvre kind of food, to tease the palate.
Crab Meat dumplings with asparagus. More traditional, and an easy choice. The skin is fine and delicate, so you don't choke over thick skins of flour.
My favourite dish of the day. Fluffy pastry with chilli crab meat. The pastry was lovely light and fluffy, as the name implied. The filling, a savoury not too spicy crab meat combination. I had two of these. Which actually was a mistake, because dim sums are deceptively filling.
Stewed beef balls served with braised white radish. Inspired by the traditional dish that is similar, but using brisket and tendons, explained Chef Ken. The balls had a lovely texture, springy, something you could pop into your mouth in one or two bites. The beef, obviously good quality, did not emit that beefy bovine taste that some older chinese find so objectionable.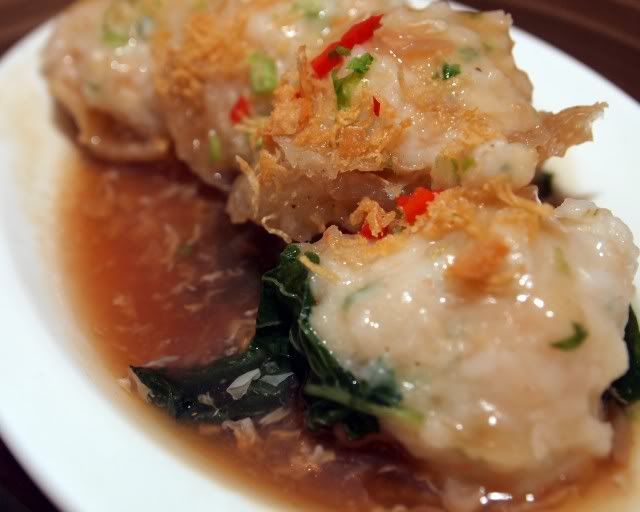 Fish maw stuffed with Shrimp Mousse in Egg White Sauce. Very fine dining, fit for an emperor kind of thing.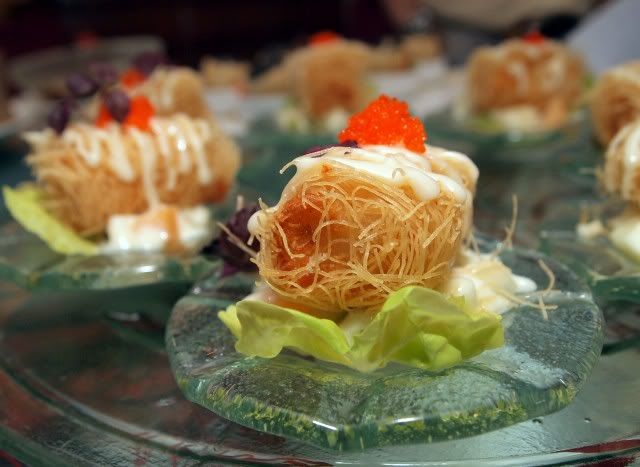 Such pretty little morsels of happiness. I always thought that fine vermicelli wrap was ...mee hoon, but apparently it is not. Crispy fried dragon beard with cod fish served with fruit salad and tobiko.
Rice Roll wrapped with crispy fish paste bean curd roll served with Hoisin and Peanut Sesame Sauce. It looks like that Hong Kong dim sum where the cheong fun wraps around a yoo tiao, but it's not.
Prawn and banana rolls served with wasabi mayo. Actually, there is something excellent about this combination. I can't place my finger on it, but the crunchiness of the prawn, the sweetness of the banana, plus that wonderful kick from the wasabi mayo...lovely. Prob favourite no 2
I lurve this dessert. Chilled cream of mango, pearl sago topped with vanilla ice cream and almond flakes. I think I can have this every second day. Actually there is an nice range of desserts in the dim sum menu, but we were truly stuffed by this time.
Chef Ken Liew, the man himself.
Hmm, now I have a craving for Dim Sum for lunch.
Celestial Court
Sheraton Imperial
03-27179900
Pork Free