I always enjoy going to the Cava, Opus, Leonardo chain of restaurants for dinner or drinks, (in fact, I was at Leonardo's for drinks just last weekend...take note, Fadlin, if you are reading this), because I enjoy the company of the people behind it, the owner, the GM (and prob part owner), and the PR...so it's like comfort food, going there.
Couple that with a Wine Dinner, and wines from my favouritest region in the world for Savignon Blancs, I knew tonight was going to be a good good night. In attendance were my dear Cherry Pawm Pawm, (Alison Victor of Aly's Wonderland), Taufulo, and Ken of Food Point of Interest.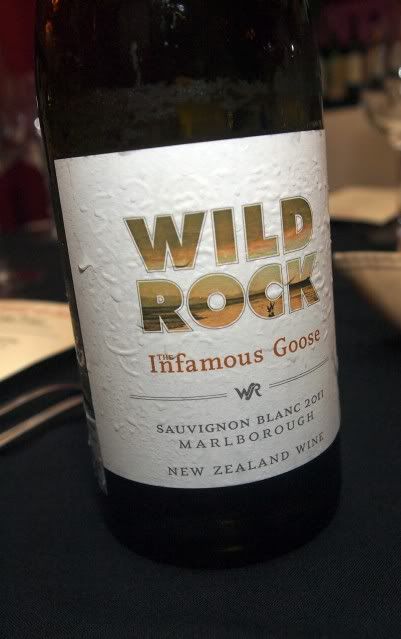 To start, we were served this Wild Rock Savignon Blanc. Now, quite honestly, we had a such a good time, that I forgot to take notes. I remember this particular bottle as being very very easy to drink, but easy to drink also meant the quicker one CAN drink. Which may have contributed to the partial amnesia of the night.
The Mushroom Cartaccio with Foie Gras, comprising button, portobello & enokis in white wine and herbs, came beautifully wrapped and was served with the Craggy Range Fletcher Family Riesling 2009. The crisp, light fruity wine, also very easy to drink, obviously complemented the mushroom.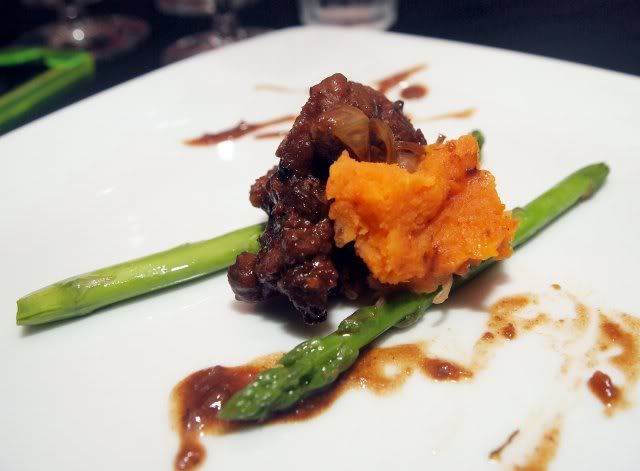 Oxtail Cocido, a braised oxtail with caramelized onion, roasted sweet potato and grilled asparagus, accompanied by Wild Rock Gravel Pit Red Hawke's Bay Merlot Malbec 2010. As I suspected, Malaysians have been drinking Red Wine at unacceptable room temperatures. Brent Hindman, Asia Pacific Manager for Craggy Range Vineyards Ltd, whom I had the pleasure of sitting next to, explained that a right temperature for our weather really would be to chill it first. Better to let it start a bit colder, and warm up to the desired temperature, rather than serving it warm, with no hope of it ever turning cold.
The Merlot Malbec, I shan't pretend to be a wine connoisseur, was full bodied, but served a bit too warm. I can imagine drinking a lot of this in cold weather, but in our balmy environs, I'd rather not.
Our mains were Setas De Pierna De Cordero & Grilled Prawn, which translated, is roasted lamb leg stuffed with foie gras, pimento, musrhoom, served red wine pink peppercorn sauce and tuscan beans. and grilled prawns...boy, talk about lost in translation. Did those few spanish words really mean all that in English? If so, we should seriously consider WHY we are using English as a medium of commucation, when other languages seem so much more efficient.
This surf and turf dish was served with Wild Rock Cupid Arrow Pinot Noir, 2009, and also a Craggy Range Pinot Noir. The pinot is a lighter red, and goes well with our equatorial climate, I feel. Also, it adds a certain lightness to the lamb, which is quite a heavy dish. By this time, we were all very happy, and regaling each other with tales of .... errm I can't remember what, but I do recall that Brent Hindman is also born in the year of the Horse, making him a Horse Brother!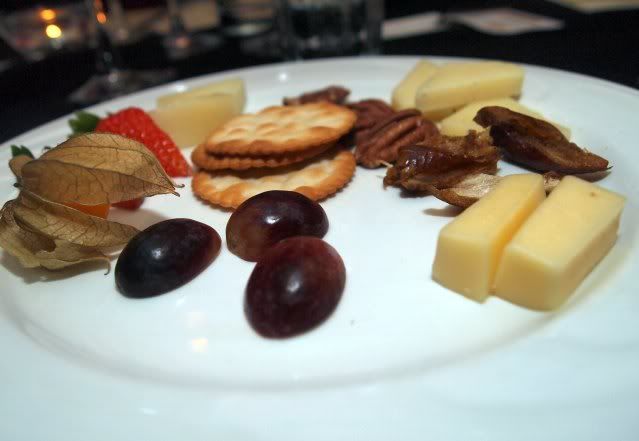 Instead of the usual sweet desserts, we had a spanish cheese platter, with Manchengo, San Simon, Iberico cheese served with fresh & dry fruits, nuts, crackers, and berry compote, which was a great idea, since the dessert wine was sweet anyway. Dessert wine was a Craggy Range Noble Riesling 2008. Having said that, the Noble Riesling wasn't overly sweet, though I am not a dessert wine person.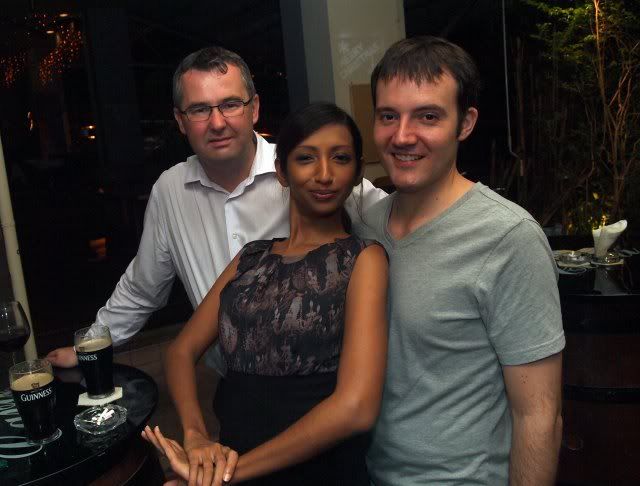 Look who popped by after dinner to pick up Aly! In the pic is Brent, Aly & Lil Chef...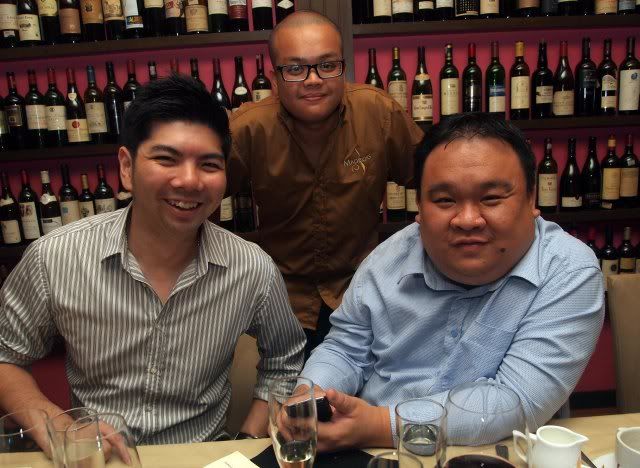 Taufulo, Fadlin & Ken of Food POI.
A great night, special thanks for the Cava management for the invite, and Brent Hindman for the fabulous selection of wines. Craggy Range and their wines are available in Cava, and the rest of that chain of restaurants.
Check out their website,
HERE