Honestly, I haven't had much exposure to Mexican food. I have not had the privilege of staying in Mexico, or its border, for any length of time, though I have been to the border town of Tijuana when I was 15, for all of a few hours. And to be honest, neither is it a cuisine that I would indulge in regularly, and by regular, I mean more than once every two months or so. The cuisines that I can and do eat regularly are Chinese, Japanese, NonFine Dining Western, (like steaks, etc), Malay and Indian.
So since I am no afficianado, I can only say what I think I tasted. Probably the most common stuff that I've been exposed to are nachos, and fajitas, and even then, from Hard Rock Cafe, so I am not sure if that is the real deal, or Americanized.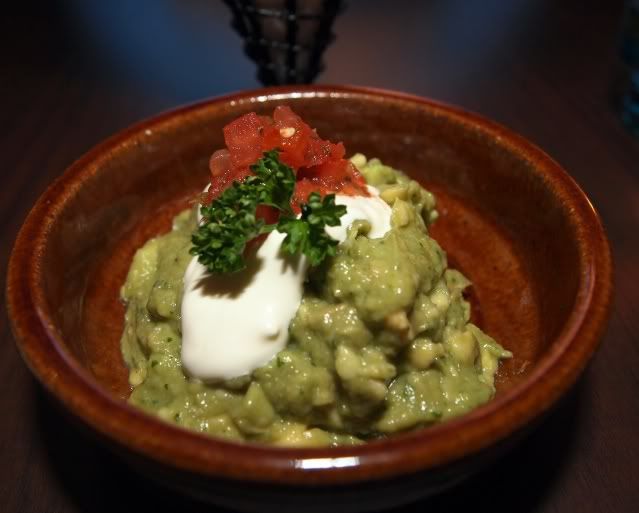 Guacamole, to go with lots and lots of nachos. The word Nachos always reminds me of this politically incorrect joke, about Nacho Cheese. This white guy comes home with a roll of cheese, and the wife asks, what cheese is that? He says, its nacho cheese. The wife said, how do you know? He says, oh, actually I just picked it up as it was rolling down the road, and this African american dude kept shouting, that's nacho cheese, that's nacho cheese. Corny? Well, like nachos la.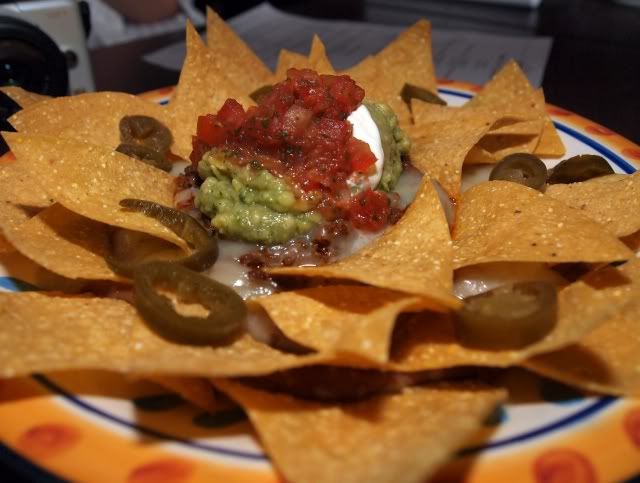 Can't go wrong with Nachos. Lovely grilled cheese, and rather fine quality corn chips.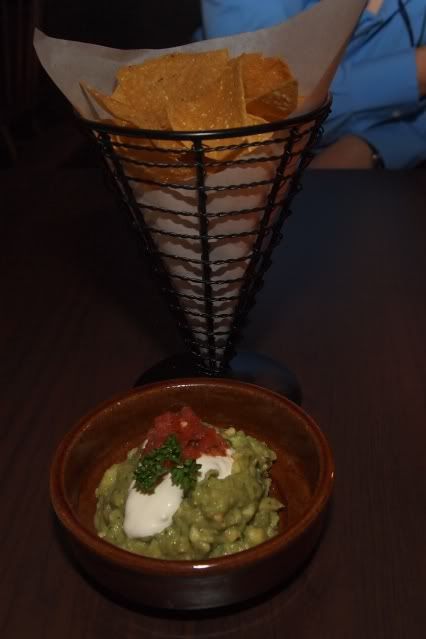 Gotta love the presentation.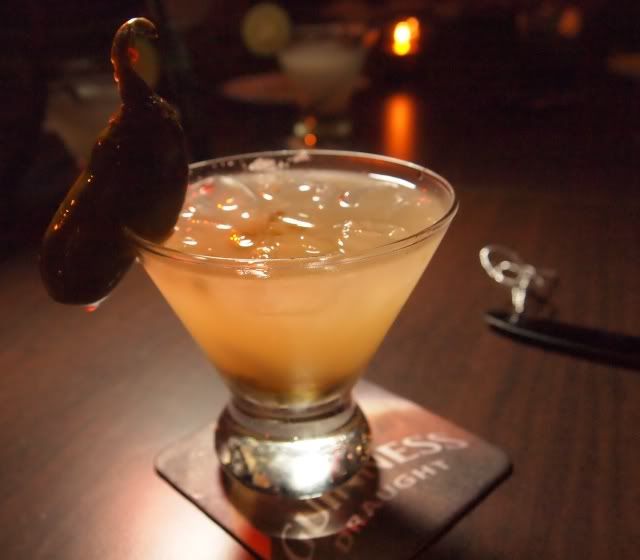 Jalapeno Martini. I have to say, there is a STAGGERING array of cocktails at this joint, from Margeritas to Martinis. Even blue coloured ones.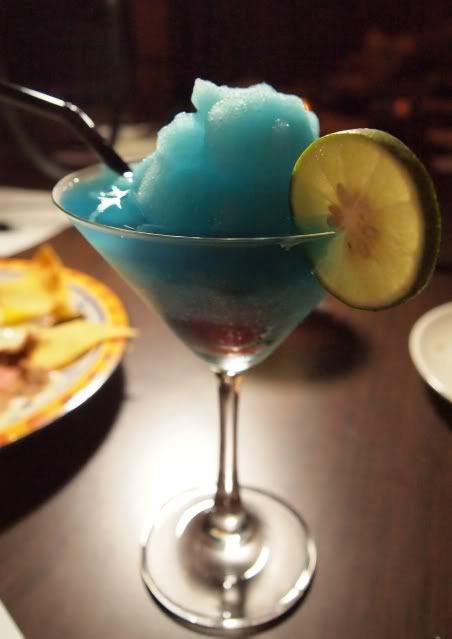 Like this. The blue is from the butterfly clitoria flower, also down as daun telang. Nah, I kid. It's from Curacao. That blue liqeur.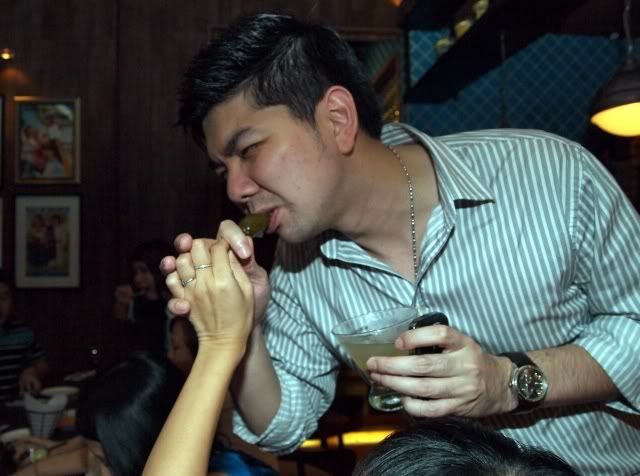 Taufulo here having a go at the jalapeno. Very brave. But nothing compared to what a friend did years ago with a Habanero. Nevertheless, a valiant effort, bravo.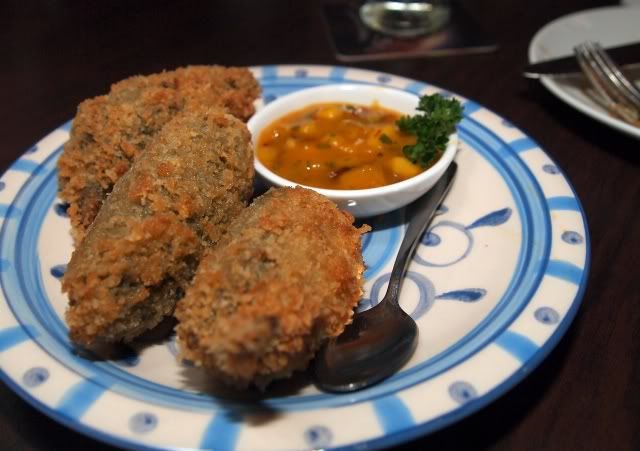 Jalapeno Poppers, breaded deep fried jalapenos with monterey jack cheese and minced beef.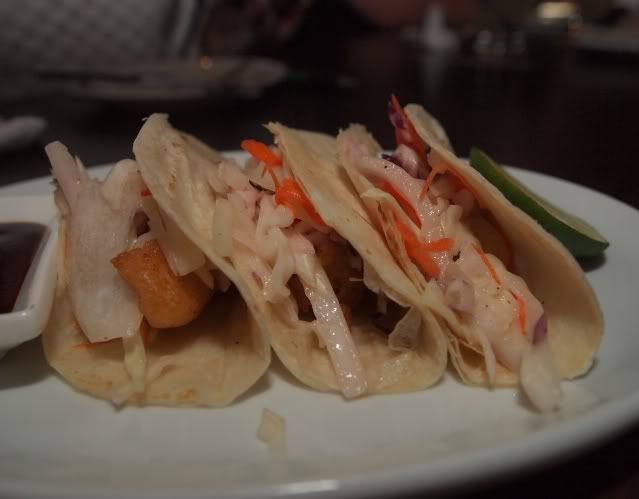 Tacos Ensanada - Flour Tortillas With beer battered fish and coleslaw. My favourite dish of the night. If I were battered, I'd wish to be battered with beer.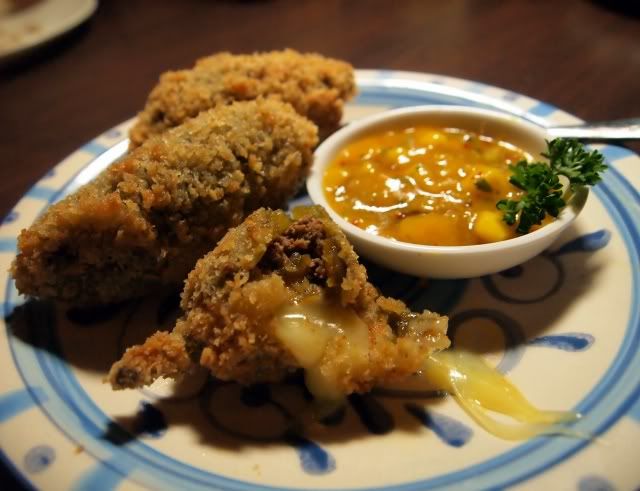 I love anything that pops in your mouth with surprises within. That sudden burst of creamy cheese and meat ....and all deep fried, together with the margarita, quite the epitome of sin and everything bad.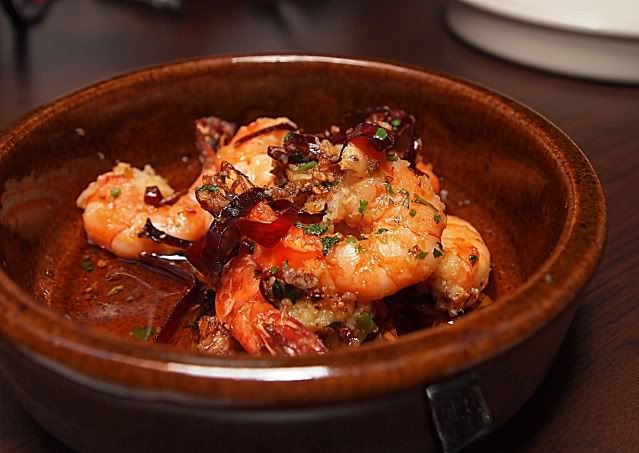 Tiger prawns sauteed with guajilo chillies and garlic. The prawns were fresh, but the dish didnt taste particularly mexican to me. I mean, chilli and garlic are rather staple Malaysian innit?!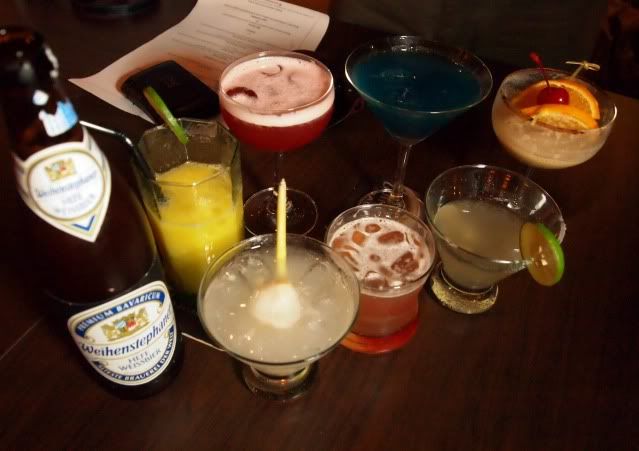 Our hosts were most generous with the alcoholic beverages.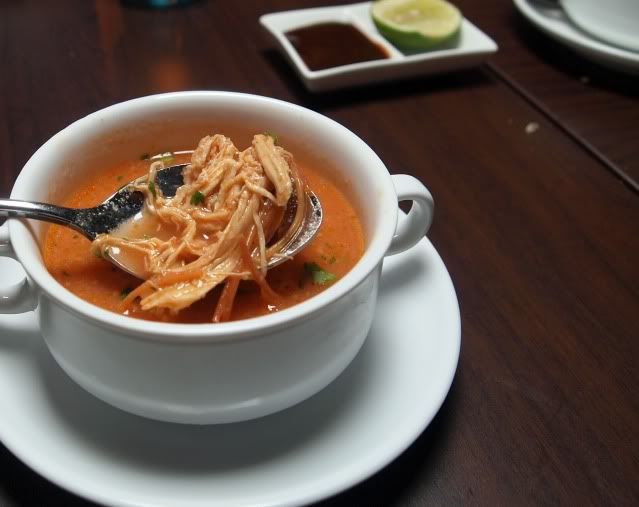 Sopa de Fideo - The mexican version of chicken soup for the soul, with angel hair pasta. Described as comfort food for adults and children alike, yes, definitely this hearty chicken soup warms the stomach and soul.
Costilla Asada - moving on to the mains, these shortribs, braised and slow cooked for hours, was tender and meat falling off the bone.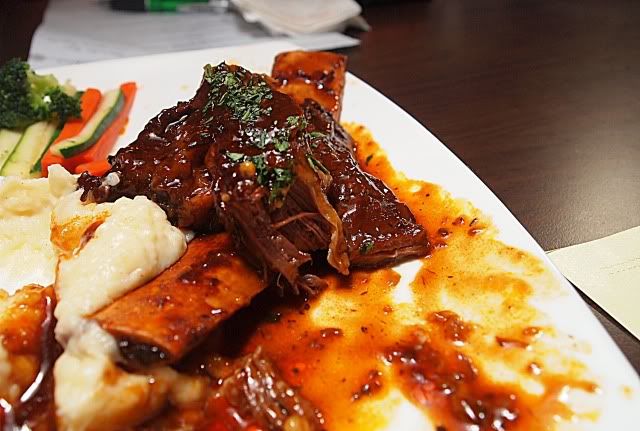 I tried to suck on the marrow, but to no avail. This is quite a heavy meal, so unless you have American portions type appetite, I would suggest sharing this with you loved one, ..or a random stranger if you have no loved ones.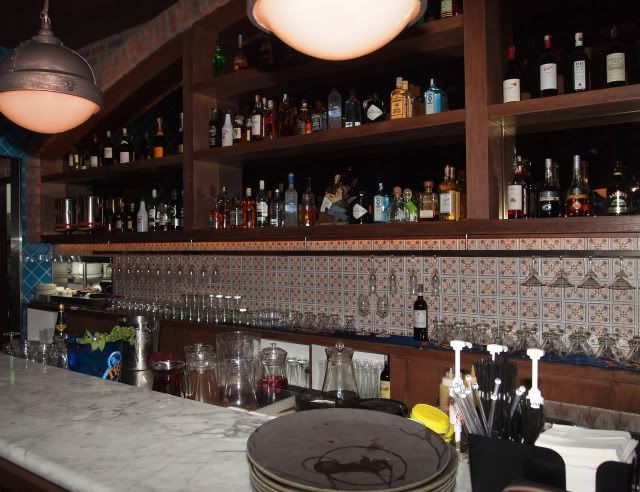 A well stocked bar is to me what a jewellery shop is to a girl.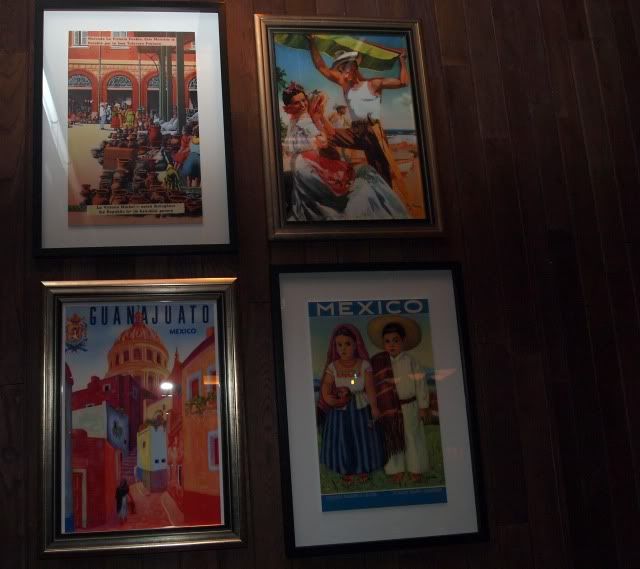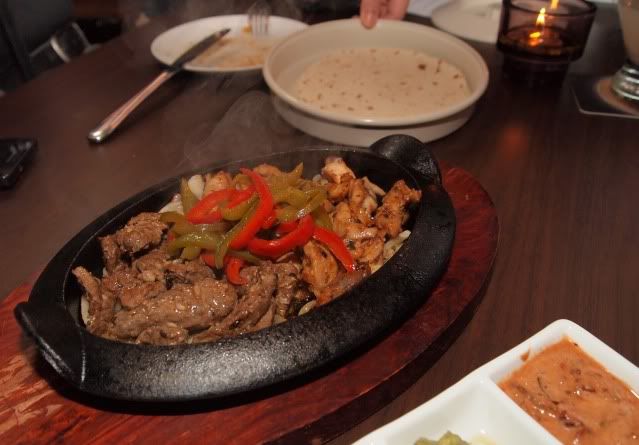 Chicken and Beef Fajitas. Fajitas are such a great communal food, everyone participating in the assembly, and the rolling, much like our popiah. Except its very meat centric. I love the combination of meat, sour cream and avocado wrapped in a tortilla.
Carne Asada a la Tampiquena, Grilled tenderloin with onions, Mexican red rice, enchiladas verdes. Was quite stuffed by this time, so only sampled a morsel of the tenderloin, which was tender, and I liked the red rice, which reminded me of nasi tomato.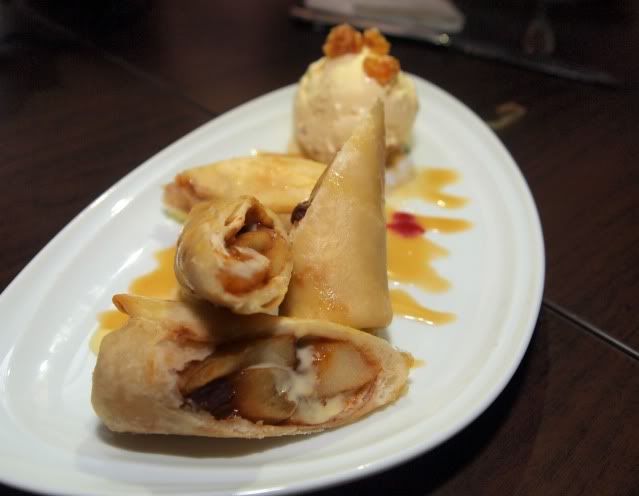 Apple Enchiladas- Must be the Mexican version of apple pie. Yummy, I loved this dessert. The flour tortilla wraps give it a nice touch, to the usual shortcrust pastry of apple pies.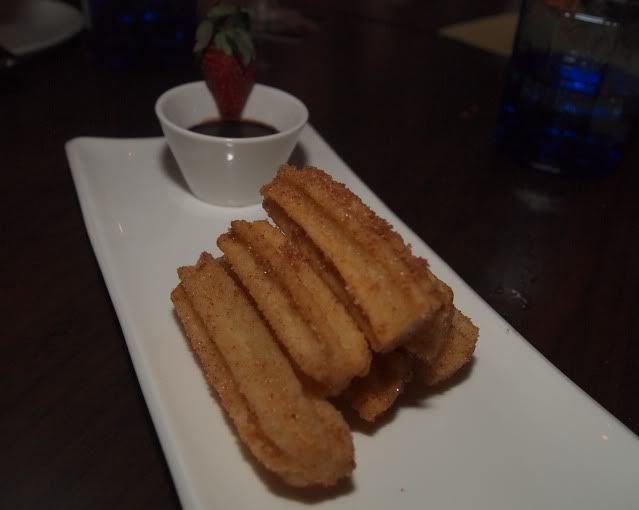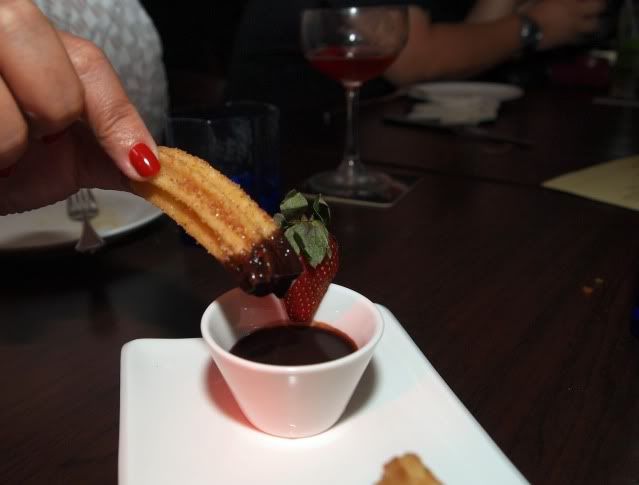 And who can say no to freshly fried churros, dipped lovingly in warm chocolate sauce by those perfectly manicured fingers.
Fresca (which means Fresh) is strategically located at the Entrance to the Gardens Mall, so you can't miss it, opposite the Han Room.
Address : Fresca Mexican Kitchen & Bar
Lot G-242A, Ground Floor,
The Gardens, Midvalley City,
59200 Kuala Lumpur, Malaysia
GPS : N03 07.053 E101 40.659
Business Hours: 11am to 11pm (Mon-Thurs, Sun)
11am to Late (Fri – Sat)
Tel : 03-2201 2893