Somehow going to Ritz Carlton always reminds me of the song, Puttin on the Ritz. A chance to dine at BOTH Li Yen and Shanghai on the same day sounded too good to resist, although I was sure that I would end up in a food coma by the end of it.
Jelly fish yee sang with a twist. A lovely hint of wasabi in the sauce, that is subtle enough so as not to overpower the other flavours. The crunch of the jelly fish, the crispy crackers, (I've never quite figured out what they're called), the myriad flavours of the condiments, I really take my hat off to whoever invented this dish, and contrary to the claims of them in that southern island, I am SURE it is a Malaysian invention.
The very lovely Siobhan Dea. It was so nice of her to carry on with the lunch in spite of the fact that someone bailed at the last minute, leaving only two of us as guests. I am sure that other face needs no introduction.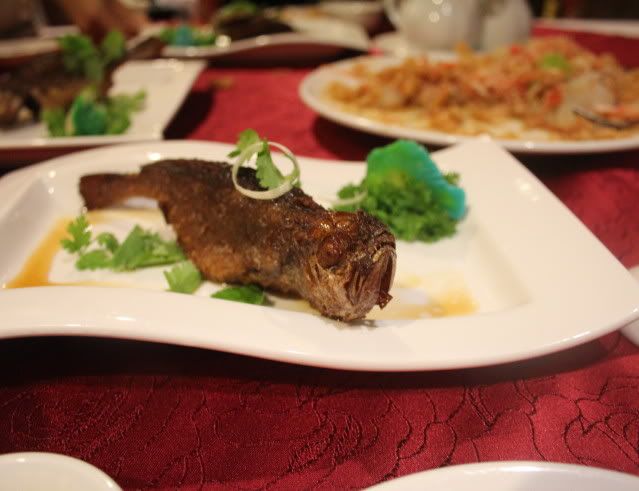 Smoked Yellow Fish (I misread the menu as small yellow chinese), with Chinese Sauce. Quite a unique dish, gasp, come to think of it, it looks like my son's late pet arowana. I don't think I've had this dish before. The flesh is very "sweet", and firm, and I must investigate the significance of this particular fish. As we all know, every dish during this Chinese New Year period has some significance, and being as a a materialistic people that the Chinese are, inevitably it's linked to good fortune and wealth. Maybe the colour Yellow is the reason. Wong, which means lucky...(and also yellow)..
Braised Duck Leg stuffed with glutinous rice in abalone gravy. Actually, after the yee sang, the fish and this, I was already full. The stuffed drumstick is very substantial, and the glutinous rice within is certainly a filler, which will suit the hungry.
Such a cute little embellishment. Handcrafted little fish, crafted from flour clay I think. My great grandmother used to make that kind of play dough (literally dough) for us to play, back in the village, before the advent of plasticine, and Toys R Us. When we used to draw water from the well....
The quintessential Chinese New Year platter of Fatt Choy (prosperity/ hair vegetable), braised pig trotter and oysters. (actually the "hair vegetable" is called sea moss, according to the menu). I love this dish and oh, by the way, we have moved from Shanghai (where we had the first three dishes) to now Li Yen, at the Ritz Carlton. Both establishments are NOT pork free. Un- Pork Free so to speak.
This gives a better angle of the braised trotter...lovely tender meat that used to form an arm or leg of the pig.
And that other once a year dish (probably because of the high cholesterol, and if we were to eat it all year round, we'd inevitably keel over from some form of cardiac arrest), lap mei fan, a combination of chinese sausage, waxed duck, intestine sausages, with rice that is seasoned with the oils from these lovely meats. Oh soooo goooddddd...
I look forward to more published research proving that animal fats are actually good for you. That will make this dish a health dish really. Fragrant flavourful rice, good enough to be eaten on it's own.
And to finish up, pan fried nian gou. Very exquisite quality, tender, not too sweet, and not overly glutinous.
THESE ARE THE SETS AVAILABLE IN
SHANGHAI, JW MARRIOT
Chinese New Year Prosperity Menu
Salmon yee sang
Double-boiled superior fish maw soup
with Glycine Tomentella Hayata
Braised Shanghainese pork with prawns paste,
pine nuts and vegetable
Seafood noodles with truffle oil
Steamed Shanghainese meat dumplings
Complimentary pan-fried glutinous rice cakes with sesame seeds
and deep-fried black sesame dumpling
RM 188.00++ per person
Prices is subject to 10% service charge and prevailing government tax
Chinese NewYear Menu A
Salmon with fresh scallops yee sang
Double-boiled superior abalone soup with chicken
Two-varieties prawn
Deep-fried yellow fish served with Chinese rice wine
Braised Shanghainese pork with
fresh bamboo shoot and vegetable
Seasonal vegetables with bean curd leaves
in supreme stock
Stir-fried glutinous rice cakes with shredded pork
and preserved vegetable
Steamed Shanghainese meat dumplings
Complimentary pan-fried glutinous rice cakes with sesame seeds
and black sesame dumplings with Osmanthus-Flavoured in rice wine
RM 1988.00++ per table of 10 persons
Prices is subject to 10% service charge and prevailing government tax
Chinese NewYear Menu B
Salmon, jelly fish and vegetarian ham yee sang
Double-boiled superior fish maw soup
with Glycine Tomentella Hayata
Braised sea cucumber and fresh scallop with scallions
Braised Spanish meat ball with vegetables
Deep-fried grouper fillets with sweet and sour sauce
Seasonal vegetables with dried scallops in supreme stock
Fried rice with crab meat and lima bean sauce
Steamed Shanghainese meat dumplings
Complimentary pan-fried glutinous rice cakes with sesame seeds
and chilled mango sago with pomelo
RM 2388.00++ per table of 10 persons
Prices is subject to 10% service charge and prevailing government tax
Chinese NewYear Menu C
Assorted yee sang
Shanghainese family hot pot with assorted dried seafood
Deep-fried French goose liver wrapped with bean curd
accompanied with Spring roll
Stir-fried fish fillets with fresh scallops in Chinese rice wine sauce
Braised duck leg stuffed with glutinous rice in abalone gravy
Braised pig's trotter in browns sauce with sea moss
Stir-fried assorted vegetable with dried scallops
Imperial fried rice with shrimps and diced chicken
Sweetened glutinous rice cakes
with red dates and dried longans
A complimentary bottle of red wine
RM 2888.00++ per table of 10 persons
Prices is subject to 10% service charge and prevailing government tax
IN LI YEN, THE RITZ CARLTON
SET MENU (A)
(available from 9th January 2013 until 24th February 2013)
Prosperity yee sang with salmon
Double-boiled chicken soup with dried scallop and Chinese cabbage
Braised pork trotter with dried oyster and sea moss
Steamed Patin fish with superior soya sauce
Deep-fried crispy chicken
Braised mushrooms with bean curd and broccoli
Lotus leaf fried rice with diced shrimps and yam
Sweetened red bean cream with crystal dumpling
Deep-fried ''Nian Gao'' with yam
Menu price at RM1388++ per table of 10 persons
All prices are in Malaysia Ringgit and subject to 10% service charge
and prevailing government tax
SET MENU (B)
(available from 9th January 2013 until 24th February 2013)
Prosperity yee sang with salmon
Braised shark's fin with crab meat
Braised dried oyster with dried scallop and sea moss
Steamed sea bass fish with Teow Chew style
Crispy chicken marinated with nam yee sauce
Stir-fried seasonal vegetables and bamboo piths topped with dried scallop
Steamed clay pot rice with Chinese waxed meat
Sweetened red bean cream with crystal dumpling
Pan-fried ''Nian Gao''
Menu price at RM1688++ per table of 10 persons
All prices are in Malaysia Ringgit and subject to 10% service charge
and prevailing government tax
SET MENU (C)
(available from 9th January 2013 until 24th February 2013)
Prosperity yee sang with salmon
Braised mini shark's fin with dried scallop and crab meat
Braised pork trotter with dried oyster and sea moss
Steamed Patin fish with superior soya sauce
Stir-fried prawns with supreme soya sauce
Braised broccoli topped with crab roe
Steamed clay pot rice with Chinese waxed meat
Sweetened red bean cream with crystal dumpling
Pan-fried "Nian Gao"
Menu price at RM1988++ per table of 10 persons
All prices are in Malaysia Ringgit and subject to 10% service charge
and prevailing government tax
SET MENU (D)
(available from 9th January 2013 until 24th February 2013)
Barbecued crispy suckling pig
Braised shark's fin with shredded chicken and bamboo pith
Braised dried oyster with dried scallop and sea moss
Steamed bamboo fish with superior soya sauce
Chicken simmered in bouillon
Braised bai ling mushrooms with broccoli
Lotus leaf fried rice with diced shrimps and yam
Sweetened red bean cream with crystal dumpling
Pan-fried "Nian Gao"
Menu price at RM2388++ per table of 10 persons
All prices are in Malaysia Ringgit and subject to 10% service charge
and prevailing government
SET MENU (E)
(available from 9th January 2013 until 24th February 2013)
Prosperity yee sang with salmon
Braised shark's fin with crab roe
Barbecued crispy suckling pig
Braised 6 head abalone with goose webs with broccoli
Steamed sea grouper fish with superior soya sauce
Braised pea shoots and bamboo piths topped with crab roe
Steamed clay pot rice with Chinese waxed meat
Double-boiled almond craem with crystal dumpling
Pan-fried "Nian Gao"
Menu price at RM4288++ per table of 10 persons
All prices are in Malaysia Ringgit and subject to 10% service charge
and prevailing government tax
Ritz Carlton
Phone: +603 2782 9021
Fax: +603 2711 8080