Another year flies by. The Western new year ushers in resolutions (for the imperfect), and the Chinese New Year ushers in Yee Sang. And a new animal, which amazingly can determine the course of the entire year. One year more, another year another destiny..
The first of the yee sang invites came by way of Elaine of PJ Hilton, and actually, I have always liked the food in Toh Yuen, the pork free Chinese Restaurant of the hotel. I was late, (gosh, it's becoming quite a norm, and I seem to be the only tardy one, so either I am really taking all the wrong routes, or the others are using waze), and arrived just in time to do the ceremonial yee sang toss.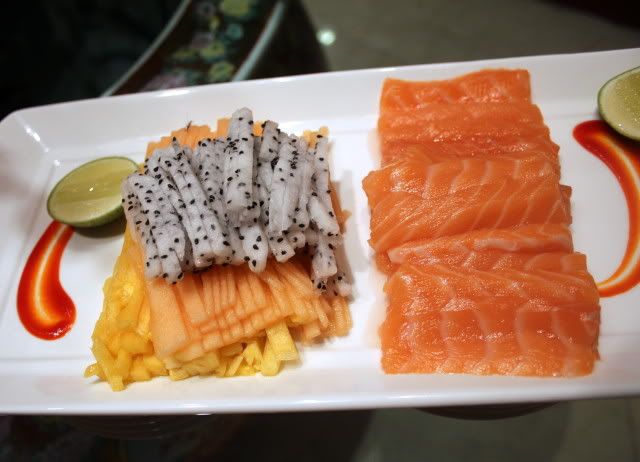 Fresh salmon, rock melon and mango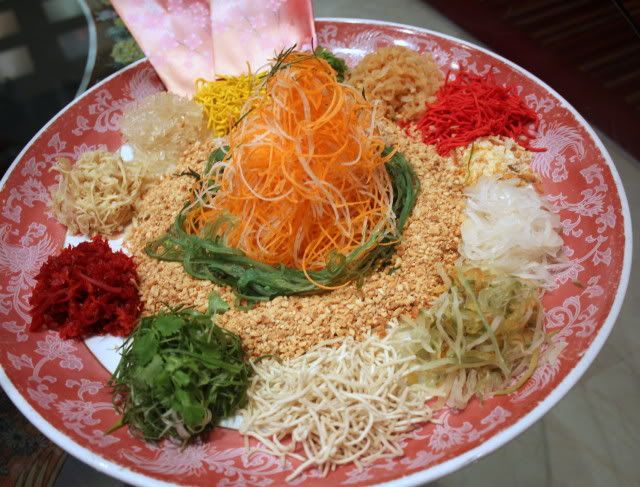 Fortunately, yee sang is still a dish that is available during CNY, albeit earlier and earlier. Unlike the rice dumplings, (chang) which has taken on a life of its own and is available year round.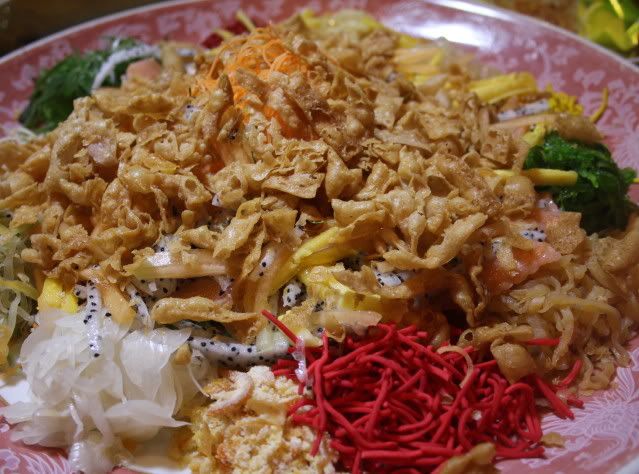 Loved this combination of fruitiness that gave the tang, to complement the slight sweetness of the plum sauce. Very good start for my first yee sang of the year. All the usual good wishes were muttered hesitantly by Pure Glutton, long life, good health, good business, dragon horse something something...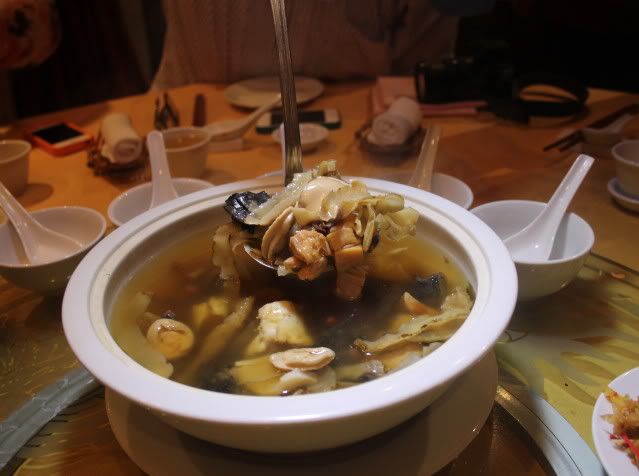 Braised baby abalone with dried seafood soup.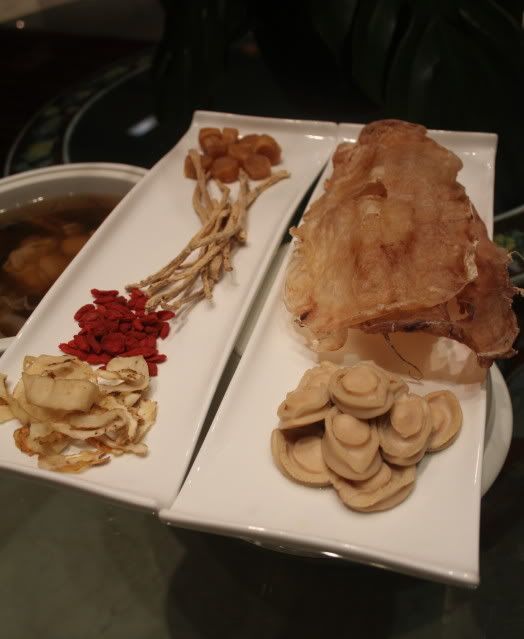 The ingredients of the very superior soup. Much as I like the occasional creamy lobster bisque or western style soups, give me a clear chinese broth made from premium ingredients such as these anyday. The soup was really lovely, it almost gives a sense of wellness as you ingest the piping hot liquid.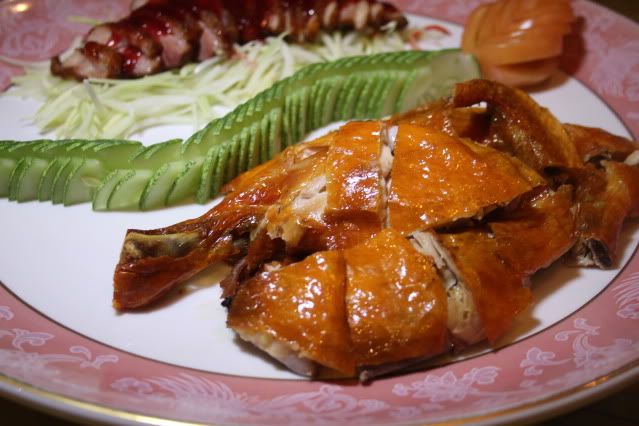 Roasted Chicken and Smoked Duck with Dragon Fruit Sauce ....The roast chicken is moist, and skin crispy, but the Smoked Duck, mmmmm, at treat to the palate. Tender pieces of duck, with an adequate layer of fat, a hint of that lovely smokiness, married with the crimson red embellishment, I could just eat this dish on its own.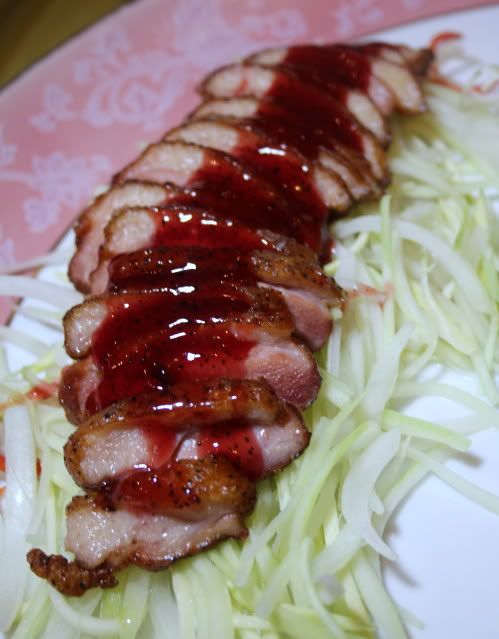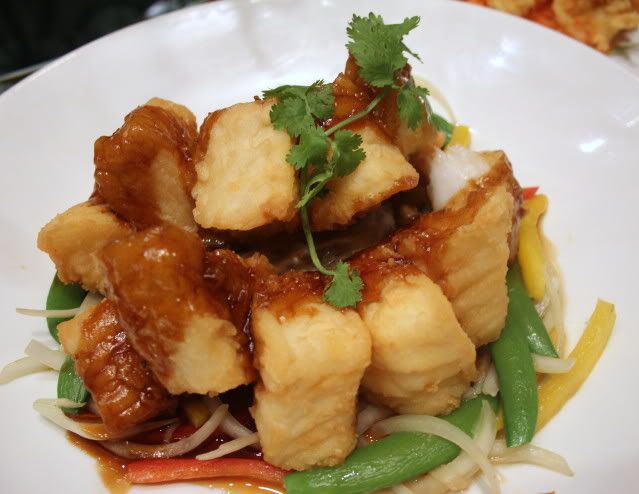 Deep Fried Canadian Cod Fish with honey sauce - Very well executed dish, definitely no complaints here.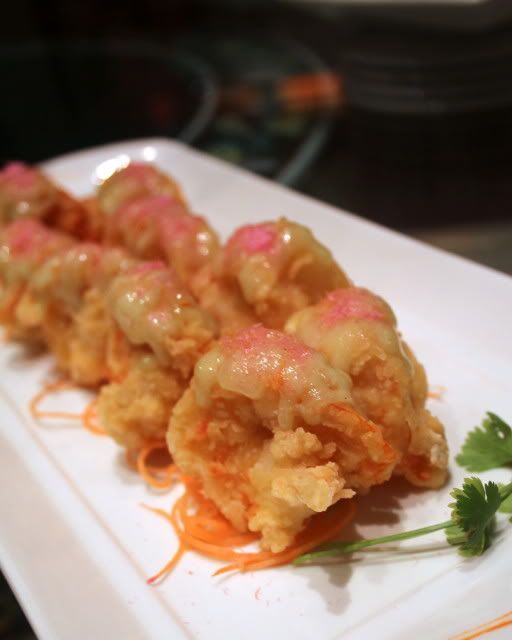 Sauteed Sea Prawn with Wasabi Mayo and Sakura Denbu. The general complaint was that there wasn't enough sauce. I actually thought it was adequate, I am not really a saucy person, and don't particularly like my food swimming in gravy, maybe with the exception of Sang Har Mee, (and other chinese noodles that are meant to be in gravy). I guess an option would be to request for more sauce on the side. The prawns were fresh, and the batter nice and crispy.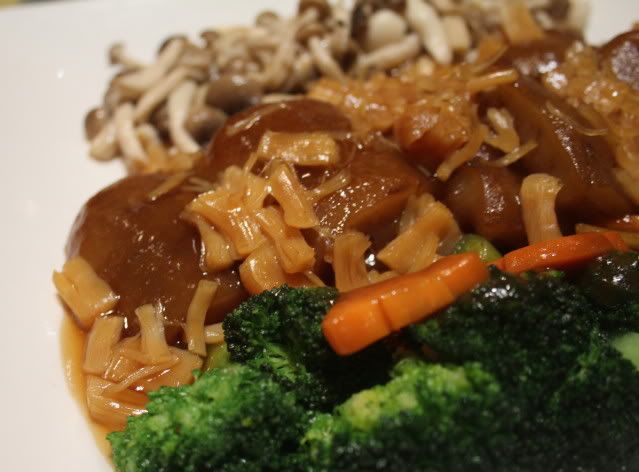 Braised Sea Cucumber With Mixed Mushrooms and Sun Dried Scallops. I am not really a Sea Cucumber fan, though I'd eat it since it's 1. expensive and 2. supposedly good for health. But the whole combination together works very well, as I love all the other stuff in this dish.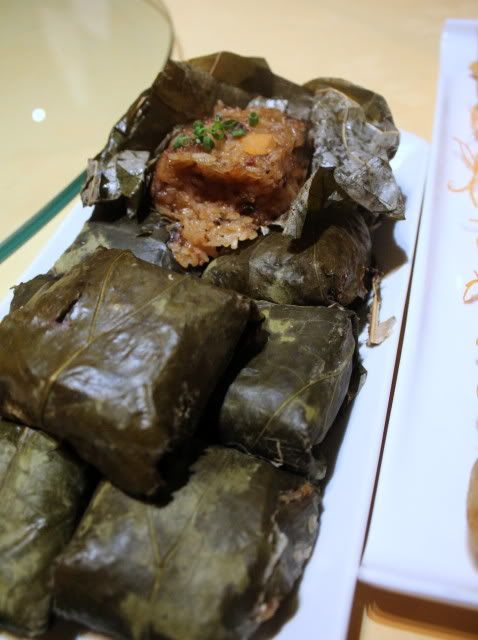 Steamed Glutinous Rice With Sun Dried Oyster,Salted Egg Yolk and Chicken Paste. This seemed to be a hit with everyone, though I personally was so stuffed by this time, and could only manage to pick out the goodies from this parcel, and left most of the rice. My kids would have loved this.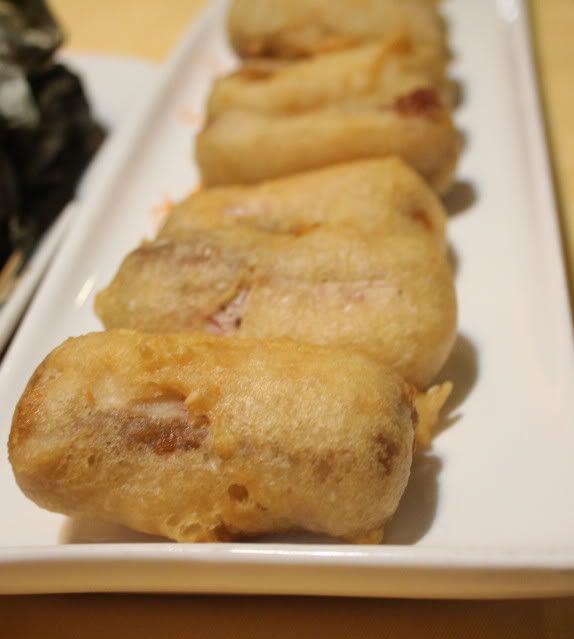 Very delectable Nian Gou (Leen Kou, that sticky chinese new year cake that is made from glutinous rice flour, to seal the mouth of the kitchen god), deep fried with yam. Surprisingly not sweet at all. I think people are becoming more health conscious.
Hilton Ice Cream Cake.
And From The Press Kit:
At Toh Yuen, there are five varieties of 'Yee Sang' – Seaweeds Abalone Yee Sang, Hokkigai Fresh Yee Sang, Salmon Yee Sang, Vegetables with Chinese Pear Yee Sang, Jelly Fish & Octopus Yee Sang. Priced from RM100++ onwards, they are available in large, medium and small portion.
PROSPEROUS SET MENUS
Befit the special occasion and reduce the hassle with Toh Yuen's three thoughtfully tailored and palatable Set Menus such as Fortune Menu, Happiness Menu, Longevity Menu and Prosperity Menu, priced at RM988++, RM1188++, RM1388 and RM1688++ respectively for per table of 10 persons.
Chef Lee leads the guests down the gastronomic culinary experience with dishes such as Roasted Duck with Chef's Special Sauce, Braised Eight Treasures with Clam Sliced Soup, Braised Sea King Tiger Grouper Bones with Sun Dried Scallop Superior Herbal Soup, Deep Fried Smoke Duck Breast with Nutritional Dragon Fruit Sauce, Steamed Baramundi Omega Fish with Soya Sauce, Steamed Golden Omega Snapper with Ginger Sauce, sautéed Fresh Sea Tiger Prawn with Sweet Chili Sauce and many more.
Open for Lunch (12noon – 2.30pm) and Dinner (7pm – 10.30pm).
To book, call (03) 7955 9122.
Note: The menu we had was the Prosperity Menu, priced at RM1688++ per table.