If you google maps it, you might be confused, and think TI CHEN is located in Saujana Hotel, and of course, to compound my confusion, the google map attachment on the "events" page showed Saujana Hotel. It's a good thing I am old and slow, (in this case), because as I approached the road leading to the hotel, I drove at SNAIL's pace, (after being STUCK for an hour and a half on the SPRINT highway, which really should be renamed SNAIL Highway especially at peak hours) and lo and behold, caught a sign showing TI CHEN to the right, where the Saujana Golf & Country Club was located. Hmm, strange, I thought to myself, but decided to go by faith, and follow the signs. Further huge banners advertising dim sum lunches and chinese food reinforced my confidence that I was headed in the right direction.
As I was hopelessly late, I had already missed the communal Yee Sang toss, though my fellow diners did leave a portion for me to partake, and toss myself. Actually, food guru and empress of the floggers, Masak Masak, told me that individually tossed yee sang's are good because then you can toss according to your own wishes, and not have to share the communal wishes of good health, dragon horse energy, good business etc. One could PERSONALLY wish for other things closer to one's heart.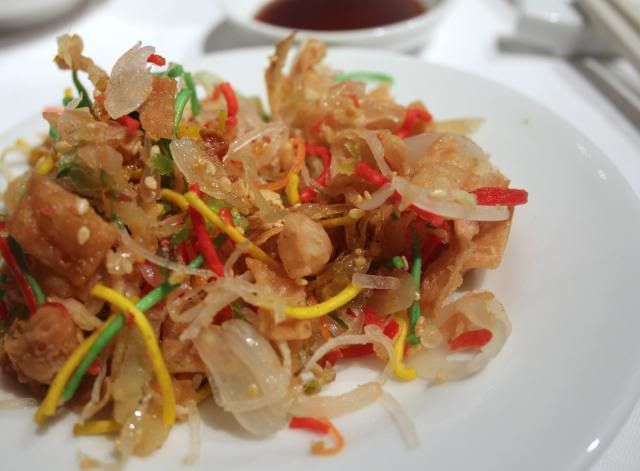 Our menu for the night was the "Pearl Set" Menu, priced at RM1,146.10 nett for a table of 10. The un-nett figure is of course the more beautiful RM988.00. Actually it comes with two bottles of Misterio Cabernet Savignon Red Wine. Sea Bird Nest and Jelly Fish Yee Sang. Hmm, I am not sure what Sea Bird Nest is.
Double boiled herbal soup with fish maw. Can't go wrong with this combination. Kei Chee, (Chinese Wolfberry), red dates, angelica, ...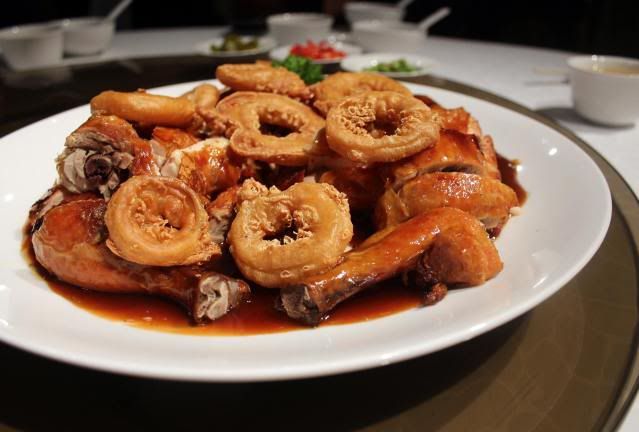 Oven Roasted Chicken with Homemade BBQ Dressing. I love the giant onion rings.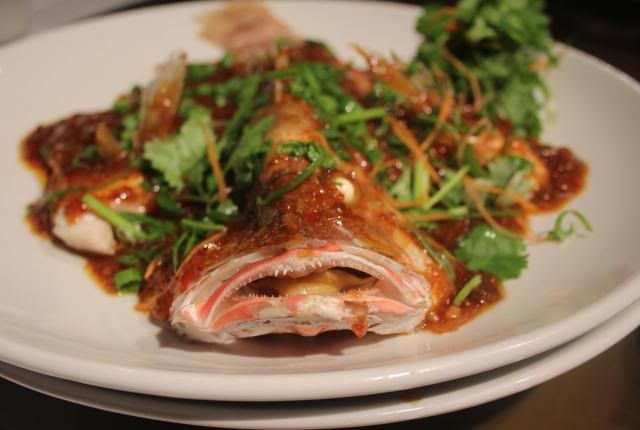 I've given up trying to take a decent picture of steamed fish, because they all look so ....dead, so this one is giving us the evil eye. I generally prefer my fish steamed with a lighter sauce, or no sauce at all, especially if fresh, because it seems a waste to overpower the purity of the fish. Fish was fresh, and well steamed.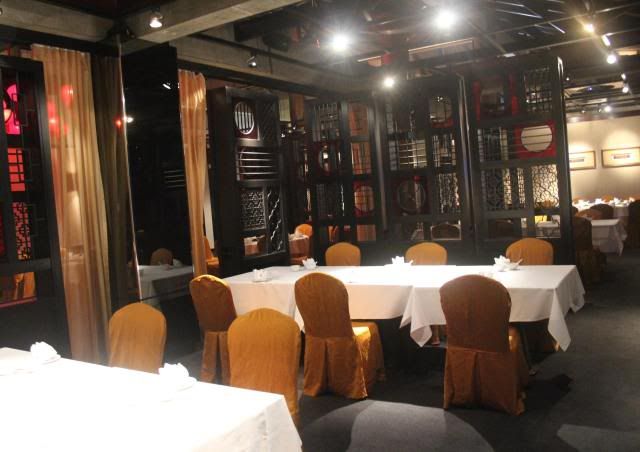 The interior of Ti Chen....which incidentally means Emperor's Palace.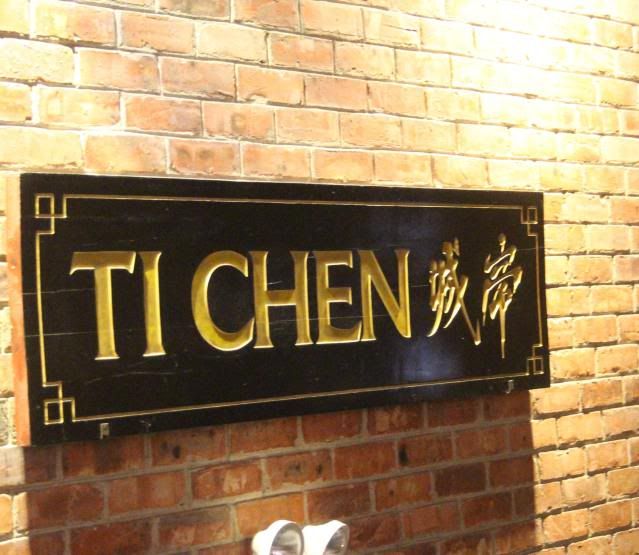 It's not Kitchen spelt by someone dyslexic.
Stir Fried Tiger prawns with Fragrant Soya Sauce, very har lok style, which I love. I could just suck on these babies...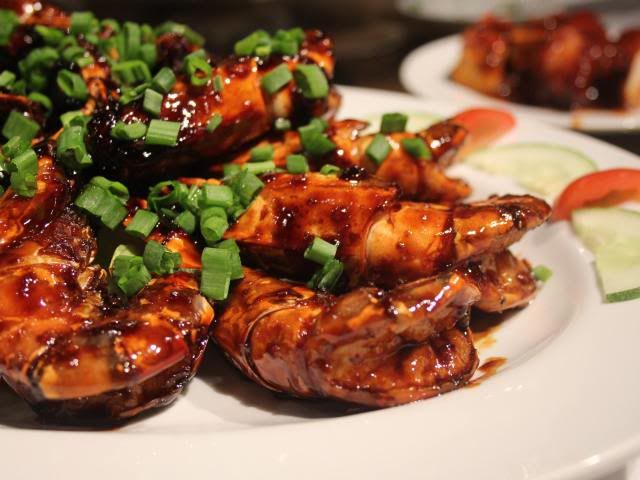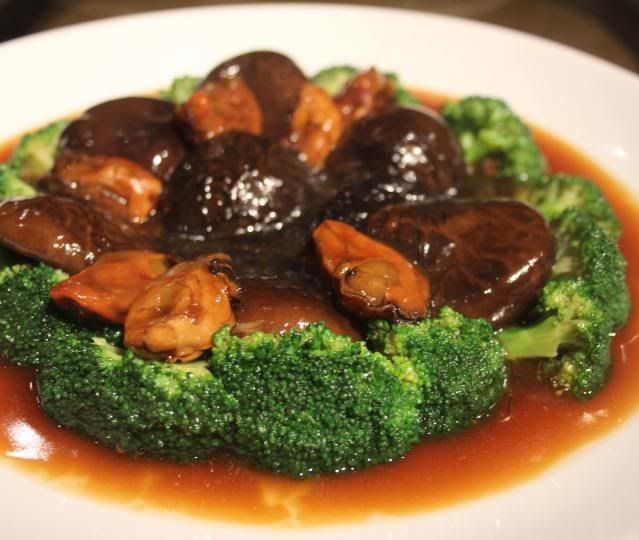 Braised Seasonal Vegetable with Dried Oyster and Sea Moss, (Fatt Choy). Seems to be a compulsory dish in every CNY Menu, but since it's the token vegetable dish, I guess it's always welcomed.
Wok Fried Rice With Seafood and Crispy Bean Curd skin. According to food afficianado Pure Glutton, the bean curd skin was not crispy enough, compared to the previous times they've been. Being my first time, I have no yardstick, so I wouldn't know. But the rice is fluffy and well fried.
Warm Nien Kow with Grated Coconut. Yummy, love this take on nien kow which marries the traditional chinese with the Malay kuehs that are usually covered in grated coconut. Great combo. Must try it at home.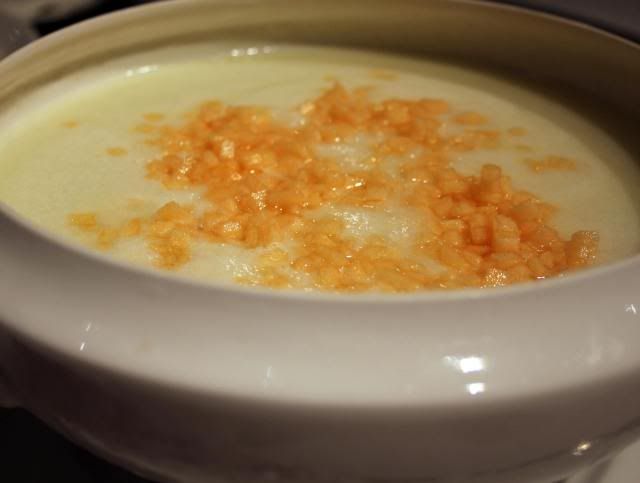 Honeydew Sago infused with Calamansi Juice. A brilliant idea, which makes this a most refreshing dessert after such a heavy meal. My only grouse would be that it's a bit too sweet, the sugar syrup almost overpowering the tartness of the calamansi. But then again, my tolerance and love for sourness and bitterness is above that of the average Malaysian.
Other menus range from RM1,180.00++ to RM2,288.00++ for a table of 10. (they all come with some form of booze thrown in).
For reservations, please call
Tel: 7843 1234
www.thesaujanahotel.com