Actually there was no signboard to indicate such a name, so I am not sure if it was written in chinese, or invisible ink. Located in Kajang Prima this double shop occupies one corner, mostly alfresco dining, and intermediate which is airconditioned.

The meal was preceded with a complimentary hearty soup comprising pork, chicken, ham choi, (salted vegetable) which was exceedingly tasty and really gives you that homey feeling. My dietician tells me that the correct way to eat, is to drink a glass of water before a meal, drink nothing during, and drink lots half an hour after. Makes sense, its to lubricate the passageways before, and to flush out later, and not dilute the stomach juices that are digesting the food. So, what about soup? Who knows, it's one of those mysteries, like how the pyramids were built.

Thankfully, when you have 4 hungry mouthlets to feed, the taufu dish came first. I have trained my brood well, they can survive on a simple meal of taufu and rice, or egg and rice. Money saved from not feeding them the western imperialists fast food, big Macs and what not, are channelled into their education fund.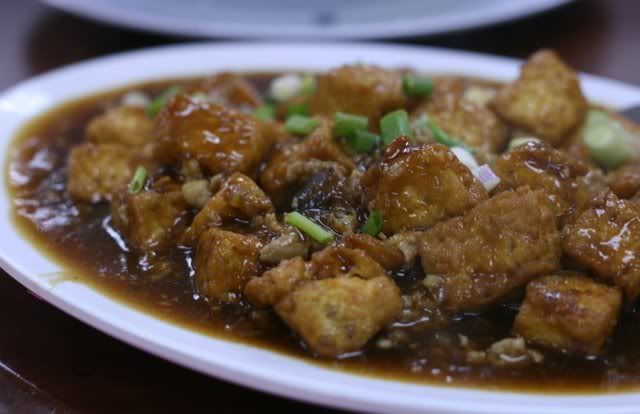 The taufu, in bite size chunks, was very palatable. Swimming in a sea of tasty gravy, and mince meat, its the perfect economical dish to slather over a bowl of rice, and watch the chewdren eat contentedly.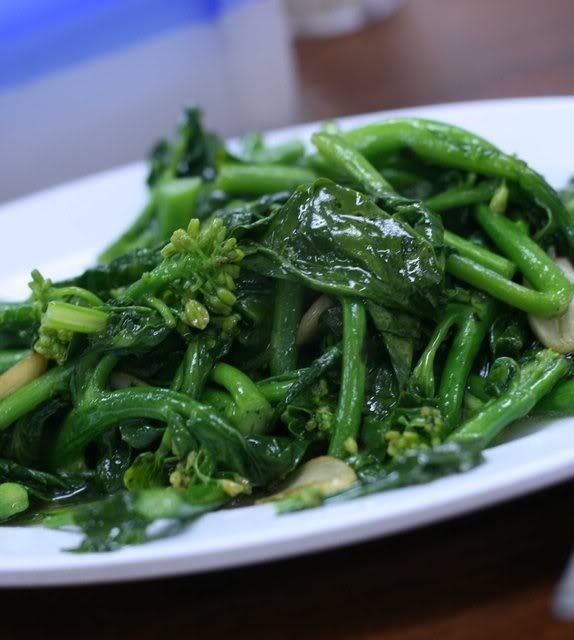 What is it about greens and children? It's like the wicked witch of the west and water. Kids no 1 & 3 at least eat spinach, but when it comes to the harder vegetables, like choy sam and kailan, you can forget it. Nevertheless, the vegetables were lovely, verdant and tender. So green, so much so one wonders if they have been dyed.

Does anyone recall the story of Rapunzel? Her pregnant mother had cravings for the lovely vegetables in the neighbouring garden, belonging to the witch, and asked her husband to go steal them for her. With lovely greens like these, I can understand why a pregnant woman might crave them.

I am sure the pork knuckles were popularised only after the advent of the numerous deutsche gashauses that sprung up like weeds in the late 90s. Before that, chinese pork dishes did not include this in their repertoire. Now not only have they replicated it, but arguably, made it better. At least that's what the older folk say. In-laws who spent some time in Munich recently declares this local version is better by far. Crispy crunchy crackling, buffered from the meat by a layer of gloriously sinful fat. What more can a person want.

Onion rings must have also been an influence of the west. Or was it inspired by Japanese Tempura? Anyway, these rings were accompanying the deepfried chicken, and they go together like the Ring of Power and Frodo.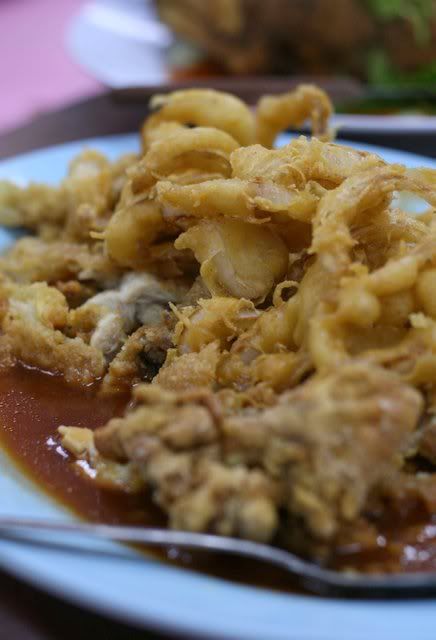 The chicken was succulent and tasty, and terribly unhealthy, being deepfried and all. Is it any wonder that my cholesterol readings are almost like the scores of a professional ice skater or diver? (as in their scores after a performance)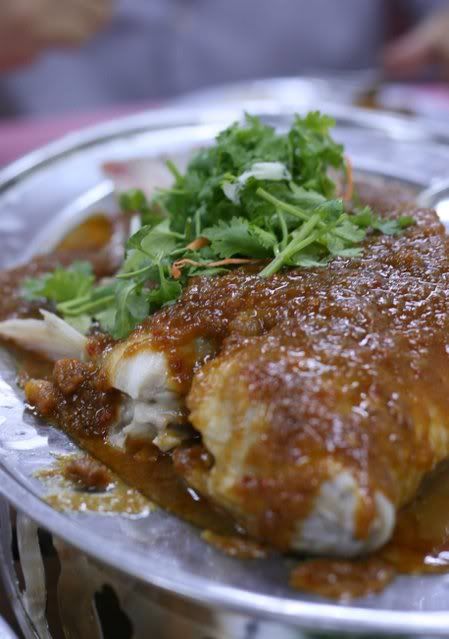 A steamed fish, tilapia, according to kid no 2, who identifies them by the tail, soaked in a chilli gravy. The fish was exceedingly fresh, and didn't exude that muddy riverine odor that some are inclined to do. Great chow, although I personally would have preferred the fish steamed in a clear sauce.

The bill came up to about RM110, for 6 adults and 3½ children, which I thought was inordinately reasonable.

On another note, I had some extra pastry and apple pie filling so I decided to experiment making an individual small pie in a stainless steel pudding dish. All that was missing was a scoop of Haagen Dazs Vanilla Ice Cream. If haagen dazs is good enough for Nigella, it's good enough for me.