How sweet of Kenny Mah to actually miss my posts....awwww. For that you deserve first line mention.
After the holiday in Camerons with the kids, I needed an adult only holiday, so we were off, just the wife and me, to Yogyakarta, because 1. we wanted to see the Borobodur, (or rather, I wanted to see), 2. it was cheaper than our cuti cuti Malaysia, including the beautiful hotel we booked 3. I was tired of driving, so needed to take a plane.
Our Air Asia flight was delayed for 1.5 hours, and the notification sms came a BIT too late. We were already halfway to the airport. Anyway, I figured it shouldn't be too hard to kill 1.5 hours, mingling with the rakyat, jostling at the Lousy Cheap Cheap Terminal, (LCCT), like we were catching the last helicopter out of Saigon during the fall of Saigon....(Images of me pressing my nose against the barbed wire fence calling out to an imaginary marine spouse come to mind...do they have mariness?)
Twas easy enough, doing the things I normally do to kill time, read the papers, check email (thanks to the wi-fi at Coffee Bean, which was as stable as those old Thai military governments that could be toppled overnight by a coup). I love the RM8 nasi lemak on the flight, but they really are scimping on the rice. Increasing rice& fuel prices must have been the reason. It was like curry chicken with a hint of nasi lemak. As the clouds broke, I could see the city beneath us.
Although timewise, they are behind us, ie, our 1pm is their 12 noon, it gets dark by 6pm, so by the time we got in, it was dark. Dark as it may be, nothing seems brighter than a nice hotel, an executive king room, (like a junior suite), and the trappings that say, "you're in a nice hotel".
Clockwise from left, the bedroom, the living room, the hotel's lounge area, and the toiletries
A fruit platter with pastries to greet us in our room


After settling in, we decided to plunge back into reality, and grabbed a trishaw, (but a hotel trishaw...which I later on discovered, on our last day, cost 4 times more than the normal ones you hail off the street) and did a preliminary recce of the town. The main shopping street, Malioboro, is decked with banners and buntings of J.Co Donuts, with a queue similar to that in Pavilion, if not longer. Horse carriages and trishaws are the main form of public transport. Our 2 hour town ride, plus visits to endless batik shops and t-shirt shops, insisted by the beca (trishaw) driver, cost us RM7-00. Despite the inflationary hotel beca prices. Well, live and let live la. Those beca fellas certainly do not need any Spinning Classes.

One of the specialties of Yogyakarta (of course my first question to the concierge was what is their famous food) is Gudeg, young jackfruit cooked in numerous ways. Below is an example of the one served at the hotel buffet breakfast.


While the buffet breakfast itself is nothing to shout about, I do love the presentations. Jam in a treasure chest. Honey from a honey comb. Nice hor.

And there's a lady concocting all kinds of jamu. I always thought jamu was meant for women who had just given birth, to ahem, tighten back any parts that may have gotten loose in the process of delivery. Oh oh oh, talking about that, I have to mention the Javanese Bridal Spa Treatment.
It entails the burning of a special incense to clean the genitalia, and to remove any unpleasant odors emanating from the ahem ahem....if you have one, that is. (note, BRIDAL spa)....dont believe me? Here's the menu. (children under 18, close your eyes)
The Jamu Woman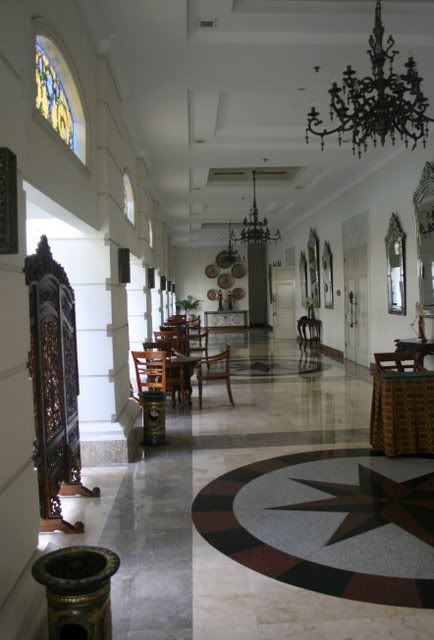 The Corridors of the Hotel
As I said, I am amazed how many people have never heard of the Borobodur, apparently the largest Buddhist temple in the world. It's quite amazing, this humungous structure in the middle of nowhere, in tribute to Buddhism.


I am completely STUPA-fied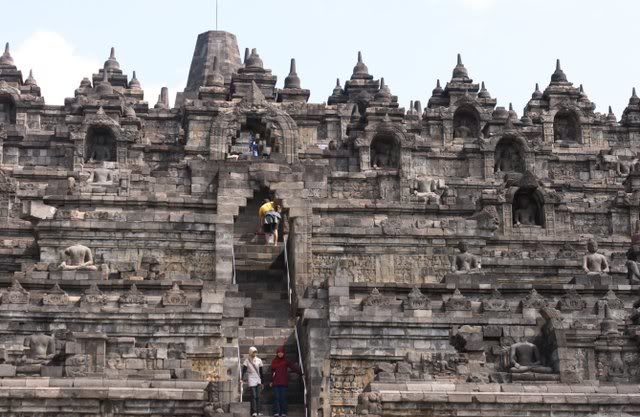 And considering its age, its remarkably well preserved. Unlike some of my friends. I shall not elaborate on its history, as this is a food blog.



The other fascinating tourist attraction is the Hindu Temple of Prambanan. Partially destroyed in the 2006 earthquake, it is now closed to tourist for closer inspection, but you can still walk around its perimeter, and have a good view.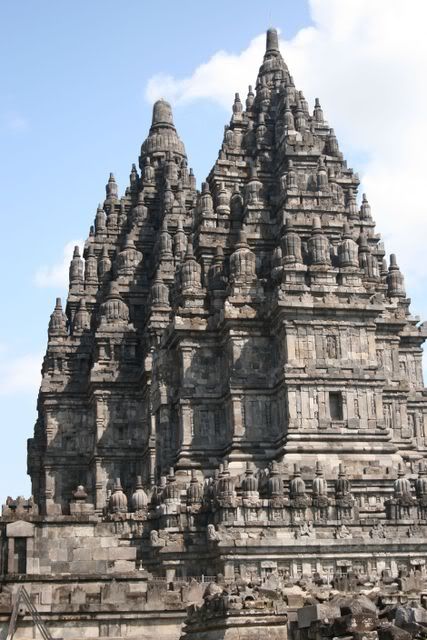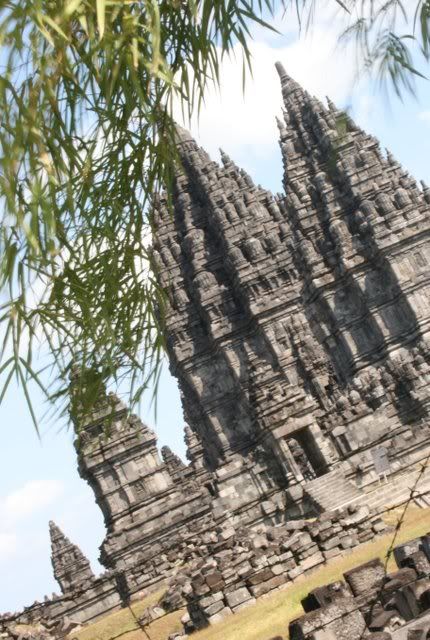 Don't you think Prambanan looks so mythical? Reminds me of a story of a city that just arose from the seabed.



Some of the foodstuff along the way. If by myself, I probably would have sampled some, but my travelling companion is more wary, and I guess it is harder for a woman to find a loo in case of diarrhoea, whereas men can just plonk it anywhere.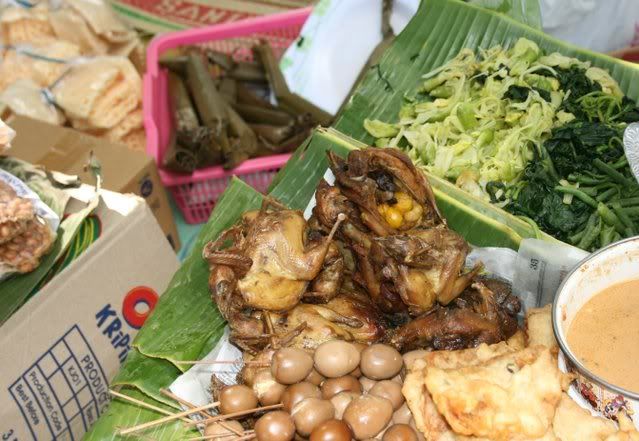 I thought the fried quail looked rather good actually.



With all due respect to our Visit Malaysia Year, actually historically and culturally, I think we kinda pale in comparison. The pic below is their Water Castle, which happened to be closed for cleaning, but filled with water, it is almost kinda reminiscent of a roman bath. Built for the sultan, of course....and the whole complex has underground tunnels that lead to the sea, 27km long, underground mosque, ....large citadels...how fascinating is THAT!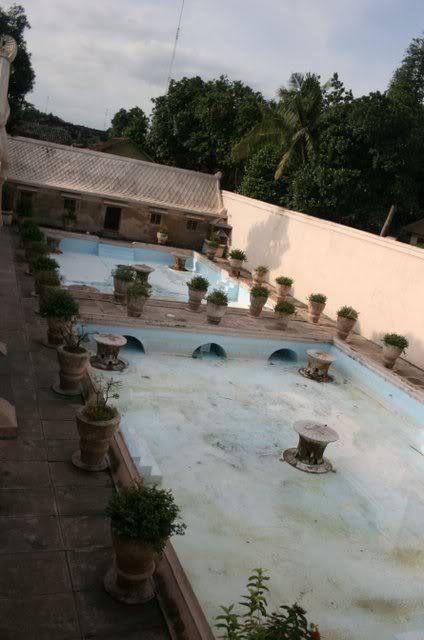 Not Roman, but Yogyakartan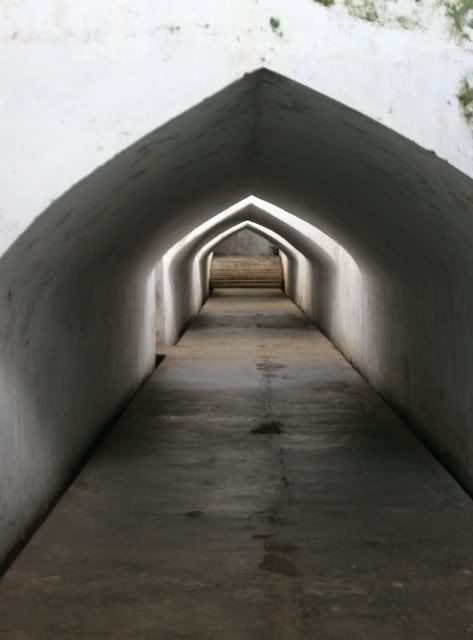 Myriad underground walkways



Unlike Bali, Yogya isn't one big tourist trap, and as such, doesnt really cater for our delicate palates. Either you have the stomach for the local gudegs and nasi padangs, OR, end up eating at the hotel, like unadventurous, spoilt, pampered western tourist.

My prawn bisque soup was excellent. The breads that accompanied the meal were good too. Below is wife's hot and sour soup, which was also not bad.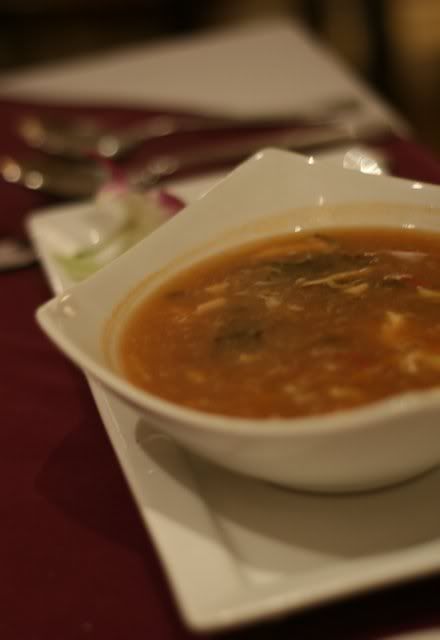 For the mains, I had the Duck Magret Yogyakarta, supposedly their specialty. I'd say this was a Michelin star rated meal. The duck was tough and rubbery as Michelin tyres! Perhaps it was in the way they sliced it. Large chunks that would choke Linda Lovelace. However the accompanying vegetables and mash were good.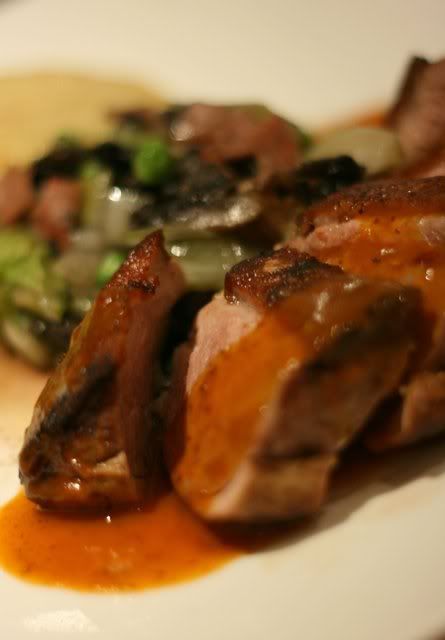 The hotel Grand Mercure by night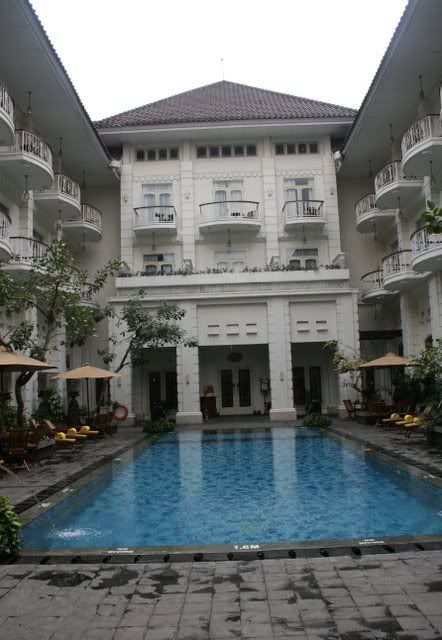 And by day



On Day 3, (gosh, is it as tiresome reading this as writing it?) we visited the Kraton, aka the Palace. Interestingly, the Sultan of Yogya is now the governor. Another interesting fact is he has no male heir, and though he could take on 3 more wives, his current wife is a smart intelligent woman, an MP even, who will not entertain the idea, according to our guide, who resembled Linda Hunt. A short forceful speaking lady, .... yeah, I really kept thinking of Linda Hunt.

For dinner, we decided to try the Nyonya Joint across the road from the hotel, TIGA NYONYA. Lovely ambience.
My fresh soursop juice. Yummy.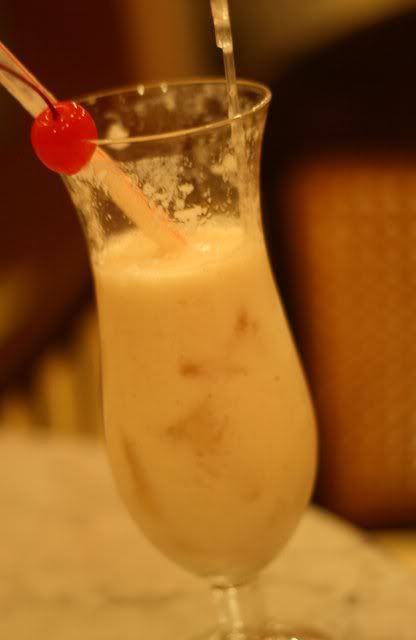 Lumpia something something. Lumpia must be springroll. Aren't I brilliant.


Soft Shell Crab deep fried with Salted Egg Yolk....not bad, but not as egg yolky as our usual ham dan hai here.



Some rojak dish. Nothing to shout about. The other dish, no photo, is their bakso, which are basically beefballs in soup.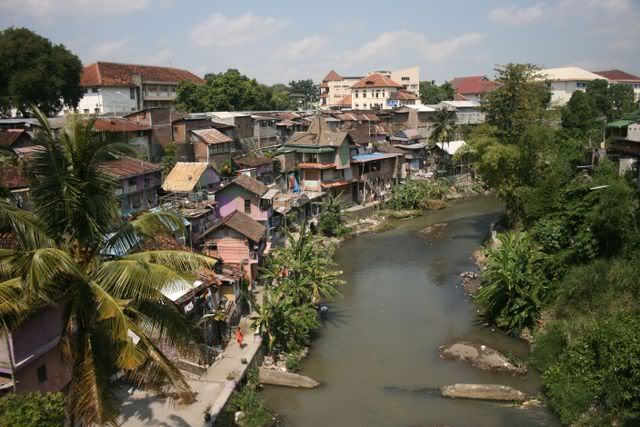 Lots of affordable riverside properties in Yogya.



Anyway, gosh, that was long. Yeah, unlike Bali, Yogya probably is more representative of the real Indonesia. A great majority of them are fairly liberal and broadminded, for example, you get Muslims who sell (and make) statues of Buddha, and it's not uncommon to see statues of the Virgin Mary plonked against a picture of Quranic Verses. The wayang kulit is alive and well, and as the artisan told me, in Indonesia, Budaya (culture) and Agama (religion) are held in equal esteem.