It has always been my resolve that I shall never "stoop" to decorating cupcakes, because they're such girly things, and eugh, I can't get myself to pipe pretty pink icing, etc, mainly because I probably lack that particular creative gene. It also explains why I dropped out from finishing the final level of the Wilton course at the ICCA, because after an inordinate amount of flower piping in level 1 & 2, using buttercream and royal icing respectively, I was getting a severe hayfever allergy to piped flowers, and since level 3 consists of MORE flowers, with FONDANT, I decided to put the RM750 to better use. Such as buying a package of 10 spa treatments.

So, when mother of baby heiress called to ask if I would do cupcakes for her daughter's 1st birthday, ....by virtue of the fact that these are old old friends, with whom we have laughed, cried, gotten drunk, ..... I didn't say no outright, but might have inadvertently stumbled on a novel concept that I intend to start marketing right away.

I said, well, why don't we all congregate at your house the night before the party, and YOU can decorate the cupcakes. Nothing appeals to the maternal instinct more that the idea of HANDS ON DECORATING for your baby's first birthday cake. Of course this idea was welcomed faster than a cop accepting a bribe, and in one fell swoop, I had accomplished
1. not having to worry about the birthday present,
2. satisfying an old friend's request,
3. brought more meaning and joy into her life,
4. creating memories that will last a lifetime, and something that can be shown in a powerpoint at the daughter's wedding.

So slaving over the kitchen top on Thursday night, I made approximately 40 vanilla cupcakes, and 30 chocolate cupcakes. To my horror, the 1st batch of choc cupcakes only rose to halfway past the half way mark in the cup. On Friday, I kneaded in the colors to my homemade fondant, (because to my horror, the 1kg packs of pre prepared sugarpaste in Bake With Yen were sold out). I KICK myself, because I forgot to take pictures of all the pre-preparation work.

Friday night, we skip Bible study and head down to the palatial mansion of the birthday girl's parents, and together with the birthday girl's mother, godmother, father, grandmother, wife, (mine), we embark on PROJECT CUPCAKE DECORATION. Half of the contingent stuck to sugarpaste, whilst another two tried their hand on piping buttercream. Unlike the Wilton buttercream, which is mainly shortening, and therefore gloriously fake, but holds its shape well, (just like other fake stuff that hold their shape well), mine was pure butter and icing sugar. Which was a bit stressful. Nevertheless, I'd say, for first timers, it was a mega commendable effort, for these were the finished results.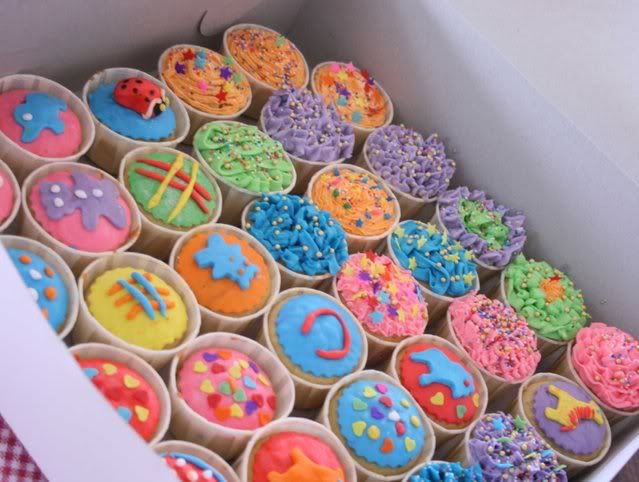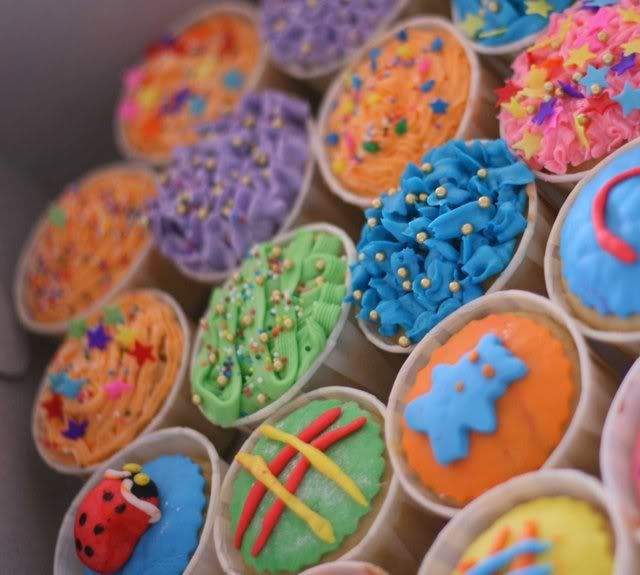 Of course, credit should be given to me, the mixer and colorer of the icings, for producing such brilliant colors, inspiring the various Matisses and Van Goghs of the icing world.



I think all in all, it turned out fabulously, and I think I shall market this concept under HANDS ON MOTHERS. I'll bring the cakes and the icing, and gently guide you through the piping, so you can tell your chewdren, "mummy made these". Let's make it say, RM5 per cupcake. All you have to do is provide a venue, with a large table. I'll settle for plain water. Unlike in this case, where I was downing Johnny Walker BLUE Label, that costs RM 700 /litre.

And how did these babies taste? Well, with pure butter cake, and pure butter icing, it would take an idiot to really botch that up. I thought the butter icing, (though the usual response is argh, so sweet ah) really complemented the semi bitter chocolate cake. Nor were the vanilla butter cakes sweet at all. Okay, sugarpaste does nothing for me, in terms of edibility, so I honestly wouldn't eat that myself.

On a different note, on Friday afternoon, I decided to pop over to PWTC for the Malaysian International F& B Trade Fair. (MIFB). I was lunching at Oriental Spoon, Sentral, and decided to take the LRT to PWTC, and jostle with the rakyat. It's my first time doing that change of line from Putra to Star, at Masjid Jamek. I was quite impressed with how gorgeous that old mosque looks closeup.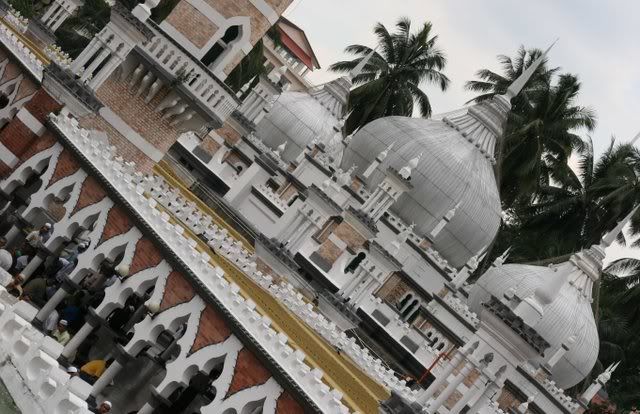 Now, the snag was, to get into the MIFB on Friday, apparently you need to be "trade" related. I can't jolly well say, "don't you know who I am, I'm FATBOYBAKES, doyenne of the local food industry". So, it was timely, that THIS name card, was freshly printed. Some of you may know that I am involved loosely with this new food magazine coming out soon, called MY NOURISHMENT. Roped in by the people of The Cooking House. If you look CAREFULLY, you'd see the designation as CHIEF FOOD EDITOR. Phwah, terror nya.

Anyway, fellow colleague, research chef, Ryan Kang was in the midst of doing a demo on healthy salads, and olive oil.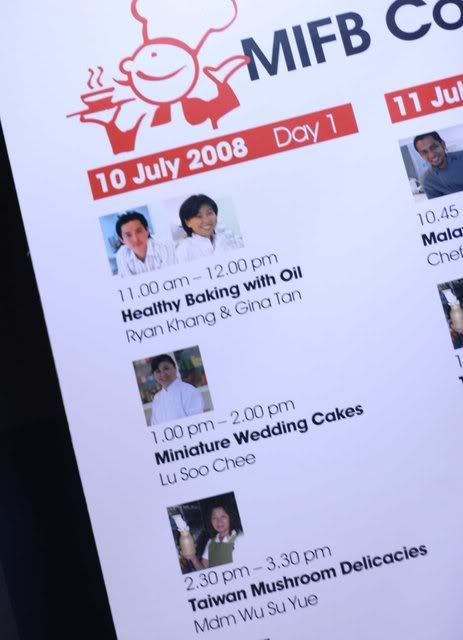 If you look at the poster above, you'd see MY NOURISHMENT as one of the sponsors for the Cooking Revolution series of Demos. Ahem, that's the magazine I'm involved in. (heart welling up with pride).




The MIFB was interesting for a first timer like me, lots of stuff, from utter junk food, to healthy organics. A wide array of fruits were also on display, obviously not local. Iran appears to be quite a large exporter of temperate fruits. But not cheap.




Ah, I've read about these ridiculously priced watermelons.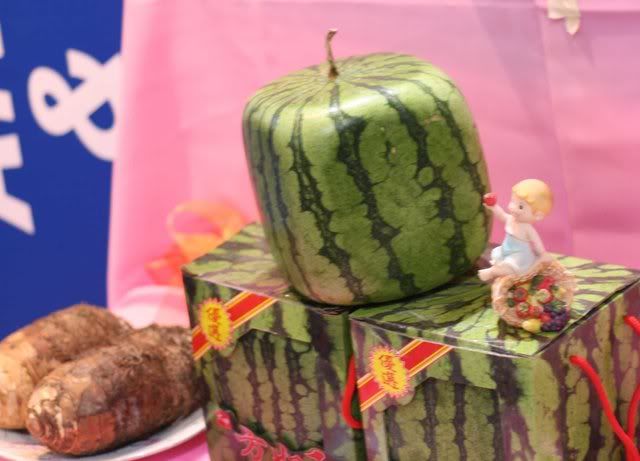 Part of Ryan's Salad Demo. People were tucking in, and I overheard some old ladies raving about it. Dunno if they were raving about him, or the salad. He does seem to have that boyish appeal that make the aunties transfixed.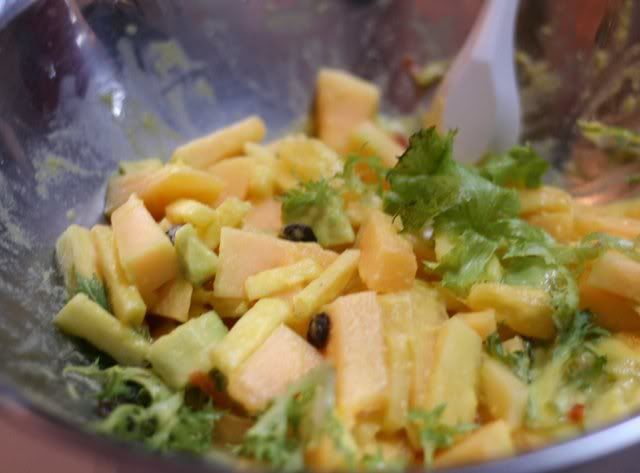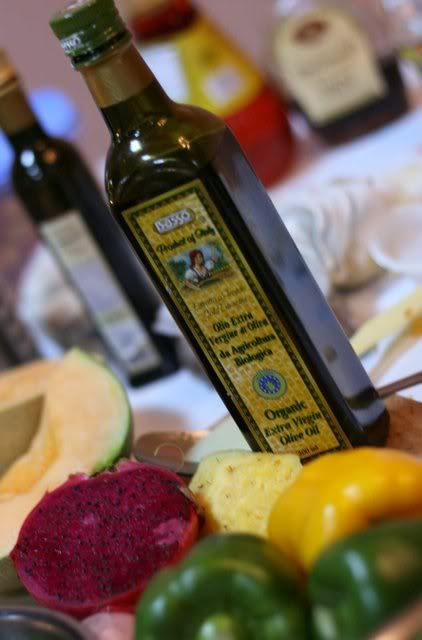 Anyway, will keep you posted on the latest development of the magazine. Of course, there's lots of advertising space, for F&B related business. Feel free to email me for more information.