Yup, it would appear with the present fracas and brouhaha with our powers that be, and powers that wannabe, we are the laughing stock of the world. Speaking of stock, nothing like a good stock, made from herbs, dried longan, tons of garlic, wolfberries, a touch of ginseng, when we're all about to be in the same boat.
A steam boat, that is.
Famous Photographer
and dear wife invited us for dinner at the place he refers to as steamboat in Pudu. (Poo Doo, for the benefit of our non Malaysian readers, if any). Directions were 318, Jalan Pudu, a bright green building. Actually, it was the signboard that was green, not the building. I was expecting the usual steam boat set up, alfresco on half the road, that kinda thing, but no, this one turned out to be a proper airconditioned restaurant, and we even had a private room. This was one fancy steam boat.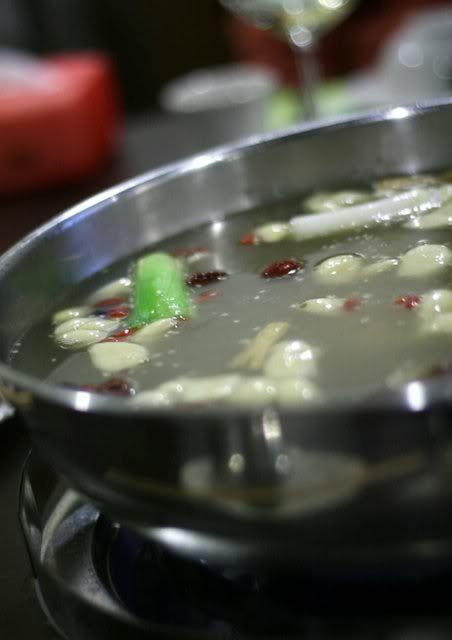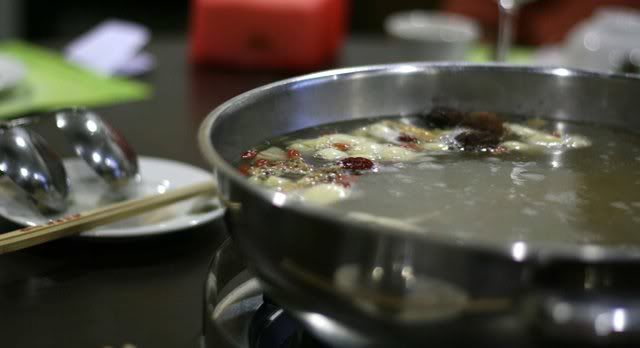 The proverbial calm before the storm. Like a lake, shimmering in the moonlight, with flotsam and jetson floating on the mirrored surface.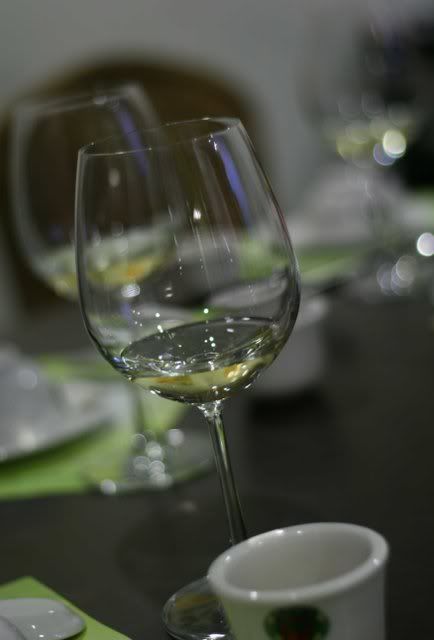 They didn't have white wine glasses, so we had to use the humungous red wine bordeaux glasses instead. (I think it's bordeaux. Then again, what do I know about these finer things in life. As long as there is alcohol, who cares! All that swirling and smelling and gulping of wines is usually accompanied by an equivalent amount of eye rolling on my part)




Now that I look at the picture, I am amazed at the crimson redness of the meat. I wonder if it's natural, or has it been dyed with char siu dye. However, the beef was nice and tender. Not sure what cut it was. Not marbled enough to be rib eye.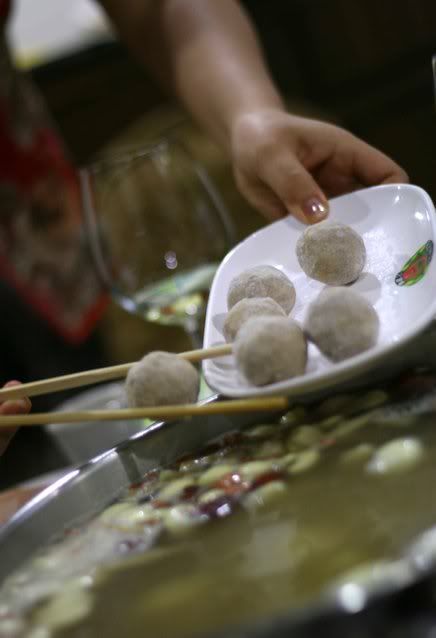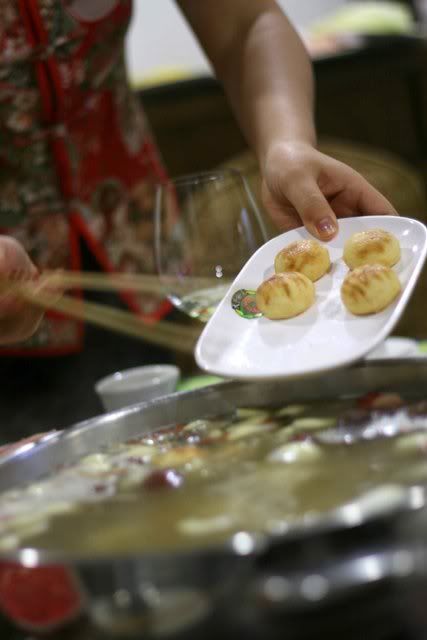 The menu offers some pretty exotic balls. Lobster balls (I didn't know lobsters had balls), meat balls, Fish balls with mushroom filling (that was yummy), and a whole array of others that I can't recall now.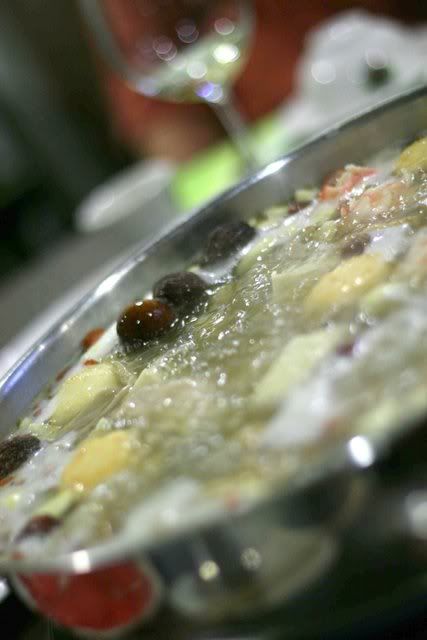 Aaah, I love it when the sea of calm becomes a boiling tempest, balls and other things bobbing up and down, tossed around like a ship about to crash onto the rocks in a perfect storm. It also is a sign that food is ready for consumption.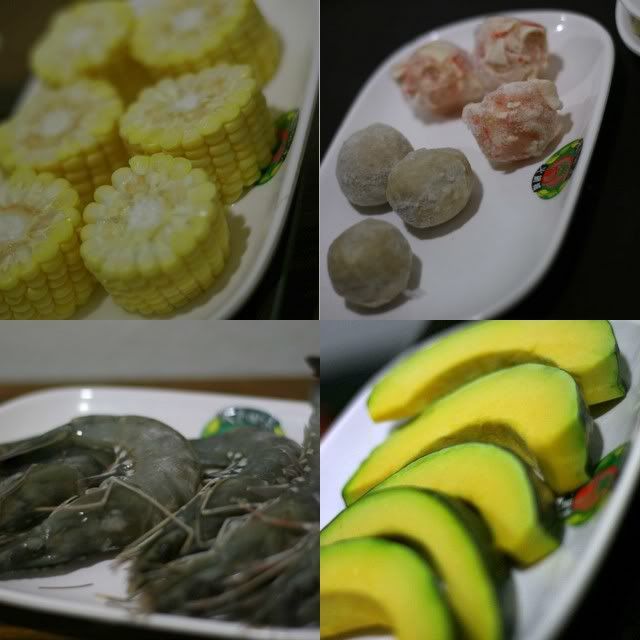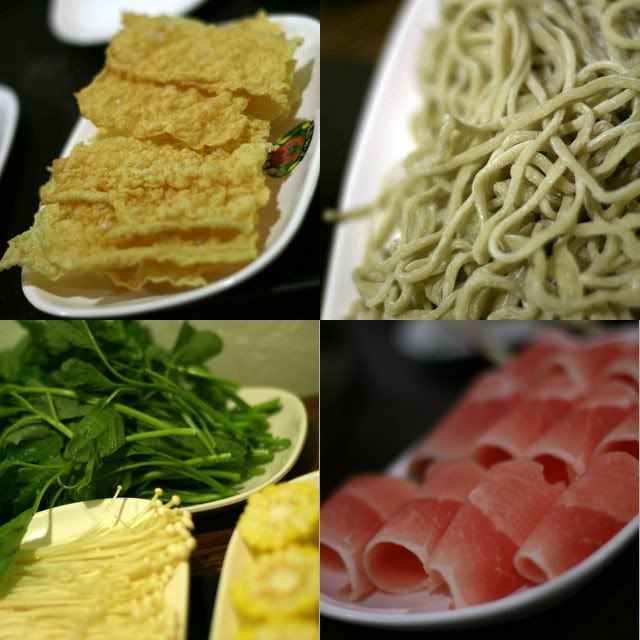 What can I say? By the end of the night, the stock nothing to laugh at, but to die for. Absolutely gorgeous. The evaporation rendered it a bit salty, but still, it was fabulous. And no msg, coz one of the other guests says she seizes up with msg, so since she was okay, that is our conclusion. No msg, or very little. The choice of raw material is comprehensive, and of good quality. The stock isn't just your usual chicken or tom yam stock that you get at 99% of steamboat places.

Well, the name card is in Chinese, so I don't know what the name of the restaurant is. Something like tien siang (sky, fragrant....then a mouth within a mouth...what character is that?) ....

A great steamboat dinner!!! Thanks John & Diana