Those who know me would know by now Tuesday is the day that spawned my baking interest. It is the day that all the family (not that it's very big) gets together at home for family dinner, and the sound of 7 screaming excited kids permeates the air like the smell of baked apples with cinnamon in a wintery day.
In days of yore, I'd come home after work, and proceed with the latest experiment du jour, to prepare dessert for this family feast. The maid and I jostle for oven space, as inevitably there is a roast roasting in there, and usually at a different baking temperature than that of cakes. As time went by, and I became more ahem, "proficient" at baking, it was no longer a big mammoth project, and I could juggle dessert in between coming back from work, and going to the gym, and after gym. Sometimes, I'd make the dessert on Monday nights. As was the case this week. The oven was running for some other cake order, and with the fuel hike, etc, I am now very conscientious about using the oven for just one cake, so I try to utilise it to the max. The one baking in the oven was a brandy truffle, in a bain marie, (imagine a woman named Marie (not Osmond) soaking in a really hot tub). What other cake, I wondered, wouldn't mind sharing a steam bath? Aha, a cheese cake.
So, utilising my
newly found skills
, I quickly whipped up a lemon cheese cake and chucked it into the oven, ....knowing for a fact that the oven settings were different than what I usually use. Oh dear oh dear, if this cake was for selling, I'd have had to do some major plastic surgery, but that's the nice thing about home made cakes, the more home made they look, the better.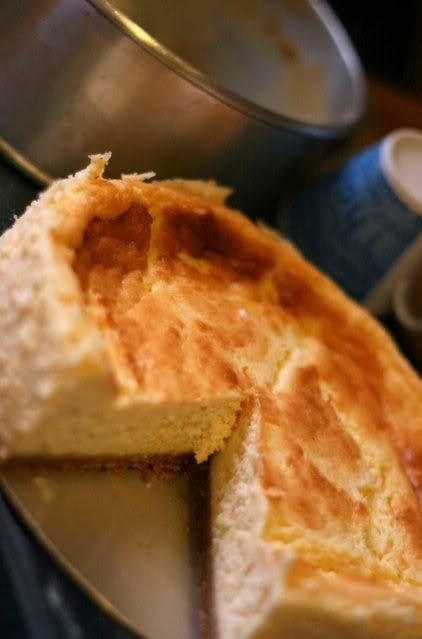 Ah, just like my .....hmmm, was going to say grandmother, but nah, no one in my family before me baked, so I can't refer to any ancestry, just like ....Aunty Nigella? Rustic and utterly homemade. Complete with cracks and lots of aesthetic flaws.

And then, to my horror, as I returned from the gym, I saw THIS lying on the kitchen top!!! Sacre bleu, gasp, stealing my thunder for Tuesday dessert.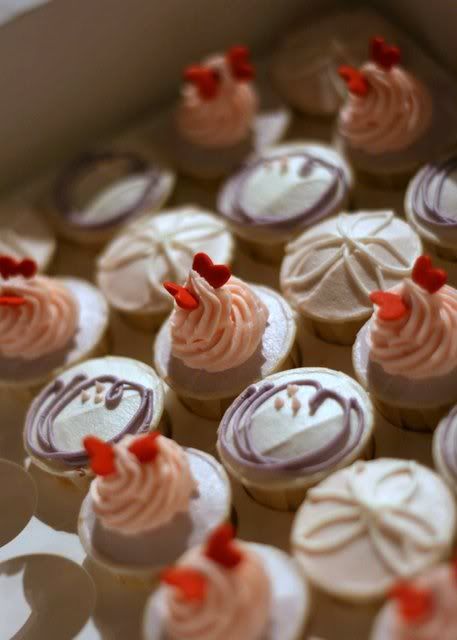 Not just any cupcakes, but from the legendary WONDERMILK CUPPACAKES themselves. Wah, it's like the epic duel between Nadal and Federer at Centre Court. Or not.

Anyway, I'm being overly dramatic here. Of course, the adults all opted for this luscious, light but smooth, flawed but perfect, baked lemon cheese cake. With a dollop of cream, (flush..... (sound of water down a toilet bowl)....I hear the sound of my gym workout gurgling down a whirlpool of clear water)....it was rather heavenly.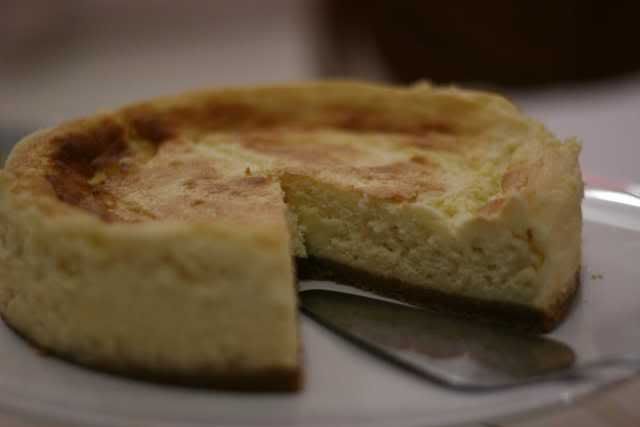 The verdict? Oh well, I guess one mustn't be too greedy, and be content with whatever God has given you. Aesthetic beauty is afterall skin deep, or in this case, icing deep.