Whenever fellow gym member, Lionheart, announces that he is going to host a home cooked dinner, we all know that this is bad news, calorifically. His dinners, more like banquets, keeps one in serious anticipation for weeks, knowing the feast that is to come, and keeps one in guilt for weeks after, for having indulged in too much. But as such festivities occur as regularly as Easter and Christmas, one must take the fullest advantage and indulge all you can.

The minute you enter his home, you feel happy, and content, like a child who's been out in the field all day only to return home to the aroma of mother's cooking. Alright, that may seem a sexist, unfair to mothers (esp those who don't cook) remark, but you get the drift. The smells wafting through engulf the nostrils the way a mist engulfs a shrouded mountain....filling every orifice and tingling all the senses. (I'm highly drugged on antibiotics, antihistamines and paracetamol as I write this, so excuse the waffling).

He was busy slaving over his Foo Chow Red Wine Chicken. Look at the glorious crimson of this dish.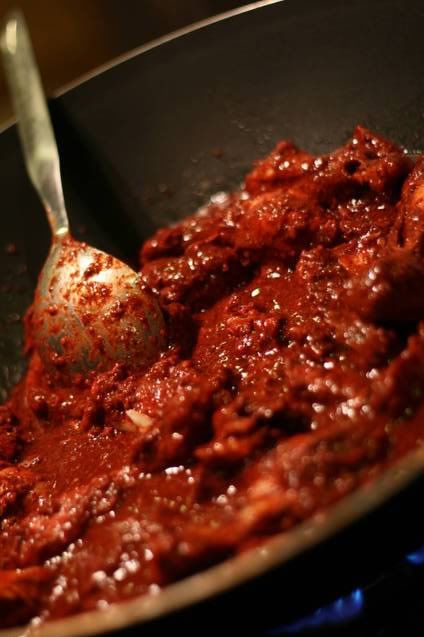 It being a gym crowd dinner, the cursory healthy dish of vegetables, crackers and dips were served as a starter. One of the dips was made by Mrs Lionheart, and comprised cheese spread, yoghurt, pineapple. Absolutely divine, and nothing healthy.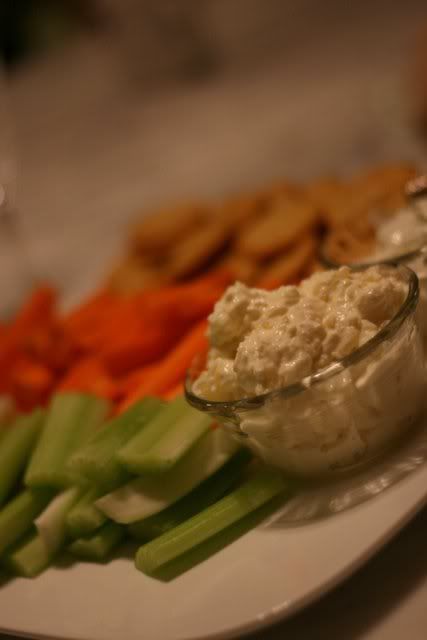 Lionheart was bemoaning the absence of oxtail in Village Grocer and the greater Bangsar area, as oxtail was one of the dishes requested by one of the guests. However, he substituted it with baby beef back ribs. With meat falling off the bone, it was absolutely scrumptious.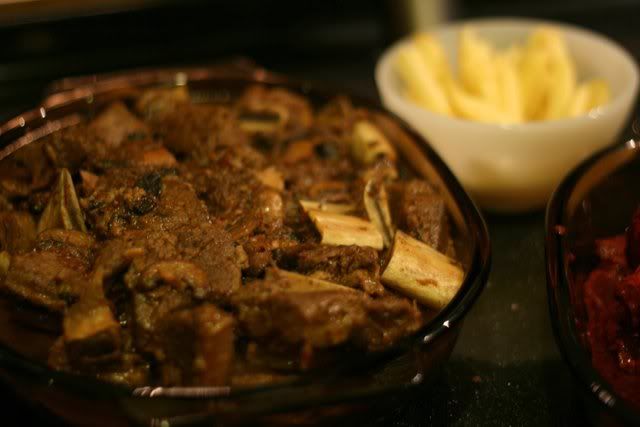 The garnishings below, freshly fried shallots, and mince pork, further down, was a synopsis of the piece de resistance of the night.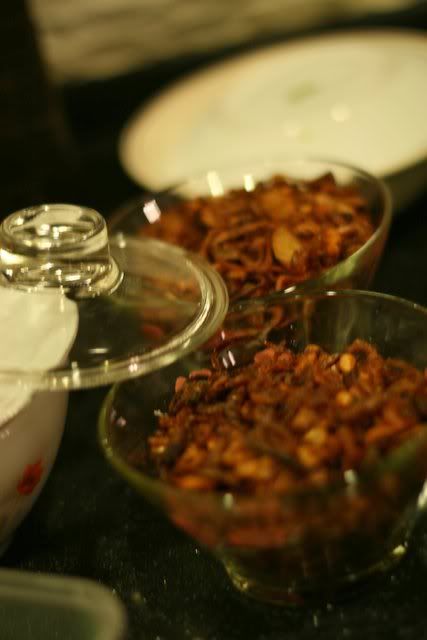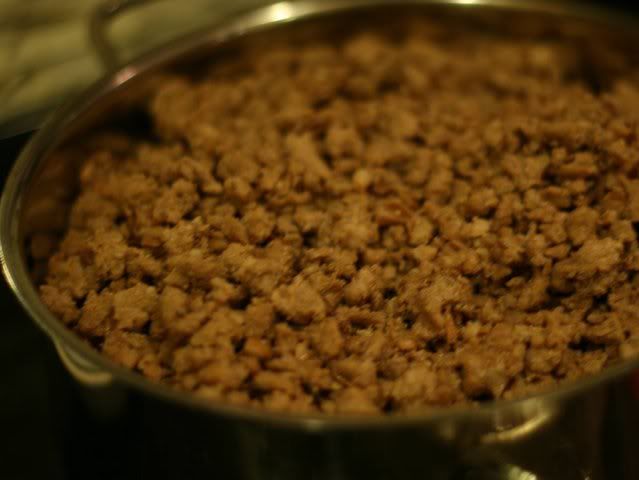 The blue bowl and the white quails eggs may reek of someone's signature, ie, mine, and yes, it was because despite the massive array of food, Lion realised being the true Lion that he was, it was an entirely carnivoric meal, so decided he needed help with a salad.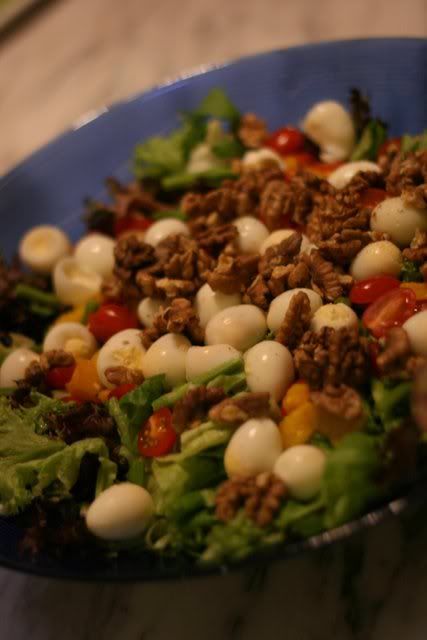 Okay, the picture below sucks, ....its hard to take pictures of meat, for some reason. I really do need classes. Anyway, the dish below is lamb. And very delicious lamb it was too, so don't judge it by the picture.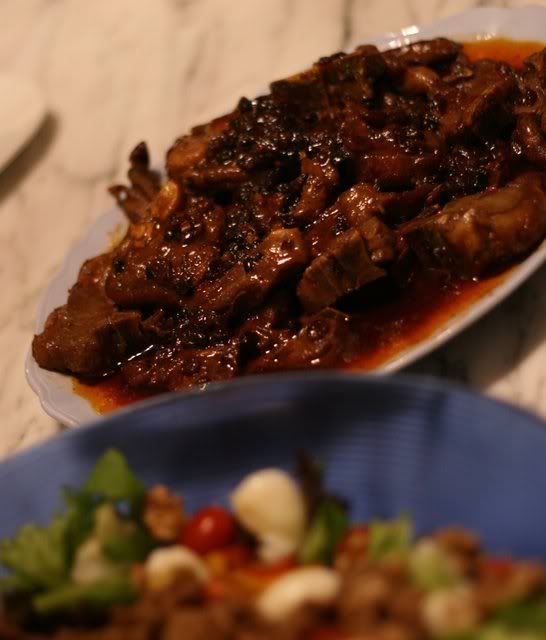 Move over, all the charsiu greats like meng kee or what have you. This is the char siu to beat, but however, since it's home made, money cannot buy. Succulent pieces of three layered pork, caramelised in his secret sauces, singed a little and then baked, ooooh, divine. Melt in the mouth, the equivalent of swiss chocolate for pigs.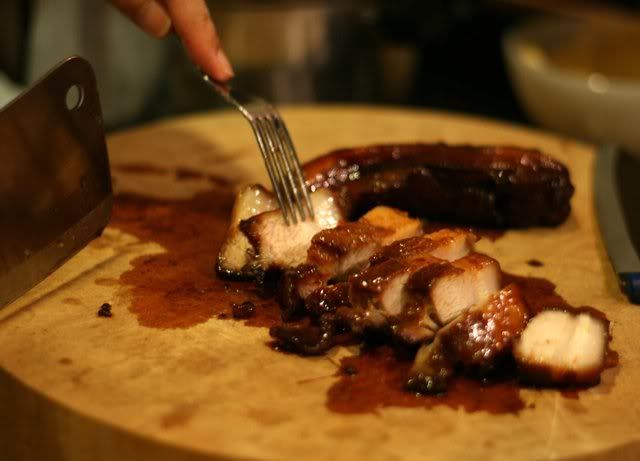 Much as I am not a fan of hers, when Lion made Kylie Kwong's steamed cod fish with ....soya sauce la, must be, her favourite ingredient, it was excellent. And that is saying a lot, because I am not even a cod fan, nor kylie, so kylie cod would be like forcing posion down my throat.



And finally, the dish that I waited a year to resample, Hakka Mee...but heck, by that time I had food coming out of every orifice above the chin, and below the belt, so I only managed to finish one small plate. Sigh.


And for dessert, I brought my brandy truffle cake, and upside down pear and ginger pudding.



The brandy truffle was served with home made brandy chocolate ice cream, made by the Lionness. It was a combination made in heaven.

As usual, a fantastic dinner, which left the rest of us wondering, "how the heck are WE ever going to meet this kind of high standard in hosting".