I know it may seem a bit self aggrandizing to go on about how I celebrated the day I was born.... well, the good thing about being born on that day is that I made a new friend on facebook, coz someone who saw it was my birthday added me. Cool huh!

Actually this is one of the few years in my living memory where I haven't hosted a birthday bash for myself. Now, for the record, I don't know what the hype is about birthdays, anniversaries, etc. After all, the length of one year is so arbitrary. Why not celebrate daily, the time you were born, or married, why is it done annually? To me, these celebrations are not important, merely an excuse to party and eat. For example, I would have quite happily ignored my anniversary to attend a friend's invite to a magazine launch, especially if I am always wining and dining anyway. Different if you had to scrimp and save for a whole year for the one special occasion.

But I digress. I wasn't referring to anyone in particular, of course.

Birthday lunch, wife offers to meet me for lunch, with the kids, after their vacation bible school. I tell her, "I'll let you know at 11.30am, in case any of my friends offer to buy me lunch".... but alas, no such offer was forthcoming, and as I held the dam of tears that was about to burst, and flood my keyboard, I meekly sms the other half and say, "okay, I can join you for lunch".

We troop to Bangsar Shopping Centre, after seeing a poster earlier that there was a new restaurant there, called the Grand Imperial, or Xie Yue. Located where Coca used to be, I think, or in that general direction. Given the dearth of good chinese places to eat in the greater bangsar area, I was pleased that another establishment had opened.

They tout their specialities to be dim sum and la mein, at lunch time. The deep fried brinjal was an accidental but serendipitous order, as it was lovely, and even the carnivore kid who needs to be force fed vegetables pureed and fed to him intravenously on a drip, loved it and chomped up the whole piece.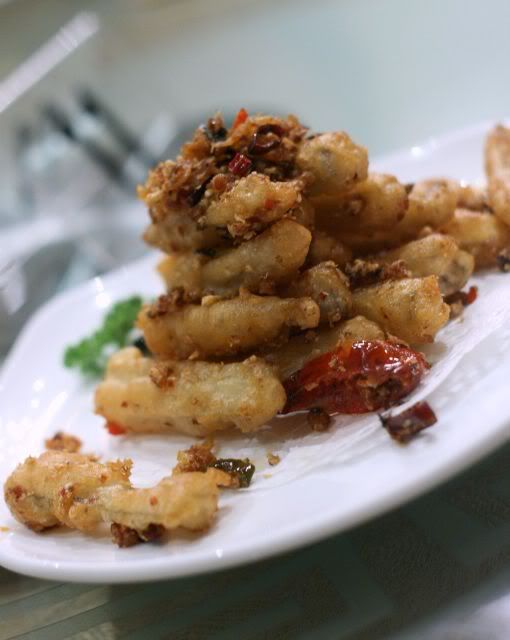 The fish balls were nice and springy.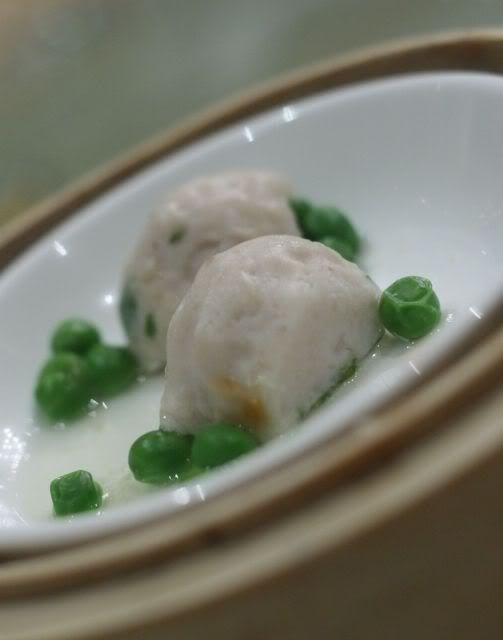 I loved the fu chuk kuen, bean curd skin wrapped around a generous filling of pork and prawns.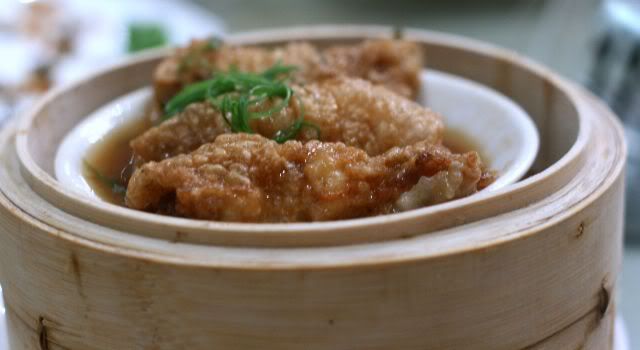 The siew mais were large and succulent, not stuffed with all fat, but nice textured meat, prawns and a generous helping of roe on top.




The long life noodles, cheong sau mein, was one big plate, and I love the texture of the sang meen. Only RM32 for a large plate that even had leftovers.


The abalone loh mai kai was good, and I was wondering how the heck we were going to finish all that food, but thankfully, the kids have been trained in the ways of a Hoover, and lapped it all up as if they had been just released from boarding school.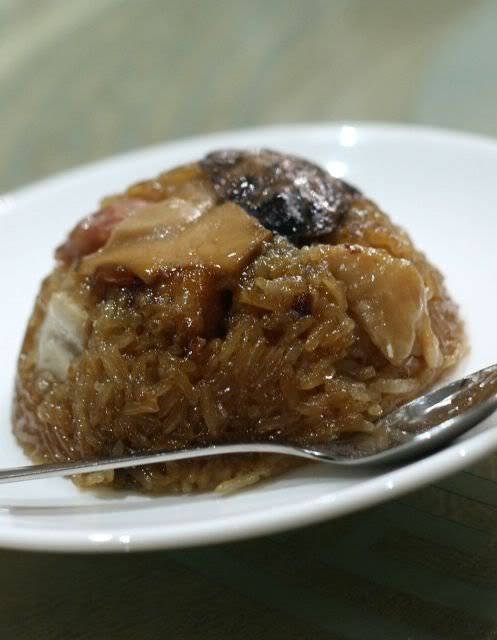 Thus wrapped up the afternoon celebrations. Oh I must go back again and have dim sum there, which I thought was rather good and fairly priced.



The dinner celebration was at our usual haunt, Shang Palace, because of the
1) 35% group dining voucher,
2) voucher for free cake & 2 glasses of wine,
3) free bottle of wine.





My favourite non shark fin but taste like sharkfin enoki mushroom scallop soup. Absolutely divine on a cold winter's night, or in a cold aircond room.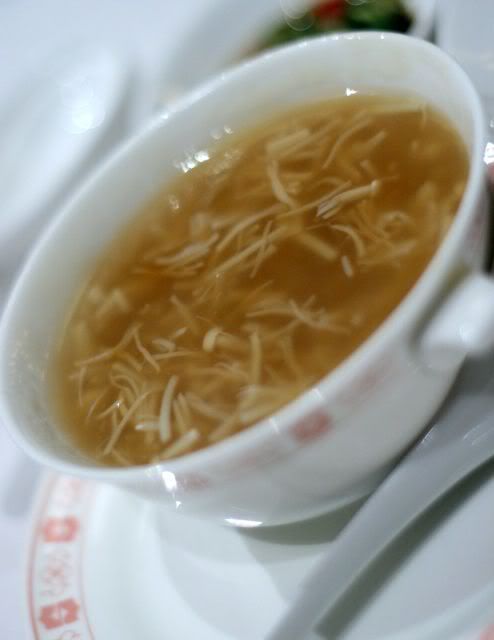 Seeing as to how most of the guests, young and old, love crispy crackling, we chose the suckling pig over the Peking Duck. And good choice it was too, as the skin was simply marvellous. Not an overly fat little pig, the skin complemented the hoisin sauce and the chinese bread that came along with it.

Soon Hock fish, or Bamboo Fish. Usually the bigger the soon hock the better. This one weighed in at about 1.5kg, and was adequate. The flesh was sweet and firm, and the sauce perfect. Actually, for a hotel chinese restaurant, Shang palace is not bad at all, if you ask me.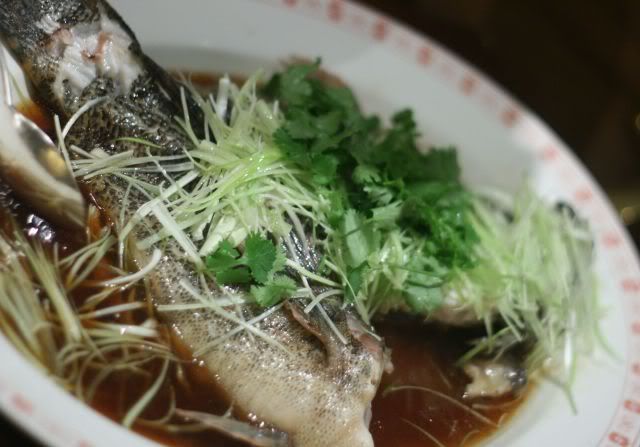 The fart poot, or yam ring. Filled with copious amounts of goodness, tender moist chicken pieces, cashews and yam crisply fried on the outside, but smooth and soft on the inside.

Verdant stalks of kai lan, plainly steamed, to combat the richness of the other foods. Yeah, well, it always pains me to pay for veg at a chinese restaurant, as the profit margins must be like 1000%. Nevertheless, these were good quality kai lan, not like those fibrous ones that double up as dental floss for your teeth as you chew.



And more healthy food, steamed brocolli.


The grand finale, the seafood noodles in claypot, always a favourite. Plump juicy prawns and scallops, pieces of sea cucumber braised till tender, ah, it reminds me of the Little Mermaid song, UNDER THE SEA....
The seaweed is always greener
In somebody else's lake
You dream about going up there
But that is a big mistake
Just look at the world around you
Right here on the ocean floor
Such wonderful things surround you
What more is you lookin' for?

Under the sea
Under the sea
Darling it's better
Down where it's wetter
Take it from me

Oh, forgot, there was another pai gwat dish (spare ribs), crumbed and served with man taus. Very good too, but marginal utility was approaching zero as we got fuller and fuller and FULLER.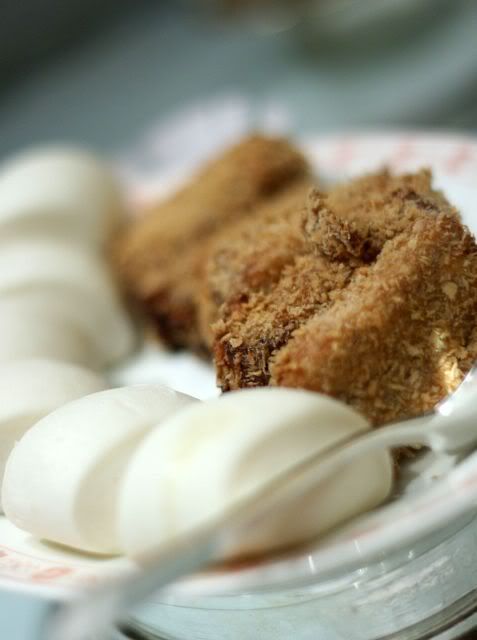 It's nice to eat cake from other places every now and then. The berry cheesecake from the Shang. It was not bad. Very strawberry-ish flavour, with the occasional dark cherry stuck here and there. The texture was good too, not too cloying.

My presents so far................


Some presents are given with ulterior motive such as the the Gordon Ramsay book. It was given with the hope that I will try out the recipes and invite the givers for dinner..... sigh.