A bit of insight into my simple life....I realise my posts are usually about seemingly expensive restaurants, but as I was telling AWOL, (A WHIFF OF LEMONGRASS), I eat at kopitiams almost everyday, and I always forget to bring a camera, because it's like a routine meal. Whereas when I go to proper restaurants, I make a conscious effort I guess.

Anyway, I happened to have my trusty old Lumix on me on Sunday. Every Sunday after church, (when we go, that is), we usually end up eating in some coffee shop or other. Those in the radar are usually Nam Chuan in Lucky Gardens, the other one further down the road, with the pork ball noodles, a corner coffee shop in old town, same row as UOB Bank, Harmonica in New Town, and SEAVIEW in section 21, in between section 14 and Paramount Gardens.

Now, this place has a special place in my cholesterol filled heart, because, in my childhood, when many of you were not born, or even a dirty thought in your father's head, we used to come here on some weekends. Not after church, because I come from a heathen family. I remember there used to be a chee cheong fun stall at the corner, and ...well, that's about all I remember. Those days, as kids, we weren't allowed to pick anything we wanted. You just ate what was given to you. And for some reason, we were brought up not to opt for chee soi, (noodles in soup), or eat the vegetables that came along with it (because they never wash), OR order drinks.

After years of therapy, I have managed to overcome all those unsurmountable obstacles, and am glad to announce that I am free of those childhood shackles, and liberally order soupy noodles and drinks, and eat the vegetables. And I give the kids a free hand in their orders, which results in the poor wife having to walk the entire breadth and length of the kopitiam to fulfill their orders. Why do I not do it? Ah, ssssh, she doesnt read this, but my little secret is this. Offer to drop them off first, and then go and park. And take longer than necessary to park, so that by the time you've arrived, they're all seated, and tranquilised with their drink and orders all taken.

Sometimes, it doesn't work, and after parking, they're still waiting for a table. Argh, I hate situations like that.

Anyway, this was our order for the day last Sunday.

Kid no 3 ordered this CKT. Taste wise it was good, but I found it a bit on the oily side. I mean, there's oily CKT and there's OILY CKT. However, they are very generous with their LIU, and there were at least 3 prawns, and lots of see hum. No, the kids dont eat see hum (cockles), I do.

My current favourite at this place is now the Hakka Mee. I have managed to convert Kid no 1 & 2 to follow in my tastes, which drastically reduced the walking time for wife, since she could now order for THREE at the one stall. Kid No 1 opted for the soup version, which I didn't bother photographing. The noodles are nice and crunchy, and the gravy not overpowering, but subtle yet imparting wonderful flavour. The mince pork that accompanies the noodles make it a match made in heaven.

Just when I have my camera with me, wife has to order something uninteresting, like yong tau foo, and without much variety either. Smack forehead.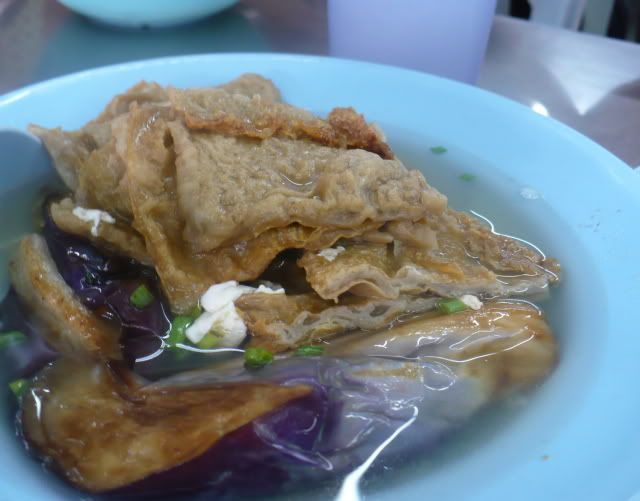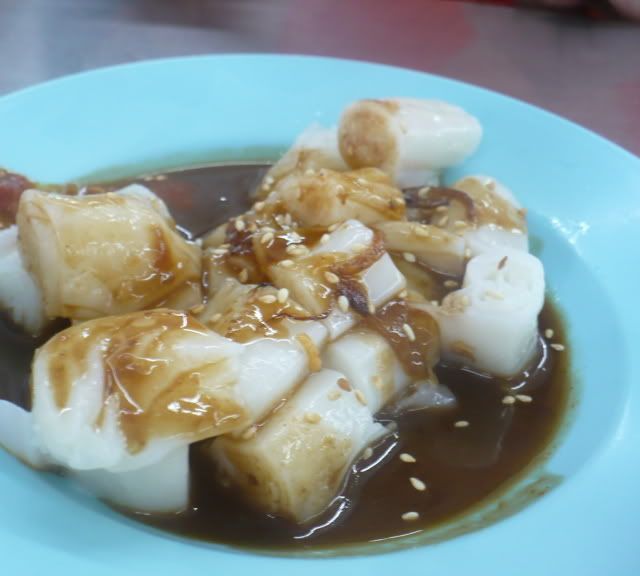 For now, kid no 4 can just mooch off her siblings, but the time will come when she will demand her own portion. We try to inculcate independence, and she can feed herself quite well ever since she was two, two & half. We'll have to talk about the Swiss Finishing School for Ladies later on I suppose. A bit hard to hook a rich husband when you have noodles hanging off your mouth.
The other stuff that is really good here is the pork noodles. There's always a long queue. And they always have innards, which are my favourite.
On a separate note, I've been memed AGAIN, by
mysimplefood
. This one is titled SEVEN THINGS YOU DID NOT KNOW ABOUT ME. What's with SEVEN? Argh, that's six too many facts for me to reveal.
1. I cannot go to bed unless I've washed my feet.
2. I have a COLD showever every morning. ie, NO HOT WATER.
3. I have been taking a cup of disgusting oatbran in the morning for the last 4 years or so. Now I'm used to it. It's just oatbran and water, and its revolting.
4. I do not sleep with aircond, as a general rule, as I am but a simple guy, with very kampunglike needs.
[CAUTION: DO NOT READ THIS PARA IF EASILY GROSSED OUT]
5. On one occasion, at an undisclosed government location, I had a massive stomach ache. I ran to the nearest toilet, and PRRRAAAAAPPPPPPP, managed to unload on time. Then I look around, and of COURSE, there's NO TOILET paper, (that's no surprise), and to my horror, NO WATER either. I had to look into my wallet, and LO AND BEHOLD, found an old MAS ticket. (those with the red carbon sheets)...... Phew.
6. I used to teach english part time at Robert Lam English Language Centre.
7. I used to be a part time model for men's underwear. ..............err...not. I used to be a part time copywriter at a small ad agency.
However, as I had just tagged others in the THINGS IN MY WALLET MEME recently, I shall not do so this time, for fear of kena scolding. Hope you dun mind, mysimplefood!