I have to say, the youth of today are a lot more sophisticated ..... hmmm, let me rephrase that, the Youth of Today that I hang out with are a lot more sophisticated than I was at that age. At that age, I was waking up the next morning wondering how I had 13 tequila shot glasses from the bar that we were drinking at the night before, in my jeans pocket. They were deep pockets.

I certainly had never heard of Foie Gras, and almost choked, when a friend of mine ordered it at the Mango Tree, as a starter, costing RM30. In those days, RM30 was the price of a main dish, not a starter. We humble folk who were weaned on prawn cocktail (chilled prawns doused with 1000 island dressing), and cream of mushroom soup for starters, certainly would not have paid good money for the liver of an overfed goose. Birthday parties were usually capped at RM40 per head, usually going Dutch, though we'd all chip in to buy dinner for the birthday person.

These days, there's a full degustation menu at Max's Kitchen, (though granted, she isnt quite the "youth of today"), and more recently, a full fledged almost kaiseiki (though I have no idea what a kaiseiki is) Japanese feast, celebrating Mrs FOTY 07's "X"th birthday.



See, got special menu printed out some more. None of the usual run of the mill Tempura Moriawases, or agedashe taufus.... all stuff that is the equivalent of things I cant pronounce in French.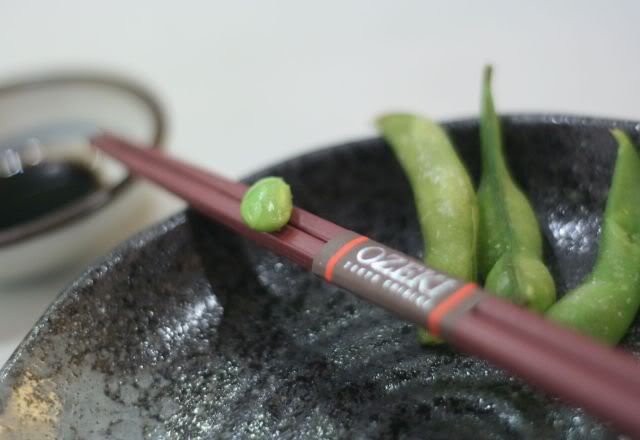 The Venue, Ozeki at Menara TA. Arty or not, my shot? Bean on a pole? Very stressful la, sitting next to the Queen of the DSLR. I better quickly put up my pics and post before she does, and mine looks like a Mona Fandey next to the Mona Lisa.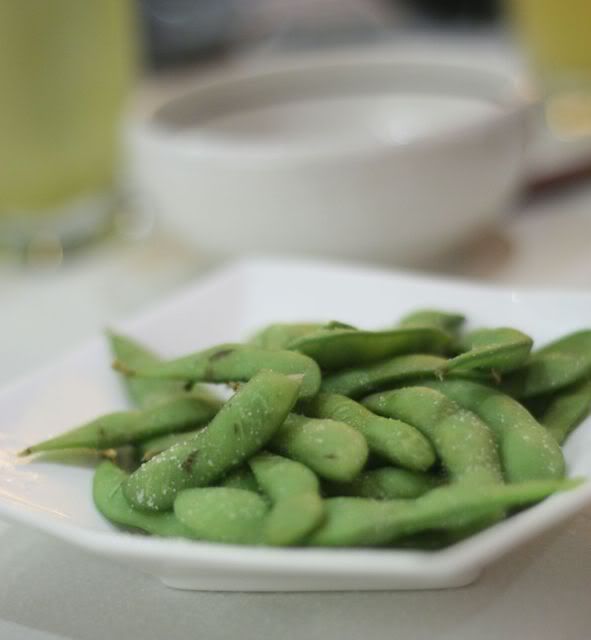 Ah, reminds me of that epic ballad, I've Never Bean to Me, dedicated to Hairy Berry and Thamby. Well, no need to do a dissertation reviewing the edamame.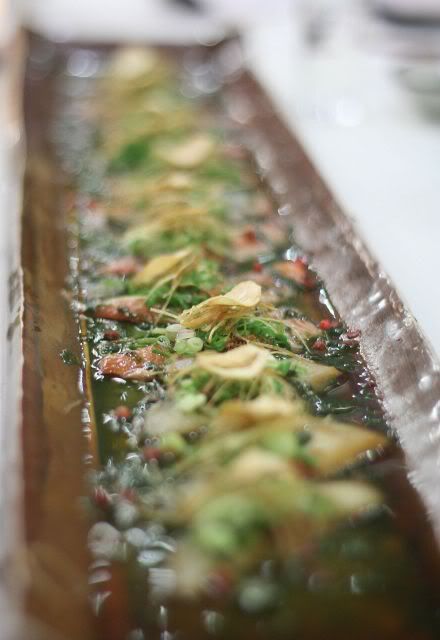 The most interesting platter of a new hybrid of sashimi I've seen in awhile.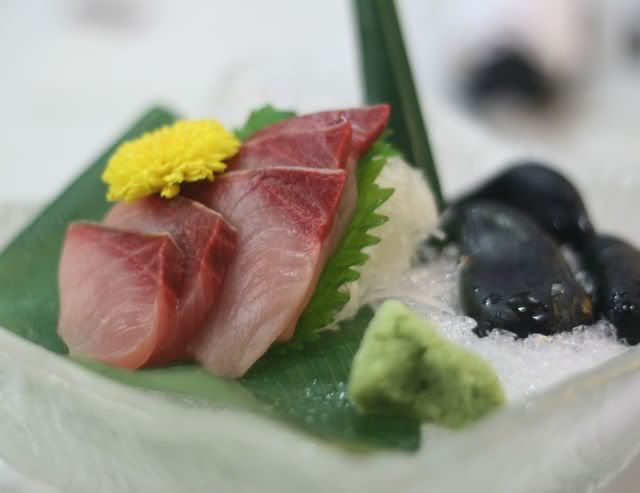 The most amazing buri, something like hamachi! Absolutely fresh, and gorgeous. And the wasabi is freshly grated too. Heck, I think I am a fresh wasabi virgin. Not sure if I've ever had it freshly grated before.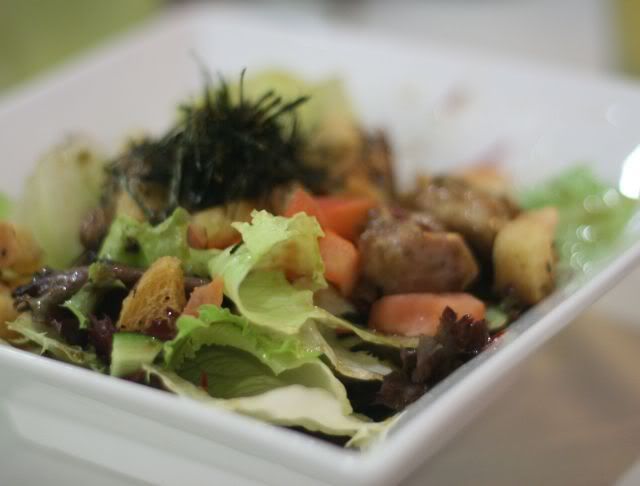 I think this is the sumiyaki jidori salad.... translation: chicken salad, roughly thereabouts. It was a burst of flavour, and everything about it, from the chicken to the croutons, were delicious. As there was only 1 portion of it, it vanished pretty quickly.



Soft shell crab salad. Anything with Soft shell crab can do no wrong in my eyes. I simply love their tangy zesty zingy dressings. I don't mind eating salads like this for the rest of my days.



TERIYAKI FOIE GRAS! Orgasmic! Divine. A serious treat to the palate. I seriously could've chomped up another piece, had there been one to chomp on. I peeked at the ala carte, this dish costs RM68.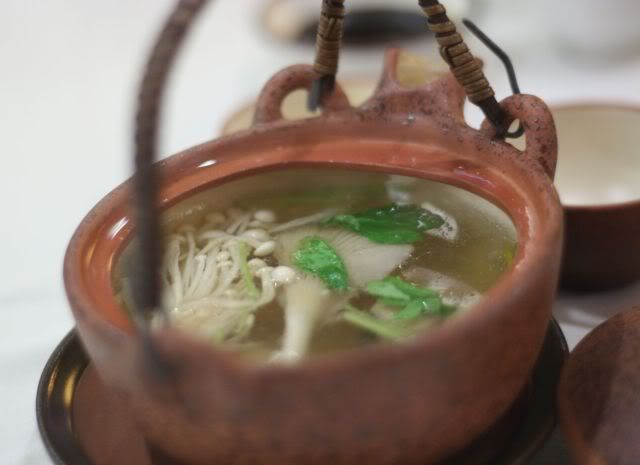 Dobin Mushi, my favourite Japanese soup. There's something about the clearness of the soup that envelopes your soul with a sense of cleansing and well being. And drinking it in those dainty little tea cups.... actually, if not for the polite company I was keeping, I'd have just poured it straight from the teapot into my mouth. And risk scalding my entire mouth.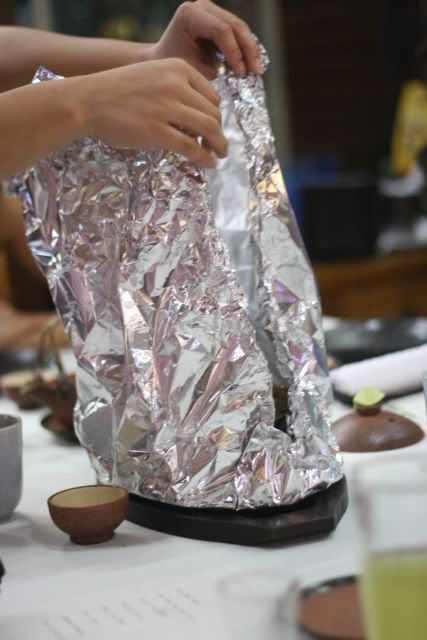 With much aplomb, the waitress strips off the aluminium foil from this platter, to reveal
THIS: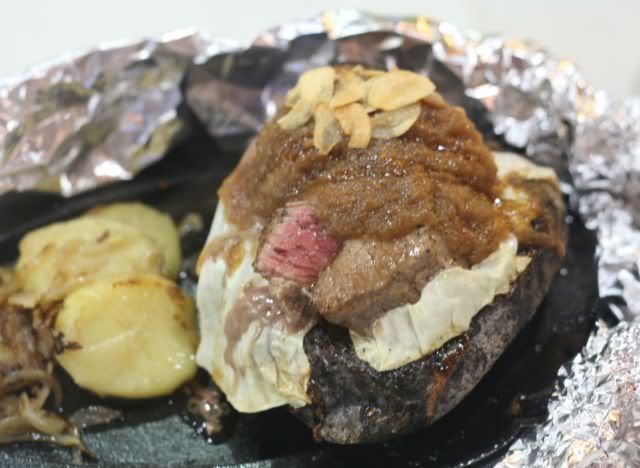 Grilled Beef on Hotstone. Yummy. I dunno what is it about hotstones, like a moth to a flame, I seem to have this inexplicable desire to touch them....like the stones in the sauna. But I have so far resisted. I do love dropping hot candle wax on myself though.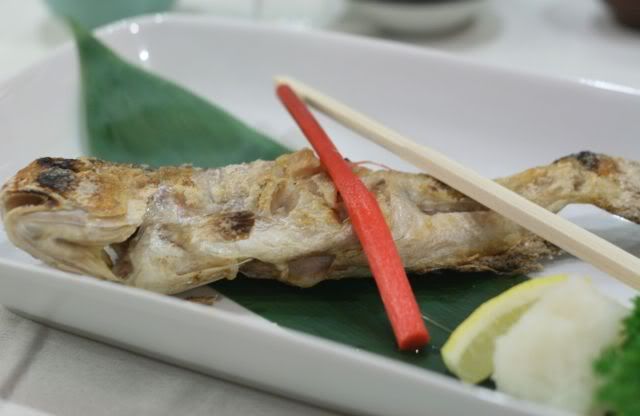 Dunno what fish this is, as it wasn't on the menu. That long red thing is actually ginger. Wow, talk about presentation. The fish is actually very palatable, though I think I got an area where the salt granules were congregating.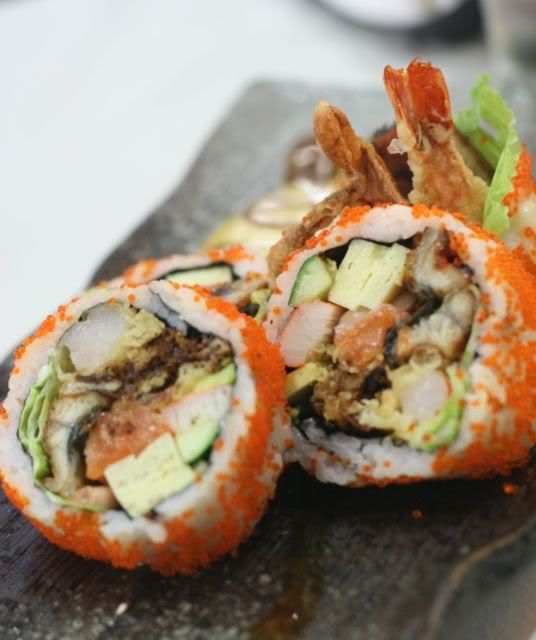 Ah, the King Of Maki. If the adjective King is used to denote HUGE, then it's an apt name. Apparently the likes of AWOL (A WHIFF OF LEMONGRASS) could not get it into her mouth in one go, so you can imagine how huge it is. However, I did manage, and actually, that IS the best way to eat it, for its the amalgamation of flavours simultaneously that makes the maki.
Fantastic. I loved the different textures and flavours all in the one mouthful. It was like a mini buffet happening on my tongue. Speaking of tongue.....



......this platter of assorted kushiyaki came with my favourite, BEEF TONGUE. I just LOVE TONGUE. It may seem odd, but I loved the Salt Beef Tongue in Selfridges, London, and when Mr Ho's first started selling it here, me and the two older kids would order slivers of it as a treat, before the price went from RM69/kg to RM110/kg. I'm not sure if they still have it. I digress though.




A discussion ensued as to whether or not a Wagyu cow's tongue would be any different from your normal cow's tongue. Afterall, we doubt the Wagyu or Kobe Cow's Tongue would have been massaged daily. Bald Eagle reckoned it would be a good marketing gimmick. I guess it is right that tongue should be quite expensive, afterall, it's like the other dangling part, there's only 1 piece per cow.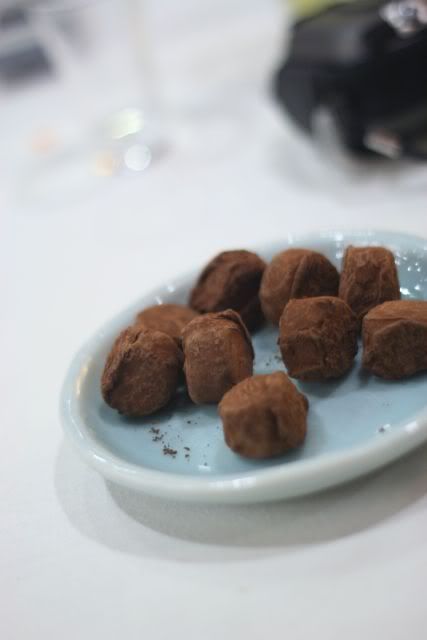 Someone brought the birthday gal's favourite chocolates, Royce. Actually, Nigel of JHP and I both agree that it tastes a lot like a good quality ganache. Must see if we can replicate it with good quality chocolate, and a sprinkling of cocoa powder. Of course the Japanese Royce was in keeping with the theme.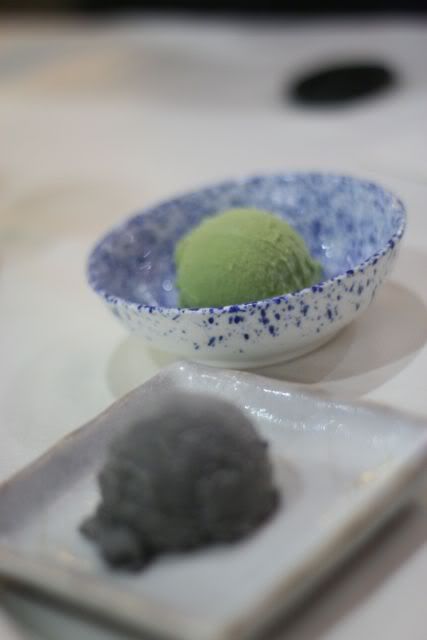 And to cap it all, my favourite black sesame ice cream. Not as good as the one in Zipangu and Isthmus, but good enough.



Coupled with two x 1.5litre bottles of sake, between 9 honored guests, it was a great night of great food, great company and great booze. Thanks a lot, FOTY 07 and happy happy Xth birthday, Mrs FOTY, and to many many more to come.