Lust, gluttony, greed, sloth, wrath, envy, pride


Let's see,
lust
is of course does not necessarily refer to erotic lust. The lust for yee sang is just as evil, (alilfatmonkey, take note), just as the reverend mother told Maria, the love between a man and a woman is holy too, to love this man does not mean you love God any less.
Gluttony
, need I say more. Forcing in that last morsel of abalone because it comes round to our humble households but once a year... despite the fact that one now needs a shoe horn and buttered hips to get into one's jeans.
Greed
....oooh, the banker's luck is down, let's increase our bets fivefold, from RM10 to RM50. A
Wrath
..... pickcher, PIKcher, PIKCHER, AAAAAAAAARGH, NO PICKCHER, AAAAAAAARGHHHHH, BANKER DOUBLE ACE.....RM150 down!!!!!!!! AAAAAAAAARGH.
Sloth
.... gym? No need la, gamble only once a year, sit down sit down, eat eat, eat more ya.
Envy
....barggger, you sit down oni you got my black jack. Blardy foool....that was MINE, you hear, MINE.
Pride
..... Wah, check out my waistline, bigger than yours leh. OR, Wah, I so clever, up the stake when banker bust hor...
And to make things WORSE, we had TWO public holidays, both long weekends, to exacerbate the situation. Hindraf, I rue the day you made Thaipusam into a FT holiday. Because of that I added another unwanted 1kg. Oh, however, I did lose my gasing hill virginity that Monday morning.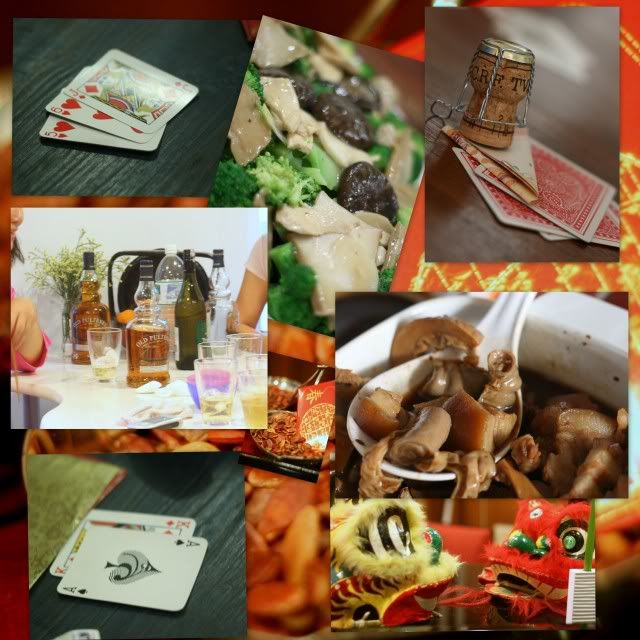 Check out that picture of the pig's innards!!! Aitelyu, damn choon la. Friend bought it from OUG Market, where its only sold on Mondays. Aiyo, people don't need to work meh, sell on Monday. Chis bedebah. A champage cork acts as a paperweight for the money, which in turn sits on the two cards. All that's missing is a condom packet to complete the ring of iniquity. Single malts to while away the afternoon....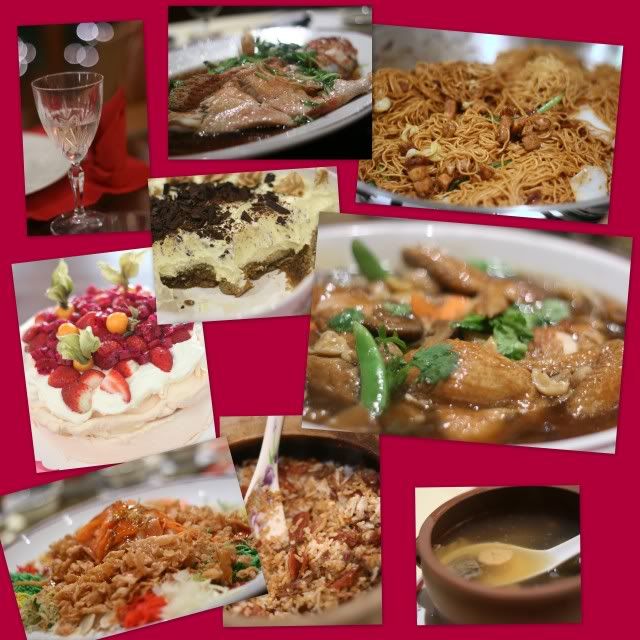 Home made lap mei fan and siu yoke noodles, (not my home)......ah, distant dreamy look....



And finally, to end it all, the fifteen debaucherous days, is chap gourmet....

Venue, Fortuna Palace in Kajang Prima..... anyone with half an eye couldn't miss it. It screams to you from the road.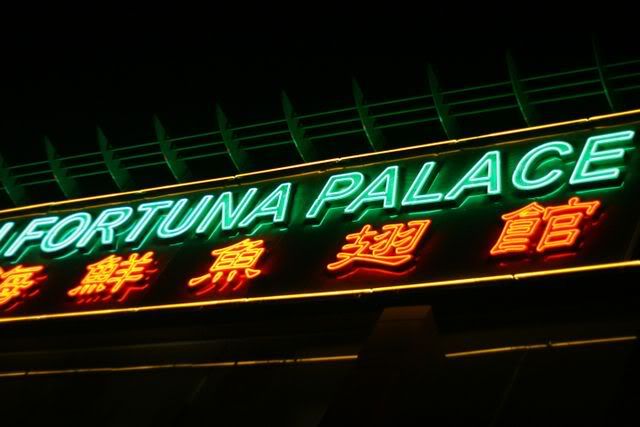 One last kopek, at the communal tossing of yee sang. Beyonce rules.....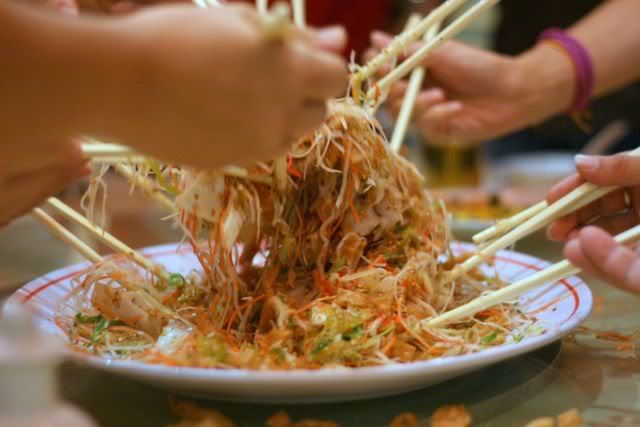 The four seasons, (not the cake), which was okay, but not particularly memorable.




Oooh, that incriminating piece of evidence.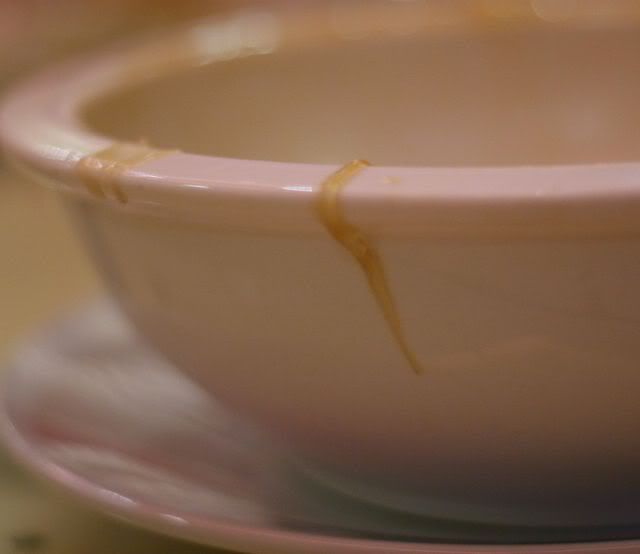 This nam yue roast chicken actually tasted better than it looks. The red coloring gives it a rather "food sacrificed on the altar" kinda feeling, and it looked a tad dry, but well, since I went for the non-breast sections, it was actually rather good.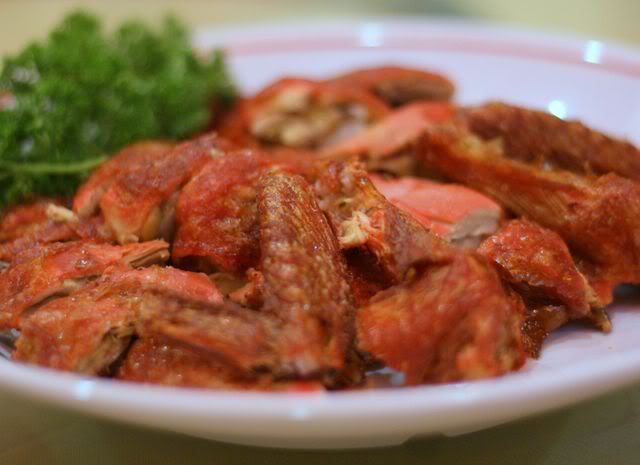 Ah, steamed pomfret, my favourite. Dare I say it in Cantonese again? Tai tou chong? Tou Tai chong? Ah, what the heck, TTC for short.




Chilli prawns, in the same kinda gravy that you'd get chilli crabs, AND the fried mantous to soak up the sauce. The gravy was rather good with the oily mantous.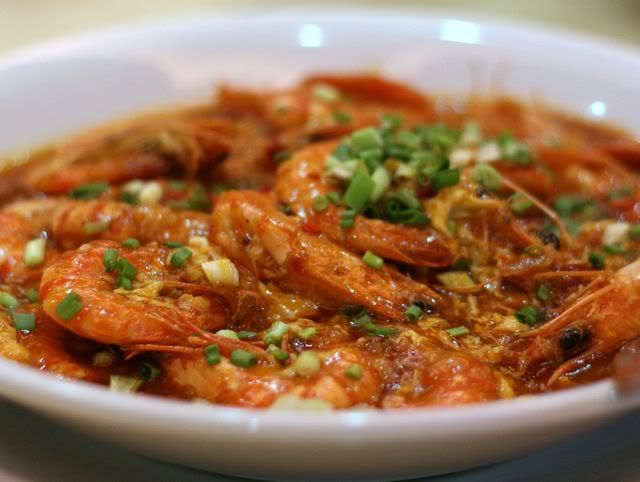 Vegetables with abalone mushroom.....twas alright....




Mmmm, I loved this noodles. Only gripe is, not enough noodles. Too much ingredients. The noodles were springy and firm. Nothing worse than starchy pudgy noodles.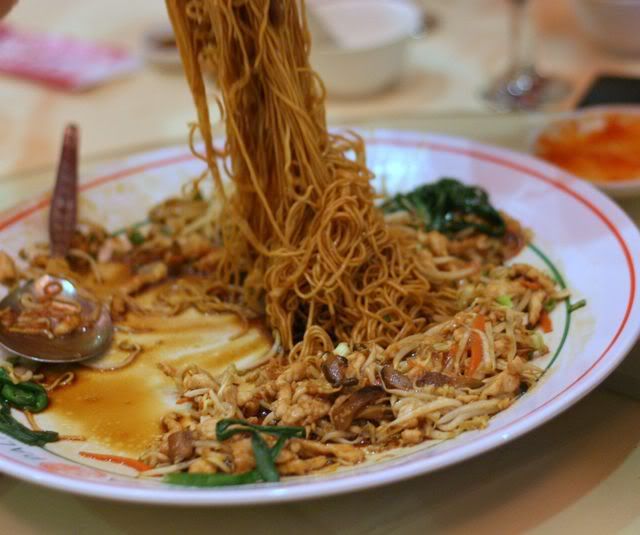 Phew, got that out of the way, now we can finally move on with our lives.

By the way, the restaurant has many private rooms, fully equipped with karaoke. The proportion of Chinese songs to English is 5:1..... so if you are a banana, I suggest bringing your own magic mike or dvds.....

Prices seemed quite reasonable. For a table of 14 adults, and 6 kids, the bill if I am not mistaken came up to slightly over RM800.