I was about to make an appointment with a neurologist, because everyday, there was a sudden ringing in my ears....a constant drone, like ice cream men of yore, except, with the Doppler Effect and all, you could hear the ice cream man coming, and going....but this was a constant ringing....
Then I realised the ringing usually starts at noon. Perhaps it was my diet, as I was prone to have irregular breakfasts and lunch, so maybe the lack of blood sugar was causing a ringing in my ears. Everyday, without fail, there it was, that ringing sound, almost like churchbells, except using mouse sized bells....
THEN I SAW IT...................
Argh, McVALUE lunch, RM5.95, with a guy holding the board, and bell, ringing it with the boredom of Quasimodo after vespers....
Phew, quite a hefty savings on the Neurologist bill.
Yeah, so anyway, after a celebrity filled Thursday, having met Ciki, Jackson, PM, Stephen Rahman Hughes all in one day, I bumped into yet another celebrity, in Ikano, after my Body Step class at the Curve. Truth be told, I knew he was going to there, as it was advertised in the papers, but I was trying my luck that he would be there up close and personal.
Well, AWHIFFOFLEMONGRASS was suitably envious.....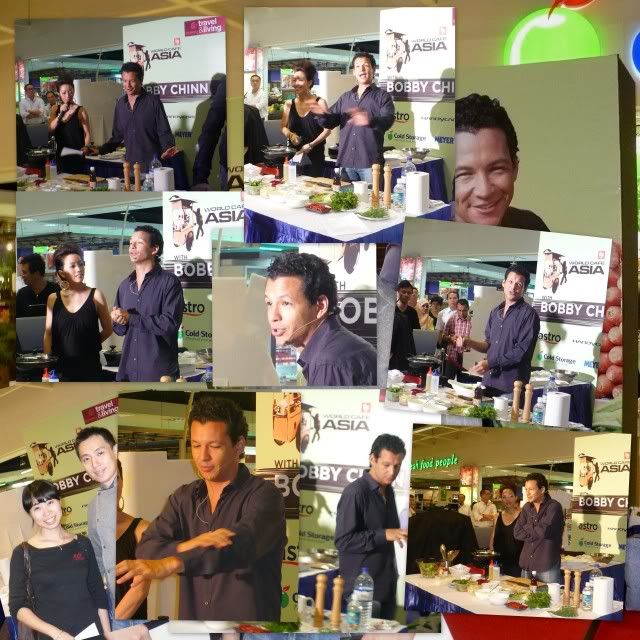 But don't be, coz I've even taken
pics with him personally
before. So it's not my first time seeing the guy. Ahem.
Nuff said.....