There's something rather fascinating with "surprise" birthday parties. Always the chink in the armor that inadvertently gives the game away, like some smartie pants who sms-es the birthday boy on the day of the dinner, "happy birthday, see you tonight", when the guy's birthday isn't actually on the day, OR, "let's wait till tonight to take a group picture", at a red herring birthday lunch, ......
For planning a surprise birthday, I think STRICT instructions have to be given to guests, AND THEIR SPOUSES (especially), and should come with a hefty penalty for leaking pots. (cheen pou). Cut off their handphones for a month as a punishment, or make them sing Frank Sinatra's "START SPREADING THE NEWS" in the foyer of Suria KLCC....
However, there are the odd occasions, where despite close hiccups, (such as almost bumping smack faced into the birthday boy in the foyer, carrying a birthday cake), a surprise still manages to succeed.....
Such was the case last week, for Lionheart. His good wife had planned this dinner months ago, and had cleverly told him that he had to come to join her for dinner with clients. Me & wife walked into the front entrance of BV, and saw the man on the opposite side, head bowed down busy texting away. (Speaking of bowing head and texting, I once was mistaken for being extremely religious, because I had my phone in between my legs while the waiter was serving the food, and was sms-ing away, and the hostess thought I was quietly saying grace)
We bolted the way a herd of deer bolt when they feel the ominous presence of a Lion in the Masai Mara, (but not with the dexterity and litheness of deer), and jumped into the nearest elevator, near the Massimo Dutti entrance. We bump into another guest, and quickly exchange stories of close shaves. (nothing to do with hair from any parts)
And since Malaysians are generally a tardy lot, there's always the real possibility of him bumping into anyone of us...heck, I can bump into friends in a busy Shanghai bazaar, so what more in little Bangsar Village.
Mrs Lionheart is frantically sms-ing us to see if we had all congregated at Reunion, the appointed venue. Of course, only 4 out of 10 had arrived.....she appears, all flustered, and excited, telling us that she had told him to go kill time at MPH and use the loo there while waiting for her clients. (Good tip, if you ever need a clean loo to go to in BV2, apparently the one next to MPH is highly underutilised)....
When it was decided we had quorum, she calls him and says, "Dear, you can come now, all my clients are here already. Eh, what fish you want ah? Steamed or fried?"
Meanwhile, I also drop a red herring of my own, sending Lionheart an sms about gym, and saying that I was on my way for in-laws dinner at Kajang...


The above collage captures the surprise, real or otherwise, expression of the birthday boy!

I always find the food at Reunion to be fairly consistent, and of above average quality.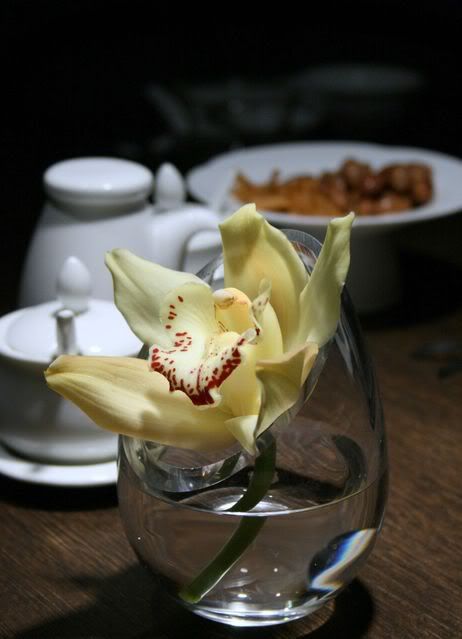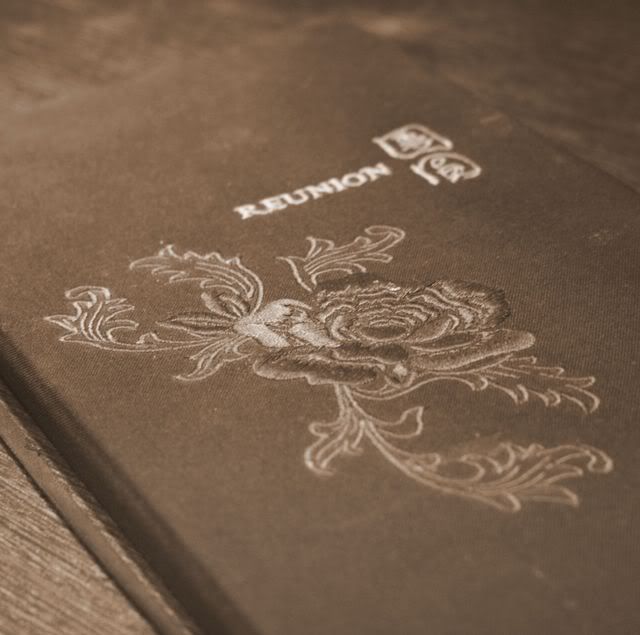 Not usually a cod fish fan, I found this dish VERY good. I think its a kinda honey glazed pan fried cod. The skin was delumptiously (delicious + scrumptious, something I learnt from a Secret Seven book in my youth) crispy, while the flesh firm and sweet.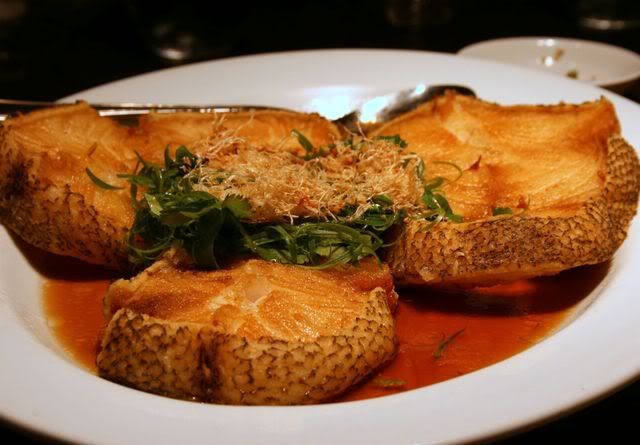 Claypot Brinjal with Mincemeat. Extremely flavourful, and a carb magnet. It just screams out for rice.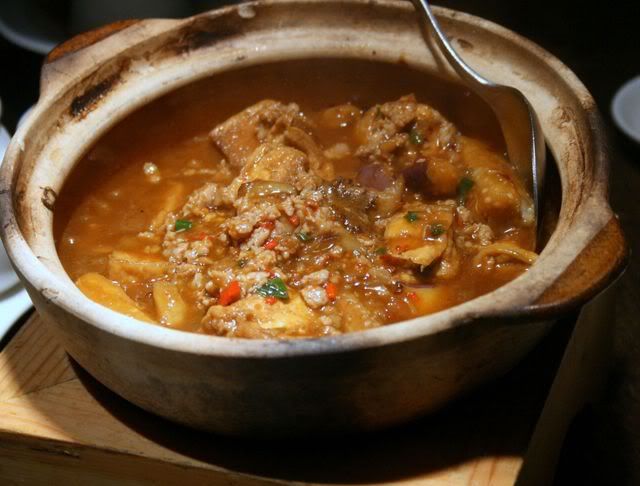 Of course, dine with any Brit educated flers, an order of duck will inevitably draw comparisons with Bayswater's Four Seasons, ....which actually I am inclined to think is a bit overated. (eeeks, bracing for the onslaught of FS Duckians)....

The Pei Pa Ngap at Reunion I thought was good. Succulent, not overly fat, but fat enough, and the skin, lovely and crispy.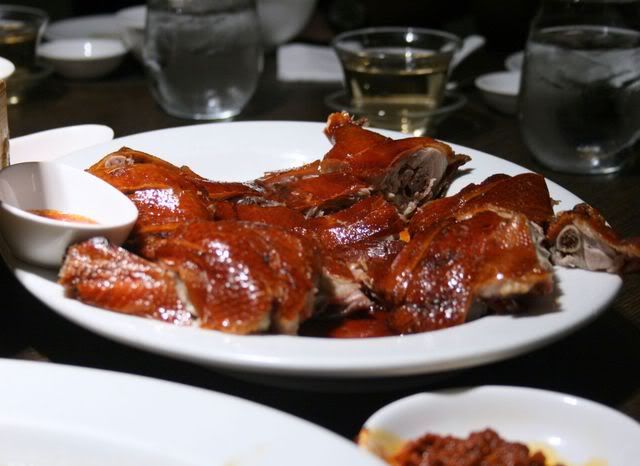 Mmmm, comfort food, steamed mince pork with salted fish. Again, another rice magnet. Very tasty, and just the right balance of meat and salted fish.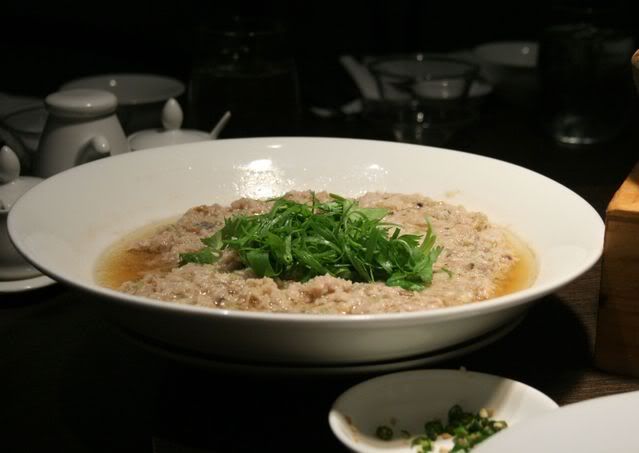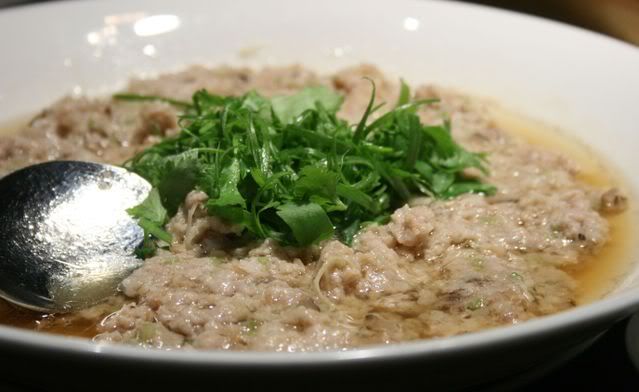 I'm not sure what this dish is called, but it's kinda like a marmite chicken with little mantous. Very delectable morsels.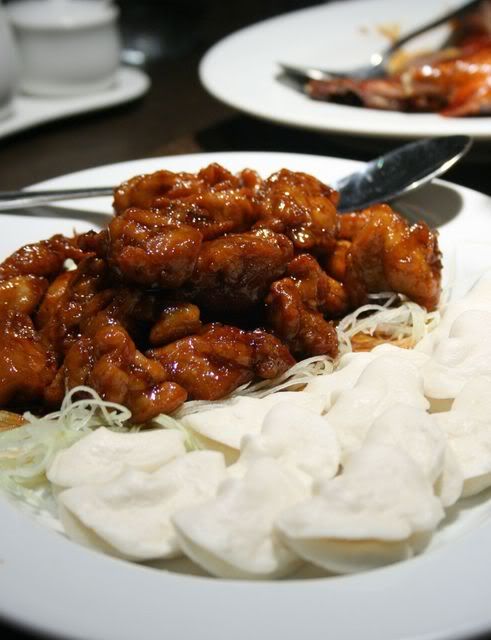 Mmmm, baby french beans I think they're called. Tender, and young...just how I like them. Crunchy too, while maintaining their cholorophyl. Lovely crunchy bits of shallots to complete the crunch factor.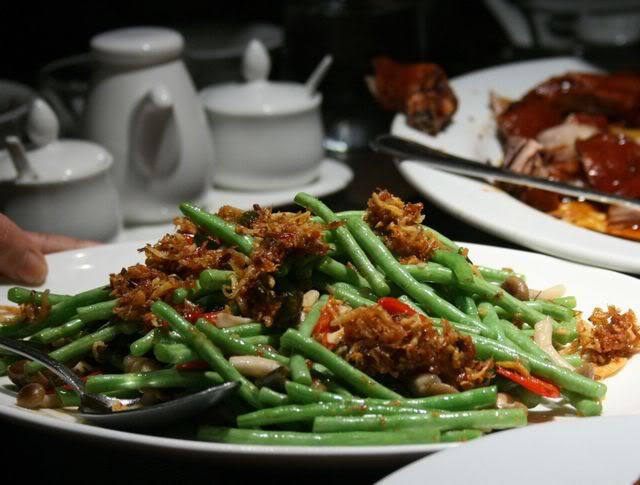 Wow, we had a lot of food. Their signature salted egg prawns. I am a bit off salted egg dishes coz they're so rich. I now prefer my crabs done in superior stock, having OD-ed on Salted Egg Yolk Crab... however, if you haven't OD-ed on Salted Egg Yolk, its still a good dish.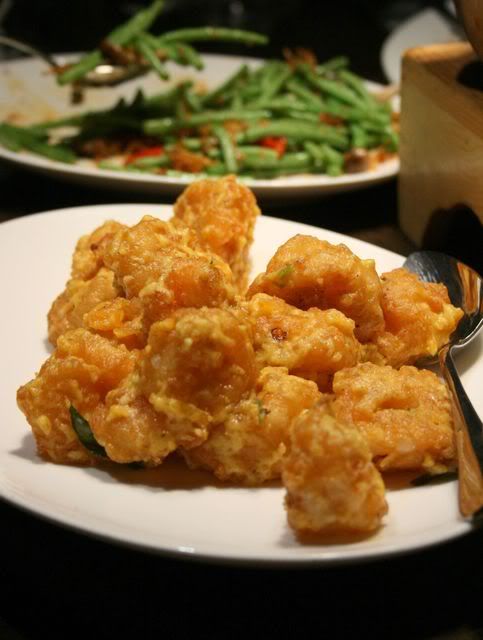 AND the piece de resistance. I know its strange to contemplate the fact that there may be hokkien mee in restaurants that taste as good, if not better than established road alleys, and insalubrious corners of KL where the rats set up their official exco and state secretariat....

...but I think the hokkien mee in Reunion really is up there with them all. Infested with crispy divine pork lard, and enough wok hei, and gravy, and almost too much lieu, (ingredients), not enough noodle, it is my all time favourite dish here. Mmmm, just thinking about it....makes me shiver in delight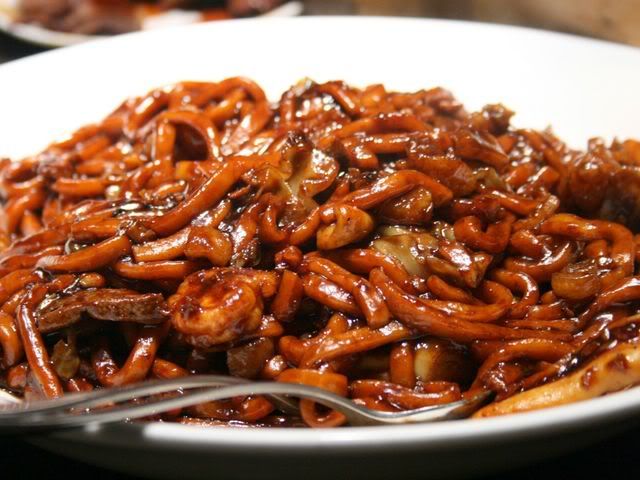 My humble contribution to the festivities, a Passion Fruit Peach Cheese Cake.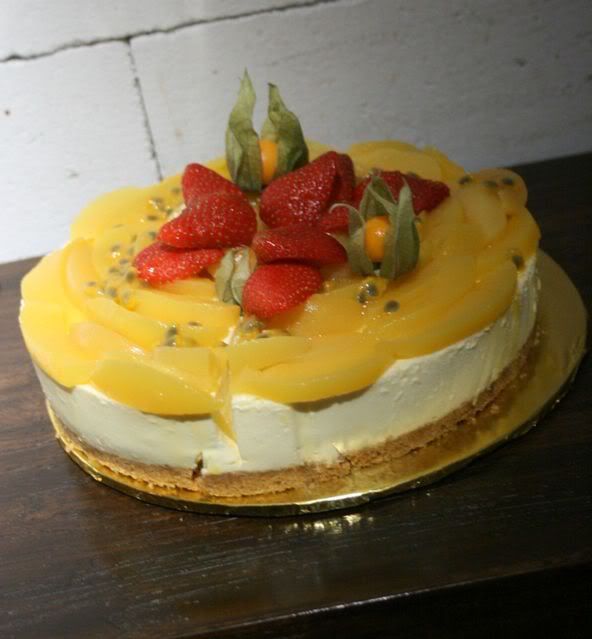 And from the Lionheart's personal trainer, a Baileys soaked Tiramisu!!! Phwaaaah, talk about enough kick.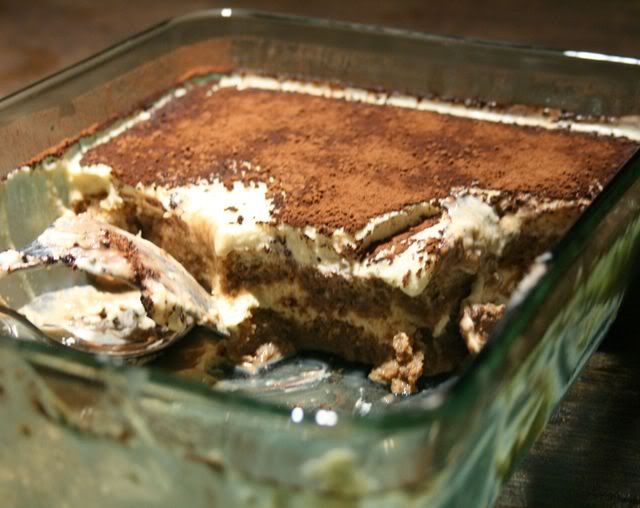 As usual, twas a lovely enjoyable dinner with great food, great company. What more can a person ask for. We look forward to your grand 50th Birthday, dear Lionheart....(I know its not for a few more years, but we must save up mustn't we, to buy our airfares there!)