Delectable Su
is such a sweetie.
She took such great pains in organising her inaugural food review session, and went out of her way to accommodate everyone, changing the date more frequently than some people change girlfriends.... I shall not mention who, but yeah, Su is such a sweetie.
Ishin is located on Old Klang Road, before the Taman Desa Junction, right after the funny blue building that is an Indian International School, and opposite the Honda showroom. Jek, the alter ego of Fratmustard, gave me a ride. I knew it was going to be a good night. We also had a Phase II in the pipeline, with the opening of MILK, a new club next to MIST. But we shall Milk that story another time.
Seriously, no disrespect meant to anyone, but I honestly did not know what to expect, and what we got was beyond our wildest expectations. I have to say this ranks as one of my best Japanese meals I've had this year, if not the best.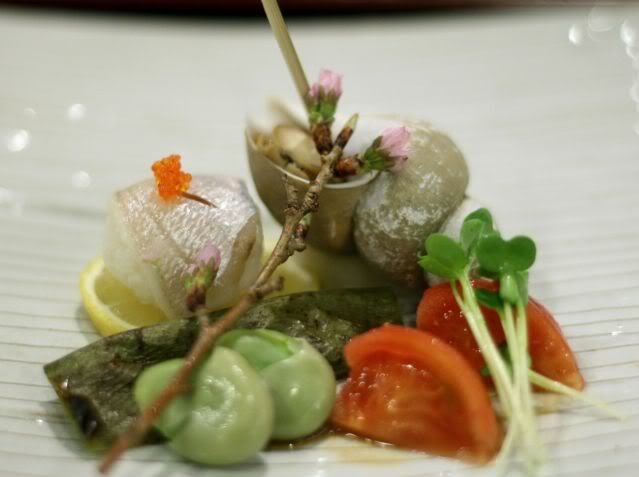 Steamed Sea Snail, Amera Fruit Tomato with Wasabi Dressing, Grilled Fava Bean, Kodai Sasazuke Sushi Garnished with REAL Sakura flower. Such a variety of flavours. The tomatoes were exceptionally good. The fava was like EDAMAME on steroids. Huge beans. Wonder if they cause wind. That sea snail.... it was amazing how much snail can be hidden in that tiny shell.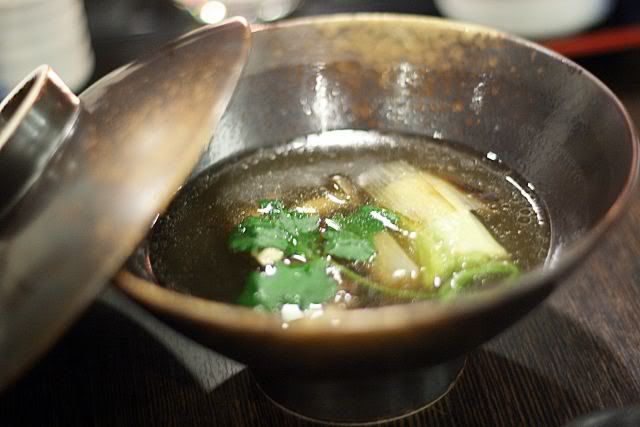 Double Boiled Tuna Belly (Toro) Soup. A fantastically rich clear broth. Who says you need cream to be rich. The small slice of tuna belly looked like beef, and tasted delightful.



Just when we were oohing and ahhing the soup, the next jaw dropping dish sailed in. A mini junk filled with all sorts of sashimi, fit for an emperor. Hamachi, salmon, flying fish, prawns, butterfish, scallops. I think I must have done something good earlier in my life (I cannot say past life since I am not a believer in reincarnation) to have deserved such an unsolicited feast. Not to mention, the wonderful company of Su, Jek, Monkey, Unkaleong, Nipple Joe, and Mrs Nipple Joe, whom we havent seen in YONKS. If you're reading this, Mrs Nipple, CONGRATULATIONS on your new marital status.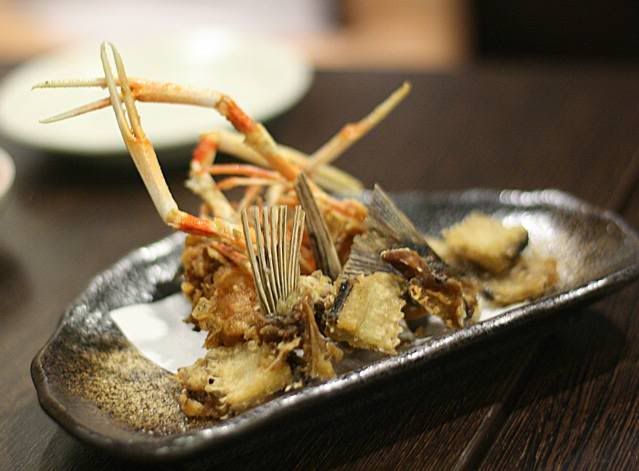 Nothing is wasted. The bones from the sashimi platter and the prawn head are deep fried into this lovely snack.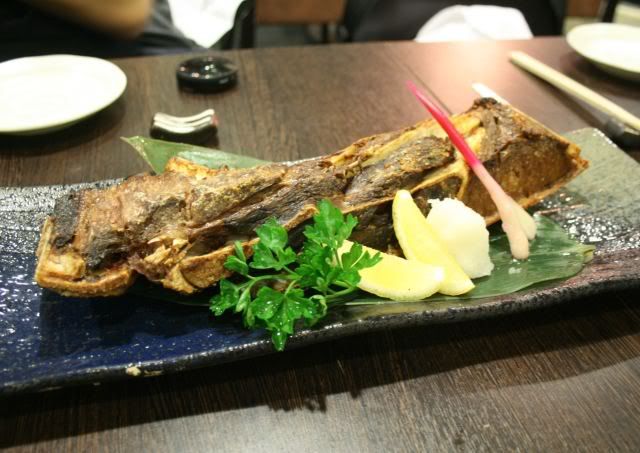 This has to be the most surprising dish of the night. Nipples had a competition on his blog to see who can identify this dish. Seriously, it looks like a piece of beef, but I would NEVER have guessed that it is TUNA JAW. Jaw dropping indeed. But better still, was the lush, moist flesh within the jaw.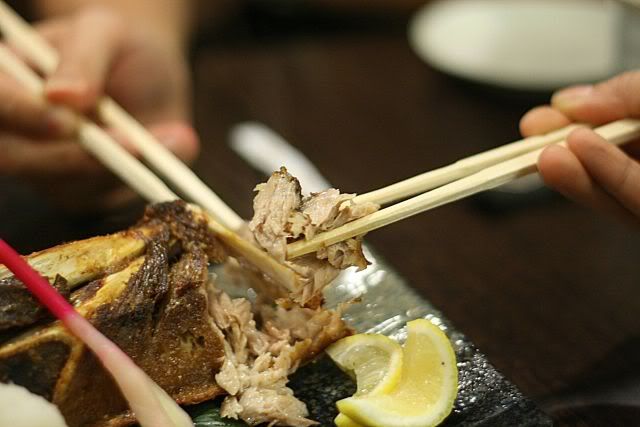 The new Steven Spielberg horror movie.... JAW.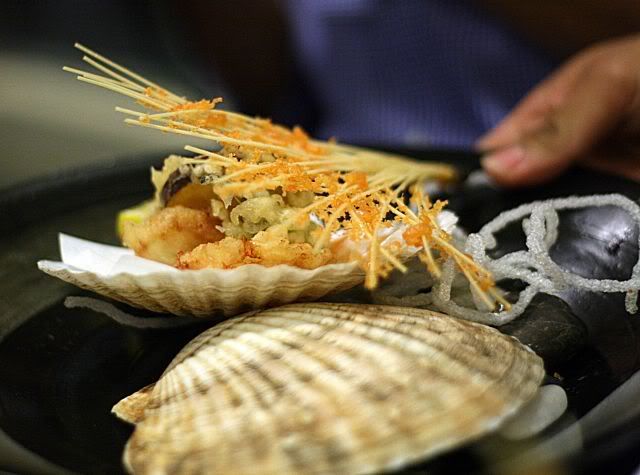 Hokkaido Scallop Tempura With Japanese Sweet Potato. Someone, I can't remember who, was eyeing the scallop shell as a soap dish. Question: Do restaurants actually recycle these shells? Can anyone confirm?
The scallop was delicious and plump, and that deep fried noodle coated with egg roe, as a fan decoration, (I presume its meant to represent a marine landscape), was also yummy despite being decorative.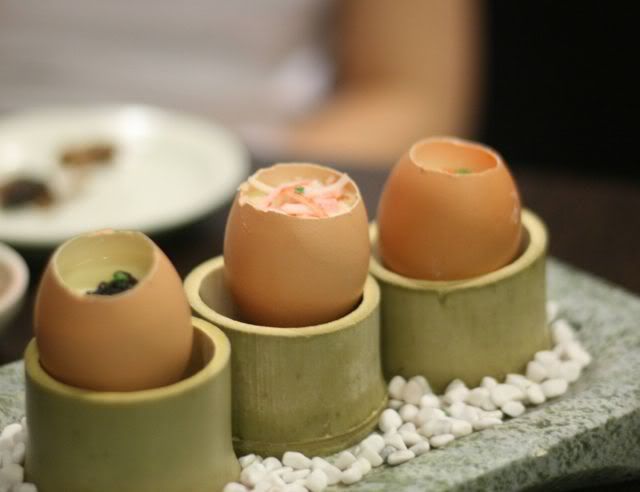 Aren't these the cutest little chawan mushies that you've ever seen? Egg in their natural habitat. Anyway, the trio of of Chawan mushi is an additional to the kaiseki, and costs RM12 for the 3.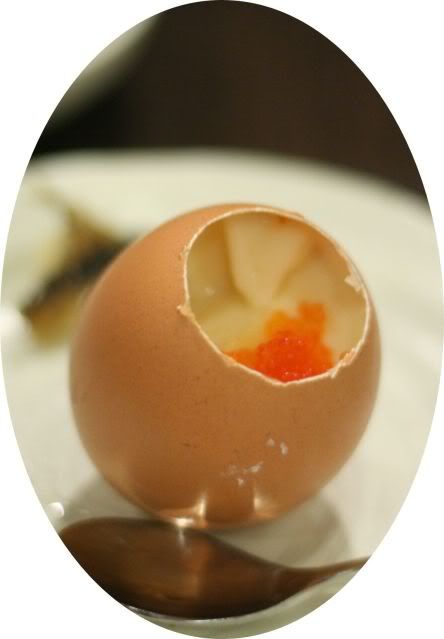 Eggshilarating chawan mushi.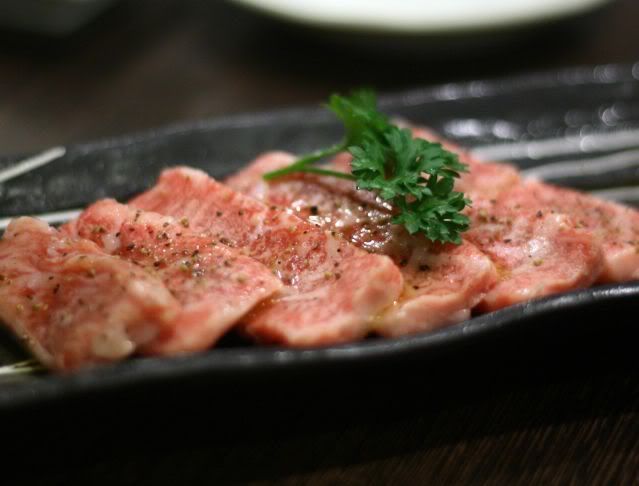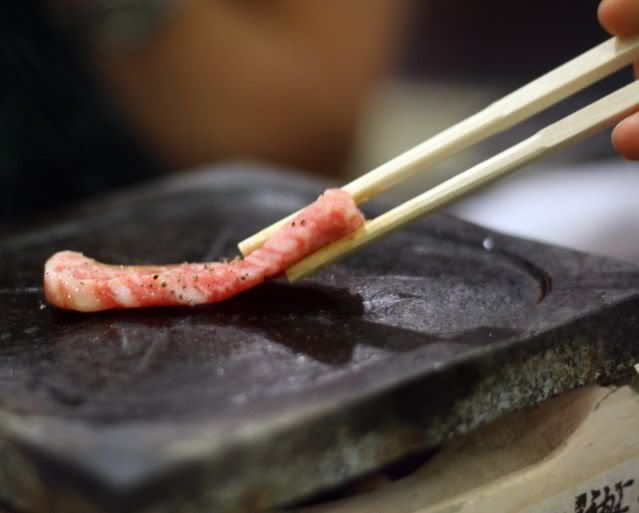 How will we ever eat normal beef again? After already having been spoilt by Chef Michael Elfwing in Senses, and now, this Stone Grilled A5 Wagyu Beef. What can I say? Just looking at the colors, you can imagine the amount of marbling on those slices of beef. Succulent, tender, melt in the mouth. My dear cow, your death has not been in vain.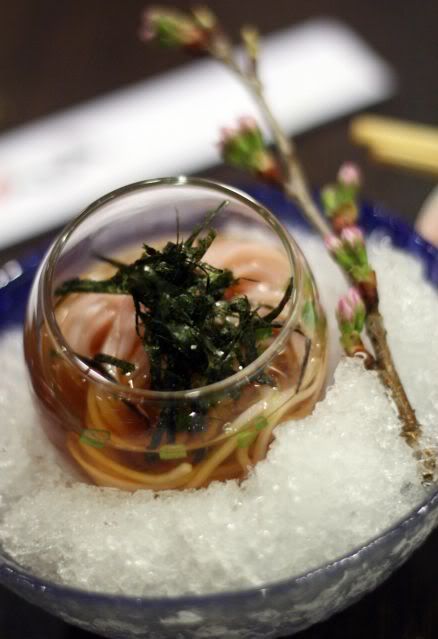 Chilled Sakura Soba Noodle. Talk about versatile. Sakura! A distinct fragrance about it. Reminds of the song, Chotto Matte Kudasai...



And this AMAZING sushi platter. (Additional to the kaiseki). Hawaiian Roll (Prawn & Mango), Spider Roll (soft shell crab), Phoenix Roll, (Prawn & Avocado), Sushi Pizza (Smoked salmon and baked cheese). Each roll costs about RM25-RM28.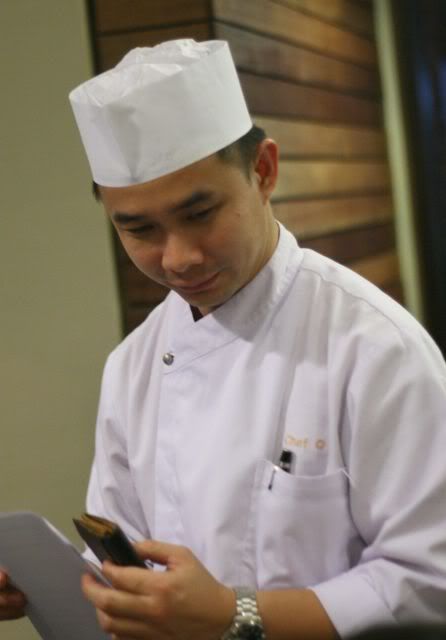 Chef Q, a very affable and modest, soft spoken fellow. Of course, Jek's ears perked up at the mention of Chef Q, which by extension, has to be part of the Qguides.



Absolutely gorgeous selection of Japanese ice creams, Lavender, Wasabi, Melon, Peach, Sakura, Black Sesame.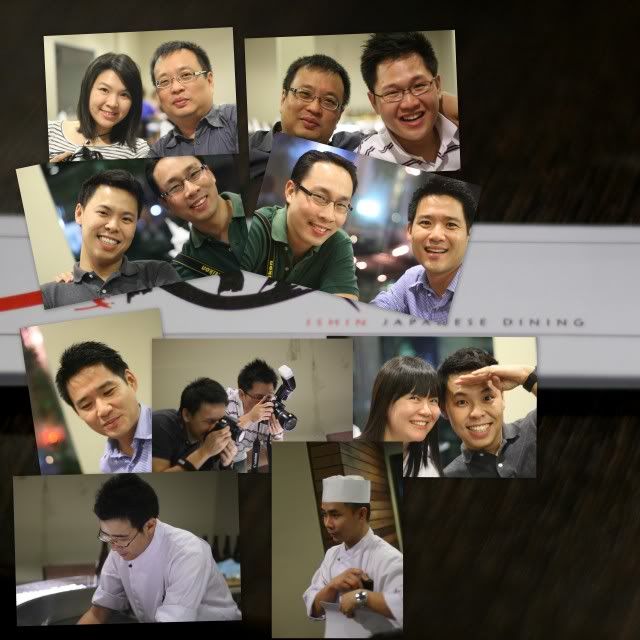 Now, the price for this entire feast ...drum roll, RM150++ per head. Excluding the chawan mushi and sushi. I personally thought it was darn good value for money. I cant wait to try again.

Seriously, what better combination, great food, great friends... ah, I must remember to bring some sake the next time. Wonder what's their corkage.

Thanks a heap, Su for organising such a Delectable outing, and thanks Chef Q for such a fabulous meal.