As at the time of writing, I can safely say that this meal I'm gonna blog about is the BEST meal I've had this year. It was already thrilling enough to get an invite, courtesy of MY NOURISHMENT magazine, (thanks, Chief Editor Ryan Khang) to have lunch at Senses, with Chef de Cuisine of Senses, Chef Michael Elfwing. (who is Swedish).

Are all celebrity Chefs good looking, or do they become celebrity chefs BECAUSE they are good looking? And how the heck do they remain so slim? I guess life in the kitchen can be quite gruelling, on your feet all day, in a perpetual sauna, ..... but oh, when you see the chef at work, like an artist brandishing his paint brush to create a masterpiece, you can't help but develop a certain awe and newfound admiration for these gurus who bring so much joy to our palates.


Today's meal was indeed an attack on ALL the senses. Sight, hearing, touch, taste and smell. Oh, and a bit of the sixth sense too, as I had a premonition that I would be sinfully full after that meal. As the Director of Markeing Communications, Sally, very kindly briefed us on what to expect, by the sheer variety, we were expecting bite size morsels of every dish, ..... kinda like those portions in degustation menus that leave you wondering if you need Hokkien Mee later on.
Boy were we wrong!
The original guests were supposed to comprise A Whiff of Lemongrass, A Lil Fat Monkey, Frat Mustard, Ryan and me.
[Ciki was invited too but was off to Singapore]
But as the event was postponed, Lemongrass had already arrived in London, Monkey had a working lunch, leaving Frat and Me, together with the two lovely sisters of THE COOKING HOUSE, photographer Ah Po, and Ryan, for this decadent lunchtime soiree.

I am sure most readers by now have met Frat.



I like this place already. They serve REAL butter with their buns, which were incidentally, excellent. My rye bread was yummy. But in retrospect, I should have laid off the bread completely!!!!



Excuse me while I hide behind these cards, I need to loosen my belt.



SMOKING ALLOWED ....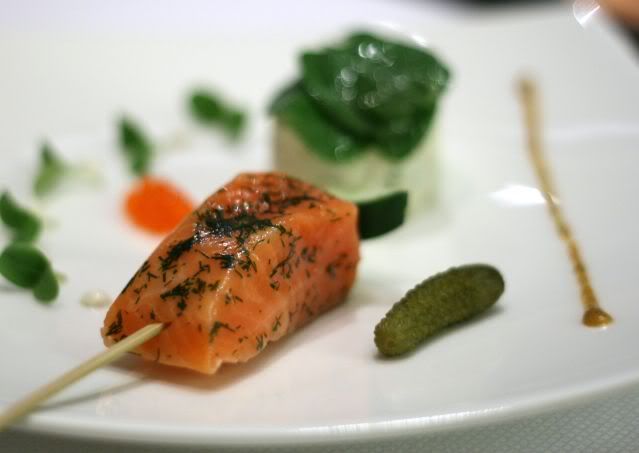 .......that's the name of the dish. Sous vide Tasmanian Ocean trout smoked at the table, new season potato salad, cucumber cress and sweet mustard dressing. Those little leaves that look like weeds, taste like cucumber skin. The trout was amazing. Look at that glorious color, which bears testimony to the excellent farming methods in Tasmania. Chef said that ideally, of course, he would prefer WILD, but WILD being WILD, isn't always available. The slight hint of smokiness on the trout, which wasn't too salty, was delicious. As assailing of Sight, Smell, and Taste.



Beetroot & Scallop Salad....The scallop on the right, is the MUKI HOTATO, while the other two on the left, Hokkaido scallops. Chef had given us both to taste to contrast the texture of the two types. Indeed, one was chewier, but so very flavourful, and sweet. The Hokkaido ones were more normal, but also seared to perfection. Who'd have thought the beetroot mash could be so delicious.



Organic Butternut Pumpkin & Perrier Soup. Oh, did I mention the main purpose of the meal was to showcase organic stuff as well? Of course, organic in my mind equates to healthy and bland. Hence, the GENIUS of Chef Michael. How is it possible that pumpkin and perrier can taste so good????!!! Superb!



Chicken Terrine, with Beurre Bosc Pear Chutney and Rock Melon Salad, Summer Truffles. And yes, those thin slices ARE truffles. The terrine has some foie gras in it, as a replacement for fat. How decadent is that?!!! My limited culinary vocabulary can't even think of adjectives to describe the kaleidoscope of flavours.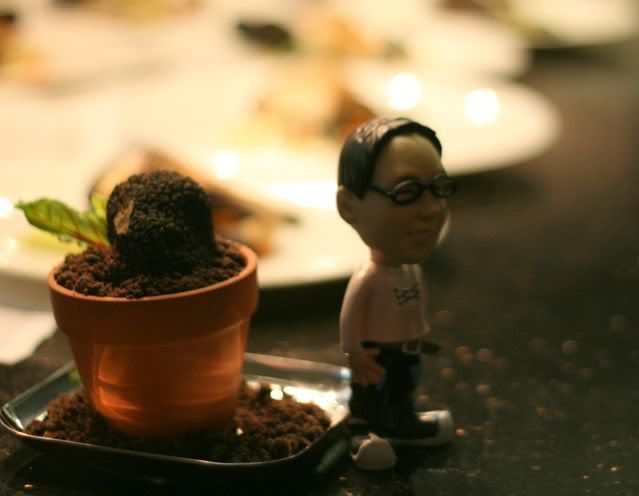 Frat and his Truffle.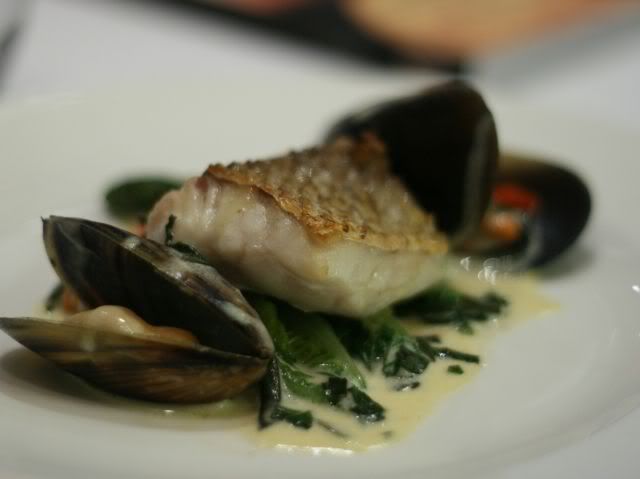 Queensland Goldband Snapper with minute cooked coz lettuce, Boston Bay mussels, tomato basil beurre blanc. As you can imagine, by now, we were getting pretty full. The snapper, though it looks ordinary, was super fresh, and cooked just right. Nothing like the taste of fresh, good fish, cooked well, to almost convince you that you can give up meat.



As the Photographer was vegetarian, .... hmmm, did he say vegetarian? I am sure fish is not a vegetable.... Chef served him this delicious looking Loch Fyne Scottish Salmon, pan roasted, with grilled razor clam and garlic butter. Apparently he's a pescitarian, ie, can eat things that don't move, like scallops, razor clams. Anyway, whatever his culinary beliefs were, that dish looked good.



At this point, we nearly keeled over when Chef Michael brought out these platters of meat, a mixture of Kagoshima, Wagyu, Mayura Station Platinum Wagyu, Angus cross Wagyu, with marbling scores from five to TWELVE!!!! TWELVEEEEE!!!!!! The highest I've ever had was nine, and that already made me ahem.....


Our accompanying vegetables to go with the beef.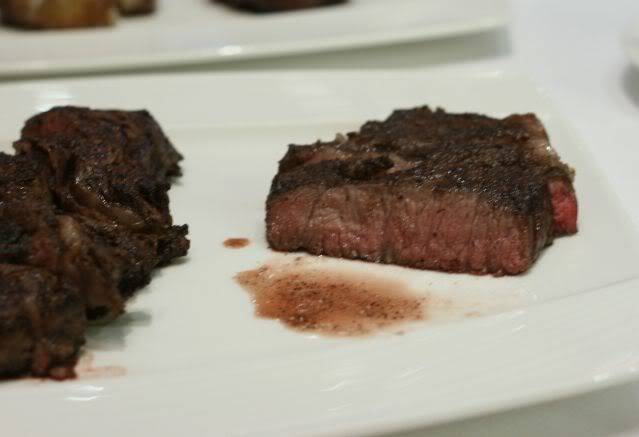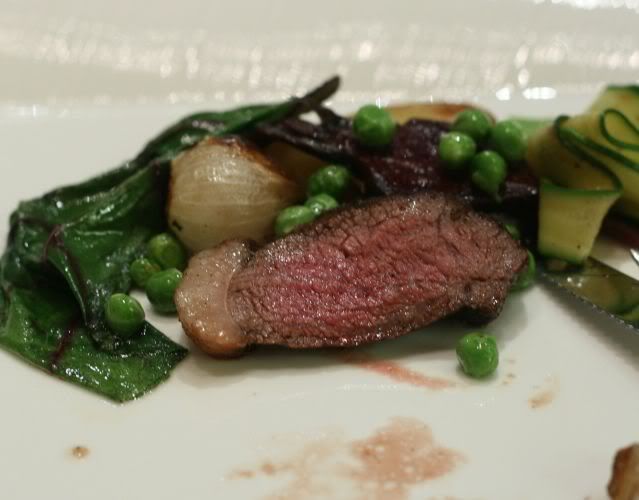 Without a doubt the Wagyu Rib Eye, from Darling Downs Australia, with marble score 12, full blood wagyu, AND the Mayura from Limestone Coast, South Australia, Marble score 12, 600 days grain fed, ...WITHOUT A DOUBT, has KILLED it for me. HOWW, I ask, HOWWWWW will I ever eat normal beef again??!!!! It was sheeeeeer heaven. I salivate at the very thought of it. It's almost obscene. I daren't even ask the price.

Melt in the mouth took on another meaning. Every single sense was assailed. The sight of that marble, the tongue tingling taste, the glorrrious texture (touch), the aroma that makes you want to live in a kitchen forever, and the SOUNDS of everyone going ooh and ahhhh..... and FRAT muttering incoherently as if he had just "arrived".

Thank Goodness for the "there's always room for dessert" theory, which by and large, is true.



Manjari Emulson, ...need I say more. Valrhona, 56% I think, not too bitter, not sweet, AMAZING texture, made only from Manjari and....water, apparently. I am soooo going to order this the next time I visit KL Hilton.



Lime & Gooseberries, lime curd with hazelnut and sable crumbs, Valrhona Ivoire Chocolate Emulsion, Physalis Compote and sorbet. Not a white chocolate fan, I didn't prioritize to try the white chocolate emulsion, and it was gone by the time I did want to try. The physalis sorbet was refreshing.



Mango Parfait Cannelloni....perfect for a hot summer day, which is every day in KL, except we were blissfully unaware all the heavens had opened outside, and it was pouring! Lovely texture, and strong definitive mango taste.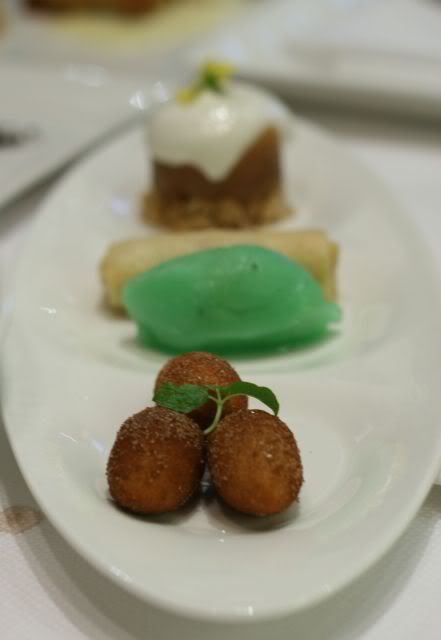 Pink Kiss Apple, orangic apple variation with crepes, vanilla espuma, fresh donuts & cinnamon sugar. At a glance it looked like some local dessert. Well, with all the other sinful offerings, this one, being organic and all, seemed rather tame, although the apple crumble was delicious.



Twisted Ganache, pink guava & passionfruit sponge, orange creme and toffee ice cream. The ganache was splendid, and eaten all together, really creates whole new sensations!




Grand Marnier souffle. I usually don't like airy desserts.... I mean, if you're gonna indulge, it should be solid right. Not eating air. But this souffle was sooo yummy.



Bread and Butter Pudding, for those who want something familiar and homely. Delicious, but not something I'd order especially with SOOO MANY OTHER FASCINATING CHOICES!!!!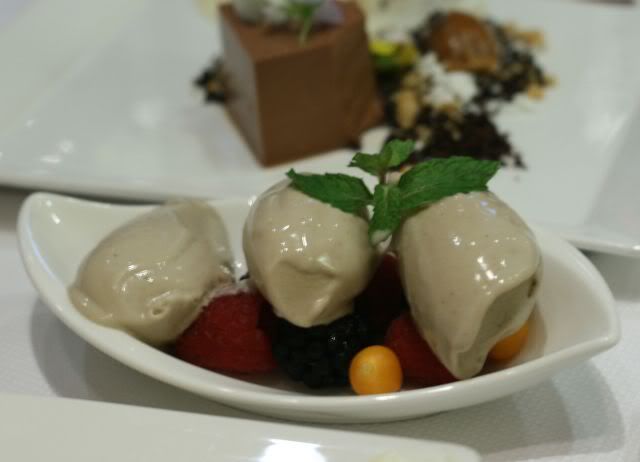 TRUFFLE ICE CREAM. The height of decadence!!!! Eggs that had been sitting together with truffles, so that the truffle aroma permeated into the eggs.... wow!!!! This finished in a jiffy.





And at the end, Frat pengsan-ed.




Thank you Chef Michael for the real treat. It really was a memorable fantastic lunch. Oh, and thank you Sally too for your hospitality. Of course, thanks to Ryan and team for securing us an invite. (Sounds like an Oscar acceptance speech).

Reminds me of the song, A LOVE SO BEAUTIFUL...Michael Bolton...except, this was A LUNCH SO BEAUTIFUL...Michael Elfwing.