Maria!
I've just met a girl named Maria,
And suddenly that name
Will never be the same
To me.... -



From The Bernstein Musical - Westside Story

When I got a call from Mae Ho, the Lady Boss of the Berjaya University College of Hospitality, (why didn't they have such interesting tertiary education places when I was growing up?! I might have been a local celebrity chef by now, ahem!) inviting me to a food demo by Maria Cordero, I was thrilled. Again, the invitation was thanks to Eu Hooi Khaw..... that dear lady who has been so very nice to us group of food bloggers, as she had given my name to Mae. Thanks so much Mae, if you are reading this. It was a fabulous event.

Yeah, so anyway, as it was a Selangor holiday, I thought I should not risk being late, ....I take these appointments with celebrities, ahem, very seriously, so I braved the masses and the threat of H1N1 and took the MONORAIL. Very convenient.

I had NO idea that Berjaya had such a grand set up in Times Square. After meandering to and fro in a maze, I finally found the venue for the event. Very la di dah, the press, very important looking people, the AFC rep, the Hong Kong Tourism Director, the Berjaya who's who....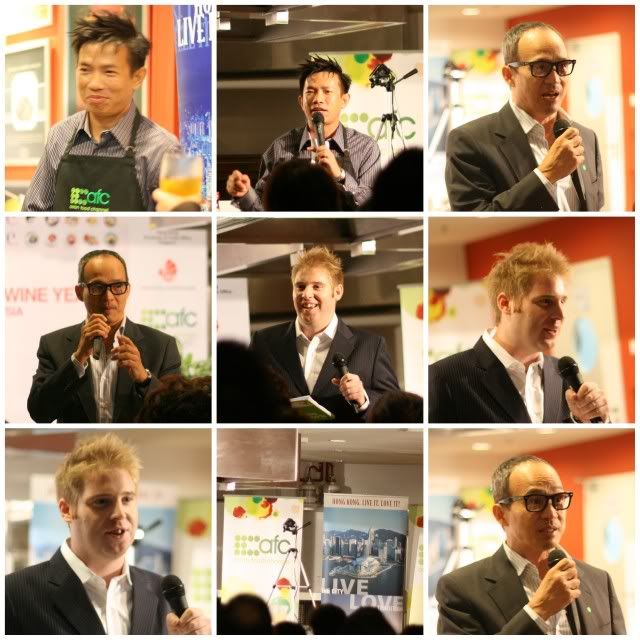 I didn't get the name of the local emcee fella, but I have to say he did a fantastic job. Articulate, witty, and speaks well. With the local standards of English plummeting faster than the new depths our politicians sink, its heartening to see eloquent and grammatically correct emcees. The suave director of the Hong Kong Tourism Board, David Liu (I think) certainly made us want to hop onto the next flight to Hong Kong. And the affable AFC rep, Simon, must have one of the best jobs in the world. When I mentioned this to him, he said, "nooo, not at all, it makes you hungry all the time". Or something to that effect.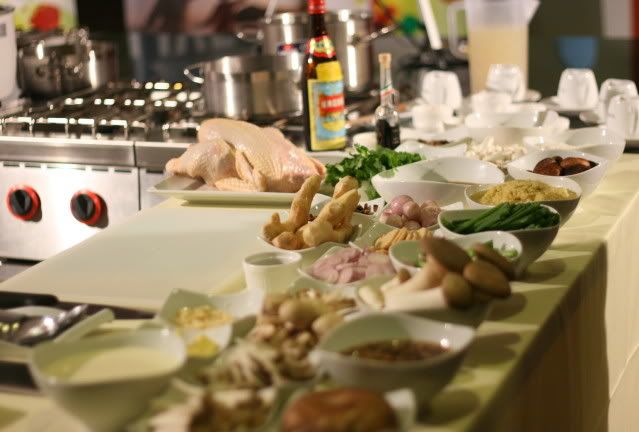 The cooking island was laid out, like a concert stage awaiting the arrival of the Diva.

The event organisers. AFC, Hong Kong Tourism Board,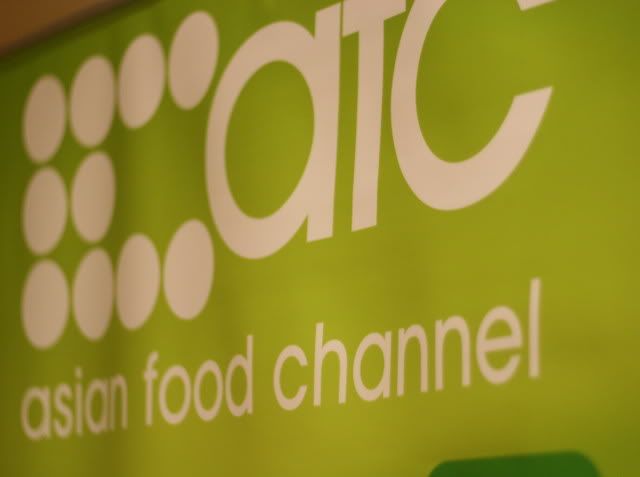 and...




Star Quality. Some people obviously have an abundance of it. Be it when they sing, or act, or cook, and this lady here is one such person. She radiates such a charming persona, it is impossible not to be taken by her. And her recipes make you feel that yes, I want to make that, it looks so easy.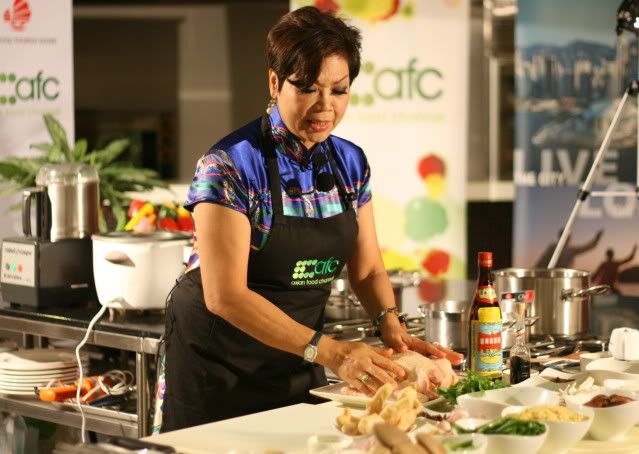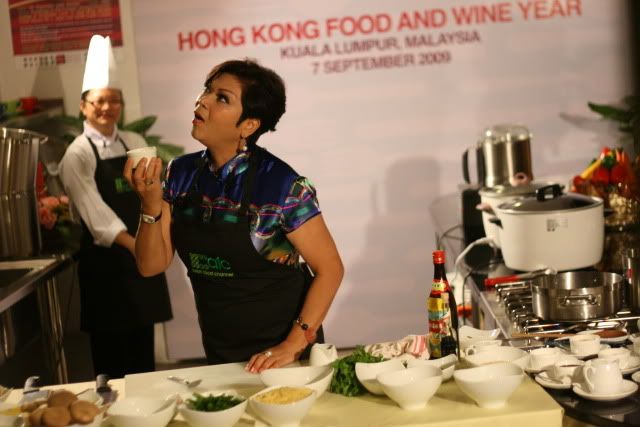 Her tip for wives out there, don't call your husband and say, "oi, where are you ah? what time you coming home?". Instead, lovingly coo, "dahling ah, I am cooking your favourite dish tonight, are you coming home for dinner?". I would pay heed to this wise woman's words of wisdom. She runs a large household, with 4 generations under one roof and cooks for her grandchildren even. She is a SUPERWOMAN.



One of the things about Maria that struck me is how friendly and affable she is. I've seen some celebrities who are so up themselves, their a** is almost coming out of their mouths, but Maria is a people's person. Not an air of pretentiousness. She is seen here feeding her assitant the mushroom cappucino she just whipped up in a jiffy.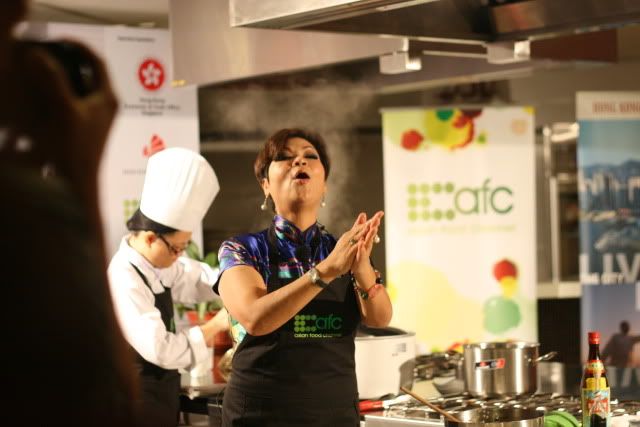 While waiting for the Rice Cooker Chicken to cook, she obliges us with her really powerful voice.



The chicken is ready. No need for formalities. She pierces it with a fork, lifts it and plunges the cooked chook into a waiting tub of ice water, to make the skin nice and firm. I shall try that in the shower too, after a hot shower, run myself under cold water to keep my skin nice and firm.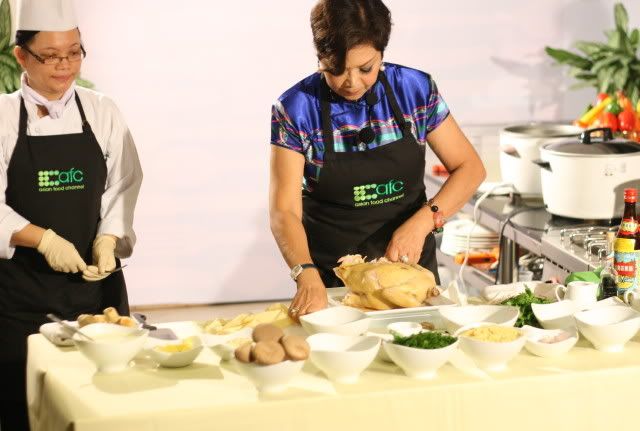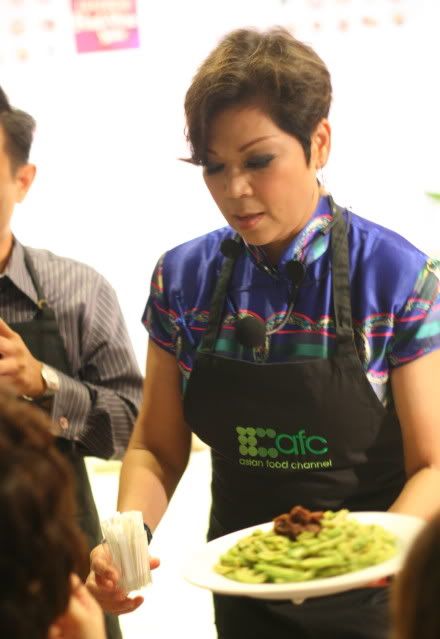 This innovative Diva made these Bitter Gourd Pickle in her hotel room last night. Apparently you just chop up the bitter gourd, boil a rock sugar solution with some sour plum, cool the solution, and chuck in the gourd, and voila, SWEET gourd the next day. The gourd was nice and crunchy, and not a hint of bitterness. Well, I personally like my bitter gourd to be ...well, BITTER, but hey, a lot of people don't like it bitter, so what better way to eat Foo Gwa.



She obliges to take pictures with individuals. Featured here is The Nomad Gourmand. Food bloggers also present were Boolicious, my blogging idol, Superwilson and Sid of Big Boys Oven. Oh, and Jason Mumbles was the photographer for the event.

After the cooking demo, we were treated to lunch at SAMPLINGS ON THE 14th. I am not sure if it is a restaurant or a simulated restaurant for the culinary school.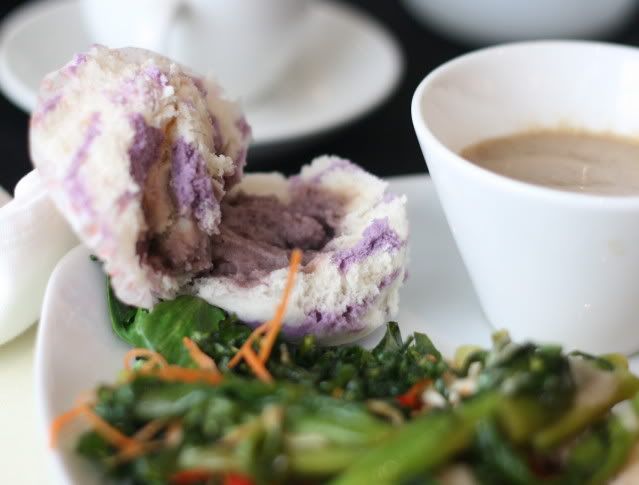 The yam puff was yummy and yammy.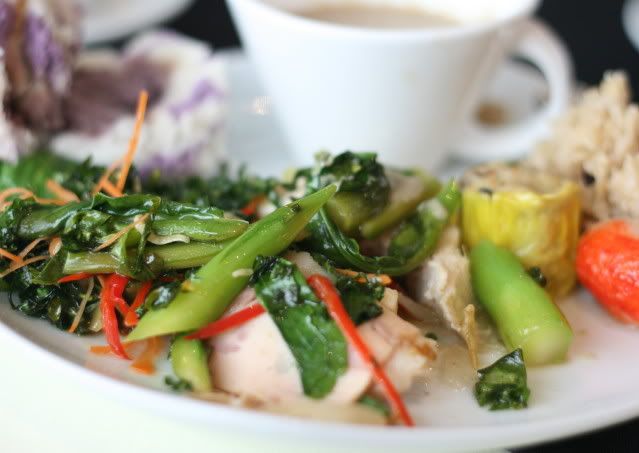 Very healthy Maria Cordero Styled food. Steamed chicken, stir fried vegetables, a more watery version of her mushroom cappucino, and the mushroom rice.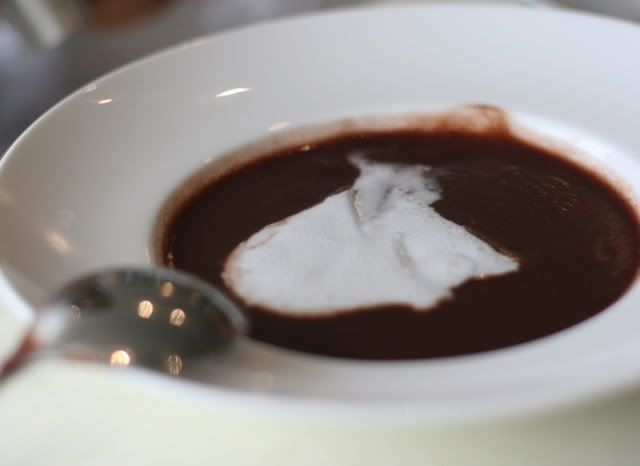 Red Bean Soup for dessert. Blended smoothly. Not heavy, not sweet.


The organisers of the event, watching Maria perform. David tries to scuttle away as Maria invites him to join her in a song.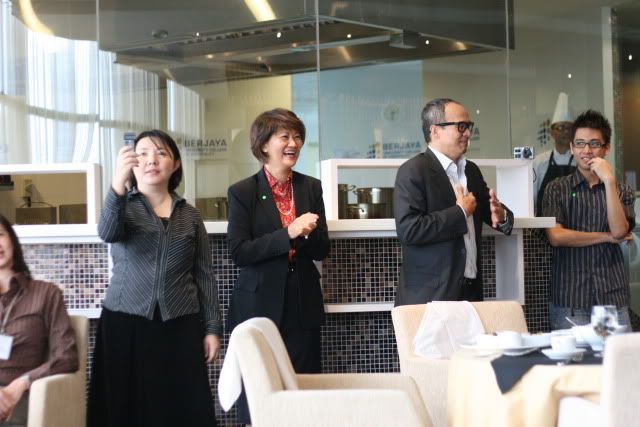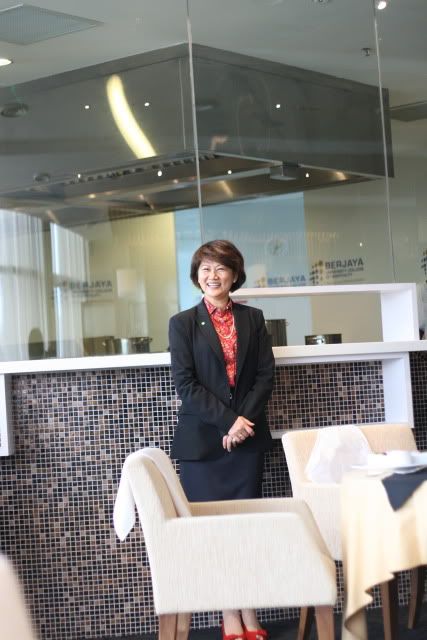 That's the boss of the University. What an elegant looking lady! I think I want to enrol in a course here.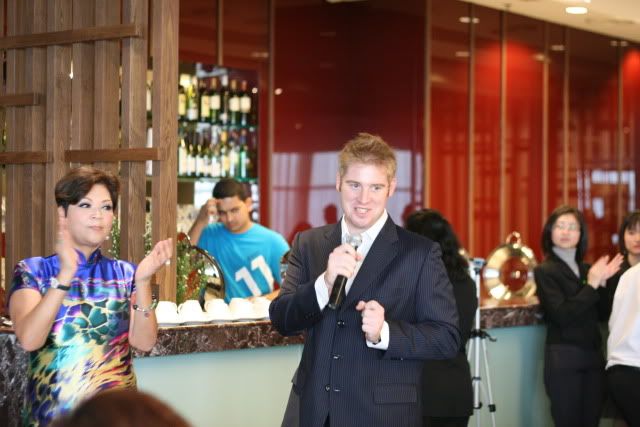 The AFC fella.



The many faces and talents of Maria Cordero.



Well, the objective of the event was to promote Hong Kong as a tourist destination, but really, do they need to promote Hong Kong? Food is excellent there, the nightlife pulsating, shopping a paradise to the shoppers... and air asia flies there too!!!! Now, if only I can find some cheap accommation, I am soooo there!!!!!