When Jade Wong of Mustard Tree Communications asked me if I would like to attend a demo at a new pastry/culinary school, I was thinking like, "duhh, does a kid like to go to Baskin Robbins?" OF COURSE!!! What with the promise of a demo by Olympic Pastry Chef, Matthias Schuebel, at the new
Academy of Pastry Arts
, I leapt at the oppportunity quicker than a Malaysian politician jumps political parties.
Even better, I was allowed to ask whomever I thought suitable, so of course, in the true spirit of cronyism, I called Thamby, Alison Victor, (who also brought along as a bonus, Lil Chef, Michael Elfwing), Pick Shan (Babe KL) and me. Well, I didn't have to call me.
The Academy of Pastry Arts is located in Wisma Thrifty, opposite the PJ Hilton, above the Giant and Courts Mammoth.
This gorgeous sight greeted us upon arrival.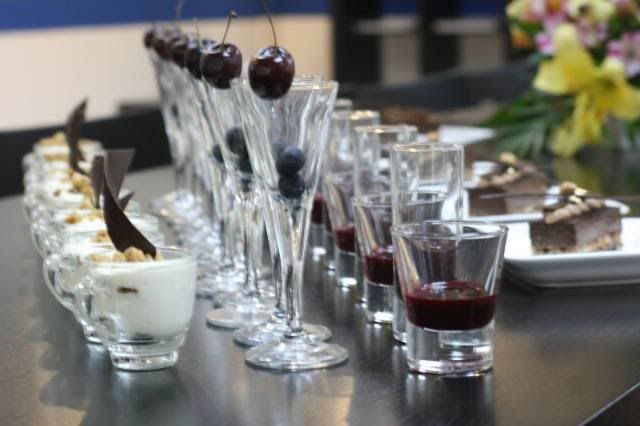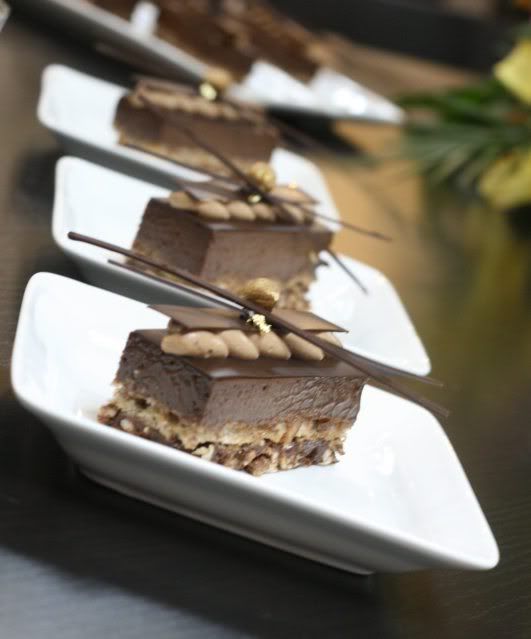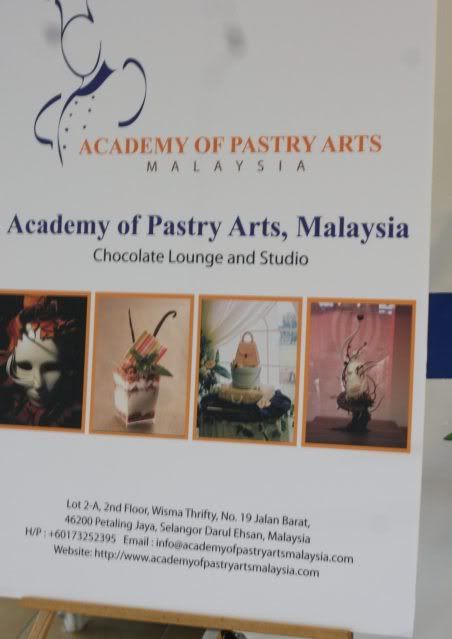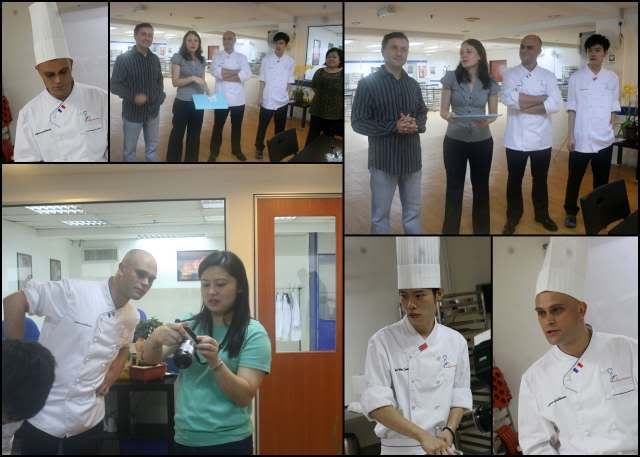 We were given a briefing by the gorgeous Hanne landgraf, the Customer Relations Executive of AoPA, accompanied by the very animated and affable Lejeune Guillame, Director of Pastry Arts, Matthias Schuebel, Consultant, and Chef Tan.
The Work stations for students to embark on their pastry journey.
The chocolate station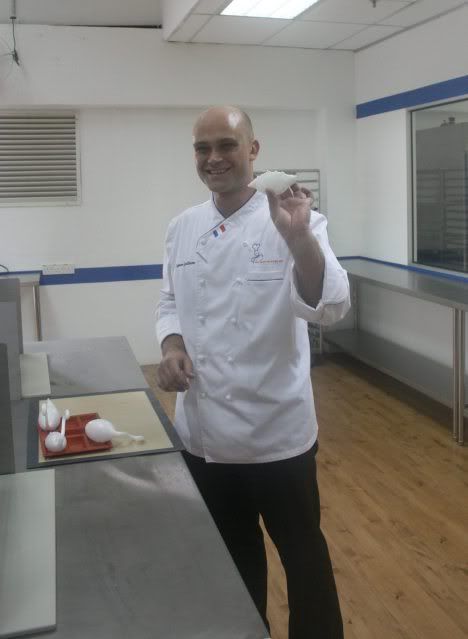 The sugarwork station
Where the buns go into the ovens
Dough Roller....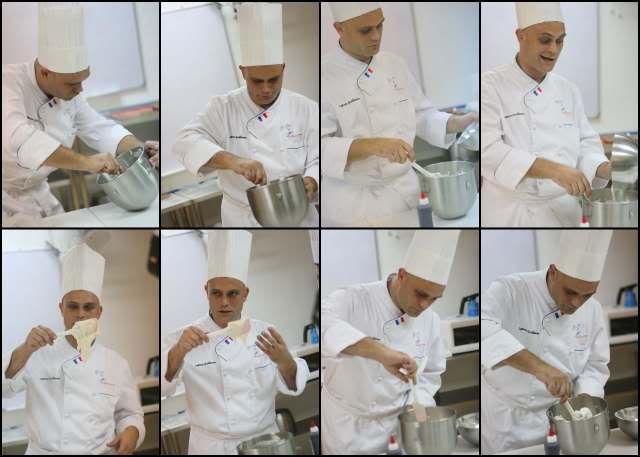 Guillaume was demonstrating to us how to make Macarons. While its not the first time I've seen Macarons made, I have to say I have a strange fascination for the various methods people make them. Neither am I a macaron fan, when it comes to eating. I have to say, Guillaume made it look all too easy.
The participants trying their hand at piping the macarons. It really wasn't as easy as it looks. They come in all shapes and sizes, literally. There is something however, magical, about gravity, that kinda makes the batter spread out to a fairly even circle.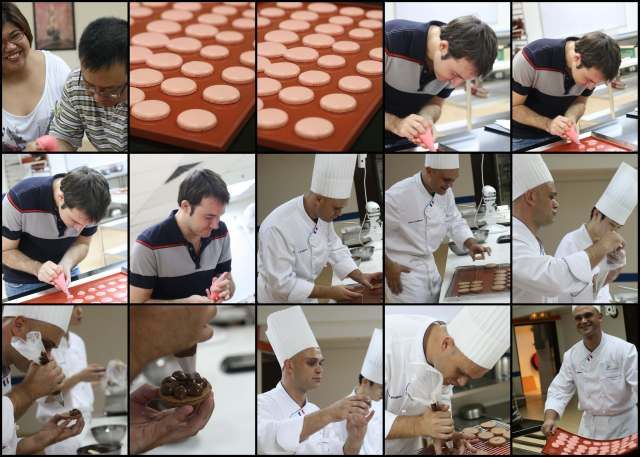 We broke up into two teams, and of course, since we had Michael Elfwing on OUR team, had it been a competition, we'd have won hands down. I simply love the expressions on Guillaume's face when he is engrossed in his work. His pouty lips, his cheeky grin, full of expression.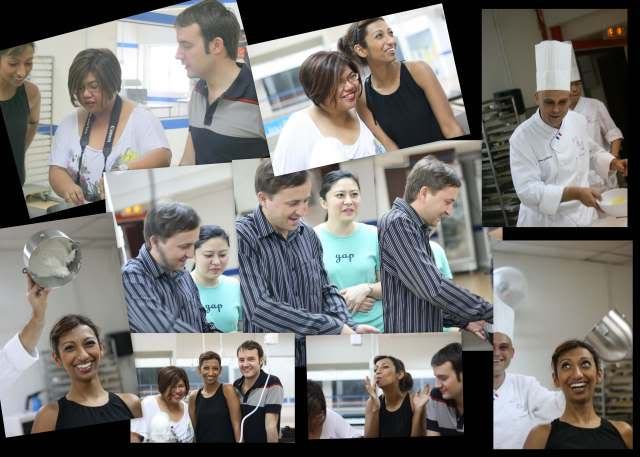 Guillaume demonstrates how a stiff peaked meringue can be held over Aly's head.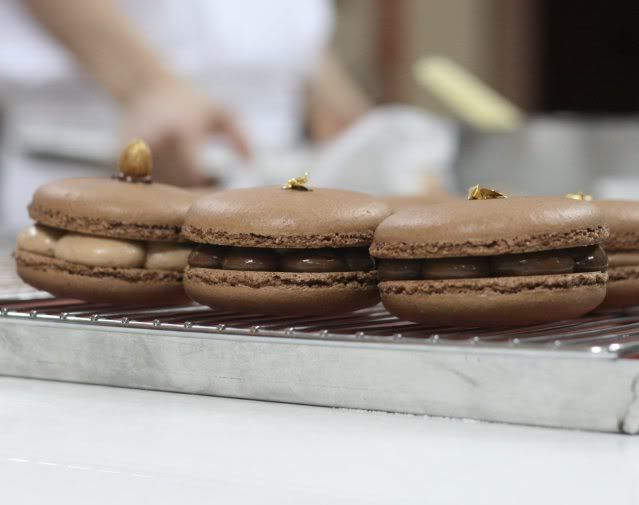 Completed chocolate macarons, decorated with edible gold leaf.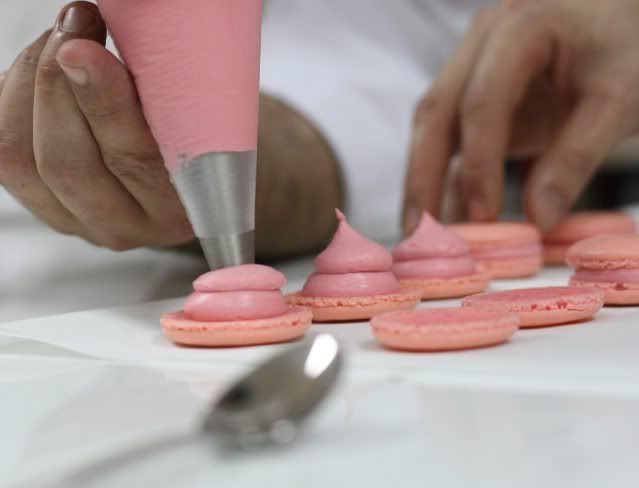 Piping the raspberry filling for the pink macs.
And then, it was makan time!!!!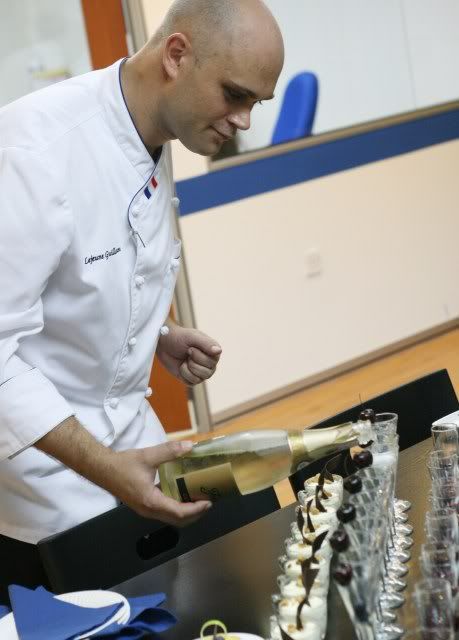 What a spread, complete with Cava before noon. Or just about at noon.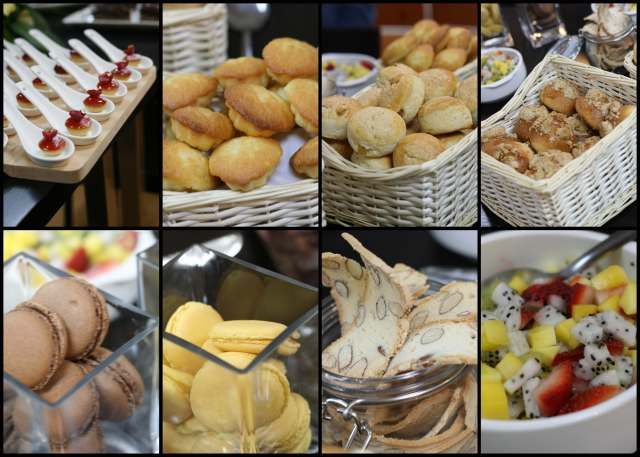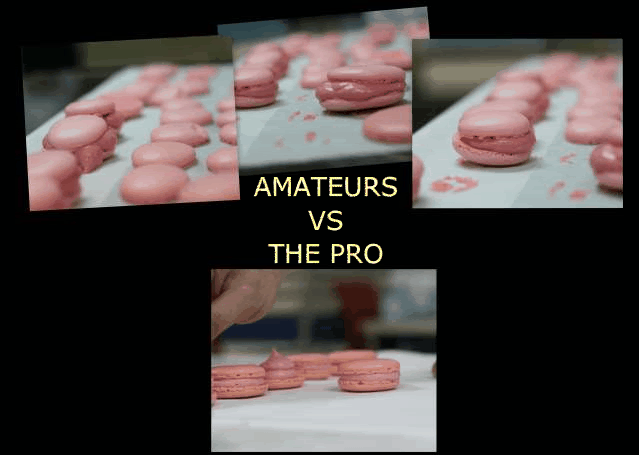 Finally, when our macs cooled, we piped them, and look at the contrast!!!
Kudos to the Academy of Pastry Arts on their recent opening, and wishing them every success in their programs. A great option for aspiring young chefs. They also conduct more casual classes on a workshop basis for the amateurs, like us. Check out their website
HERE
. There are two upcoming specialty classes, SUGAR CLASS by CHEF Stephane Treand, 14th -17th Oct, and PLATED DESSERT, MODERN FRENCH PASTRY & CAKES, 15-17th Nov, by Chef Michel Willaume.
By the way, the pastries did not only look good, but tasted delicious too, as is to be expected from Chefs like Guillaume and Matthias.
Thanks so much to Jade for organising, and to Matthias, Guillaume, Hanne and Tan for your gracious hospitality.
Needless to say, us students had a great fun time.
Academy of Pastry Arts
Lot 2-A 2nd Floor Wisma Thrifty
19 Jalan Barat
46200 Petaling Jaya
Tel: 03-79603846