Whenever Aly of Red FM asks me for a food review, I try to, whenever humanly possible, LEAP at the opportunity, afterall, to be amongst celebrities AND good food, honestly, I must have done something good.
Usually we are a trio, for if I am there, so is Fratmustard, but there are the odd occasions when one member of the triumvirate cannot make it, so those can can, just gloat with glee after the occasion, updating the missing one on what they missed. So yeah, Frat, this is for you. Nyah nyah nyah nyah nyah (in that annoying schoolkid melody of tongue sticking).
Khin Shui Teh. Oddly enough, I've never even heard of this place, but the night BEFORE I went, Unkaleong mentioned he was heading there for dinner. How strange. I had the pleasure of telling him "oh, I'll be eating there TOMAHRO, and probably better food than yours too, so there". Oh my, I am on a roll.
Traffic on the SPRINT is anything BUT SPRINTY. That highway honestly should be renamed CRAWL. Or SNAIL. (Slow, Notoriously Annoying and Irritating Lebuhraya) Aly and I were sms-ing each other updating where we were along that stretch. Eventually, half an hour later than our appointed time, we reach.

My vast knowledge of Mandarin tells me that the Shui in the name means Water. But apparently, according to Aly's post, which you can read HERE, (oh, by the way, better be quick, she's giving out RM100 vouchers to eat here) it means eternal flowing water. Much like incontinence.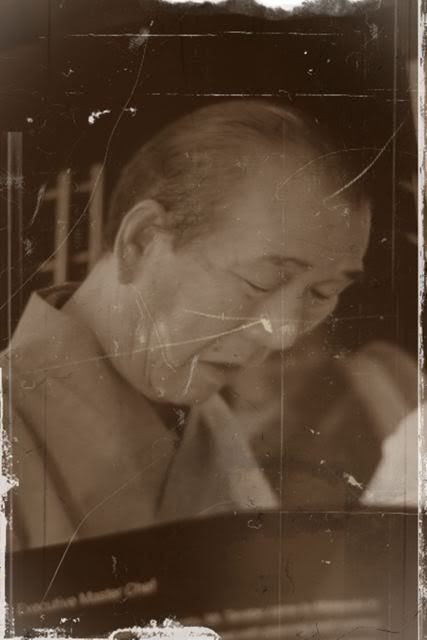 The Chef has been here since time immemorial, when the restaurant started 16 years ago. Probably a majority of food bloggers were still in primary school. But yeah, in KL, any restaurant that can last THAT long must have something going for it.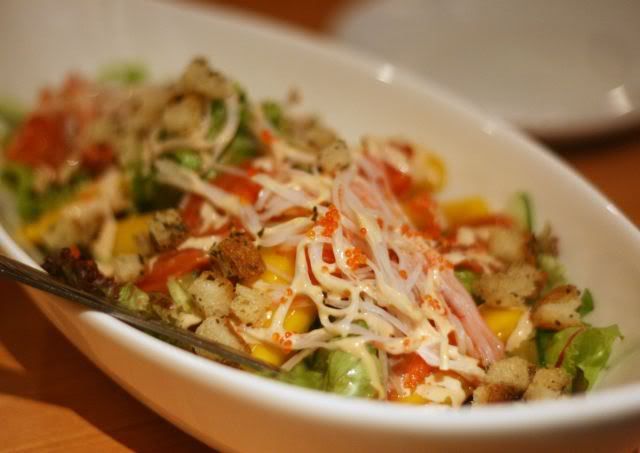 Mango Salad, lovely bits of mango, dribbled with presumably Japanese mayo, tossed together with lettuce leaves, crabsticks, croutons, roe, which to my delight, removes all hints of healthiness. I could go on a salad diet. This kind.



The simple but yet delicious Edamame. In days of yore, Hairy Berry and Awhiffoflemongrass paid high tribute to this bean. I myself actually wrote a tribute for the both of them. HERE. Its a great, unpretentious snack that goes well with booze.



Speaking of booze, we start with some light Japanese beers. Light beers are like making love on a canoe. DM me to find out why.



Jumbo Spider Roll. I guess the Spider moniker comes from the protruding limbs of the very dead soft shell crab. But the name seems to have stuck, and it is the universal term for soft shell crab rolls. Lovely. Crispy soft shell crab (oxymoron...crispy soft shell?)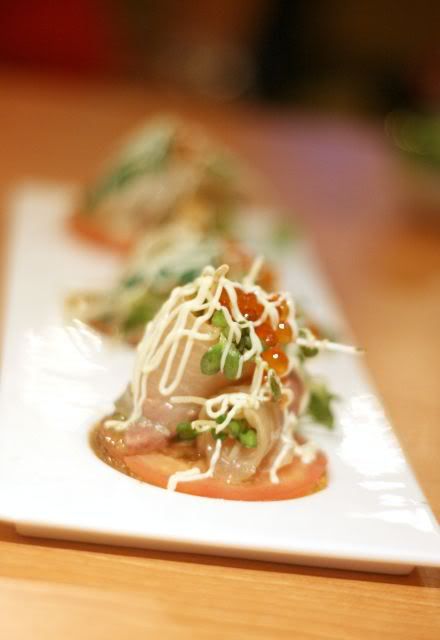 Japanese Amberjack (Kampachi) with Garlic Sauce, and gobules of fish roe. Divine. I could eat the whole plate. It is afterall, very healthy. Raw deep sea fish. Garlic. All the combatants for high cholesterol.



Toro Carpaccio....OH MY WORD.... shuddering with joy just thinking about it. This must be the equivalent of a Wagyu fish. Melt in the mouth goodness. Price is also wagyulike, RM130.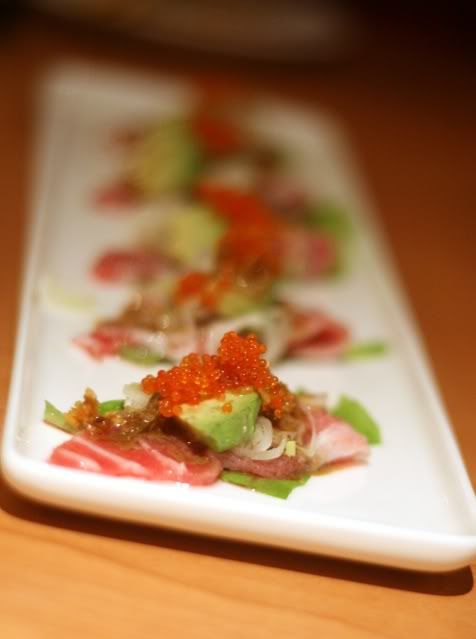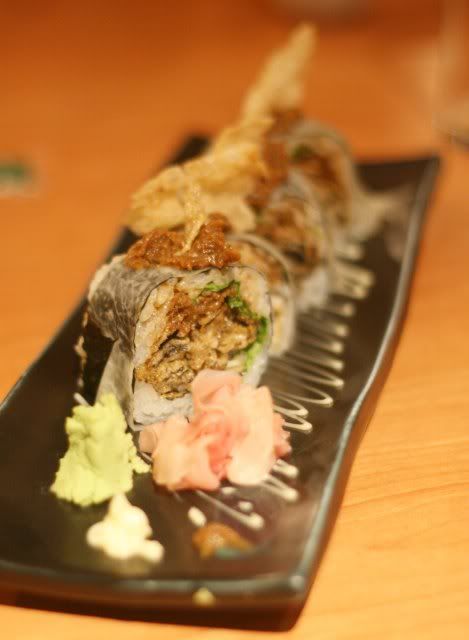 Salmon Skin roll... okay, pales in comparison after all that toro and kampachi.... but ordinarily, would have been very good, if not juxtaposed with the other two luminaries. That's the thing about life right, its all relative. Next to Aly, I seem like a hippo. Sigh, my analogy has just taken a turn for the worse. Next to a hippo, I still look like a hippo.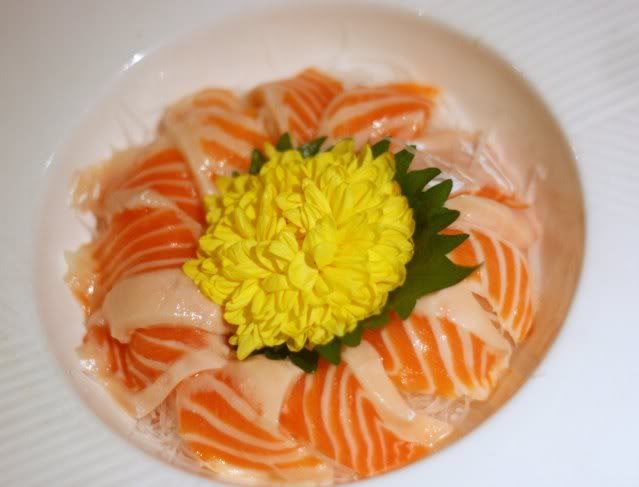 In order to maintain a hippolike physique, one must indulge in such glorious salmon belly. Why is it the good parts of an animal are always so rare? I mean, how much belly can a salmon have right? It's like ox tongue. My favourite part of the entire cow. But how many tongues can a cow have? The salmon belly is smooth, fatty, and just glides down your throat.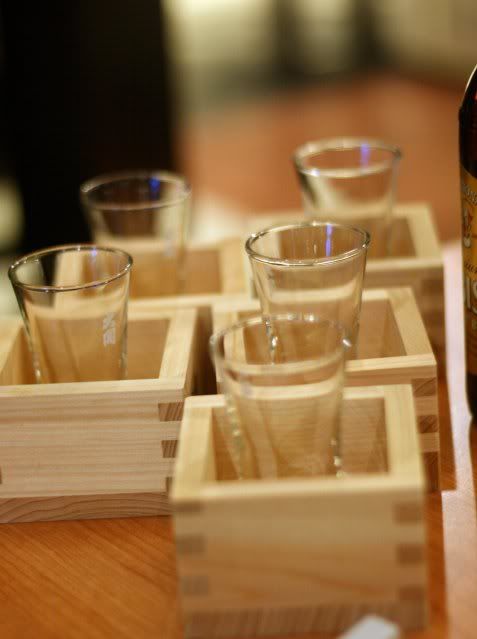 Okay, tales were told about how some people could not figure out to drink from a square balsa wood box. The person drank from the sides, instead of the pointed corner. Is it any wonder then that a Sake Niagara Falls descended upon their clothes?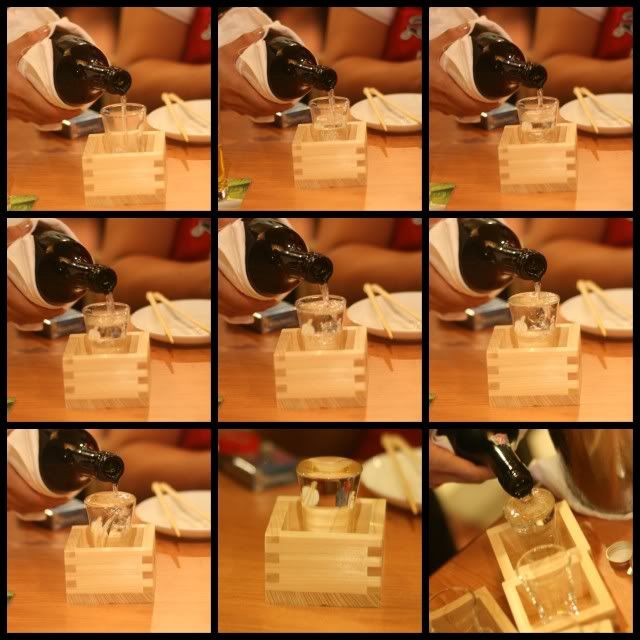 Now, the glass in the middle symbolises life, which has to be OVERFLOWING....and the box, to retain the overflowing wealth. Trust Asians to think of such graphic illustrations about how to preserve wealth and all good things.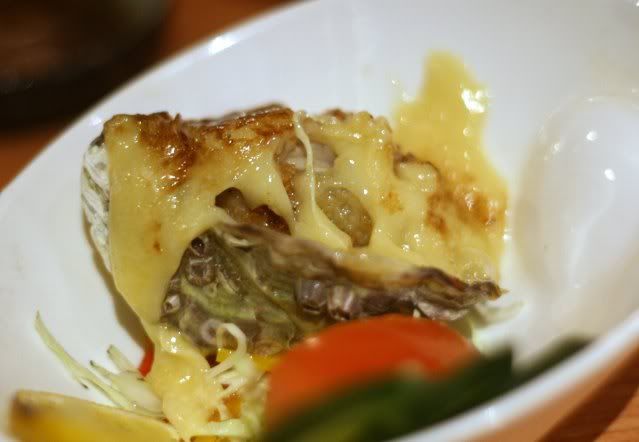 OOOOOH, I actually had a dream, (one layer only) of this, that this cost RM100. I dont think it does. But oooh, delicious!!! Creamy, not too cheesy sauce baked on top of a fat mother of an oyster, probably named Mikimoto.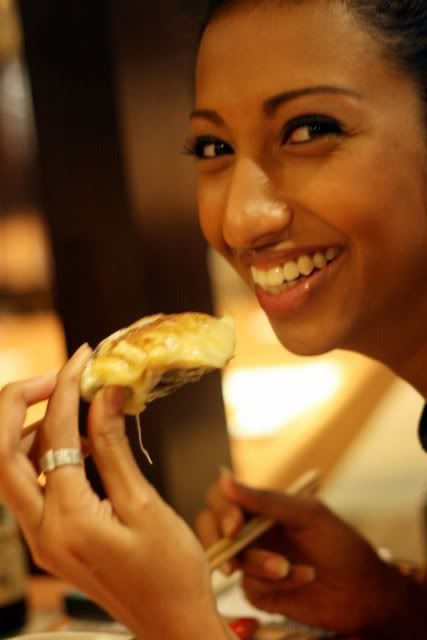 Aly, and the world's her oyster.



Eddie Kong (Business Development, Catering & Event Manager, Yosh! Brands) and Meon Lew (Public Relation & Outlet Manager), who our hosts for the evening, were exceedingly hospitable. After we polished off the mango salad, Eddie decided we needed more vegetables, so another variation of a salad appeared. This one is a seafood salad.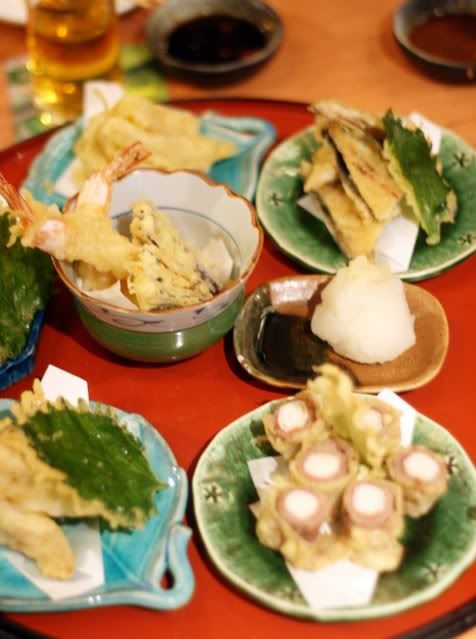 The Tempura platter. I liked the fried banana tempura...which was a bit like crispy goreng pisang. Probably because it is.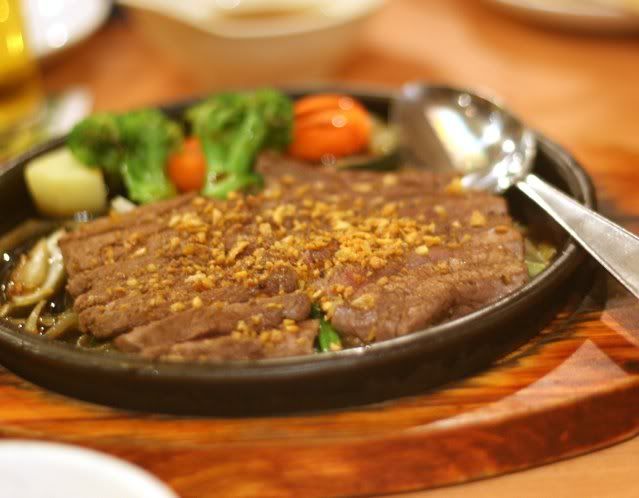 Will it never end!!! More food. Stone grilled sirloin. I dont remember very much of this, probably because we were so stuffed by then.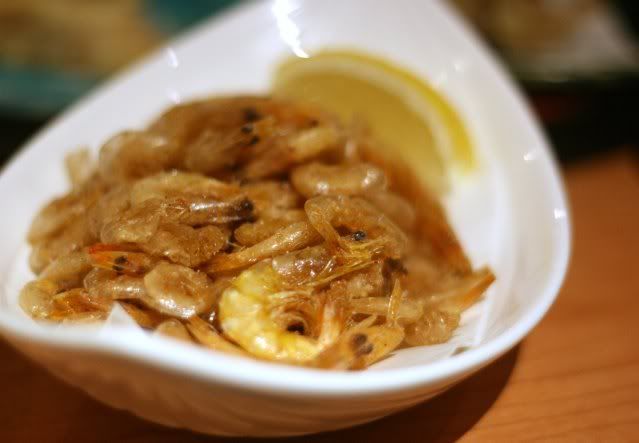 Deep fried shrimp, a perfect accompaniment with the sake.



A dobin mushi type soup, with plump scallops, served on a burn proof paper. The broth was delightfully sweet, with all that ingredients, it's hardly surprising.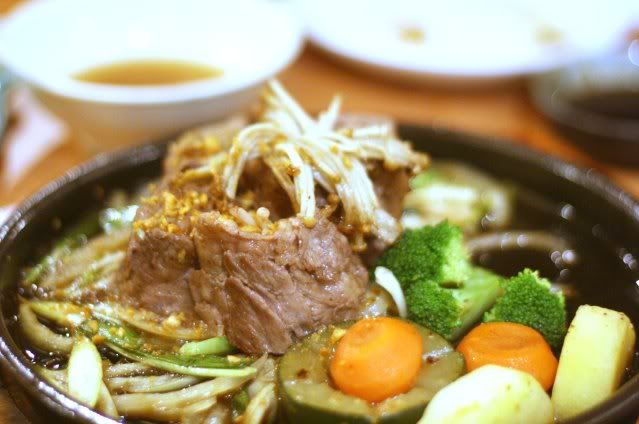 Beef enoki roll. Thinly sliced beef wrapped around enoki mushrooms. The beef is very tender. But again, by this time, the food was up to my eyeballs.... and STILL there was more to come. Frat, are you reading and salivating?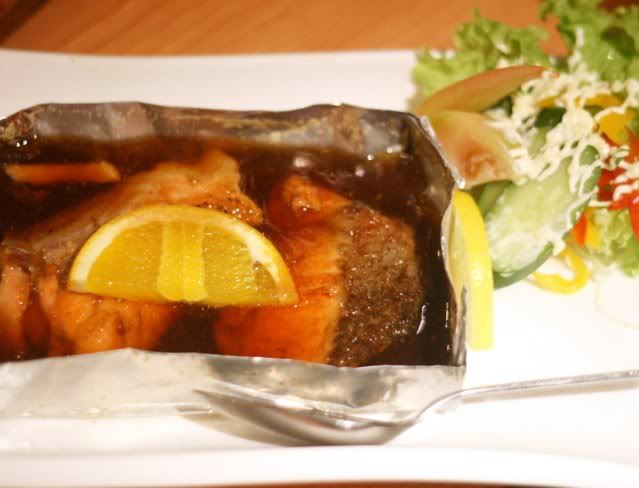 Grilled Salmon in Aluminium Foil... I'm sure that's not the correct name... but that's how its served. I personally am not a fan of cooked salmon.



Tambah soup anyone?



Deep fried lotus root Reminds me of a chinese new year snack.



Hazim and Terry. I rarely get to hear Hazim's show, since this multitalented guy is actually just a part time deejay, and spends the rest of his time repairing aeroplanes. Real ones. And Terry of course needs no introduction.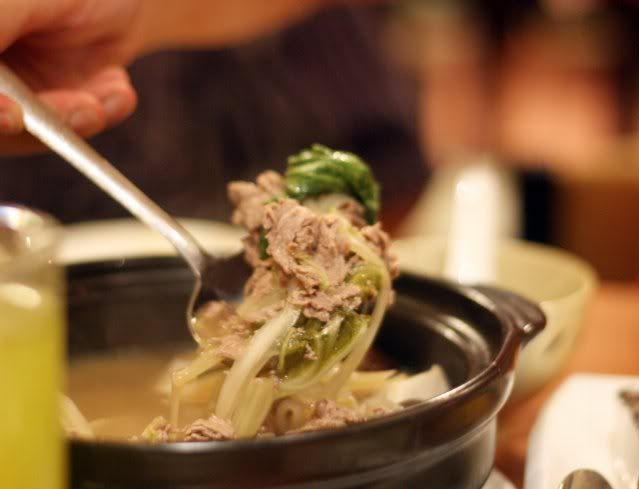 I can't even remember what this was....I had lost all interest in food by now, and had vowed to repent of the cardinal sin of gluttony.. I think it was a sukiyaki. Oh, I remember now, it is a Sukiyaki, cooked in miso instead of mirin.



And the head of the amberjack.



What a great meal. Great food, company and booze. Price wise, I think of course what WE had would cause quite a dent in the pocket, but it shows what a great variety they have, from the simple everyday stuff to the exotic amberjack. Fresh fish arrive at immigration on Tuesdays and Fridays, so you know when to go for sashimi.

Lucky members of Tropicana Club!!!! Thanks muchly Aly for asking me. And thanks to Eddie and Meon for your hospitality.