When Boolicious, my blogging idol, asked me if I was free on Tuesday to try out this new place, Bubba Gump Shrimp Co, (for some reason, it my mind, it sounded like Bubble Gum Shrimp Co), also to do a review, I was quite excited. (coz I thought she was gonna be there) Turns out, she wasn't, however, she managed to convince fellow food blogger (the one who won the most recognisable face award), Jackson Kah, to come along, so it wasn't so bad.
The invitation was courtesy of this trendy holiday magazine, called HOLIDAY.
A pretty cool travel magazine, which succeeded in making even Taiping look exotic. Then again, I guess Taiping is kinda ...exotic. Editor Vanitha and colleague, Asha (who had been our contact point) are the kind of people you'd love to have at a dinner party. Great company, and very gregarious.
Looking at the pic of this building, I really felt I was in America a bit. Actually, it's on the First Floor of THE STREET, at the CURVE.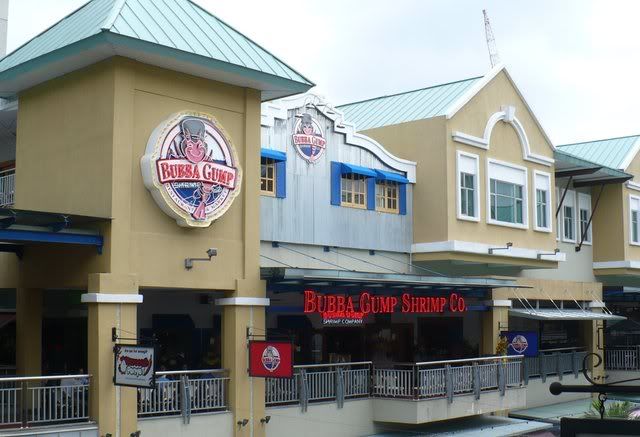 Jackson was sitting in one of those booths, which was hot as hell, and certainly not big enough for 4, so I was pretty relieved when we were ushered to the upstairs, which was airy, bright and comfortable, and private as well. I'm never too comfortable shooting away at food with many onlookers.

Okay, the name, as film afficianados might surmise, is based on Tom Hank's FORREST GUMP. The theme of the restaurant is based on the movie, and you have this replica below of Mrs Gump's resthouse, a room that contrasts dramatically with the rest of the rustic woody interior. Of course, the youth of today, like Jackson Kah, had never watched the movie.

More pictures of the interior. The place has paraphernalia from the movie, and posters as well.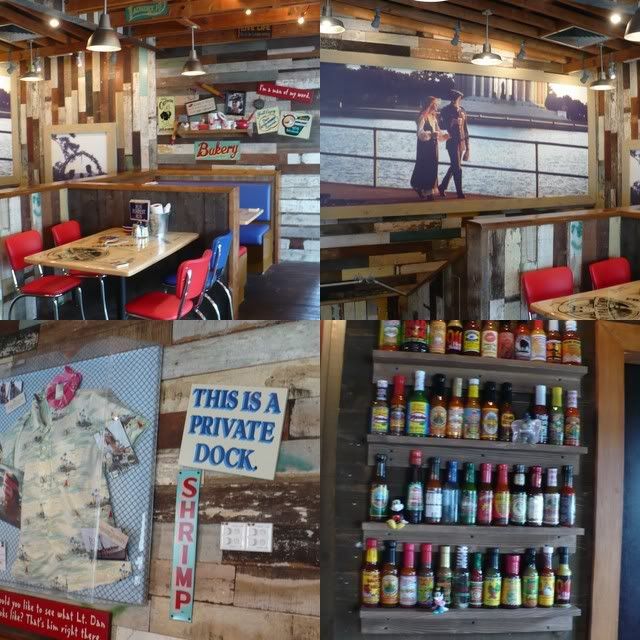 The two signs are meant to assist you in hailing the waiters. When the sign is red, it's for the waiters to STOP at your table. And when it's blue, they should run away. The sauces are placed in a bucket, so god forbid you should kick it.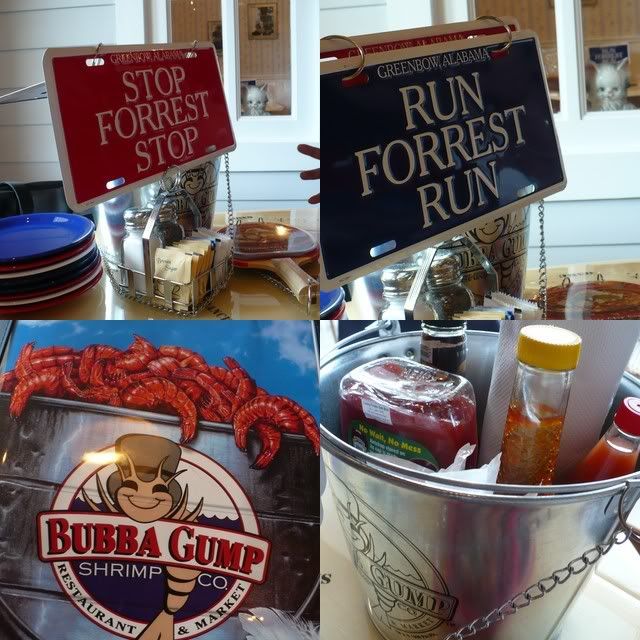 The specials are mounted on this ping pong bat, since it was Forrest's favourite game. Did he actually play against someone? I only remember him playing with the wall. A good tool to spank wayward children with.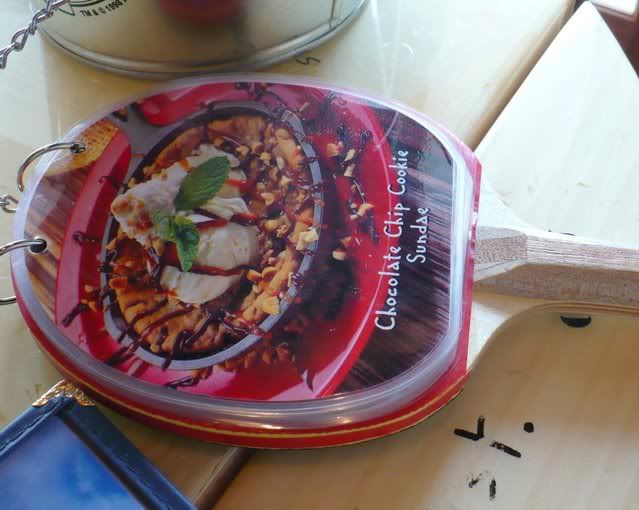 We were asked to order our drinks, and since it was the afternoon, I thought I would restrain myself and not look at the alcoholic section, since no one else seemed inclined that way, and well, drinking alone in the afternoon is akin to putting a stamp on your forehead proclaiming, I'M SUE ELLEN EWING. However, since the choices of non alcoholic drinks were few, and all but one, contained yoghurt, I very magnanimously let Jackson have the Mango Sparkler I was about to order, which was non alco, while I sacrificed myself and ordered a Lousiana Lemonade, which had Citron Bacardi Rum in it. The servings are huge, ....pity you have to catch a cab to get to the nearest toilet. These mall restaurants toilets are usually miles away.



Lousiana Lemonade RM22.90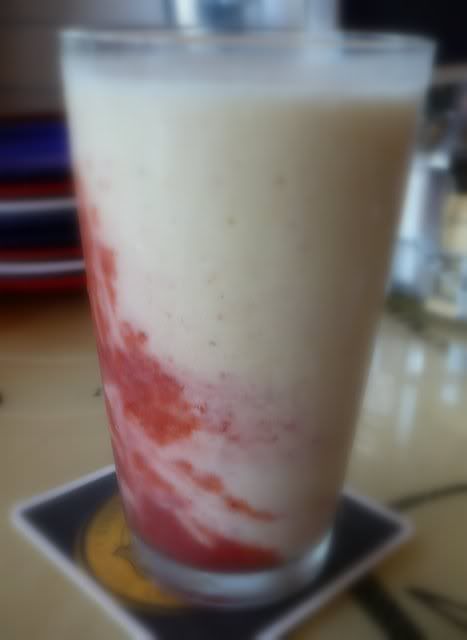 Asha's Run Forrest Run, I think it was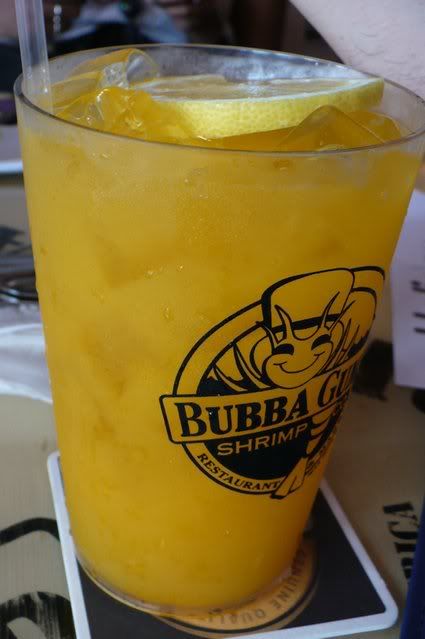 Jackson's Mango Sparkler RM9.90



And Vanitha's Peach Love Rock and Roll, which looked really good and thirst quenching. RM22.90 as well.



The very affable Manager of the place, Rizal, joined us, and ordered for us a sampling of the dizzying array of stuff the menu had to offer. Okay, before that, we should clarify that SHRIMP here doesn't refer to our udang kecik. In America, apparently, Prawn = Shrimp. So when you order Cajun Shrimp, do not expect a plateful of miniscule plankton, cincalok kinda shrimp. They're actually prawns, and rather large plump ones at that.





Cajun Shrimp, with lovely garlic bread, toasted to perfection with a hint of some cheese...probably parmesan. The cajun sauce flavour, seeped into the prawns from sauteeing, was divine.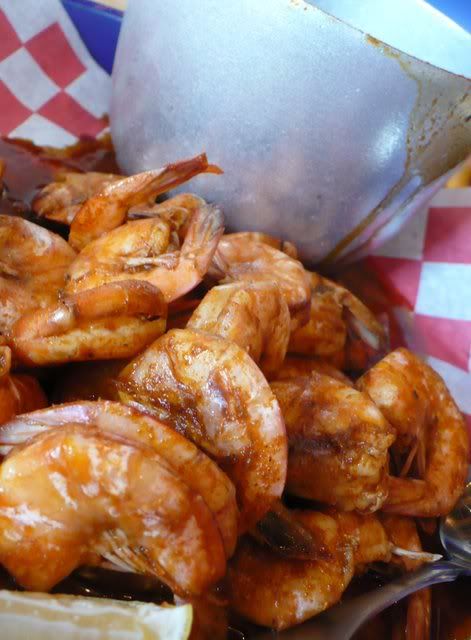 Net catch of the day. A generous platter (and this is the small portion) of prawns, with a bucket of cajun sauce poured over. You're supposed to use the bucket for your used shells. Lots of buckets around. These prawns are boiled and the sauce incorporated later, unlike the first one, which is sauteed in the cajun sauce. It's a large generous serving.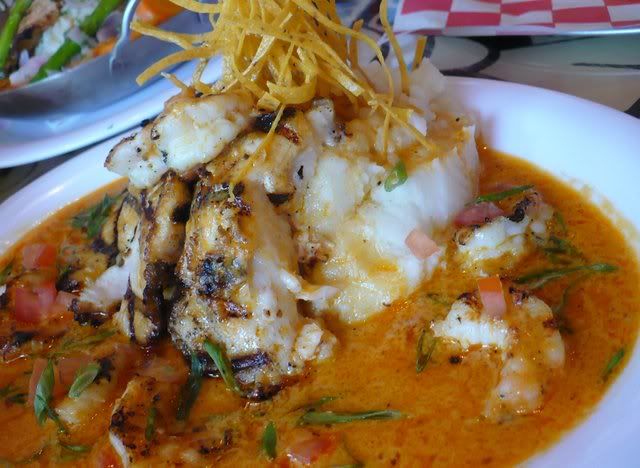 Bourbon Street Barramundi,

charbroiled cajun spiced barramundi in the bourbon street sauce, a creamy seafood bisque-y kind of sauce, that I found overpoweringly rich, and could feel my arteries seizing up. Maybe it was because we were approaching fullness faster that you could say Bubba, so this dish didn't really appeal to me. However, if you like rich sauces, do try it, as the quality of the fish is great, and its a substantial meal. Loved the fried nachos which embellished the fish.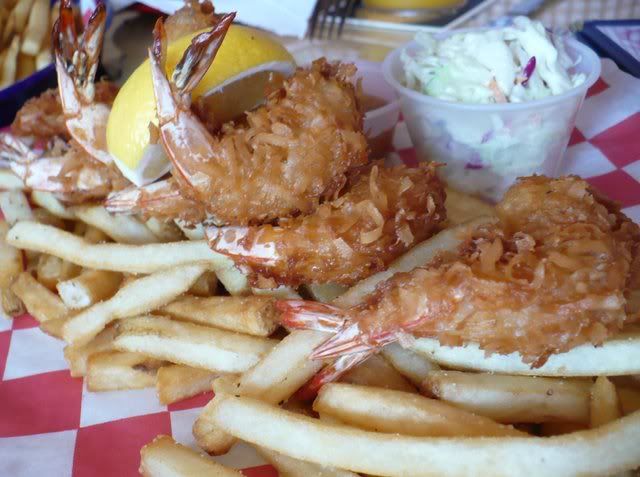 Ah, my favourite. Dumb Luck Coconut Shrimp. Strips of coconut line the batter in which these prawns were fried, and it is accompanied by the most GORGEOUSSSSSS cajun marmalade. Absolutely yummy. Crunchy on the outside, moist plump prawn on the inside.



Tossed Chicken Cob Salad, lots of leafy greans, avocado, beef bacon, (poor Jackson), and chicken breast. Like Nigella Lawson, I prefer thigh meat to breast, (I'm talking about chicken, not her), and can't fathom how anyone can choose breast meat over thigh meat. The vinaigrette dressing was sweet and tangy all at once, and very refreshing. The only bummer for me was the chicken breast meat. I'd have ordered it without. But if you are a breast-avore, you'd be jiggling with delight.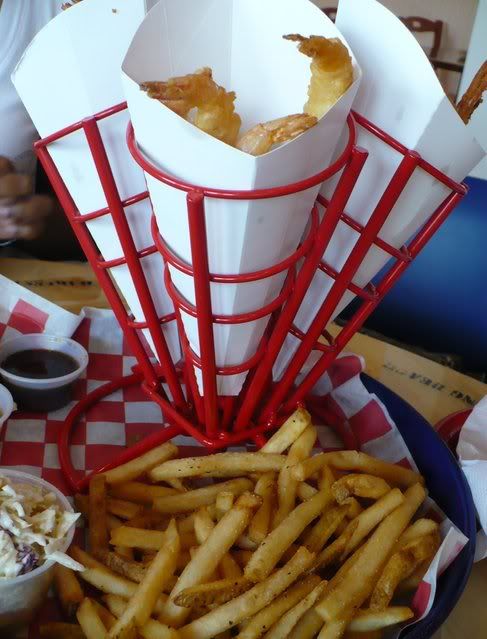 Shrimper's Heaven
...I was too stuffed to stand up and take an aerial view picture of the contents of the cones, but basically, it was tempura prawns, coconut prawns, chilly (as in brrrr, I'm chilly) prawns, likewise with a variety of sauces. By this time, we were getting a bit prawned out. I was beginning to feel like an overweight blue whale, who had just overdosed on krill.
.........which was a pity, coz this dish,
Salmon & Veggie Skillet
, with jasmine rice, was rather delicious. The rice is fragrant and fluffy, and the taste overall very palatable.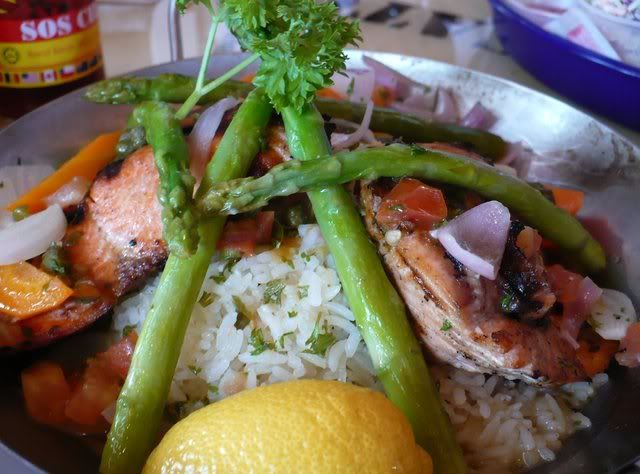 By this time, understandably, my waist had increased by a full inch. When Rizal asked if we wanted desserts, Vanitha chirped, "just one small one"...which we found out doesn't exist in American vocab. It's like "TEH TARIK KURANG MANIS"....an order in futility.
The
chocolate chip cookie sundae
was good. A large chocolate chip cookie at the base of the pan, smothered with vanilla ice cream and whipped cream. I felt for this quality of dessert, they should have also increased the quality of the ice cream, and not use our generic ice cream. But that's me, always feel that if we're going to ingest calories, they should be quality calories.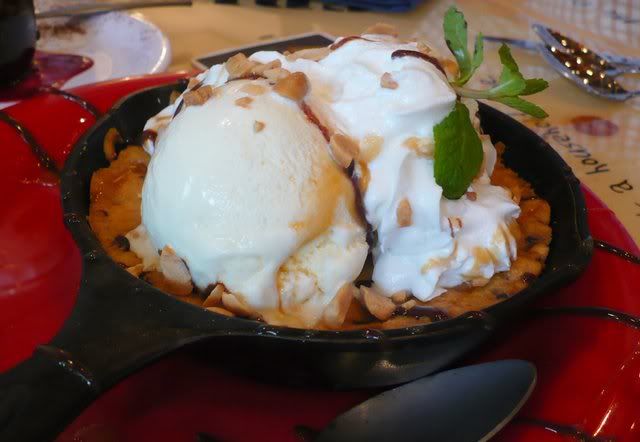 Finally, the flourless chocolate cake with ice cream. The cake was lovely and moist, and very chocolatey, (they use good quality, Calibut). By this time, I was like Mt Vesuvius waiting to erupt.... could barely waddle out of the place.


We ended the session with a tour round the very well equipped and well laid out kitchen. A special thanks to Vanitha and Asha from Holiday Magazine for organising this, and to Rizal, the manager of the place. Great food, great company. And alcohol at midday....perfect.


Forrest's famous bench.