I have always prided myself on almost never falling sick. Even after my trans Malaysian Qing Ming tour, where we suffered the effects of Yeet Hei (Heatiness, equivalent to consuming 20 durians), I fought off the impending cough by pumping myself with liberal doses of vitamin C, fruit juices, ( a healthy cocktail of carrot, celery, bitter gourd, orange juice, every morning, freshly made in juicer) and looked like I was about to emerge victorious. Meanwhile the nefarious army of germs were regrouping, like the orcs of Sauron, as I basked in my temporal victory, and even made a pavlova to celebrate.

This was on the Tuesday night. I even went to the gym, for Body Combat. The family ooh-ed and ah-ed, (the adults only, the kids looked at the fruit and went, EUGHHHHHHHHHHHHHH), when I brought this out for dessert. I am confident in saying that since making the one for Lemongrass, I am now confident I have mastered the art in making a decent Pavlova nest, crispy and crunchy on the outside, soft and tender on the inside, almost marshmallowy, but lighter. Initially the stars did not seem aligned for this dessert to happen. Blueberries had shot up in price, nearly doubling (to RM22 a punnet) since two weeks ago, (and people complain about 20 sen in hike per kg for noodles), organic passionfruit was nowhere to be found, leaving the option of those expensive shrivelled types, which cost RM6 each, ..... and the base of the meringue nest broke.

But good deeds beget good karma, and as I trotted to Bangsar Village again, later in the afternoon, to check for Lemongrass if they sold bulgur, (for tabouli), I found the passionfruit I was looking for, and the stars looked aligned again.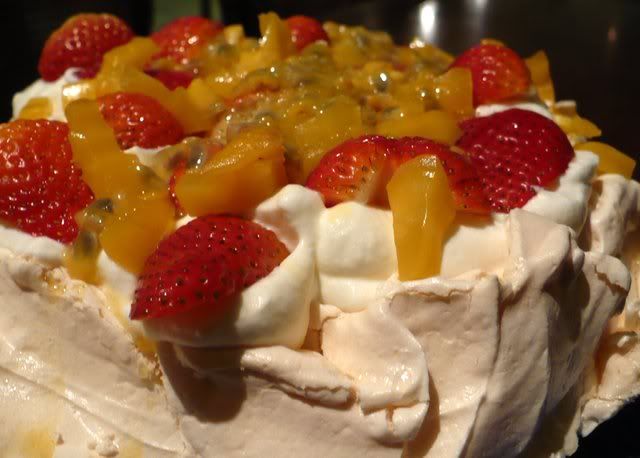 So, after a hearty family dinner, a good workout, glorious dessert, I plonked myself in front of the TV, relegating the parental duties of homework assistance, reading to the kids etc, to their mother, who does it so much better. Also, I feel, the father participation should be occasional, so as to make it "special", and not taken for granted. Ya wat, it's like Unkaleong who always jual mahal for invites, so when he DOES show up, people think its a big deal.
I digress. As I was in this happy state of affairs, little did I know that this little army of cretinous bacteria were regrouping, and at about 10pm, launched their attack. Charrrrrrrrrge, I coulda sworn I heard them say.
Suddenly clutching my heart.... okay, maybe not that dramatic, suddenly, that Grease Song ran through my mind...

I got chills.
They're multiplyin'.
And I'm losin' control.
'Cause the power
you're suplyin',
it's electrifyin'!
Badabush, it hit the way the opposition hit the National Front on March the 8th. I started shivering, and thought I had been teleported to a winter in Siberia. It's a horrible feeling.
By midnight, my temperature had risen to 39.5C, and I administered some panadol, ....it was dark, they could have been the ones for menstruation for all I know....
The next morning, visit to the doctor. Antibiotics. Continued sleeping. Total hours in bed = THIRTY SIX. Gosh, I never knew I was capable of that much sleep!!!!! Did Lemongrass, whom I chat with REGULARLY on MSN even bother to sms to find out why I was unannouncedly missing in action for that entire duration? NOOOOOOOOOOOOO.
By Thursday evening, I was returning to some semblance of normality, and as I hadn't eaten for the last 36 hours, I suddenly felt a craving for THIS: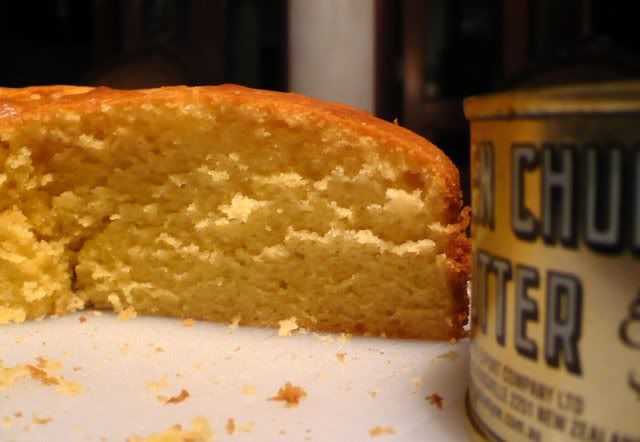 BUTTERCAKE!!! Bizarre, don't ask me WHY!!!! I just had to have cake. And nothing the the aroma of golden churn wafting through the oven to make me feel that I was alive again....the sun was breaking through the dark clouds of Mordor, as the orcs were slaughtered by the forces of Good.

I have to say, the buttercake, with Golden Churn, was absolutely yummy. The others in the household, deprived of my delightful company for the last 2 days, delightedly chomped up the cake, which was finished in no time. (it did last a day la).


Friday, I was about 80% there, and so, for bible study, as an offering of thanksgiving.... I decided to swamp by cell group with food, spiritual and physical. Have always wanted to try this recipe from the Golden Chocolate Book, ORANGE CHOCOLATE SQUARES.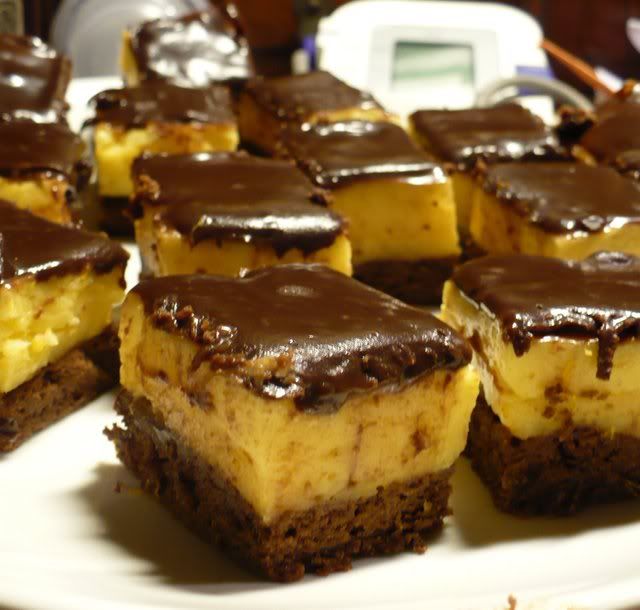 It's only today that I realised there's a blood pressure monitor in the background. Anyway, to cut a long story short, PTOOOOOOOOOOOOOI, its a horrible recipe. Okay, granted I didn't follow it to a T, but in fact, the original recipe would have been even WORSE, I reckon!!!

So, to really potong steam, DON'T EVEN BOTHER trying it. It ranks right up there with Lemongrass's baking disasters of late. At least her mitosised choc chip cookies tasted okay. These look okay, but taste horrid. HORRIBLE. The son took one bite and spat it out. The adults were a bit more polite, and said, "not that bad la". (which is the Adult equivalent of going "Ptoooi")



But the saving grace were these babies. My favourite, Pigs in Blanket. Seeing as to how I had spent a lot of hours curled up in a blanked recently, it was a dish after my own heart.




The name is inspired by Nigella Lawson, but I didn't follow her recipe this time. Instead, I used a cream cheese based pastry, (usually for Rugelach or cream cheese spirals), which is lovely, light and aromatic. See, I do feed them well. (my cell group).

Anyway, I think I'm almost fully recovered, except for this slight cough I cant seem to shake off.