Those of you old enough to remember, I did blog once about
this
. Alas, at that time, no one got it. Further enquiry revealed that 90% of the females I asked had NO idea what pi r square(d) meant, and about 50% of the guys had forgotten the area of a circle. Which begs the question, why are parents so obsessed about children's education, when by the time they are in their 30s, they would have forgotten 80% of whatever they learnt in school.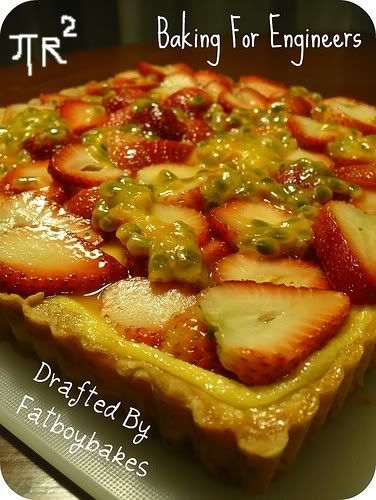 Anyway, I have always thought that when I do write a cookbook, the cover would be something like the above. Of course, it would be doomed to fail, since few would get the pun.



I still had one organic passion fruit leftover from Lemongrass's pavlova, (that's ORGANIC, in case some of you read too fast) so I decided to serve it to my cell group on Friday. Alas, one can't just serve one miserable passion fruit. So I decided to use my virgin Square Pie Tin which I bought from

Pantry Magic

ages ago. (a year, I think). I couldn't decide what to make, and since I was running out of time, at 8pm on Friday I decided to make a strawberry tart, as I had some leftover strawberries as well.





Didn't bother following any recipe this time, just made the usual tart casing, and a custard filling.



I altered the pastry recipe because recently I find that an addition of instant custard powder makes the pastry nicer.

Pastry:
1 ½ cups flour
½ cup instant custard powder
120gm butter
3 tablespoons sugar
2 tablespoon ice water

Either rub in the butter into the dry ingredients, and when resembles bread crumbs, add in the water. Or use a food processor and zzzzzzing the dry stuff and butter, and add the water.

Refrigerate 30 minutes or so. I was in a hurry, meeting a 9pm deadline, so I took it out after 20 minutes. Roll out and line tart tin, whatever the shape. (Recipe enough for 9" round pie tin). Prick holes with fork, and bake blind at 180C for 25 minutes.

Meanwhile, make custard filling:

4 eggs
2 cups cream
1/2 cup sugar
1 teaspoon vanilla extract

Heat the cream until almost to the boil.
Whisk the eggs with sugar, add vanilla
Pour the hot cream onto the egg mixture
Place back on saucepan and slowly boil till mixture thickens.

When tart case is ready, pour filling into tart case and bake at 140C for a further 20 minutes or so, until set.

Once ready, let cool a bit, and use whatever fruits you want. Glaze with an apricot glaze.
(some apricot jam with a little water, boiled, and strained....use the strained mixture to give it that glaze)

I guess you can also prepare overnight and serve cold.