Further to
her baking adventure
, we had this precious little conversation on MSN a couple of days back.
(Please excuse her abhorrent lack of punctuation....women seem to think that periods only means one thing)
LL:
i feel like baking somemore what else can i bake from ur blog ar?
FBB:
the mint choc squares? hmmmm i used to love this orange mocha choc brownie
LL:
i don't need a cake mixer, do i? remember, mine's broken hahaha
FBB:
http://fatboyrecipes.blogspot.com/2005/12/orange-mocha-brownies-dedicated-to.html
nope, dont need a cake mixer
LL:
who's rachel tsan?
FBB:
friend la
LL:
so sweet lar u how come u never dedicate a cake to me????
So, may I dedicate this recipe in honor of dear Angelic Lyrical Lemongrass. It's not a cake, but baby steps, ya, baby steps.
It's virtually failproof. But you do need a food processor to simplify things, since your cake mixer is like John Lennon, ie, dead.
Plain Chocolate Chip Cookies
140gm butter
80gm brown sugar
1 egg
1 tspn vanilla essence (or extract. Yippee, McCormick brand is now available at RM20 plus at certain supermarkets)
150gm flour + ½ teaspoon baking soda
150gm chocolate chips
Blitz (Lemongrass, that means put in food processor, and press the ON button) the butter and sugar until creamy.
Pulse (that means use the pulse button, which gives spasmodic pulses) in the egg and the vanilla.
Pulse (same pulse) in the sifted flour and baking soda.
Your dough should resemble a nice cohesive cookie dough.
Finally, pulse in, or stir in the chocolate chip. Using a rounded tablespoon, spoon gobs of the dough onto a baking sheet. Bake in 180C oven for 12 minutes.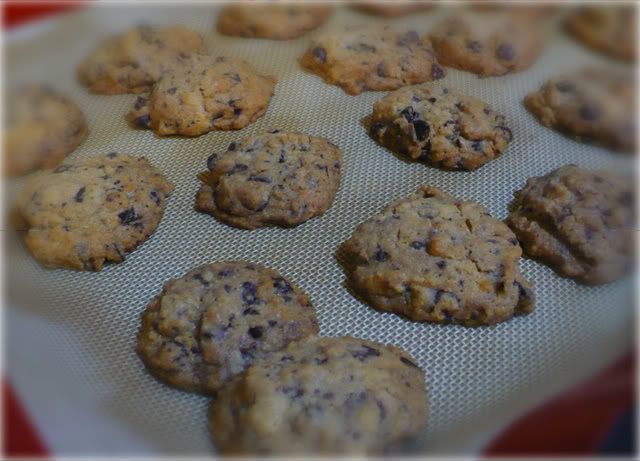 That there is a siltpat silicone mat....do not simply put any old rubber mat in the oven, as it will melt. This is SILICONE ya, the same stuff that is used for breast implants.
After letting the cookies cool on the baking tray, use a spatula or palette knife, and transfer them onto a cooling rack. Again, its one of those miracles of nature, how the freshly baked hot soft cookie eventually hardens as it cools.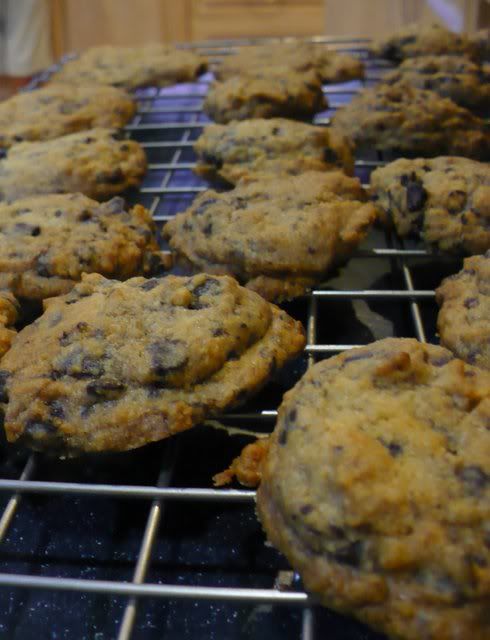 Finally, when cool, you can do what my oldest son does. Pours himself a glass of milk, and sits on the verandah and watches the sunset as he has his cookies and milk.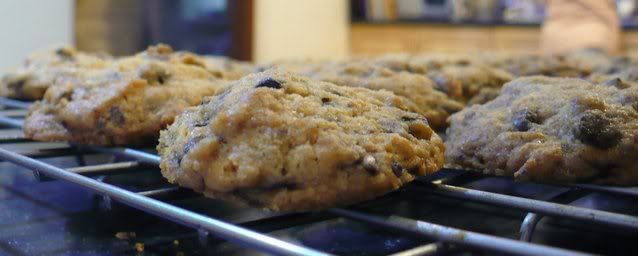 Dedicated just for you, Lyrical Lemongrass, so that your adoring fans can read of yet another baking adventure.