I remember the conversation as if it were yesterday. You see, I have always had this "tradition" of bringing a kid with me to the coffee shop for breakfast on Friday mornings. First, it was dotter no 1, until she went to kindy. Then it was boy no 1, (kid no 2), who used to lift his bowl of half boil egg and go "cheers". Then he went of to kindy. Then it was boy no 2, (kid no 3), the chubby little lad, who whacked adult portions... and I really felt the "pinch" knowing that the following year, (2006), when baby boy went to kindy, I'll have no more coffee shop babies left. ...that is until one morning, when wife told me, "looks like you'll have your coffee shop baby afterall".
9 months later, baby girl was born, and a few weeks ago, she turned TWO. (years). Where have the years gone? I still feel sprightly as a spring chicken on heat, and can stay up late at parties and dinners, (except when I'm pumped on antibiotics), .... I don't look a day older from the day girl no 1 was born... I just look 10 years older, granted, ... but as that charming song says, "Fairtytales, can come true, it can happen to you, when you're young at heart".....
Of all my kids, she is the most "shy", and doesn't take to strangers (as in strangers to her, but friends to me) unlike the first 3, who chat with you like they've known you all their lives. (which of course, is true in the case of some of my friends). However, she is a feisty little one, and certainly demands her fair share of attention.
For her birthday, after a maniacal month of March which had the birthdays of my MIL, my dad and son #1, we thought we'd have a quite dinner at home with the extended family of uncles and aunts, cousins and grandparents.
Steamed pomfret chinese style, with lots of ginger and shallots. Very fresh. I think pomfret is my favourite fish, all types, white, black, tou tai, and gold. And cooked all ways, steamed, deep fried, assam.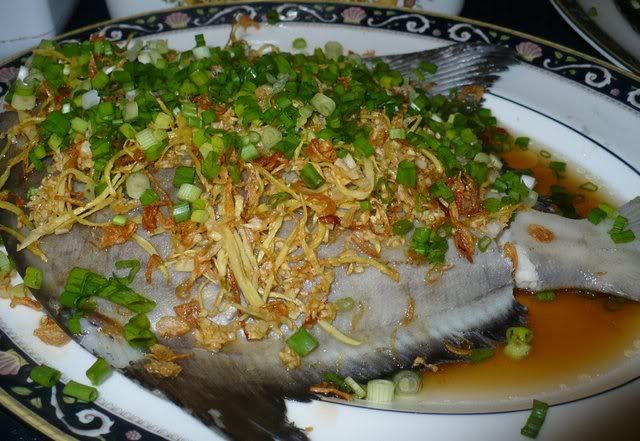 Our own version of KFC, which of course, in my opinion, tastes far better. Is it my imagination, or has KFC (chicken rice and their models aside) deteriorated over the years? The chicken to me taste manufactured.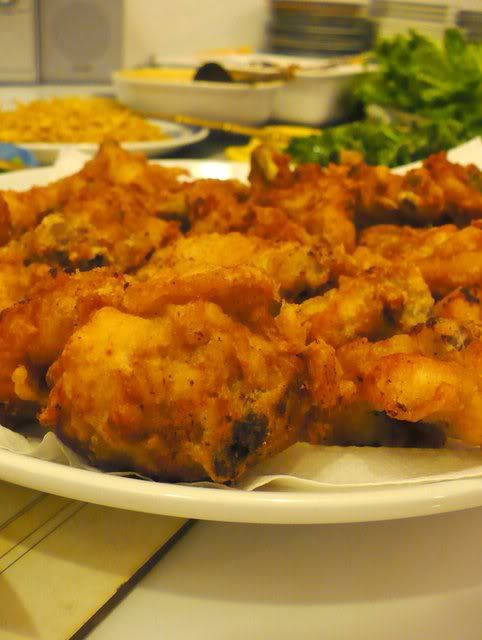 The usual fare of the crispy skin siu yoke from the Village Grocer. We used to be die hard Mr Ho's roast pork fans, and it IS probably still very good, it's just that the Village Grocer, being within walking distance from my office, is a more convenient location.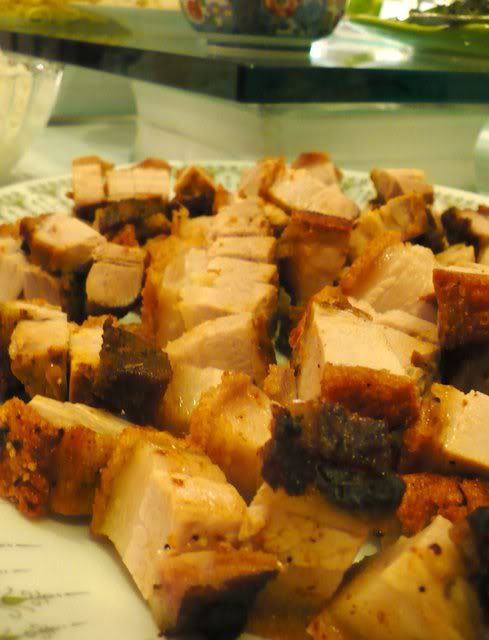 A new discovery, that one of the family cooks, from my sister's household, can make lor mai kai. I recall Precious Pea had also made these in bulk before. Anyway, this homemade glutinous rice thingie was superb. Lots of quality ingredients, such as premium chinese sausage, mushroom, etc. I must learn this dish and procreate it in future dinners.



Our signature home made Lam Mee. A gorgeous pork broth, with noodles, water convulvulus, (kangkong), bean sprouts, and big prawns. With the sambal belacan, this dish sometimes form a staple for dinner.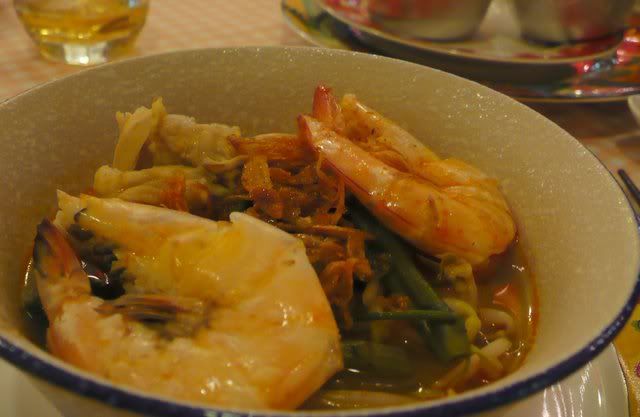 There was other stuff too, which I forgot to shoot, like the Ju Hu Char, (Lettuce Wrapped With Some turnip filling), curry chicken, etc.

And finally, the burfday cake. It was a durian sponge cake.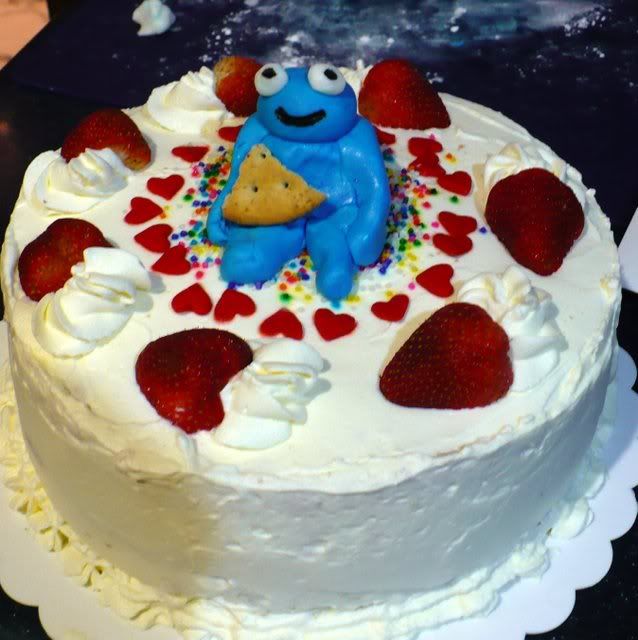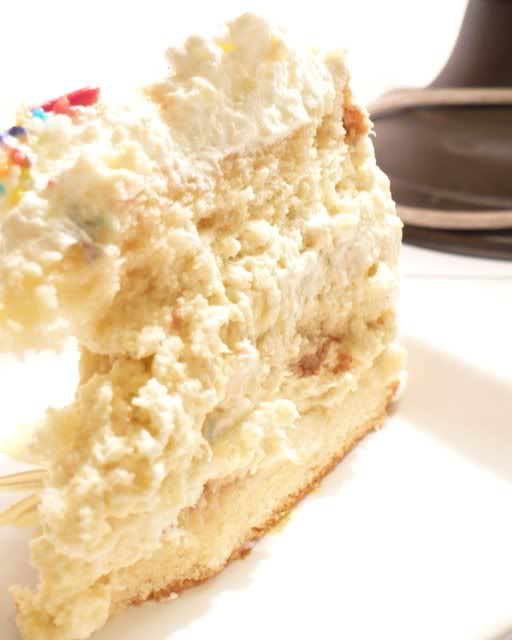 I think the durian filling wasn't overpowering enough. I like my durians STRONG, whether they be in cake, or otherwise. I don't see how to make this commercially viable, as there was already 400gms of pure durian flesh in there, and still tasted a bit weak to me.

I wonder if 20 years from now, I'll be blogging about my kids' weddings.