Walking from MVM to the Gardens is like going from one world to another....that passageway is a porthole of sorts. Exclusive as the Gardens may be, if I were a retailer, I'd much rather be in the world that MVM is in, ie, lots of human traffic, etc. You see, I'm not a very exclusive person. Don't believe in branded stuff, and all that hoitty toitty-ness. The Gardens generally repel me the way Shelltox repels a cockroach, or the way cake repels an anorexic supermodel.... and ordinarily, I would not bother venturing through its hallowed halls. It's a bit like Bangsar Village II, which doesn't interest me in the least. I merely use it as an aircond walkway to get to the old wing of Bangsar Village, where I frequent the Village Grocer.
It was one of those RARE saturdays when I had nothing on the diary. So much so, had planned a pok kuat session for later that night, (dead gin...I still need players, hallo, anyone out there). Then inlaws called to say they were at the Gardens, so we decided to join them for dinner. My inlaws love Penang, and visit a couple of times a year, so they have a pretty good preconception what Penang food should be.
To be honest, (bracing oneself for the onslaught), I find Penang hawker food overrated. That chendol in that alley, that supposedly famous Cha Kueh Teow, ..... it's good la, but really, I'm sure if you look hard enough, there's are other fare, probably in KL even, that's just as good, if not better.
I've been meaning to try the Delights of Gurney Drive, on the 3rd floor of the Gardens, a glorified but comfortable food court of sorts, offering a dizzying array of delights from Penang. So I was quite pleased to finally have the chance to dine here.
The orr chien, aka known as Cholesterol Platter Deluxe, was quite good. Egg, and oyster. Two of God's most wonderful culinary creations. Well, the oyster portions were generous, and rather plump. I'm not sure where the golden standard is in Penang, but for what it was worth, it tasted rather good. Then again, how wrong can you go, with oyster and egg. It's like botching up bread and butter.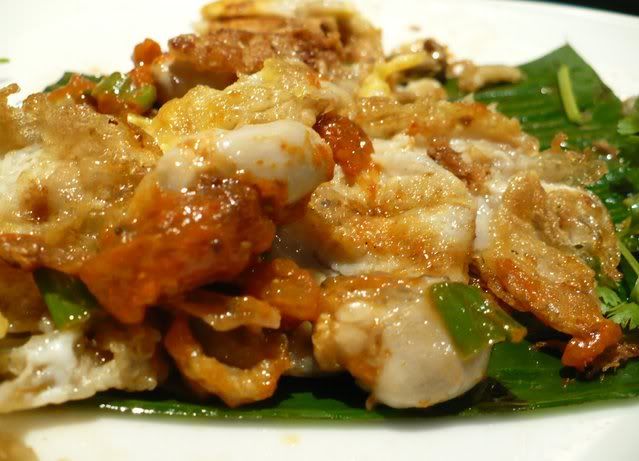 I felt like something soupy, so I went for Cholesterol Bowl Deluxe, which was Pork Intestine and Other Spare Parts, in soup with meehoon. Flavoursome, and did not taste terribly unhealthy. In fact, the clear soup was rather devoid of excess floating fat, which was good. The meehoon texture was great, I like this kind of meehoon. Very fine, and aromatic. Yet, not overcooked. I hate soft mushy meehoon....

The supposedly famous chendol. Gone are the days of the 20 sen a bowl, from the mamak who uses that ice shaving bench, in his knee length sarong. My mother never ate mamak chendol again after she saw her usual chendol vendor pop over to the nearest tree to wee wee, and came back and nonchalantly continued shaving the ice....this is a true case of IGNORANCE IS BLISS. I remember in St John's, the chendol man used to be in front of the AIA building. 15 sen a bowl. 20 sen for some addition. [mind floating on a cloud to nostalgia land....dreamy, glazy look in eyes].

So yeah, whatsit now? RM4.50 a bowl? This particular one was la, at any rate. Argh, just talking about chendol has given me cravings. [Pops head out the window to see if pasembor van is around] I notice these fancy smancy coffee shop cendols have santan thick enough for you to stand your spoon in... (hor, can see in the background ya, the standing spoon). The caramelly gula melaka is usually very fragrant, and viscous. Incidentally, I hate those red kidney beans. And I hate places that serve ABC with that instead of our traditional red beans. DEATH TO THE KIDNEY BEAN! Bring back the azuki, I say.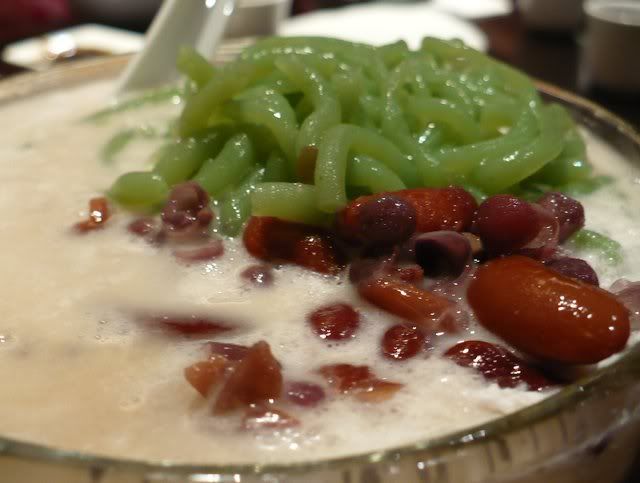 MIL's assam laksa was a disappointment, and she wasn't the first to say so. Pretty sad when Penang Laksa isnt up to scratch at a Penang food establishment. No pictorial evidence as I was tucking away happily into my intestines. (not MY intestines, but those in my soup)

The acid test that is to become the mother of all benchmarks, Penang Char Kueh Teow. Checklist. Chinese sausage, check, kerang, check, prawns, check, taugeh, check, kueh teow, check, egg, check, age old residue of gunk from 50 year old wok, NO CHECK. Aitelyu, that is why all these high class places cant replicate hawker food in its full glory. The armpit sweat, the years of tempering with the wok, the saliva, ...... the absence of all these condiments ensure that hawker food in fancy places are never the same.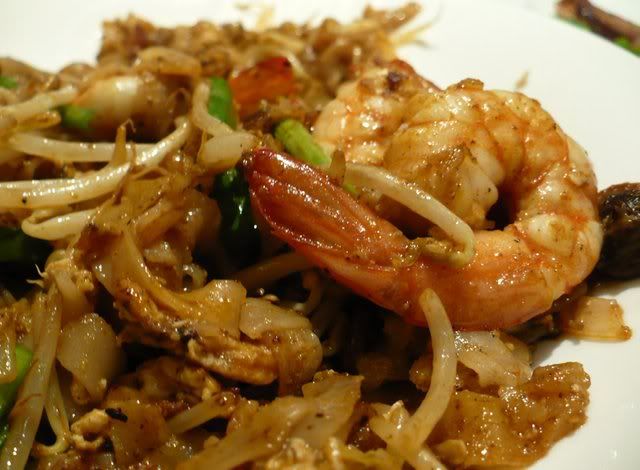 But the taste is okay. Not bad. I wouldn't really complain.

The good news is, for most dishes in Gurney Drive, they've now come up with two sizes, large, and not large. And its a large differential. Eg, my intestines, is about RM12 for large, and RM8 for not large. For RM4 more, I'm wondering if its more meehoon, or intestines, or soup.

But things like CKT, only one size.

Well, do check it out, it's not too bad.