Now, far be it for me to solicit an invitation to any function, but sometimes, all dignity is thrown to wind, (much like our politicians), and we stoop to levels so low, it would need a ladder to reach a snake's belly. I can think of several scenarios, when I would stoop to shamelessly solicit an invite.... a chance to meet my goddess, Nigella Lawson, perhaps the chance to meet Martha Stewart, MAYBE Gordon Ramsay, probably Nipple Joe's wedding, ..... and most recently, the chance to meet Laura Calder of AFC's French Cooking At Home. To be honest, I stumbled across her quite by accident.

I had my astromax set to record Anna Olson's SUGAR series, on Fridays 9-9.30pm, and unbeknownst to me, that ended, and was replaced with Laura. I remember vividly her first episode, which was making choux pastry, a subject close to my own heart. I honestly thought she was based in France. The opening clip with the French ditty in the background, and her cycling through the meadows, which I assumed was part of greater Gaul, all led me to believe French cooking at home was shot in France. Apparently not.

Anyway, so, when I first heard she was coming to town (my bro in law works for BMW, so I knew a few months ago they were thinking of bringing her in), I shamelessly told him, "PLEASE PLEASE PLEASE INVITE ME". Alas, since I do not possess one of those exorbitantly priced automobiles, I did not really qualify. So, the next best thing was to turn to the Goddesses of the Food Blogging Realm, Boolicious and Thamby.

Boo magnanimously shook her head, the way a goddess heavy heartedly rejects the requests of the tribal chiefs to send rain, because the tribe had been EVIL, kinda way, and said, "alas, my child, tis not within my powers to grant unto thee thy wish"

... leaving the other goddess... who one day said, "soo, you want to see Laura Calder eh? HOW BADLY do you want it?".... All decorum and composure flew out the window as I wailed, PLEEEEEZEEEEE, YOU GOTTTA LET ME COME, PLEEEEEEEEEEEZE, I BEG YOUUUUU, I'LL DO SUTTEE FOR YOU.... I'LL THROW MYSELF IN THE FLAMES.... JUST GIVE ME THE DARN SEAT OKAY!

Despite appearing evil, She is actually quite kind, and after much grovelling, she acquiesed, and YAY, my ticket to Laura was secured. Thanks to AWhiffofLemongrass and Alice George PR Company, and Guldip, bless her.

So, joining the rakyat, I hop onto the KL Monorail, happy as a lark, as I make my way to Berjaya Times Square, to the Berjaya Tastings on the 14th, the venue for the event. Familiar faces are there, ...Aly of RedFM, my favourite DJ, my dear Boolicious, Hooi Khaw, Mrs Frat Mustard, and Superwilson.

They announce her arrival.....I think EVERYONE'S first thought was, WOW, SHE IS TALL!!!! I felt like returning to the Shire, to my hobbit hole the minute she walked in. Almost regal. And oh so very charming. And stunningly photogenic.


She starts off with the apple cream tart. I noticed most TV chefs start off with dessert. She made it look simpler than cooking instant noodles. Rub flour and butter, line pan, whisk cream and cream cheese, fill pan, line with pre cut apples, sprinkle almonds, and pop into oven. Of course, these professional chefs have the ready made product, as everything is fast forwarded in real life, and tah dah, the finished product.



The finished apple cream tart...picture perfect.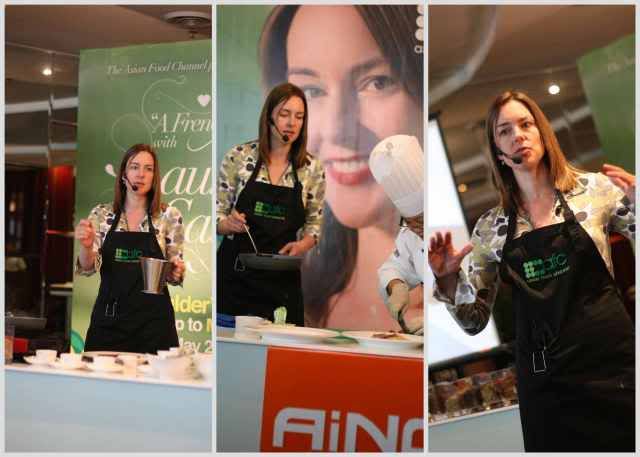 Then she cooks the Asparagus served with orange sauce and shallots. Blanched asparagus, punctuated with witty repartee and culinary tales that enraptured the audience, a zested orange, and a revelation that her fridge is full of bald oranges, that have been shaved, a bit of waffle here and there, and presto, we have our appetizers....



Asparagus, in individual servings, for guests to taste. Was this really cooked by her? Well, we wouldn't know would we.



This, we know for a fact, IS cooked by her but we don't get to try it, as its for display.



"in my country, we call this a baseball bat".. she proceeds to prepare the Steak Au Poivre with Potato Gratin...well, it wasn't quite potato gratin, but more like potato cake. All this was done in less than 10 minutes, I reckon, which really goes to show, cooking can be really quite simple.



This is what we get to try......



And this is what is cooked and plated by Ms Calder herself.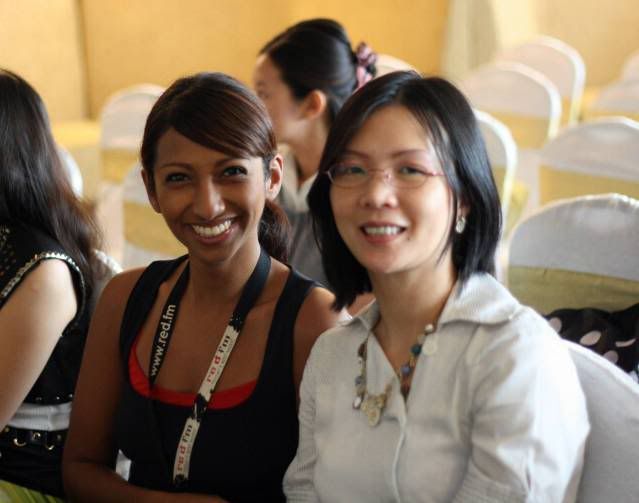 Mrs Fratmustard and Alison Victor of Red FM. Read her story here. She has correctly titled her post A FRENCH AFFAIR WITH LAURA CALDER, which is the proper name for the event.



Superwilson. Don't you just want to pinch those smiley cheeks. (on the face I mean)



Hooi Khaw and friend.

Finally after a Q&A session, where I found out the cycling scene in the beginning credits, was filmed in Nova Scotia, not Bordeaux, she fields our questions with the diplomacy of a politician.


So there we have it, I have finally seen Miss Laura Calder live. Thanks to Thamby and Alice George PR.....


And it may seem ridiculous at MY age, but hey, I simply HAD to get her autograph.....




I slept well that night......