Mid 1990s
Back in the mid-90s, a place opened in Manjalara, called CHEF KEN. I have fond memories of the place, having had many a dinner there, at very reasonable prices. I recall aglio olios for RM12, or so, fresh mushroom soups below RM10. Ah, good times. Then, it was said that Chef Ken himself sold the place, packed up and left for Australia.
Fast Forward...Present Day
Many years have gone by. In the days I was going to Chef Ken, my fellow diners at tonight's dinner were still in Primary School, and it would have been socially incorrect to have been mingling with them. I might even have been thrown in jail.
Last week, I got an invite from Jessica, the lovely proprietress of Silver Spoon Trattoria (it's an informal restaurant, where you can wear slippers and casuals.... (Nipple Joe and I both were)), to sample the food there. At that point in time, I could not make it, and heavy heartedly declined the invite. Yesterday, I found out my original plans had been scrapped, so I was free. Unkaleong, through our daily MSN chats, asked me if I was going, and I told him the whole sob story about how I had declined, and surely it would be wrong to approach Jessica and say, OH, I CAN MAKE IT NOW. BUT, as luck would have it, Unka pointed out to me that Nipple Joe had tweeted that he was looking for a date for this event. Shamelessly I text him, and offered to be his man-date.
The whole Manjalara-Kepong landscape has changed so vastly, with buildings sprouting faster than the government gives out campaign promises. Nevertheless, with my in built GPS, (in my head), I navigated my way without problem to Wisma Manjalara, with is at the crossroads ..almost, of Jln Burung Hantu and Jln Taman Bukit Maluri. The place is quite noticeable, and Silver Spoon is located above the bank....(Ambank)... which metaphorically is quite accurate. I mean, you need a Bank to have a Silver Spoon.
I was one of the last to arrive. Always amazes me how punctual food bloggers are for food tasting. Malaysians in general are not known for that trait. In the course of the conversation, I mentioned my regular visits to Chef Ken, not expecting anyone on that table to have heard of the place, when it turns out that CHEF KEN IS THE CHEF of Silver Spoon! Fancy that!!!
The crowd was a rather interesting one. Lots of people I had not met before, like Blushberry, (special para for her at the end of post) Myhorng (Too slim to be a food blogger), Shaolintiger (Is it possible to sound more Malaysian than him?), Kimberly (I have to get a pair of her Chicken Little Spectacles) and Skyburial (who has more art on him that the Sistine Chapel ceiling). I felt like I was in a Marvel comic. The usual suspects were The Nomad Gourmand, Mr Nomad Gourmand, Nipple and Mrs Nipple Joe, and the famous KY Speaks.
To start off, we had the Feta & Olive Foccacia.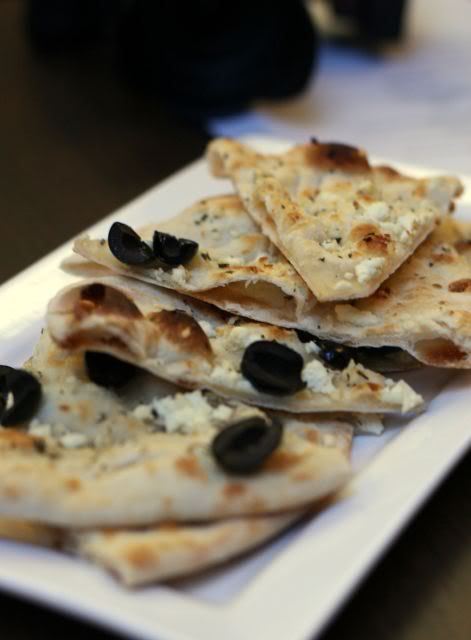 The bread was nice, crispy almost. But at this point, looking at the extensive menu ahead of us, I thought I should refrain from filling up on bread. Plus the beer I was having, bread would probably expand like a pufferfish on heat.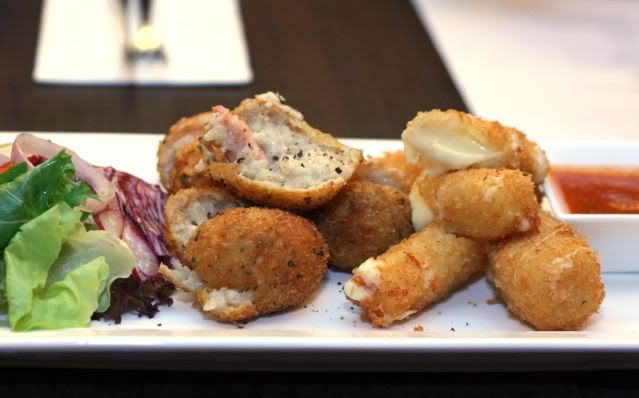 Mozarella Sticks and Arrancini, which are smoked salmon Italian riceballs stuffed with brie. I loved the mozarella sticks. Creamy yet chewy strings of goodness, it was like eating a Goreng Pisang without the pisang, but with cheese instead.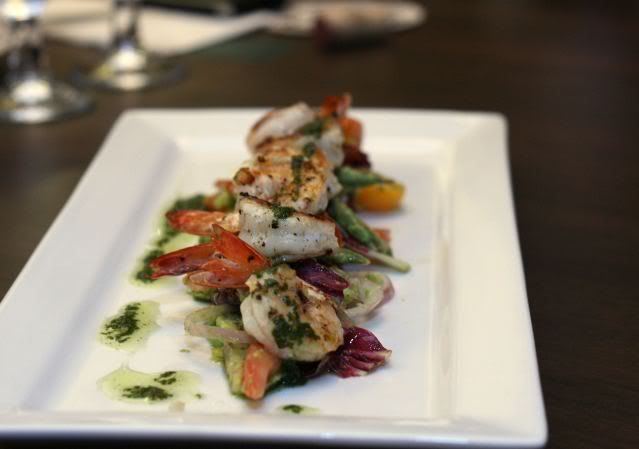 Prawn & Avocado Stack, chargrilled garlic pranwns on avocado and stuff. The prawn I had was fresh and crunchy, but like most Malaysian prawns, somehow lacked flavour. The condiments surrounding it helped to enhance the entire dish.



Stuffed Portobello mushrooms. One of my favourite dishes for the night. Mushrooms were cooked just right, and the toppings not overpowering so much as to drown the natural taste of the portobellos.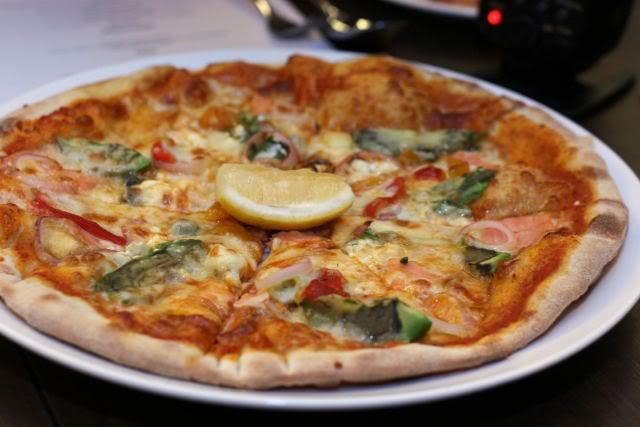 Smoked Salmon Pizza, dough made from scratch, according the manager, Kelvin, and using fresh yeast. I'm not sure what exactly that was supposed to mean, (the stress on the fresh yeast), but the crust was delightfully crispy, and thin enough so as not to fill you with dough. Again, when the menu is extensive, one has to avoid any unnecessary intake of carbo, that would deprive you from other goodies later on.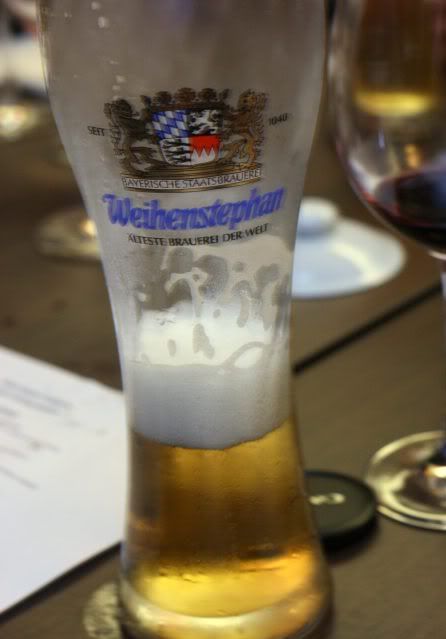 There was lots of this unpronounceable foreign beer circulating around, thanks to the generosity of our hostess. There is supposed to be banana flavour, which I can't taste. Call me a pleb, but I prefer our cheap local Tiger beer than these fancy smancy beers. It's too gourmet for me.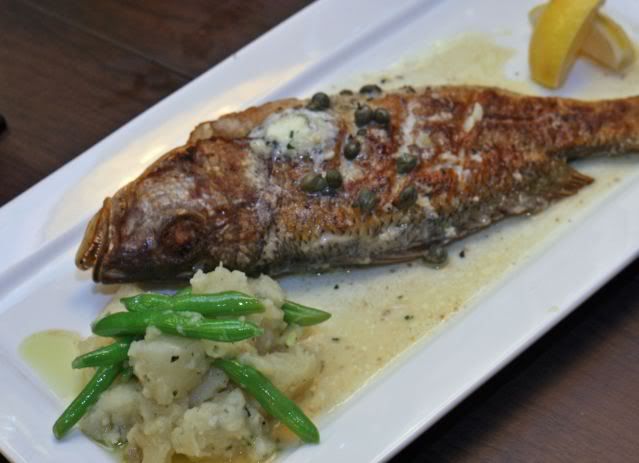 Grilled Baby Snapper. I guess it's better to call it baby snapper than suckling snapper (as in suckling pig)... well, fish is fish....and taking fish pictures is always so difficult, coz if they're alive, they don't stay still to pose for you, and if they're dead, they look so ..... dead.
The fish was fresh, and cooked just right. Not over, or under done.



KY demonstrating to Skyburial how to properly cut and serve a dead fish.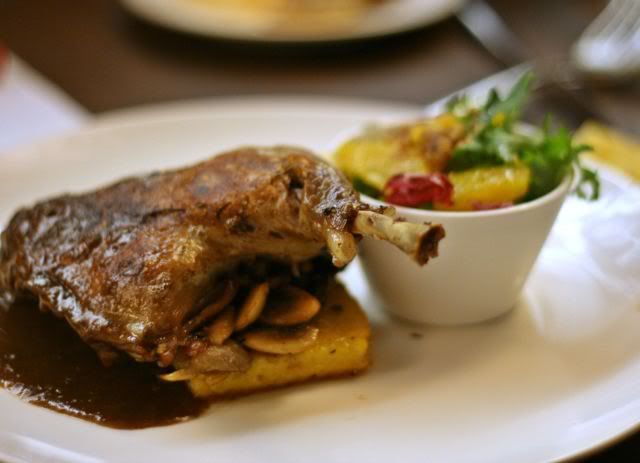 The dish that Myhorng was waiting for, the Duck Confit. I hope he was satisfied. I loved the taste, but found the meat a bit dry. At least the bit I had was, coz SOMEONE had swiped all the skin. Chis. Incidentally, I love duck confit, so I will be attending the HTC Class this Saturday titled Duck A-Z. I hope its not a quack class.



Marinara... very good. Pasta just right, for me, not TOO aldente, and not soft. And I loved the tomatoey sauce, which was the perfect marriage with all that seafood. It is a huge portion though, I thought. I'd order this again for sure.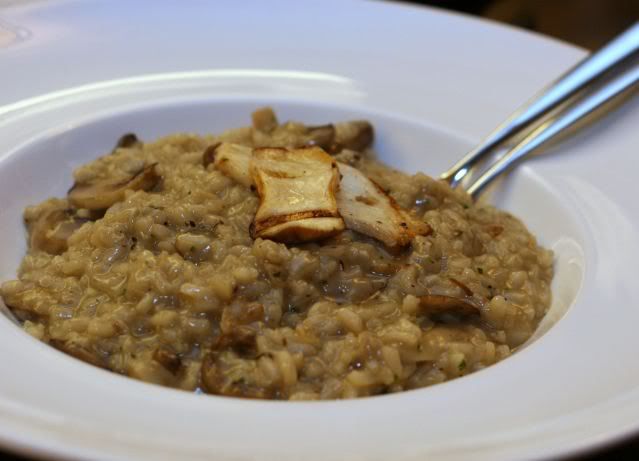 Wild Mushroom Risotto. Risotto must be to the Italians what congee is to chinks. Some like it grainy, some like it soft.... this particular version I heard Mrs Nipple Joe exclaim was great, coz she doesn't like aldente... I myself, not a risotto fan, but found it palatable because of the lovely mushroomy flavours.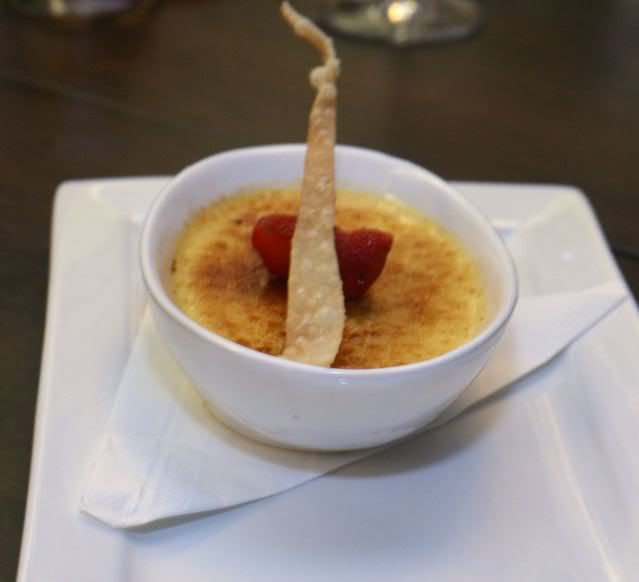 Dessert. There's always room for dessert. The creme brulee was nice and smooth. I would've preferred it if they had used fresh vanilla bean.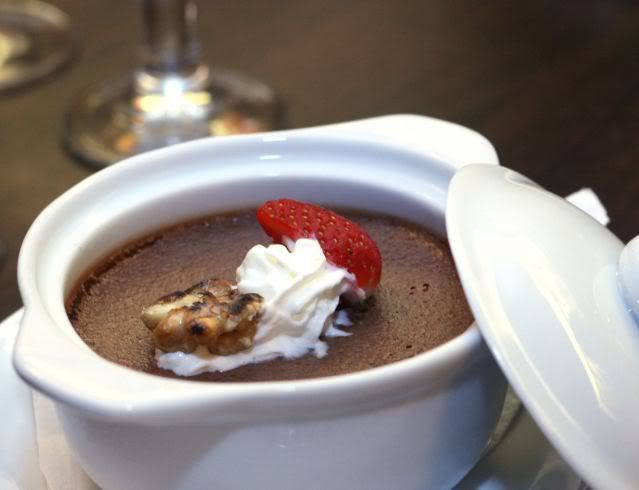 The chocolate pot was nice. Heavier than a mousse, but lighter than clogging cream.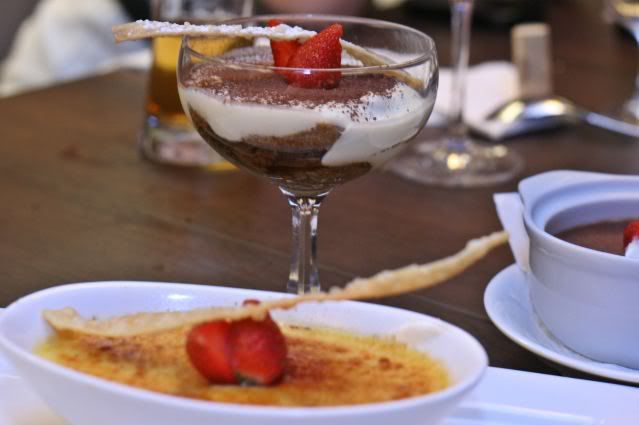 The signature tiramisu, sufficiently doused in alcohol. Not sure if the chef was under special instructions to do so, but hey, one can never have too much alcohol, in dessert.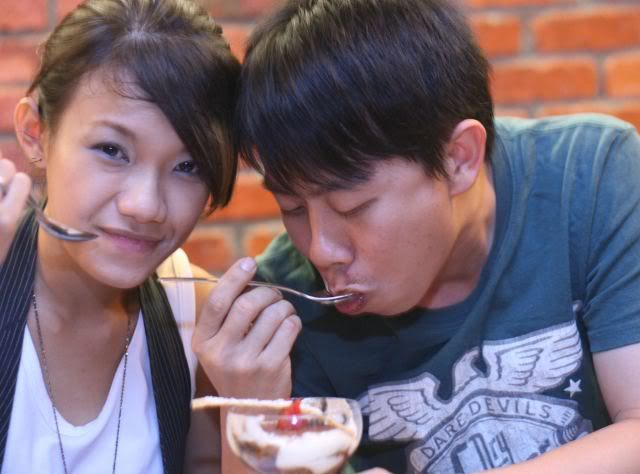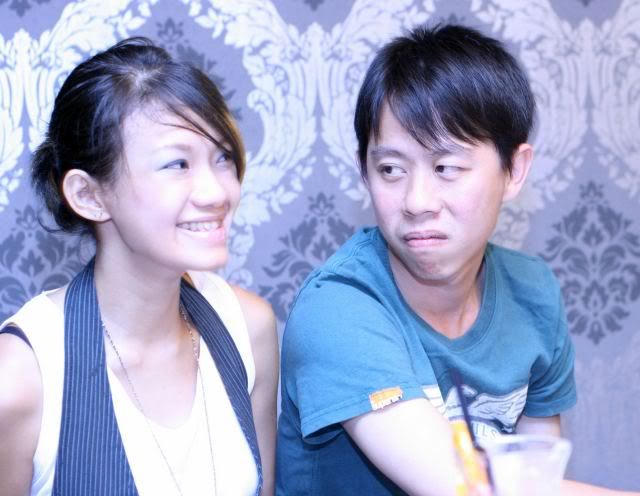 I LOVE KY's expressions in photographs. That's why I voted 5 Chillies for him on his Hunks and Babes (I can't find the link now) post.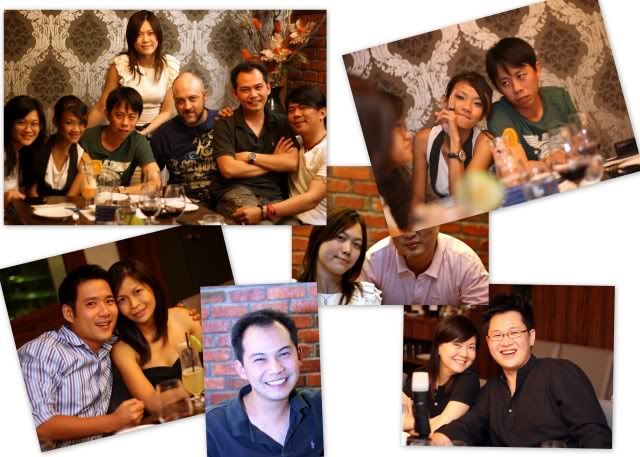 Silver Spoon has a lovely interior, tastefully decorated, and a lovely private dining room for a table of 15 or so. That there is the famous Chef Ken.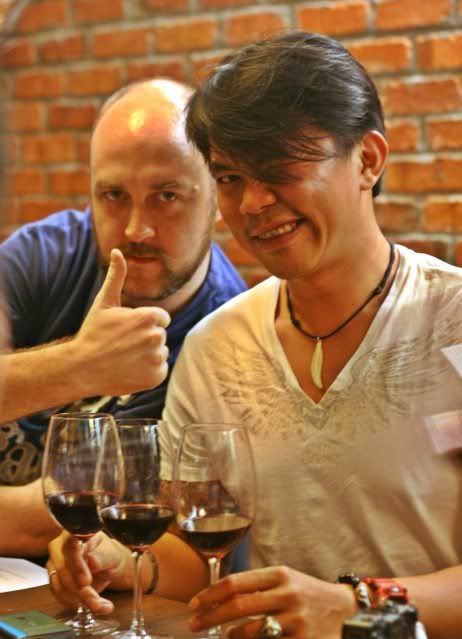 Skyburial (I must find out the meaning of this name) and Shaolin Tiger doing the honors of finishing the last of the wine.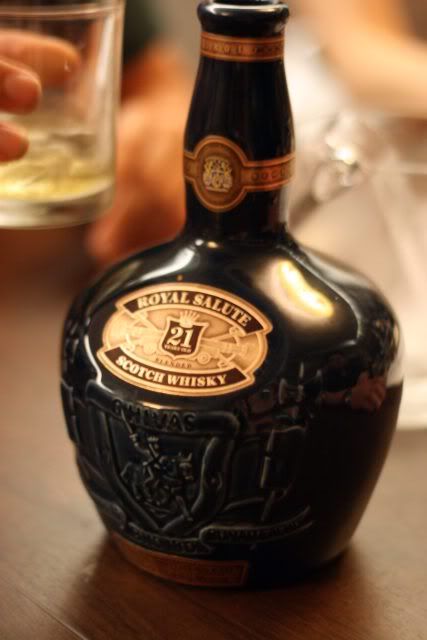 Just when we thought we could go home, Jessica's dad very generously gives us a bottle of THIS!!!! Argh, there went my "NO DRINKING ON WEEKDAYS" policy.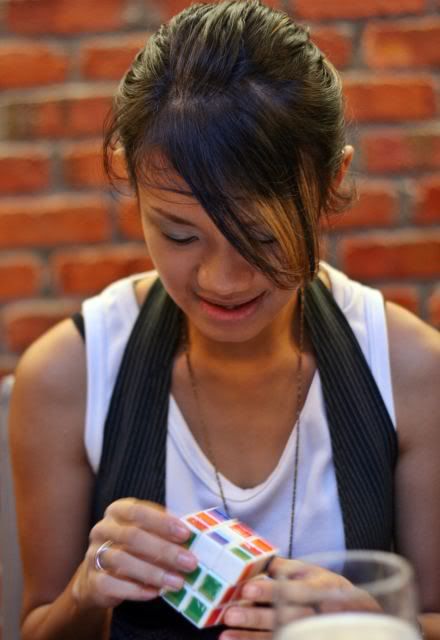 Haze

SPECIAL MENTION



I think I need to have a special mention here, coz I've never met one of these before. This girl can solve a Rubik Cube in a matter of minutes, while chit chatting, the way a granny might knit you a sweater while telling you her cookie recipe. Despite the numerous glasses of alcohol, her mind stayed as sharp. And, on top of that, she's an artist, a designer, and God knows what else, which BEGGED the question..... and this was the conversation:

ME: I know this might sound really rude, but can I ask you a question?

HAZE: Yup, [looking a bit worried], what?

ME: Does it hurt?

HAZE: Huh?

ME: Your head. All that brain, does it hurt, in your head? Because your head looks quite slim. How does it all fit in there?

Apparently she was rendered speechless.

Anyway, thanks to Jessica and family, for a lovely time, and for being such gracious hosts. Wishing you great success in Silver Spoon. Can't wait to return with my other friends.


Pricing: Very reasonable, RM38 for eg, lamb shank, RM12 for soups, RM29 for the marinara pasta...
Other Reviews: The Nomad Gourmand