Once upon a time, a very kind lady,
Pure Glutton
, invited a brood of children to Karls Beisl in Solaris for a food review session.
But the condition was, the children had to listen to a briefing, before they could eat.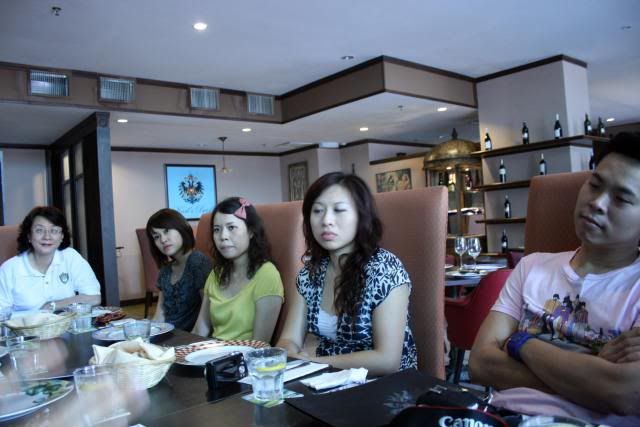 And this is what the children looked like during the briefing. Attentive, and obedient.

Our very kind hostess, who we shall just call M, explained to us that Karl was her Austrian husband, and Beisl meant Beer house, Bistro, etc etc...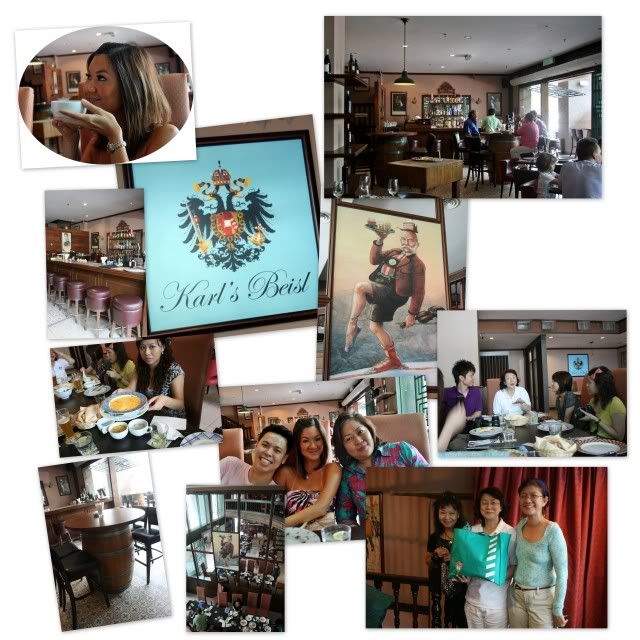 The strange picture of the man in the middle, I think, from memory, signified the best of Austria, ie, Music, Food, The Ballet, The Alps, and Royalty. Afterall, it was from this country that many a great musician hailed, and we're not talking about Maria Von Trapp.



Not the twelve monkeys, just the too, immortalized.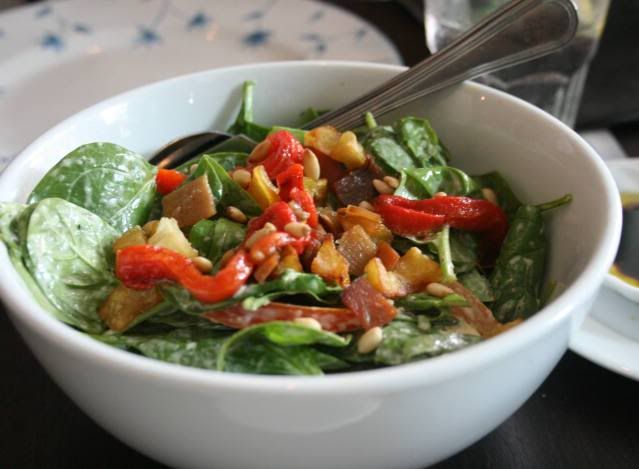 To start with, a lovely pine nut salad with baby spinach leaves. AND BACON. Of the oink oink kind, not the counterfeit pretend bacon you get in all our hotels. Is the cow masquerading as a pig? Anyway, real bacon, is always such a pleasure to have, and makes even the plainest of salads into a dish fit for an emperor. But this was no plain salad. The tender spinach leaves, the fragrant pine nuts, and the tangy but not overpowering dressing, complemented each component the way sambal complements nasi lemak. Except much healthier. (RM18)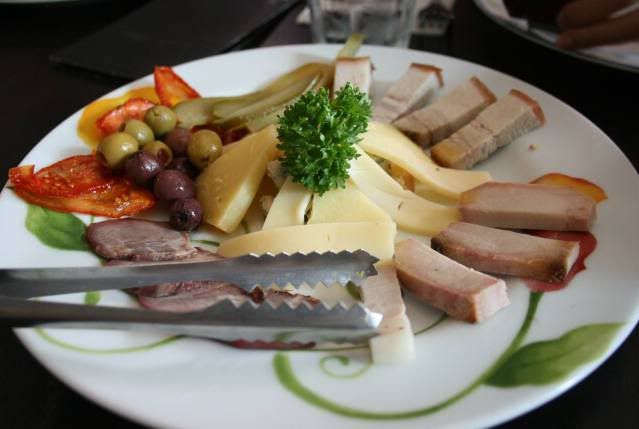 A platter of cold porcine delights, with strong Austrian cheese. Serrano ham, chorizo, pork belly, sun dried tomato...(RM 38 for 1 person, RM70 for 2).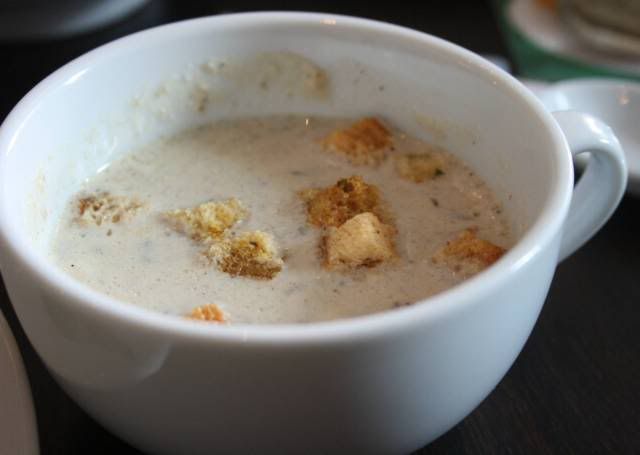 Cream of Forest Mushroom Soup....delightfully mushroomy, and not overly rich, it would be a soup I could have on a regular basis. (RM18)



But THIS soup, really is something special. Roasted capsicum and garlic soup! Fabulous. Roasted capsicum emits an indescribable fragrance, and paired with garlic, it enhances the flavour even more. I really should try making this.....(RM15)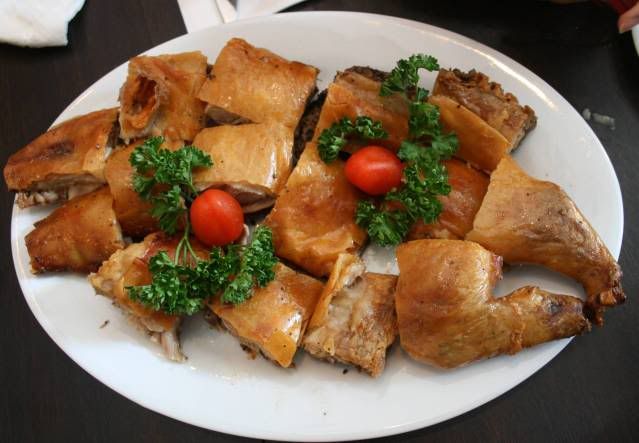 No, this is not a bird, its not a plane, its Supersuckling Pig!!! Half of one anyway. Okay, mental images aside of cute little pigs (who went to market, stayed at home, had roast beef, had none...)..who went wee wee wee... this dish is excellent. Tender succulent meat, and crispy skin. (whole RM199, half RM99). Served with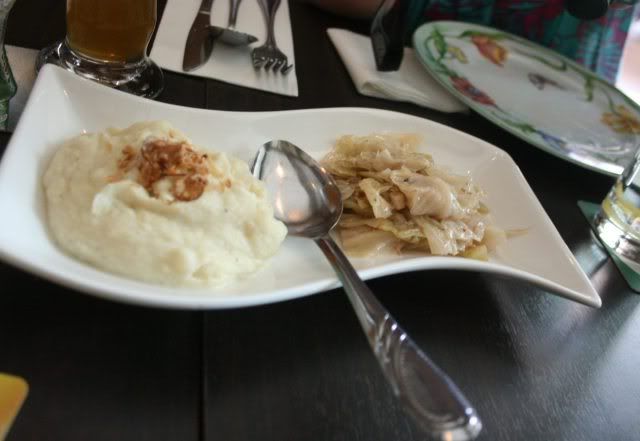 Cabbage Sauerkraut and Mashed Potatoes.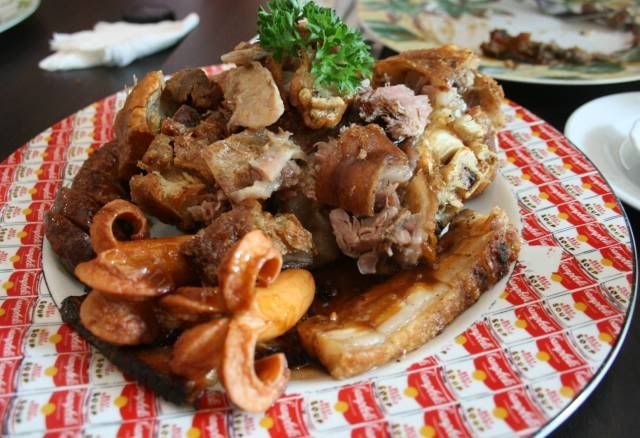 The Farmer's platter.... a plateful of hog heaven. Roast pork, (siu yoke style), a variety of sausages, pork knuckles, a must order for those who love their pork. Oh, and did I mention it goes VERY well with the beers they serve at Karls. Talk about epitome of decadence, and non kosher ness. RM95 for 1, RM135 for 2.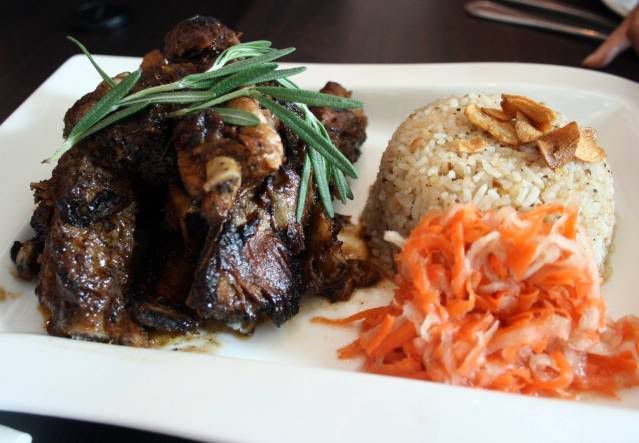 Black Pepper spare ribs with buttered rice. Rm60. Very large portion, can easily feed two. Not my favourite dish, mainly because it was overshadowed by other more appealing ones.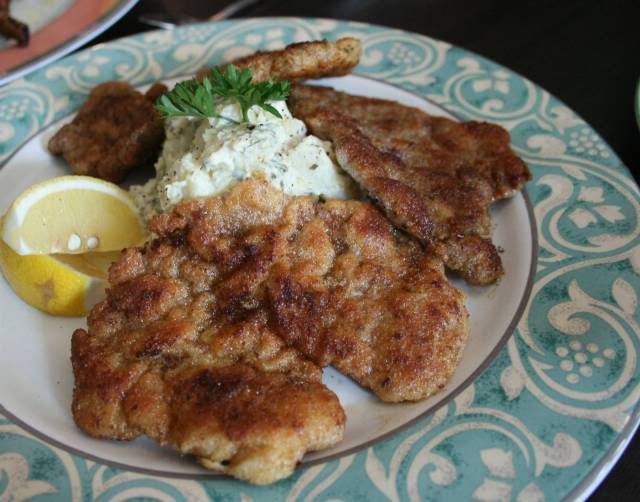 This Pork Wiener Schnitzel almost caused a few of us to burst into song....

Cream colored ponies (sheesh) and crisp apple strudels,
door bells and sleigh bells and schnitzel with noodles.
Wild geese that fly onto plates with their wings
These are a few of my favourite things....

- Rogers and Hammerstein...The Sound of Music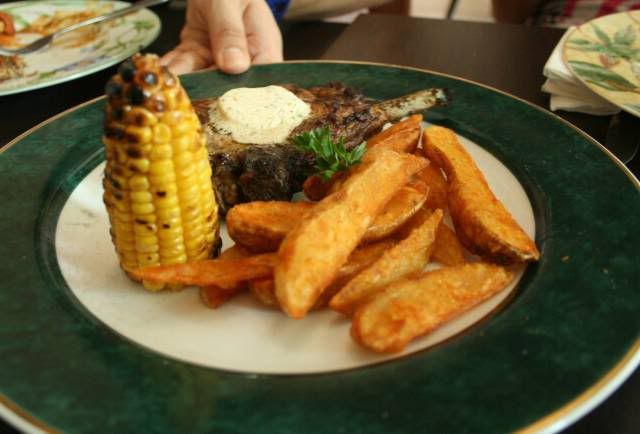 KLCC Pig Farm...Well, okay, to be fair, there is only one tower standing.... Double Ribbed Pork Chops. Ours was a bit on the dry side, except for the fatty parts.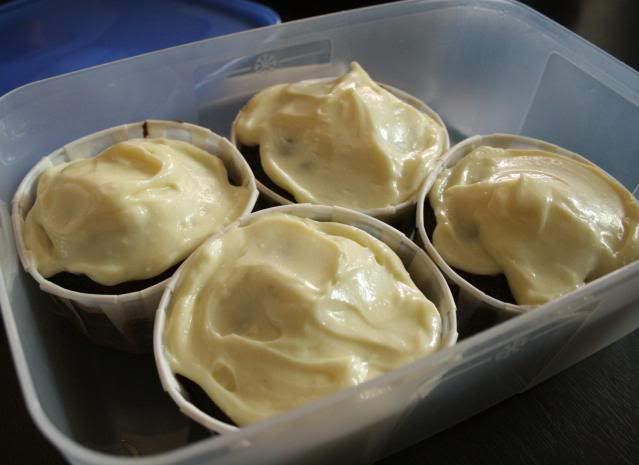 Black velvet cupcakes, courtesy of Babe in the City, KL. Yummy guinness chocolate cakes, inspired by Nigella Lawson. Click on her link for the recipe.



I have to say this Calvados apple strudel looks stunning! RM20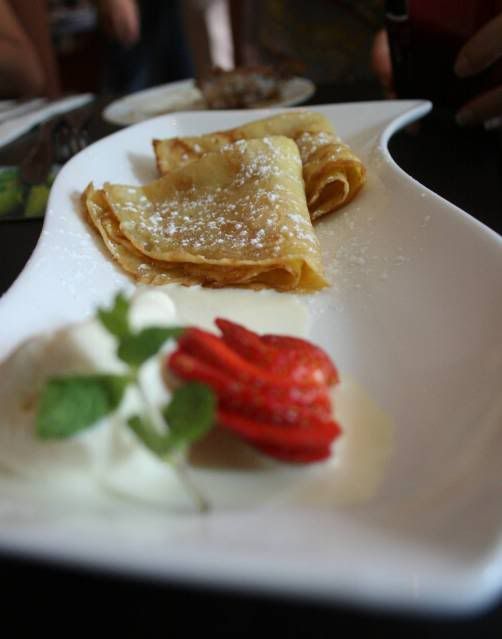 Palatschinken - Crepes, w/Apricot Jam, Rum & Raisin Ice RM18

A most delightful lunchtime experience. The place has a very conducive looking bar area, perfect for happy hour, and a large variety of beers, and guinness on tap.

But of course, the MAIN selling point to the Babitarians, is definitely the astounding variety of ways in which you can choose to eat your pig.

A special note to thanks to Pure Glutton for the invite, and to the our hostess, M, (like James Bond laidat) for her wonderful hospitality. Pure Glutton's Review on Karls Biesl HERE. Ciki, Chocaholic, Ivy and KgBoycitygal have also reviewed it.

Oh, and a special note to BBGS alumni, on our table lurked the President of the BBGS alumni association, who extends a special invite to all alumni to get intouch with her. How? Email me.