.....when I first stepped foot into Villa Danielli.......the child would be entering first year university this year, or next. You see, its been around forever. I remember attending my dear friends' engagement party there in 1994. And those days, when the competition was far less, Villa Danielli was like, WAHHHHHH......
Mind you, that it has managed to survive all these years speaks volumes. Recently, I knew of at least two people who held their 50th birthdays there. So, when I got the invitation by Aly of Red FM to join her and all my favourite people for a food review there, I leapt at the opportunity faster than a Malaysian politician grabs a highway project.
With the Red FM people, or more specifically, Aly, you know tonight's gonna be a good night. To add even more crimson to the canvas, the inimitable Terry and their boss, Hawa, also graced the occasion, and drum roll, Lil Chef Michael Elfwing himself in a rare cameo appearance. Cindy, our delightful hostess from Sheraton, was wonderful, and oh so friendly. And of course, Fratmustard's alter ego, Jek, who forgot to bring Frat along.
The night got off to an interesting start, when Terry walked in and regaled us with tales of stuff being shoved up nether regions. It was an
Eel Wind
that blew. For the full story, which cannot really be repeated in a PG13 blog, read it
HERE
. Of course, with Terry's narrative skills, which left nothing to the imagination, it was a rather delightful amuse bouche....
Nothing like breaking the ice, if there was any, with a glass of this: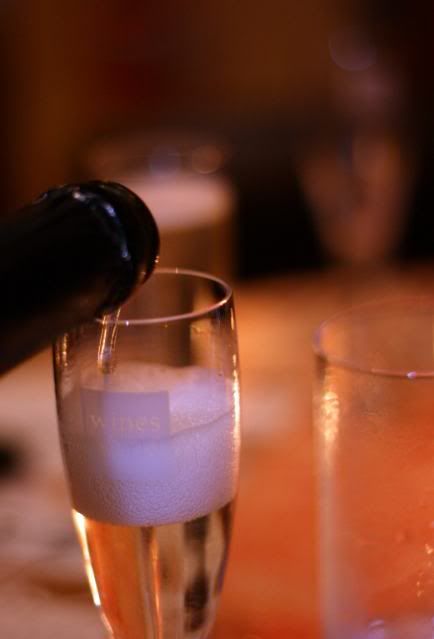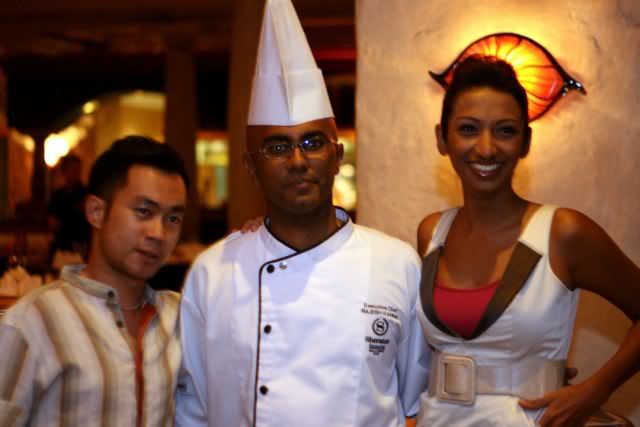 The compulsory photo op, the Red FM DJs and the Executive Chef Rajesh. I wonder if Chefs feel intimidated when other Chefs are in the house. ...like the one in the middle in the top row of the collage below.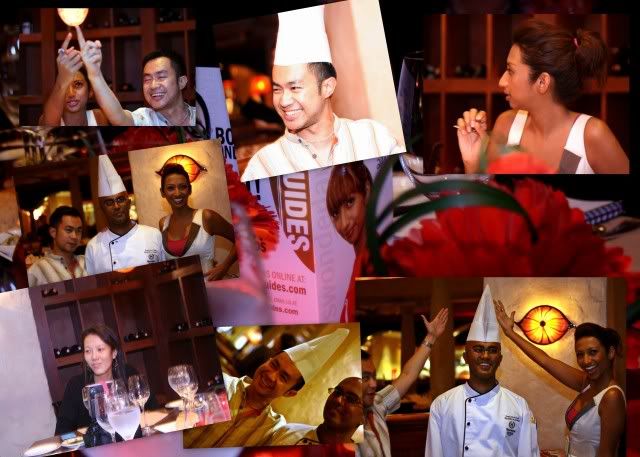 Terry, very insightfully pointed out that all the lights and lamps in the place reminded him of Udders and Stuff. Hence the picture of Aly and him both reaching out to tickle the ni**le.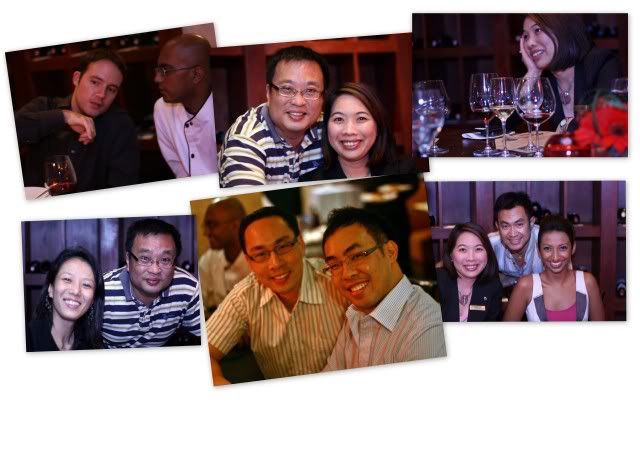 The happy faces of all the guests, and the hostess and the Executive Chef.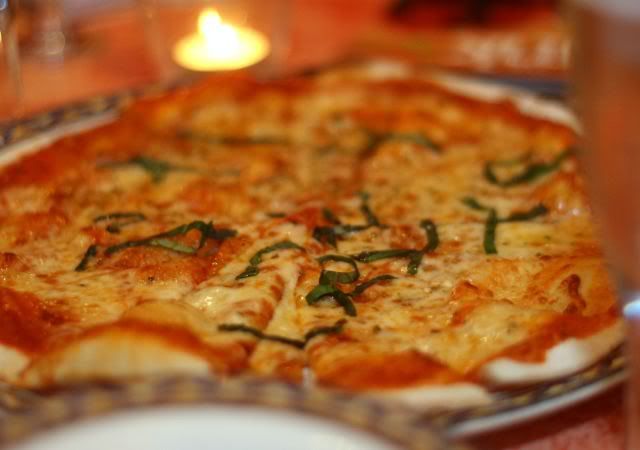 We start of with a Margharita Pizza. Of course, the first dish inevitably is good, because we are a hungry lot. With a glass of prosecco in hand, and pizza in the other, how can we go wrong.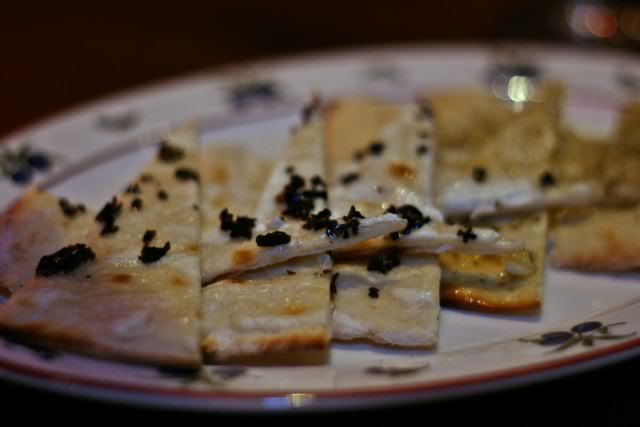 Another product from their woodfired oven.... mascarpone and black truffle pizzas. Who can resist the aromatic lure of black truffle. It's dizzying and intoxicating. I wish there was more.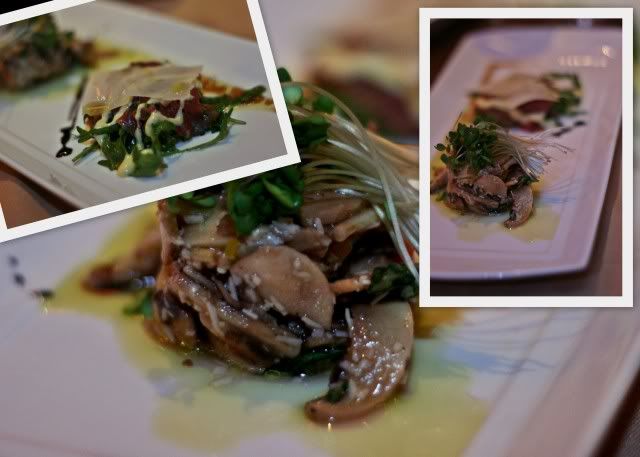 Slice raw beef with wild rocket salad and mustard dressing,fresh button mushroom with parmesan cheese and basil
( Bolla Pinot Grigio Delle Venezie IGT Pinot Grigio,2008 )



The raw beef was tender, and gave what was essentially a salad, a nice texture. I found the mushrooms a bit on the salty side, probably due to the parmesan cheese, but I love mushrooms anyway, salty or otherwise.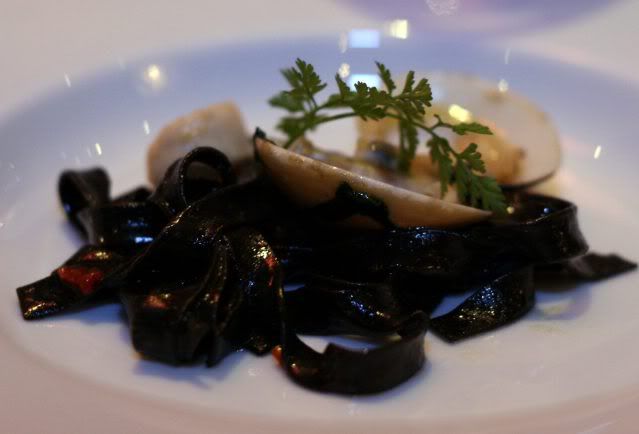 Squid ink fettuccine with aglio olio seafood
(Ruffino Orvieto Classico DOCG Umbria, Blend 2008)



It must have taken great courage for whoever it was who decided to try squid ink in their pasta. Like many other foods, I wonder how people ever realised they were edible. Like truffles dug up by a pig. Or pig's fallopian tubes. I must say I quite like squid ink pasta. I don't know what it is, but its beyond my culinary vocabulary to describe it. It's just GOOD.





Grilled king prawn,rocket salad,cherry tomatoes and prawn bisque
(Bolla Valpolicella Classico DOC, Veneto Corvina 2008)


I think this was my favourite dish for the night. The prawn was fresh, and the bisque in which it swam in was most delicious.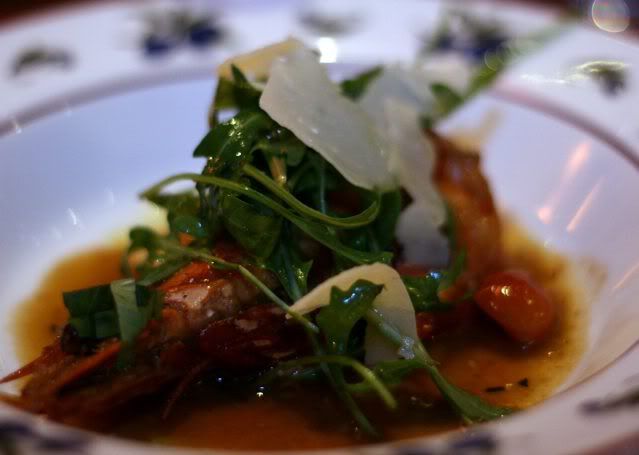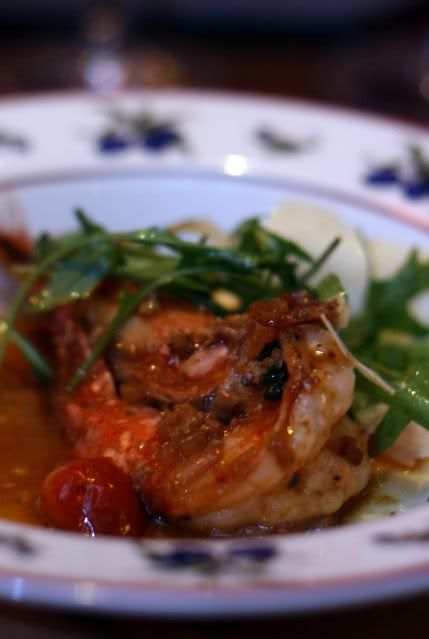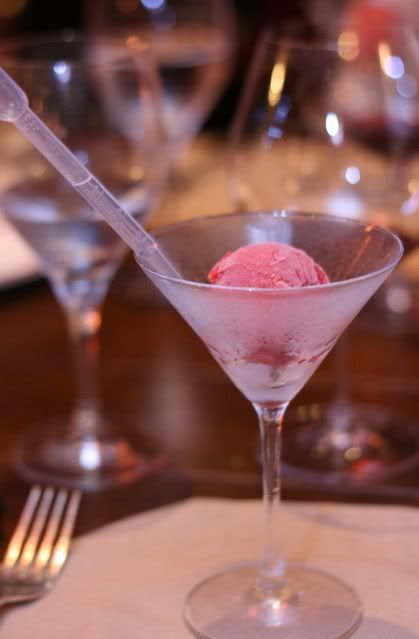 Raspberry sorbet with white rum. Which Han thought was dessert. Han, bless the young lad, is Red FM's new photographer cum weekend DJ. I think when Villa Danielli opened, Han was still not yet in primary school.



Ooooh, rum did you say? Give me more, more, MORE. This palate cleanser was delightfully refreshing, and that rum really added a kick to it.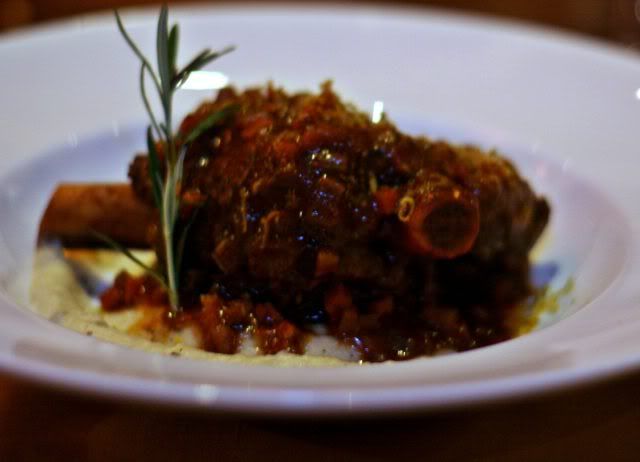 Braised lamb ossobucco with gremolada served with mashed potato
(Ruffino Aziano Chianti Classico DOCG,Tuscany Sangiovese 2007)

Now, HAD the sorbet BEEN dessert, I think we'd all have been quite happy, for we, or I was, at any rate, really full by this time. And what a pity too. The lamb was falling off the bone, ....but this dish spawned a most fascinating dinner conversation. You see, I was trying to suck the marrow, but to no avail.



Me

: Aiya, I tried to suck my marrow, but couldn't get anything out.




Han

: [In a helpful tone]. Oh, here, you can suck mine.




Han

: Hmm, that came out wrong...




Terry

: Hey, I am trying to swallow here.



Cindy meanwhile is probably wondering to herself, "aiyo, what kind of people have I invited" (see pic below)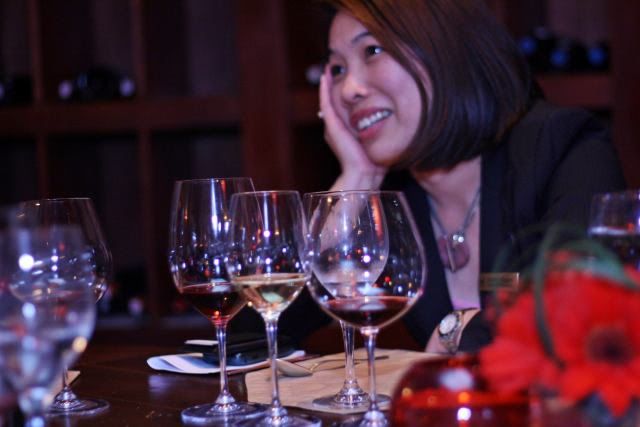 And then the real dessert came.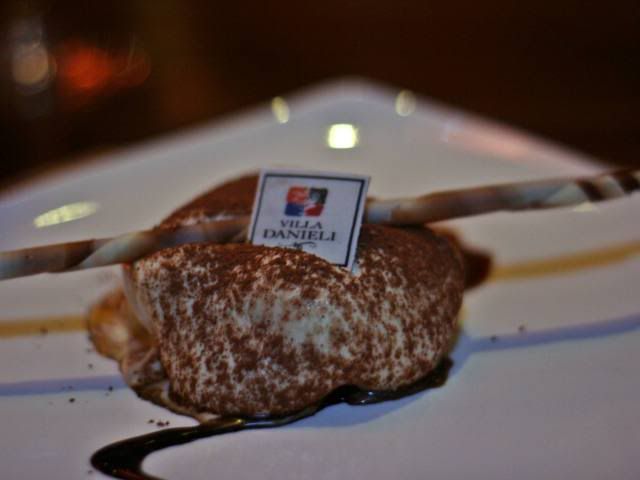 Espresso and kahlua flavoured cream cheese with savoiardi biscotti.



Oh? Hmm, I didnt know it was cream cheese, I thought it was Mascarpone. Wow, sure fooled me. I wonder then if I can use cream cheese as a mascarpone substitute for tiramisus. Any dessert with sufficient liquor is a good dessert for me.

A most delightful dining experience, made even more delightful by the sterling company, whose participants spawned guffaws and chortles.

Head over to Villa Danielli for a cosy, unpretentious yet elegant ambience, and good grub to boot.

Thank you, Aly, for having me, and Cindy for your fabulous hosting. And of course to Chef Rajesh for his wonderful menu.




Read Aly's Review HERE.