Doyen of Peranakan cuisine, Debbie Teoh, returns to Parkroyal Kuala Lumpur. It's like time stood still, or flown by at the speed of light. It felt like yesterday that we were there. That sweet Song Mei Lan, Marketing & Communications Manager of Parkroyal, was there to meet and greet, and I distinctly remember telling her last year how we used to patronize the grill for the best steaks ever, etc etc etc.
I was late, but not the latest, and looked at the sea of new faces around. Calling out were the dishes prepared by Debbie, laid out like a model lying on the beach, waiting to be photographed by the paparazzi.
Not in order of serving, but these were the wonderful Nyonya treats that we had: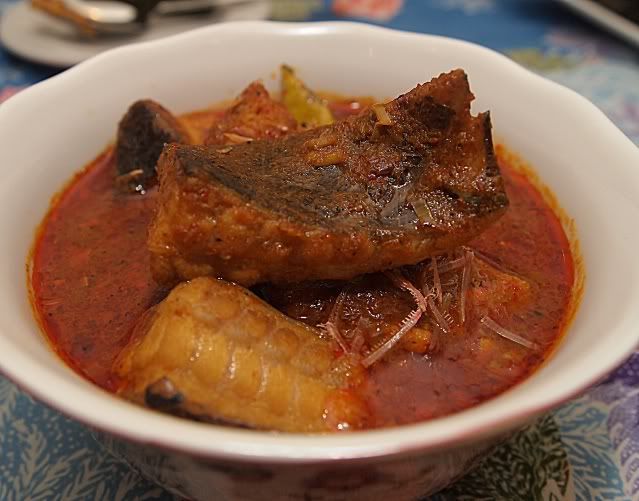 Gulai Tumis Ikan Pari - To the unitiated, ikan pari is actually a stingray. The meat of the stingray is nice, firm, and actually quite fascinating, because it seems to follow a certain pattern, if you know what I mean. It's like... if you were to bunch up some string, and cut a cross section, yeah, like that. Not the texture, the pattern.
Chunky Seafood Otak Otak with Fish Fillet, Prawns and Squid. Definitely not your run of the mill otak otak. This aromatic almost dumpling like version, wrapped in Kadok (Green Pepper Leaf), really is almost a meal by itself. Eat two of these at the buffet and you probably will be full.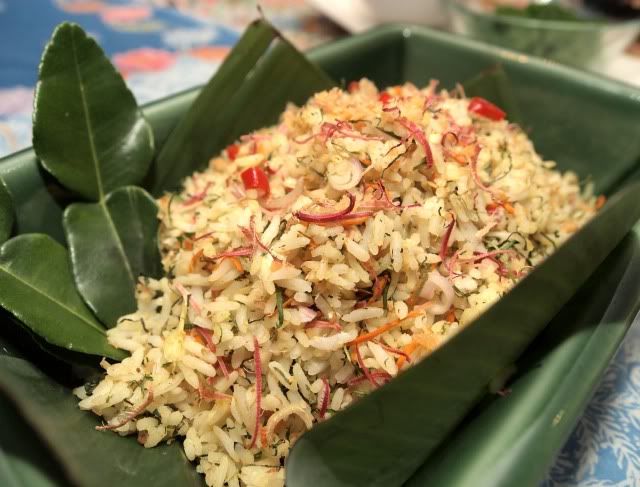 Oh, this is absolutely glorious. Nasi Ulam, served to us as appetizer. Finely shredded herbs, ginger flower, (bunga kantan), it's really quite amazing that such a combination that is so healthy, can taste so incredibly good.
Cendol so unlike the ones you'd get from the roadside guy. Bursting with flavours of screwpine (pandan), this would be the Ferragamo of cendols.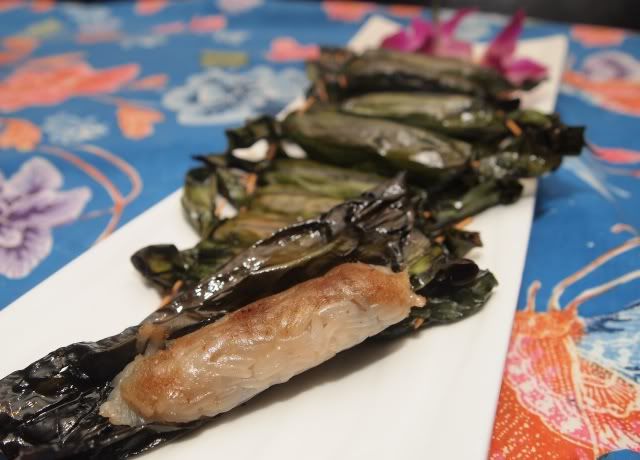 Glutinous Rice Wrapped in Banana Leaf.
Who can resist this wonderful Ayam Buah Keluak? Debbie tells of a Singaporean man (well, it had to be Singaporean right) who single handedly whacked 20 of these at the last buffet, because they cost S$3 PER PIECE. It is abit of an acquired taste though. I personally, LOVE it. I bet you they'll discover some medicinal properties in that Keluak. (Mangrove Nuts).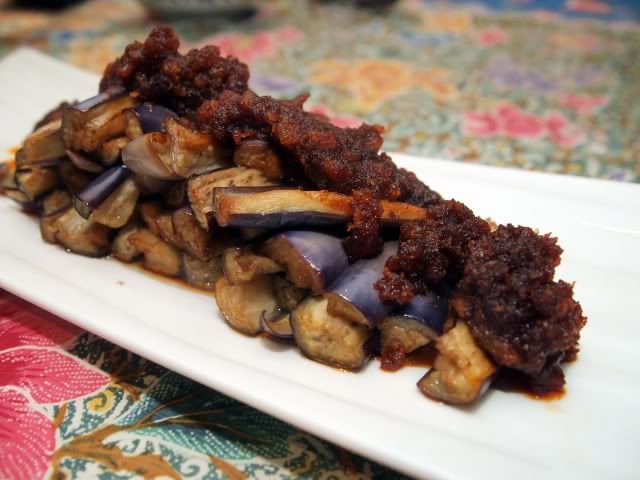 Terung Dengan Sambal Udang Kering. This is to rice what butter is to bread.
Itek Tim, a savoury duck soup with salted mustard vegetable. There's something vaguely Chinese about this dish. It must be the salted mustard vegetable.
Ulam Platter With 4 angle beans, mint leaves and the most amazing sambal ever. I never knew mint leaves make for such good ulam. I am an avid ulam fan, mainly with ulam raja, pegaga and kacang botol, but I never knew that mint goes well too.
That traditional nyonya kueh, but with yam instead of the usual sticky rice. Not sure what its called, its like a yam seri muka. Of course, that made Ciki and I lapse into a tirade of lame yam jokes. I yam what I yam, etc.
The Lady herself, looking resplendent and oh so slim in her kebaya. How does one cook up all this stuff and maintain a figure like hers? I think I should take up nyonya cooking. Might be able to fit into my tight kebaya then. Until then, can only fit the kebayan.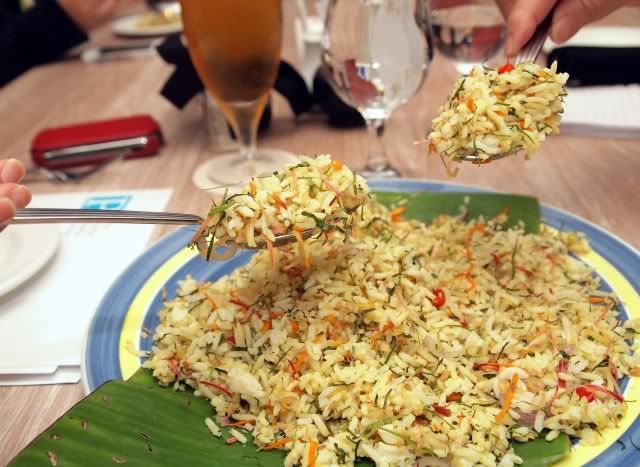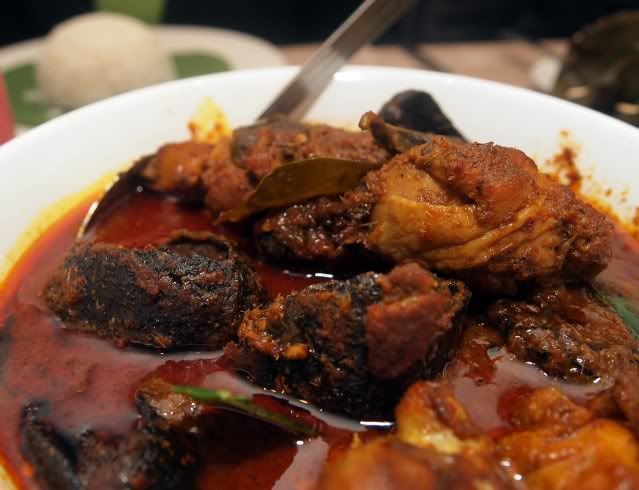 This is a closeup of the food actually served on the table, for us to eat (as opposed for the posing foods).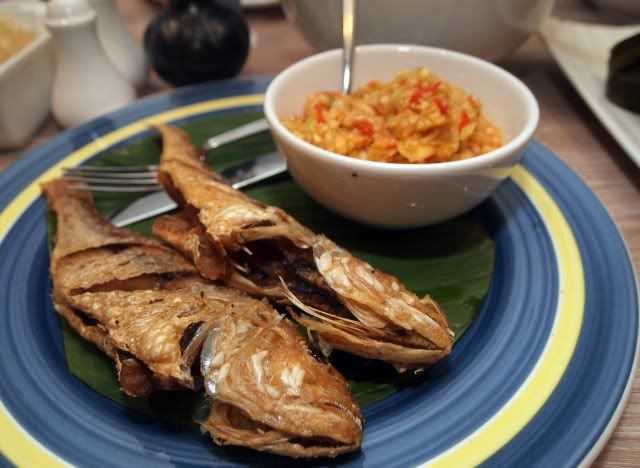 This is a fried .... not sure what. There was another extraordinary dish that I do not have pictures of, its the Lemak Nenas Ikan Sepat, a creamy pineapple curry, with salted fish, the sepat variety. Adli of Fried Chillies warned that there are many bones, which is true, but the flavour imparted by this species of fish is unbelievable. It tasted rich and creamy, like the swiss chocolates of the salted fish world.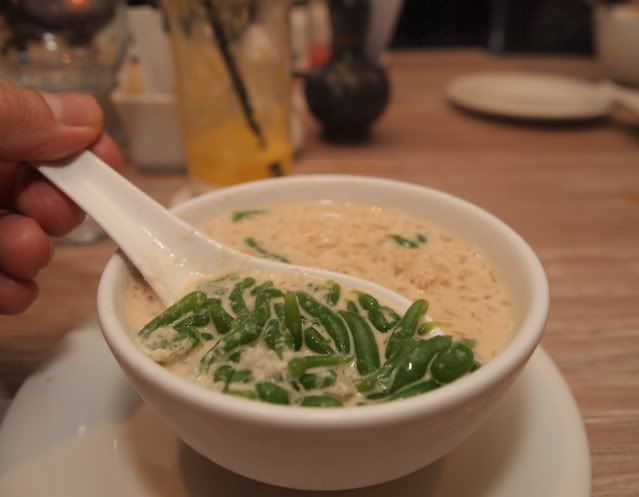 Ah, finally got to meet some new bloggers, Kevin & his lovely wife, Godis, of AhTee's Kitchen. Lovely pics on their blog, but alas, me being the unfortunate banana cannot understand the text.
A Touch of Nyonya Influence by Debbie Teoh will be at the Chatz Brasserie, Parkroyal from 11 May - 10 June, Mondays to Friday. Lunch at RM62++, and dinner at RM82++. Weekends hi tea at RM59++.
Call 03-21470088 For Reservations