Who could resist an invite when you know the Chef in question was Gordon Ramsay's Head Chef at Claridge's? That's like wow, 2 degrees of separation to the man himself. One wondered if his language and demeanour would be as colorful as Ramsay, afterall, the apple doesn't fall far from the tree and the oil does not sputter far from the wok.
A lovely Saturday afternoon it was, to relax with friends, over a Delicious meal, (no pun intended). There's something about the atmosphere of DISH, described as the Delicious Group's Casual fine dining restaurant...that makes it casual, and unintimidating, despite the range of expensive gourmet stuff sold there.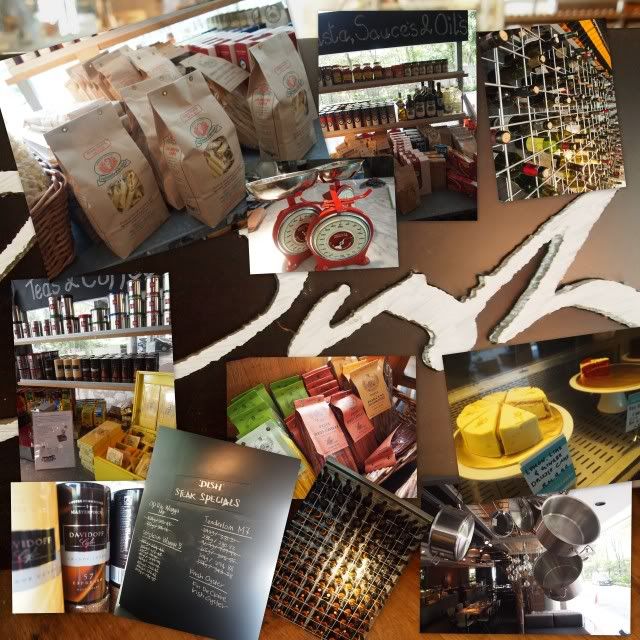 The Demure Miss Loke (I hope you are reading this), Assistant General Manager for Branding & Editorials, is our charming hostess for the afternoon, and surreptitiously whispers to us that the Chef is a fabulously nice chap. Drat, so much for meeting a replica of the famous Gordon.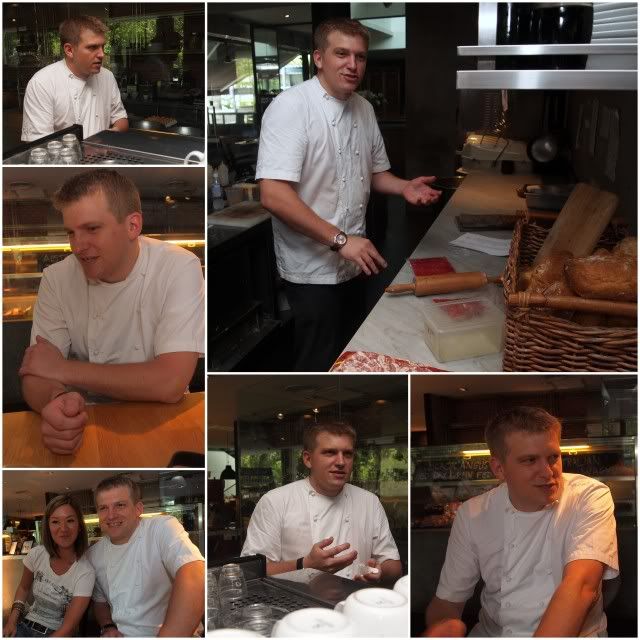 And he sure is, Chef Steve Allen is mild mannered, polite, friendly, and really passionate about his work.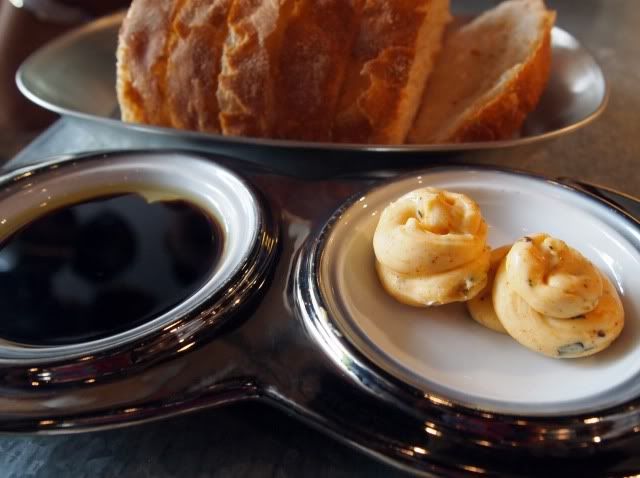 To start, a lovely rosemary butter with freshly baked bread.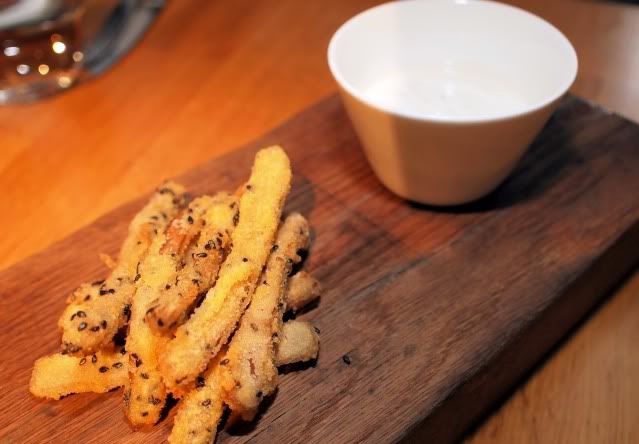 Little pieces of tempura-like egg plant deep fried. All that was missing was a beer. Which we were too polite to ask for.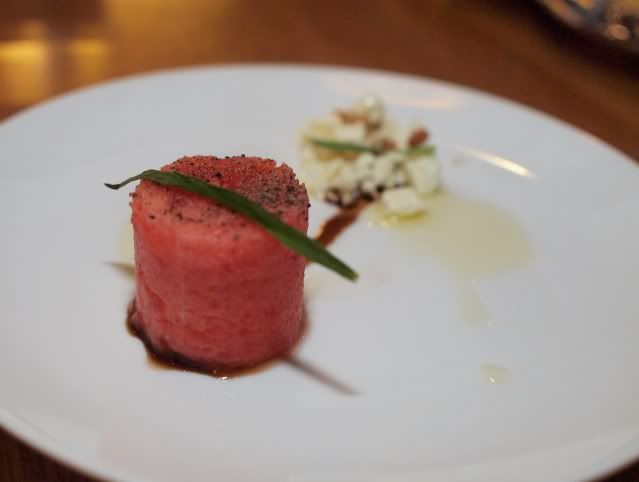 Watermelon & Feta Cheese...a refreshing combination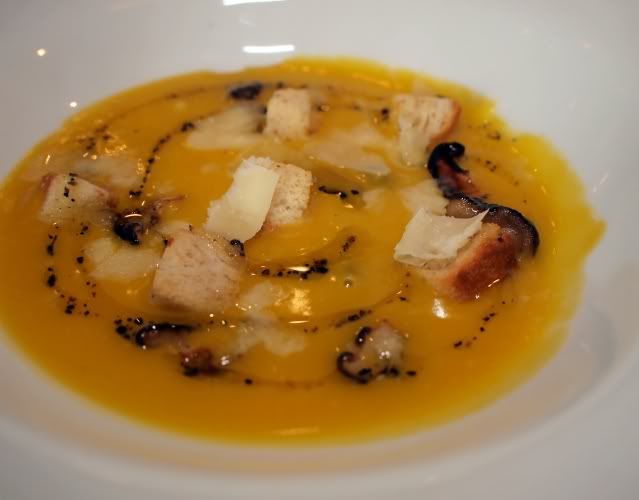 Pumpkin Soup with Mushrooms, Parmesan and Truffle. A rich hearty soup, that completely luxurizes the traditional pumpkin soup. It's a meal on its own.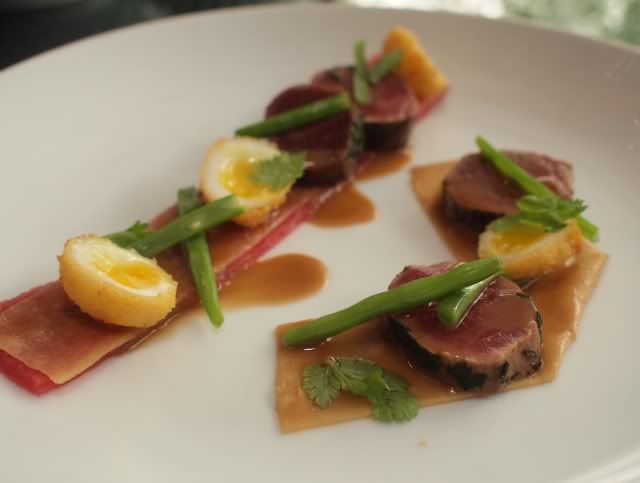 Seared and Marinated Tuna Pickled radish and Crispy Quail's Eggs. I love quail eggs, and think they're totally underrated as a food. Not to mention given a bad rap. I don't know if it is urban legend that one quails eggs contains the same amount of cholesterol as 10 chicken eggs. Can't be true. But I digress. I loved the tuna, seared lightly so that it was still moist inside.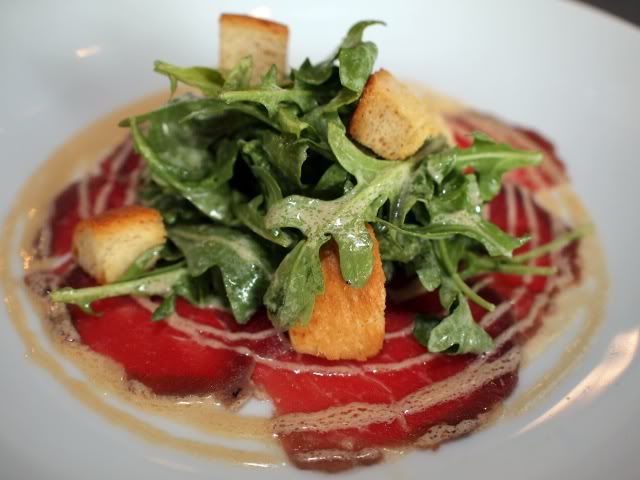 Vitello Tonnata, Marinated Veal, Tuna mayonaisse and Arugula. Stunningly beautiful, and delightfully light on the palate.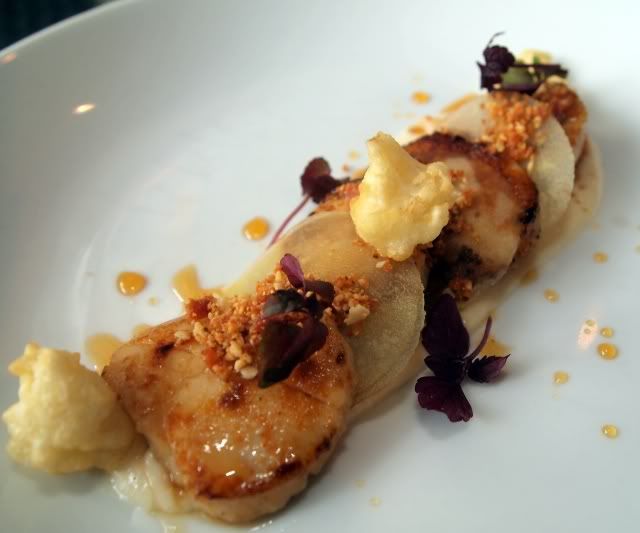 This had to be my favourite dish. Sauteed scallops, cauliflower puree, turkey bacon and almond crumbs. The scallops were done perfectly, and lately I've been finding that a lot of places seem to botch their seared scallops. So it was nice to see these plump babies being done nicely.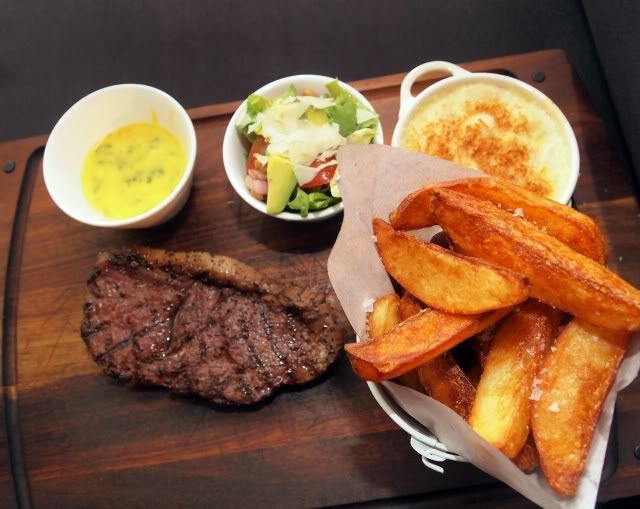 Chargrilled Tenderloin With Triple Cooked Chips. How will I ever eat a normal french fry again after eating these triple cooked chips! The steak did not disappoint either.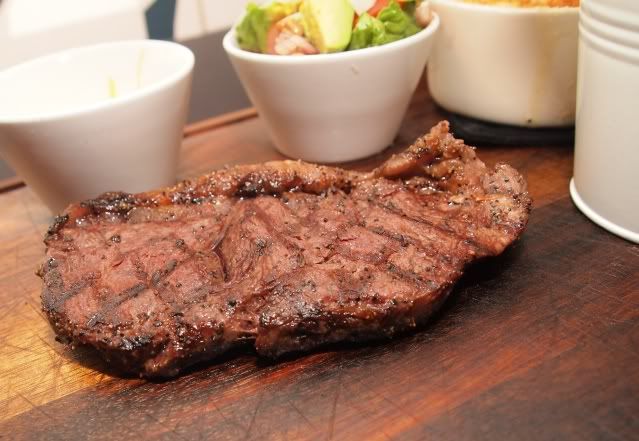 Salt baked Cod, red pepper and lemon sauce. Actually, although second fiddle, I have to say that the accompanying vegetables were amazing!
I simply loved the combination of the grilled zuchinni, with that wonderful roast peppers, that really brings out the natural sweetness.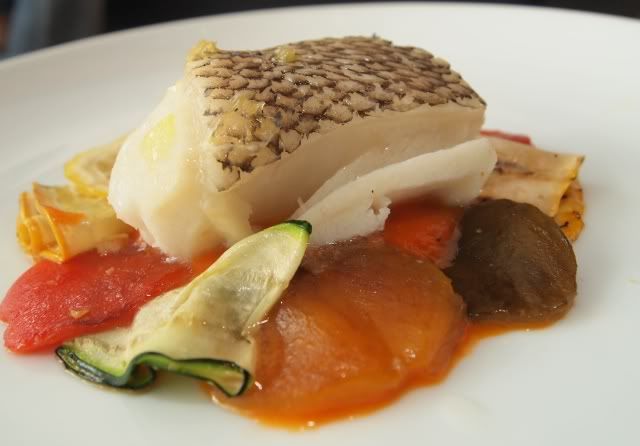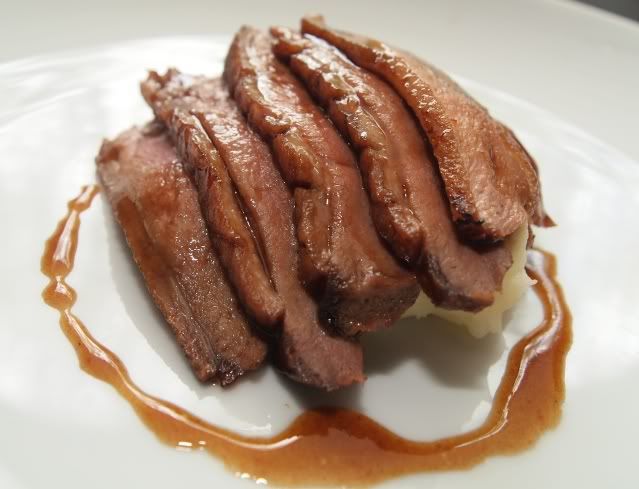 Another killer dish, Seared Duck of Breast with Braised Duck leg, creamy potato puree and ginger carrots. I usually think that the Chinese do duck the best, but hmmmph, I guess there goes my theory.
Absolutely melt in the mouth morsels of ducky goodness.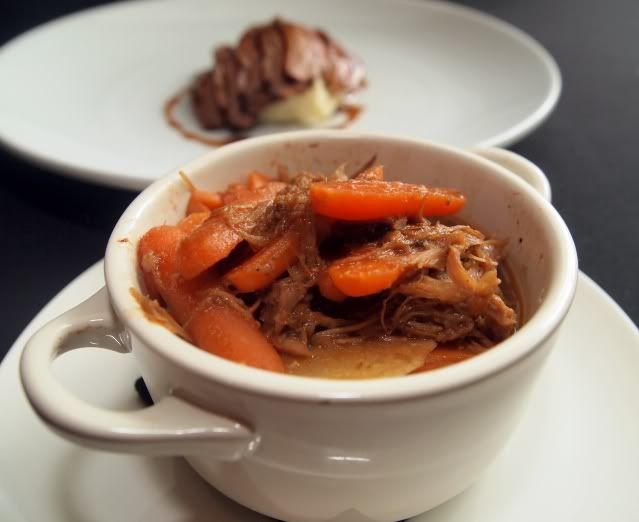 Oh, in the bowl is the braised duck leg. It's strange, for chicken, I detest breasts, but for duck, give me breasts over the leg any day. Actually, I am not sure if this is a normal portion, but it's a heck of a lot as a main course in the Lunch Set Menu.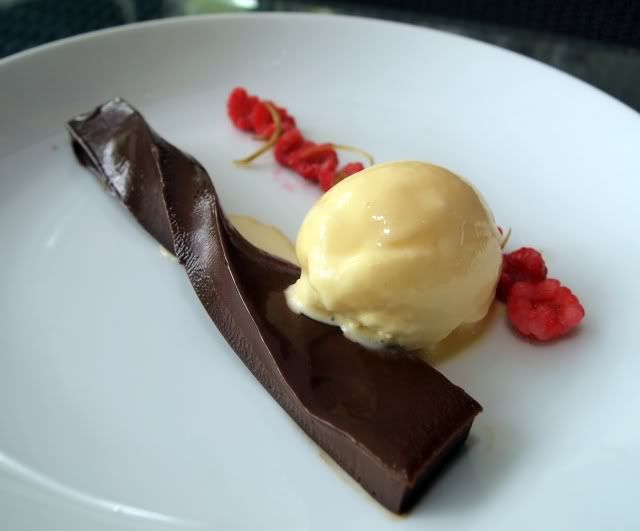 And the desserts, swooon, who can resist that Caramel Chocolate Delice, with Lime Ice Cream and Raspberries?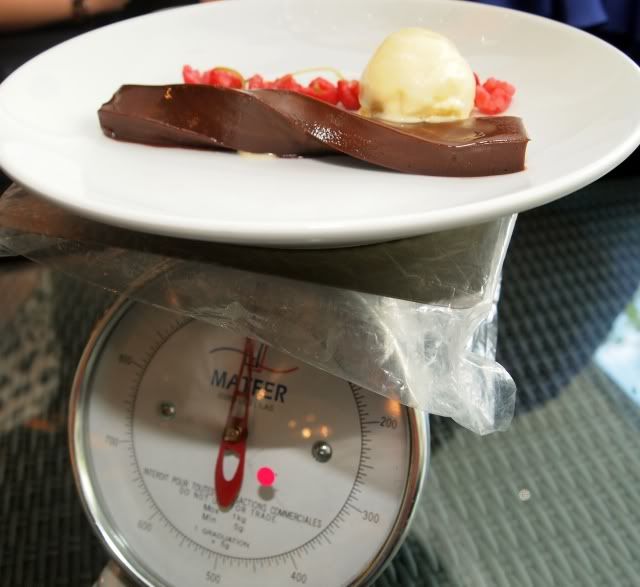 Fortunately, according to this scale, it hardly weighs anything at all.....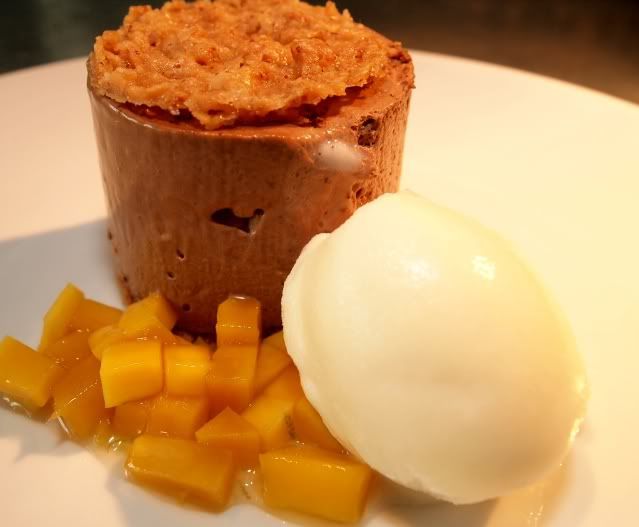 Cold Chocolate Fondant, Poached Mango and Yoghurt Sorbet. A dizzying array of flavours, sweet, tangy, and contrasting textures, from the moussey fondant to the crunchy mango...a wonderful combination.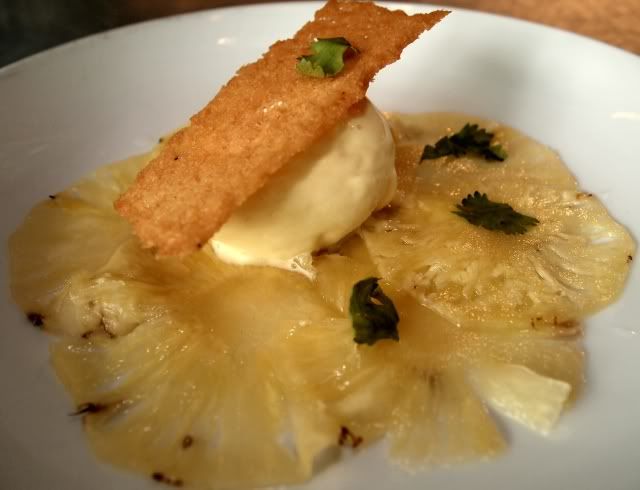 And the pineapple carpaccio, coconut sorbet & Tuille. This is as tropical and hawaiian as you can get I reckon. Coconut, pineapple, it's calling out malibu.
This amazing ala carte menu is already available, and well, the good news is, it's not terribly expensive, with starters starting at RM22 (the pumpkin soup) to RM46, Mains from RM58 - RM 160 (but that's a black angus beef wellington for TWO). Actually a great place for an occasion or a treat.
The lunch sets are RM65 for two courses, and RM75 for three. I'd definitely not forego the desserts.

DISH
Lot 1-1 Ground Floor Dua Annexe
211 Jln Tun Razak
Tel : 03-21641286
http://www.dishfinedining.com