A mysterious invitation arrived through email. I'd have preferred to receive it by snail mail, anonymous, with a collectible stamp, (like the Agong's coronation), ...saying, you are invited....
to a hitherto unknown address.
I wasn't sure what the invite was about. It was vague, at best, something about sampling some conceptual food. In my finite mind, I thought, oh, another cafe is opening. The fact that the inviter, and other invitees were all friends, made the prospect rather tantalizing, and without hesitation, I jettisoned the usual Sunday family dinner, and made my way to the location, that shalt not be named,
So, why all this mystery? Well, these supper club things, that have been in vogue in Singapore and Hong Kong, is based on the premise that rather than go to a normal restaurant, you go to a private locale, and have private chefs cook for you, be it in a home, or elsewhere.
Transparent Apron is one such venture, in our KL dining scene. As dinner is by invitation only, ie, you need to be referred, or must know the proprietors personally, location is only divulged when you are invited, but suffice to say, it's well and centrally located, and the ambience, lovely and homey. On top of that, you can be assured of top notch quality wait staff, who are liable to break into beautiful melodious song at any point in the meal.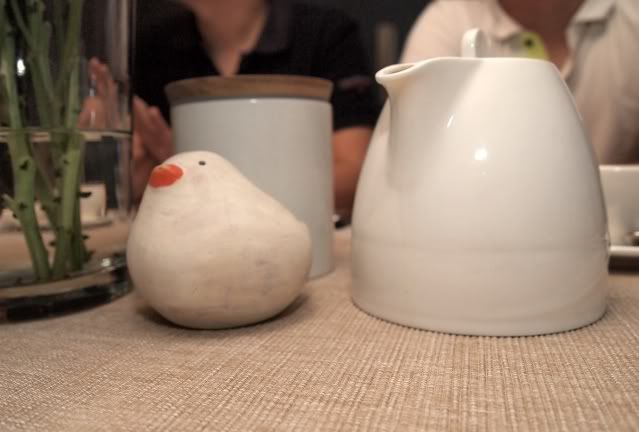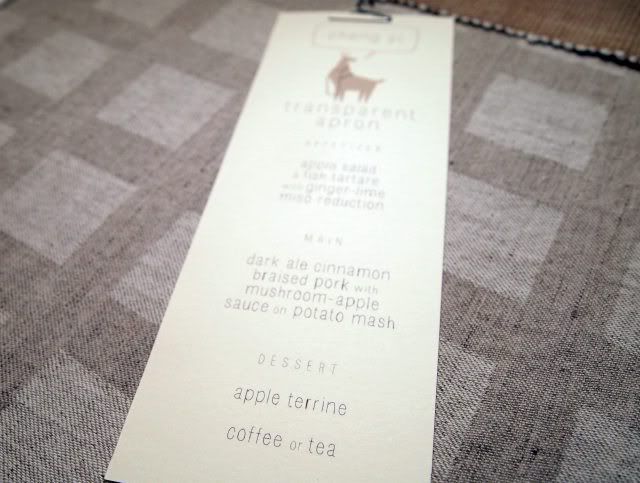 Individual Menus With Name of guests are printed out. Their logo is a llama. Why a Llama? Because most other animals are taken as logos, in some recognisable form or other.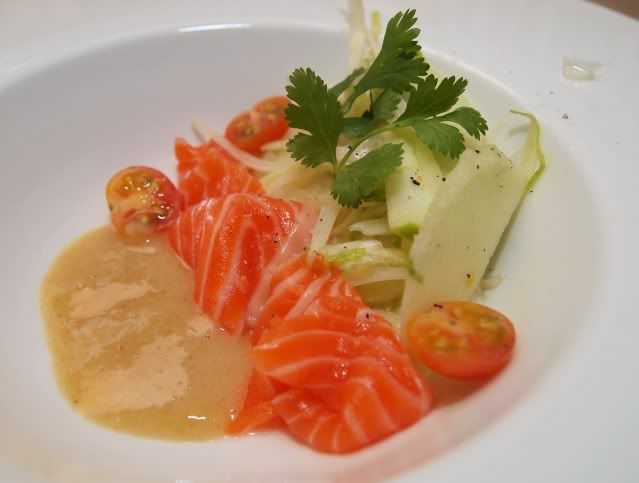 To start, we had the apple salad with fish tartar, with a miso ginger lime reduction. Any dish with the term reduction has my full attention. Because reductions are something I just have no patience to do myself. I loved the tangy combination of tart green apple with the reduction, complementing the taste of the salmon. A lovely refreshing start to the meal.
While encores usually happen at the end, this encore happened at the end of the starter, so it was an encore starter. Mussells with ginger and garlic. Tastefully done, and not overcooked. Mussels are tricky subjects, and can easily be overdone.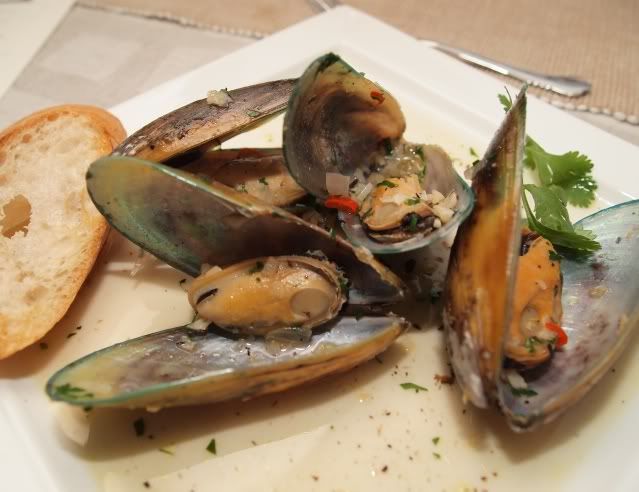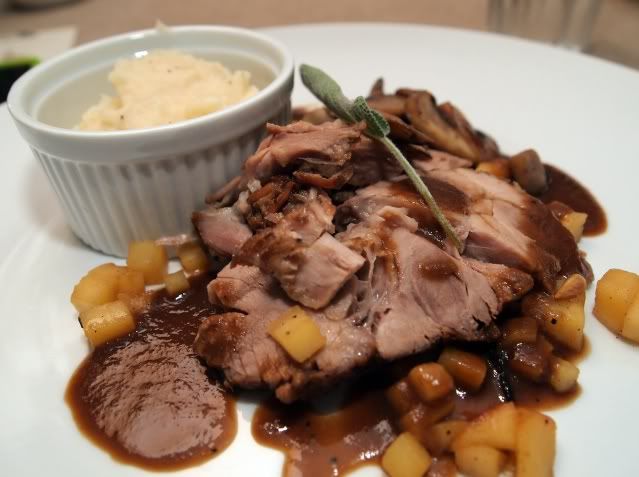 But this main course, HAS to be the piece de resistance. My glands salivate even as I think back about this dish. Braised Dark Ale Cinnamon Pork, with a side serving of mash. How do I begin to describe this? Melt in the mouth, you can almost taste the love with which this dish was prepared. Seriously yummy stuff. The pork had been cooked for many hours (that's way too many hours for me to even contemplate). Some of my fellow diners said they could have done with more sauce, but I thought it was just right. With pig as good as this, you do not want to eclipse it with too much sauce. Oh, at this juncture, I can safely say that Transparent Apron is Not a Pork Free venue.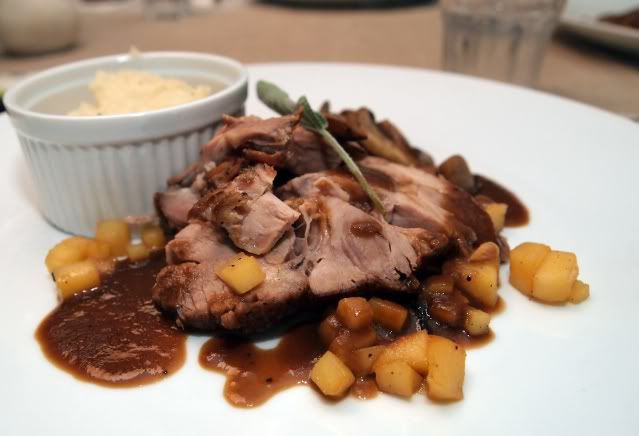 The friendly waitstaff comes second to none.
Apple Terrine with Caramelised Nuts. Layers of apple, compressed into a terrine. Jen, owner of Food Foundry was also one of the diners, and I mentioned that ooh, this is to apple what your mille crepe cake is to cake. Thin layers, painstakingly cut and layered...a lovely end to the apple themed meal. Steve Jobs would have been proud.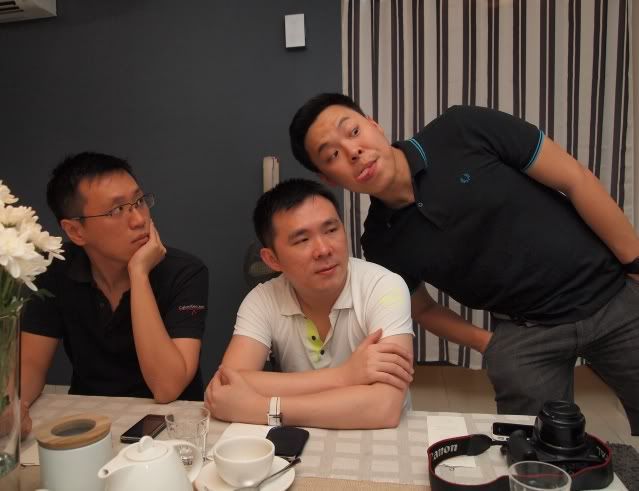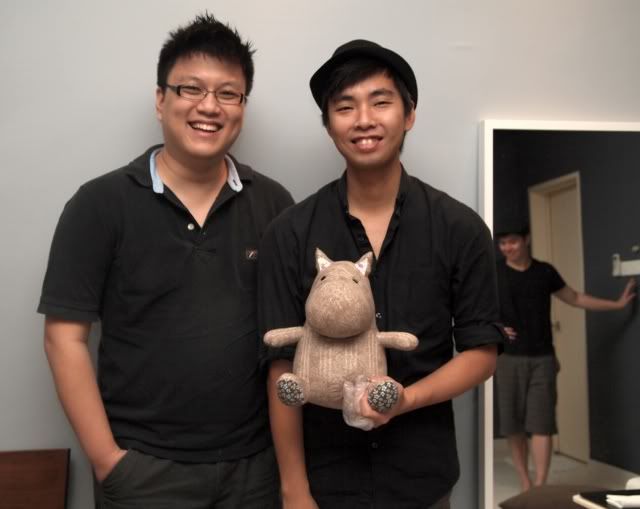 The two afficianados behind the concept, Nicklaus Au, (who I kept insisting looks very familiar, but I just cannot place where I've met him before), and Ryonn Leong, of
Chaokar fame
, are the enterprising young men who have set up this lovely idea.
Now, there's good news and bad news. The good news is, they will be operational pretty soon, and from what I understand, VERY reasonably priced. The bad news is, okay, for starters, the place only sits 6, which for some socialites, would be a guest list that will be difficult to trim. Of course, for me, it's ideal, since I can barely gather 4 people for dinner, let alone 6...including myself. Also, you cant just ring them to book just like that. You need to know them, or know someone who knows them. Ahem, this is where I come in, IF you know me. Start the grovelling, pronto.