When I last went to Erawan, that charming Thai restaurant in Kota Damansara, it was just before they were to close for renovations. It's akin to meeting a potential lover, only to discover that they are leaving town the next day. The yearning continued, and it was compounded by people asking, "When can you organise dinner at Erawan for us?" And I have to reply, "Oh, they're closed for renovations".
Well, and then as cliched as it may sound, when it rains, it pours. I suddenly found myself looking at TWO consecutive meals at Erawan, a Saturday night dinner with my "Supper Club" friends, and Sunday lunch, on the kind invite of the Makan Fairygodmother, Marian, and of course, the owners.
When I asked Marian if it would be awkward for me to show my face there twice in less than 24 hours, she replied, "of course not, you are so blessed to be able to dine there twice in a row like that". She was right, actually.
The Sunday event was actually for their reopening, hosted by the Owners, which had a lovely buffet spread of more traditional Thai food.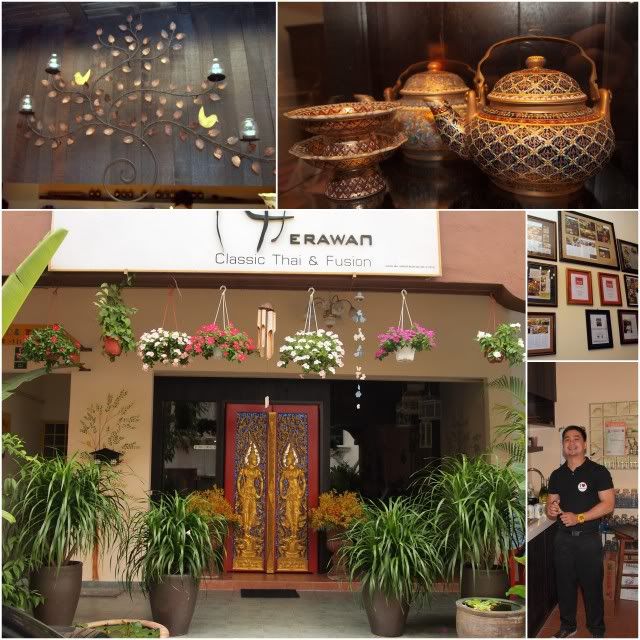 Gorgeous appetizers, caramelized nuts in that sweetish, sourish, tangy thai sauce with little scallops.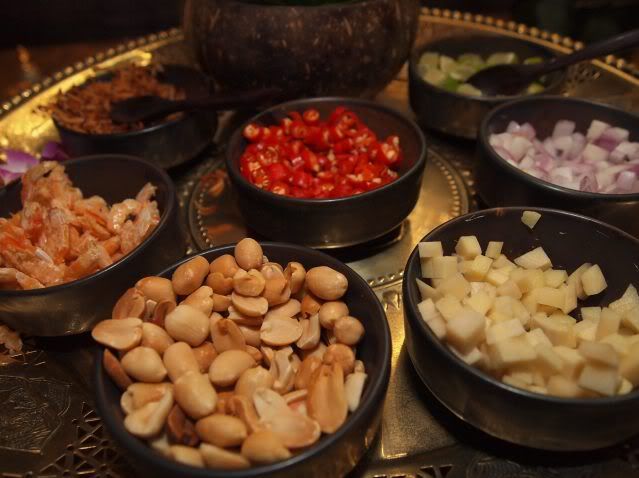 The garnishing for the Mieng Keam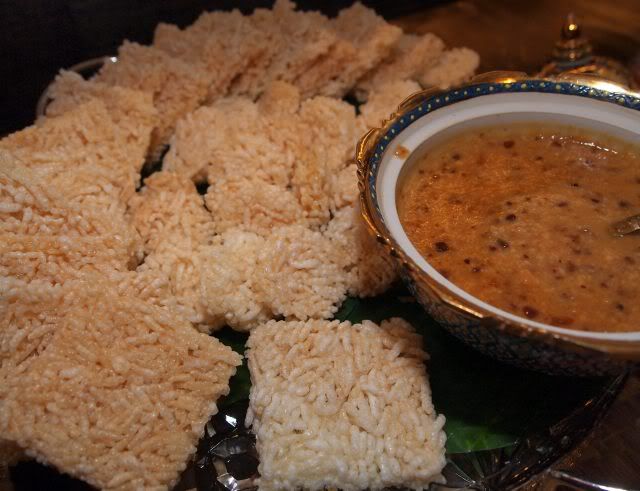 Baked rice crackers, with a lovely sauce.
And dratted luck, I was late, so I dont have pictures of it, but there was this really special dish, Khao Che, which is scented rice, served with chilled jasmine water, with various condiments. Now, it's an acquired taste for sure, as it can feel as if your tongue is being given a spa treatment. However, I found the combination rather soothing, a myriad flavours, titillating the palate in quite a unique fashion. For a more detailed explanation, Makan Fairygodmother has written about it and explained it at great length
HERE
.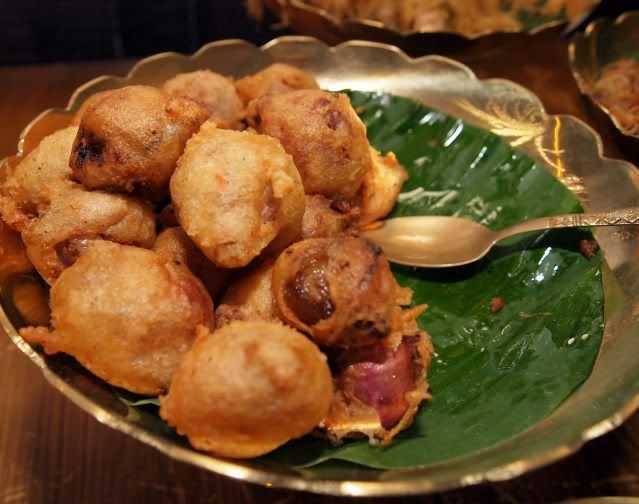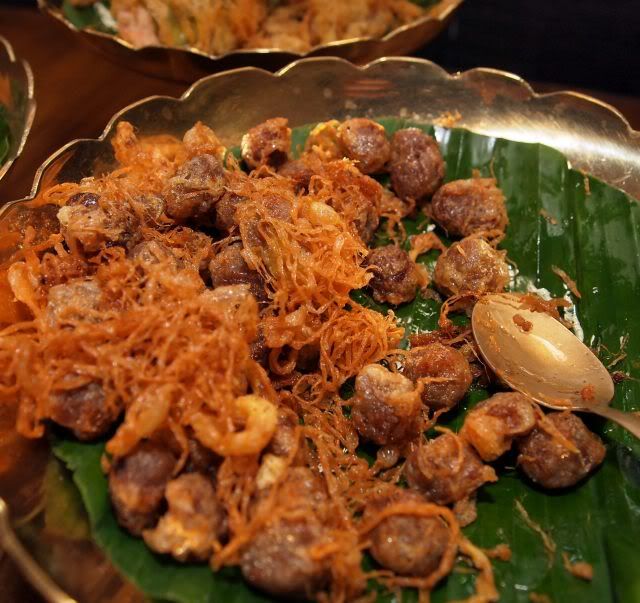 Above are part of the whole....myriad condiments that make up the Khao Che...(it's a royal favourite. I would say that would explain why I like it, but I can already see the rolling of eyes and the wise ass comments that will spring forth).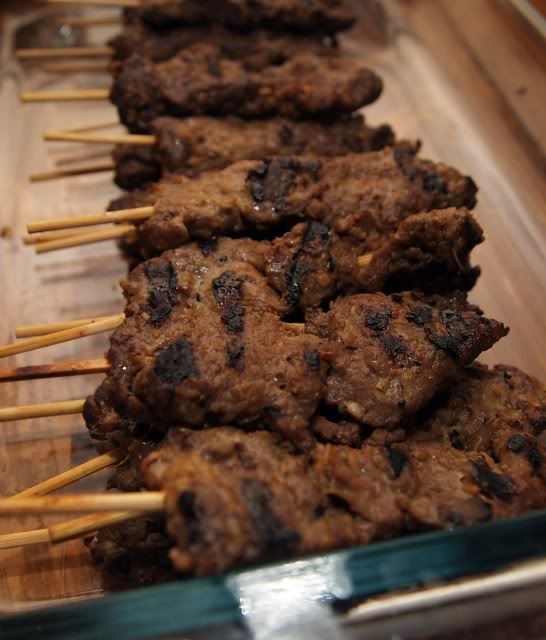 Thai Style Beef Satay.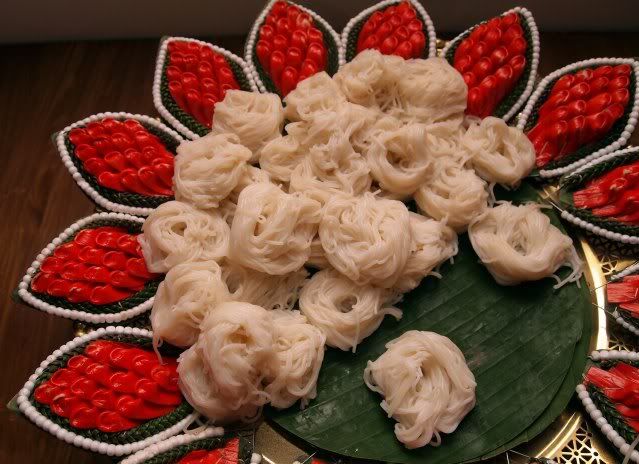 Noodles for the Thai Style Laksa which came with two different choice of soups.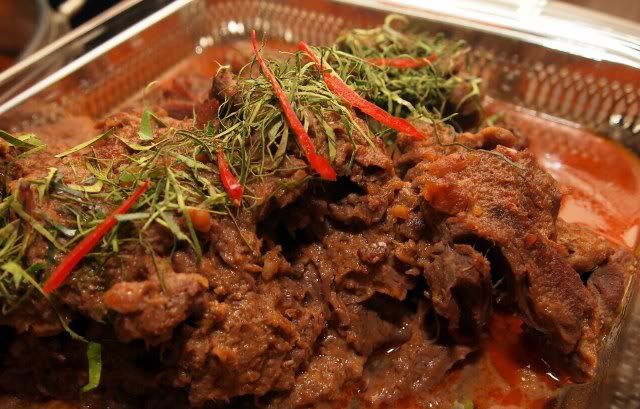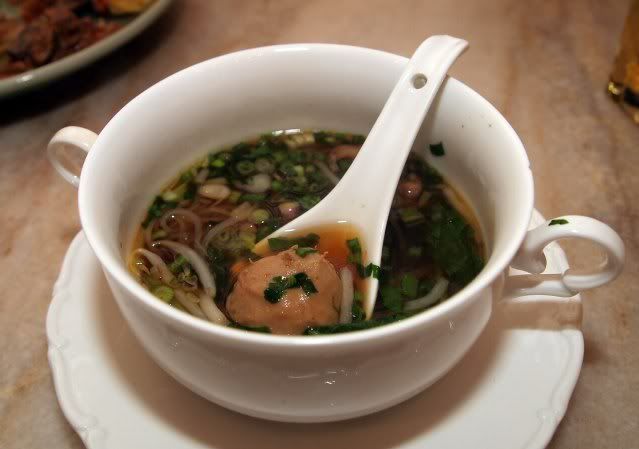 Beef Noodle Soup, which is one of their signature dishes too.
I was privileged enough to be allowed into the kitchen to see how they made these lovely little crispy pancakes called Thanom Krok. It's crispy on the outside and soft on the inside, and is a bit sweet and savoury.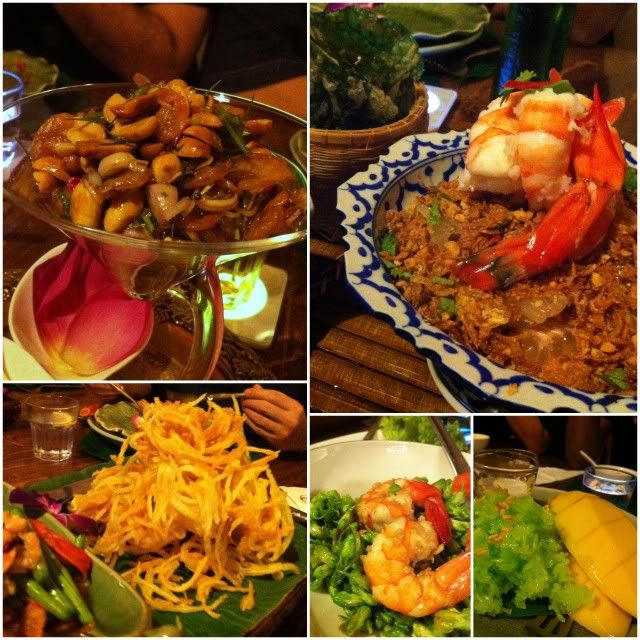 Now, as I mentioned, I was also there the night before, and had sampled some of the ala carte items, for my "supper club" dinner. My favourites were the green papaya salad, (the green papaya is fried to a crisp, accompanied by a lovely rojak-ish kind of sauce), the prawns in a very special bud that I've never had before. I think it was this item from the menu. Stir-fried cowslip creeper flower with prawns (rm30)
Now that it's reopened, I can't wait to head back there for their famed cockles curry, which really, just warms the cockles of my heart.
Location: No.22-1, Jalan PJU 5/16, Dataran Sunway Kota Damansara, 47810 Petaling Jaya, Malaysia GPS Coordinates: 3.152857, 101.591971 (Click for map) Reservation: Please, call Tel/Fax: + 603-614-123-93 Email: siamdb@msn.com